Knowing how to market your business or brand can help you increase sales greatly. In this guide, we go over some top AI marketing tools that use artificial intelligence to help you connect with your audience better.
We'll show you different marketing tools for:
data analytics
improving customer service
tracking your sales funnel
If you have a marketing tool you like to use, comment below and let us know.
The Best AI Marketing Tools
What is AI Marketing?
Marketing is actions and strategies that you take to promote your business and make sales. AI marketing uses artificial intelligence to automate one or more areas of your marketing efforts.
Artificial intelligence can make marketing simpler for you in a number of ways:
It can analyze data about your visitors and brand and make suggestions about how to keep potential customers longer.
AI can suggest better messaging that resonates with potential customers better.
A tool can suggest new marketing methods, mediums, and social network strategies.
A good marketing tool complements a good AI sales tool for your business.
There are tons of AI marketing tools on the internet. Below is a small selection of ones we've tried out and like the best.
#1. Windsor.ai Review – AI Markting Tool for Performance Data
Windsor.ai is a performance marketing software that aims to give advertisers and marketers the power to make data-driven decisions. It also enhances the customer journey.
Windsor.ai uses artificial intelligence to bring together the offline and online customer journey. It does this so that you can get an overview of your marketing investments and determine where you are getting the best returns.
Depending on your budget, you can pick between three different versions: Basic, Professional, and Enterprise. All three versions feature a budget optimizer, search-terms optimizer, and multi-touch attribution.
Brands like Google Partner, SKODA, Audi, and Betty Bossi use the Windsor AI marketing tool to get more customers.
Windsor.ai Features
Helps you with data-driven decision-making
Can help with Google Ads optimization
Makes customer journey easier
Windsor integrates with marketing data from different platforms
Click here to view Windsor.ai.

#2. Cogito Review – Best Customer Service Tool
Cogito is an artificial intelligence program designed to help customer service workers communicate more clearly, empathize with frustrated callers, and improve their overall performance. Cogito uses AI to listen to the tone, pitch, word frequency and hundreds of other factors in customer service conversations.
It detects when something is wrong. Like an irritated customer or a call center agent taking too long to respond. It then displays a notification on the agent's computer telling them to slow down, speed up, or how to respond.
Users do not just automate the marketing data they are working with, but they can also connect it with each other as well. This tool can look at customer journeys and point out to users where they get the most return on investment (ROI).
Big brands like Humana and MetLife use Cogito to help them market their products and services.
Cogito Features
Cogito measures the quality of a conversation
Can display your customers' mood in real-time
Analyzes voice calls and assist call center agents to better engage with their callers
Enhances the performance of call center agents
#3. Affable.ai Review – Best Data Analytics AI Marketing Tool
Affable is an AI platform for data-driven influencer analytics and campaign management. Marketing teams can seamlessly optimize their campaigns for maximum ROI using Affable's deep demographic insights. Affable uses AI to track over 3 million influencers globally across various social media platforms – Instagram, Facebook, Youtube, TikTok, and more.
Leading brands like Huawei, Chanel, Estee Lauder, AirAsia, Swarovski use Affable's self-service platform to streamline their influencer campaign planning and execution. They do this right from finding most relevant influencers to measuring their impact.
Affable AI Marketing Features
Find authentic and relevant influencers to connect with
Reach out to the influencers using Affable's in-built Influencer Relationship Management solution
Track all the content – including posts and stories on your Campaign Dashboard.
Create and export reports about the Social Metrics including Reach, Engagement, Impression and Media Value.
Click here to view Affable.ai.

#4. AnswerRocket Review – Best Machine Learning AI Marketing Tool
AnswerRocket is an AI-powered analytics engine that uses machine learning to provide answers to business questions in a matter of seconds. It includes a search box, similar to Google, where users can type or speak their questions. AnswerRocket then uses AI to understand the question, retrieve the relevant data, produce insights, and present the results in an automatically selected visualization.
In addition to getting insights within seconds, the benefits of AnswerRocket include:
Business users can easily use AnswerRocket without having to rely on IT or their data analyst for answers
Intuitive interface that doesn't require in-depth training
AnswerRocket can connect to any data source, regardless of size. Some examples of data connectors include Microsoft SQL Server, Excel, and MySQL. Others are Oracle, SAP HANA, Amazon Redshift, and Google Analytics.
Rice Communication, Mama's Choice, Chanel, and Omnicom Media Group uses the AnswerRocket AI marketing tool to provide answers to business questions.
AnswerRocket Features
Users can drill down into any data by using custom visualization options.
Accessible analytics via web or mobile device
Flexible deployment options including on-premise, in the cloud or in a hybrid environment.
AnswerRocket can integrate with any open AI platform, including Tensorflow, Caffe, or H20.
Click here to view AnswerRocket.

#5. Metaranx Review – Best No Code AI Marketing Tool
Metaranx is a drag-and-drop AI marketing software platform used to build tools and applications without code. You can upload your data model and can build AI with easy API integration hosted on the platform.
Metaranx analyzes your website visitors in order to find your biggest fans and potential customers. It helps you increase your ROI rate to earn more money. Using your data, it builds applications that can help you market to new customers in the future.
Big brands like Lazada, Group M, Pomelo, and Casio use Metaranx to build AI tools and applications.
Metaranx Features
Metaranx offers Dashboard, Machine Learning, and Drag and Drop functionalities
Integrate into your website or sales funnel to analyze data easily
Pinpoints your top customer opportunities
Uses your data to improve your marketing channel with AI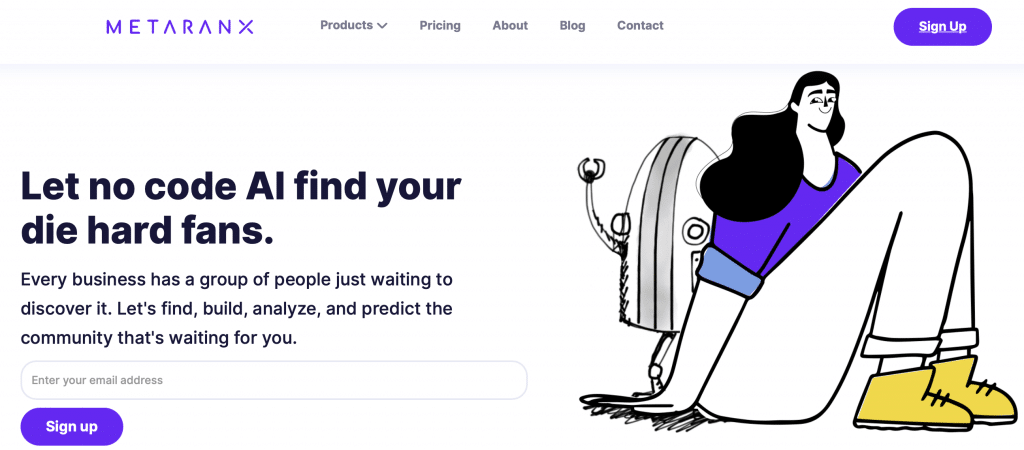 What is your favorite AI marketing data tool? Comment below and let us know what you've tried!