Artificial intelligence has made photo editing faster than ever before. In the list below, we go through the top AI photo editor software that you can use.
This photo software can be used for a number of things:
Editing photos for your web content
Picking the best pictures from your collection
Enhancing selfies and photos on the fly
Automatically adding professional presets
And each tool uses AI to make work faster and more efficient.
If you have a better AI photo editor tool you like to use, comment down at the bottom of this guide.
The Best AI Photo Editors
Why You Need Intelligence in Photo Editing
Editing photos for websites, content, and social media is one of the most important pieces for a lot of entrepreneurs and businesses. However, it is also a skill you must teach yourself.
Artificial intelligence can help you produce professional photos in less time than ever before in a few different ways.
Post-Processing
Some AI photo editors can take your raw photos and convert them into professional ones at the click of a button.
These tools can remove blemishes and tighten up the shape of faces. They can make the background sharper and increase the contrast of your photo. AI photo editors can apply presets to your photos to give them a consistent finish.
Today, this requires no manual editing and only a few clicks worth of work.
Photo Culling
Culling is the process of searching through your large selection of raw photos in order to find the best ones of the group. Photographers cull their photos after every shoot, deleting thousands of outtakes.
Artificial intelligence can automate this process by picking out your best photos automatically. It can detect closed eyes, imperfect smiles, and bad lighting in photos automatically.
Improved Quality
Intelligence can upscale and increase the quality of images in a few ways. They can artificially add pixels to your image and increase its quality on the fly.
These tools can also artificially add quality by adjusting a picture's levels, brightness, contrast, and more. This work used to require a ton of manual editing before.
Background Removal
AI can remove the background from photos on the fly. In the early 2000s, this was work that content creators had to perform manually all the time. Today, a click of a button can give you a photo with a transparent background in high quality.
Next, we will review our top AI photo editor software tools in more detail!
#1. Luminar AI Review – Best All in One Photo Editor
Luminar AI is one of the most popular AI photo editors. This software is suitable for image editors, photographers, content creators, and designers who want to make outstanding images in a flash. Luminar AI comes with a wide range of photography tools, including landscapes, portraiture, fashion, nature, architecture, and black and white photographs.
Luminar AI uses the power of artificial intelligence to change the shape of a body in any position. It also used AI to remove blemishes and enhance skin texture in real time.
It has Iris features which can replace or enhance the eyes automatically in a matter of seconds. Users can also add or replace rays and skies. Luminar AI gives users the option of using templates to apply genre-specific edits. This can significantly reduce the time you spend editing images.
Luminar AI Features
Allows you to remove blemishes from photos.
Presents you with a world of possibilities to express your ideas.
Lets you change the shape of a body in seconds.
Enhances skin texture in real time.
Click here to view the Luminar AI photo editor.

#2. FilterPixel – Best Photo Culling Softwarer
FilterPixel is a photo editing software that is powered by artificial intelligence to automate photo culling process. This tool lets you create professionally-looking photos with tags. Artists, content creators, Small and medium companies make use of this software.
FilterPixel uses AI to select the best photos out of a group faster so that you can concentrate on editing and refining. It also harnesses the power of artificial intelligence to help you sync your photos with your Lightroom catalogue in one click.
If you have to sort through a lot of photos regularly, FilterPixel can save you a ton of time.
FilterPixel Features
lets you import image files faster and generate instant previews.
Automates the photo culling process without complications.
Can spot errors in your photos without disrupting the workflow.
Is capable of processing thousands of images within seconds.
Click here to view FilterPixel.

#3. ProStyle Camera by NeuralCam – Best Live AI Photo Editor
ProStyle Camera by NeuralCam is an AI-powered photo editing app for smartphones and desktops. It uses AI to enable you to edit your photos and videos live as you shoot them. ProStyle Camera also has a marketplace for selling editing styles through the built-in Style Store.
This photo editing app lets users edit photos with one tap similar to what expert photographers would achieve with photo editing software. ProStyle Camera also contains the fine details of your editing style.
The app is available for download for free on Google PlayStore and Apple Store. Thousands of influencers use ProStyle to instantly improve their images with preset packs.
ProStyle Camera Features
Has a built-in Style Store where you can sell your photo preset packs for profit.
Lets you shoot professionally-looking photos and videos with one tap.
Edits your content on the fly for easy and instant improvement.
Click here to view ProStyle Camera.

#4. Photolemur 3 – Best One-Click Image Editing
Photolemur 3 is an AI-powered image editor that reduces time-consuming photo editing work and let you concentrate on the art. This tool is perfect for one-click image editing. It uses the power of AI to create better picturers enlarging the eyes, sharpening faces, and adding or reducing sharpness.
Photolemur 3 has a simple user-interface and gives users control over photo enhancements and styles when editing. It automatically performs what many Photoshop experts spend hours doing.
Additionally, this photo editing software can also run as an extension from within other photo image editing tools like Adobe Lightroom and Apple Photos.
Photolemur 3 Features
Gives you perfect exposure under any lighting condition.
Fixes blemishes with one touch.
Enhances the eyes on your photos.
automatically whitens teeth, smooths skin, and removes all skin imperfections in seconds.
Click here to view the Photolemur 3 AI photo editor.

#5. Aurora HDR – Best HDR Photo Tool
Aurora HDR is another photo editing software from Skylum, the brand behind Luminar AI. Aurora HDR uses the power of its Quantum HDR engine to create best-in-class images based on detail extrapolation and image analysis. It maps different images together to recover tonal detail in shadows, midtones, and highlights.
This tool is best for restoring detail in photos, tone mapping, and HDR image creation. Plus, it reveals hidden sections of photos within seconds. So, if you are an outdoor photographer with a natural liking for extra punch, you won't go wrong with this tool. Simply snap away and Aurora will give you the best finished product.
Aurora HDR Features
Aurora HDR enables bracketed HDR processing.
Uses its Quantum HDR engine to reveal hidden sections of photos.
Can recover tonal detail under different conditions.
You can create HDRs from single images.
Click here to view Aurora HDR.

#6. PhotoDiva – Best AI Photo Editor for Selfies
PhotoDiva is an AI photo editing tool for editing selfies and portraits. It uses the power of artificial intelligence to perform face editing like a pro regardless of where you shot the photo. It also uses AI to retouch images without distorting the original looks.
You can use PhotoDiva to smoothen skin, whiten teeth, and remove spots. You can also use this tool to resize the shape of the face and sharpen the image features with ease. After detecting the face, this tool lets you retouch the face with one-click retouching.
If you are new to portrait photography, this is certainly the best tool for you. Influencers and content creators uses PhotoDiva to improve selfies for social media.
PhotoDiva Features
Uses one-click retouching to perform image retouching and polishing.
Automatically edits portraits, erases unwanted objects, and changes facial features.
Apply digital makeup and also blur the background with one click.
#7. Lensa – Best Photo Portrait Editing Tool
Lensa is an AI-enabled mobile app for improved selfies and portraits. The app is best for portrait and selfie retouching and smartphone editing. It uses AI to let you analyze photos and then apply automatic adjustment based on the photo with one-touch editing function.
Users can use Lensa to blur or change background with ease. Users can also change hair color and retouch the face with the app. Plus, users can use the advanced editing tools to refine images as they want while shooting.
Lensa Features
Allows you to specify the retouching feature you want and automatically fixes it for you.
Can remove makeup or apply other beauty filters fast.
Improve your portraits and selfies with one click.
Can remove blemishes so that you get the perfect effects.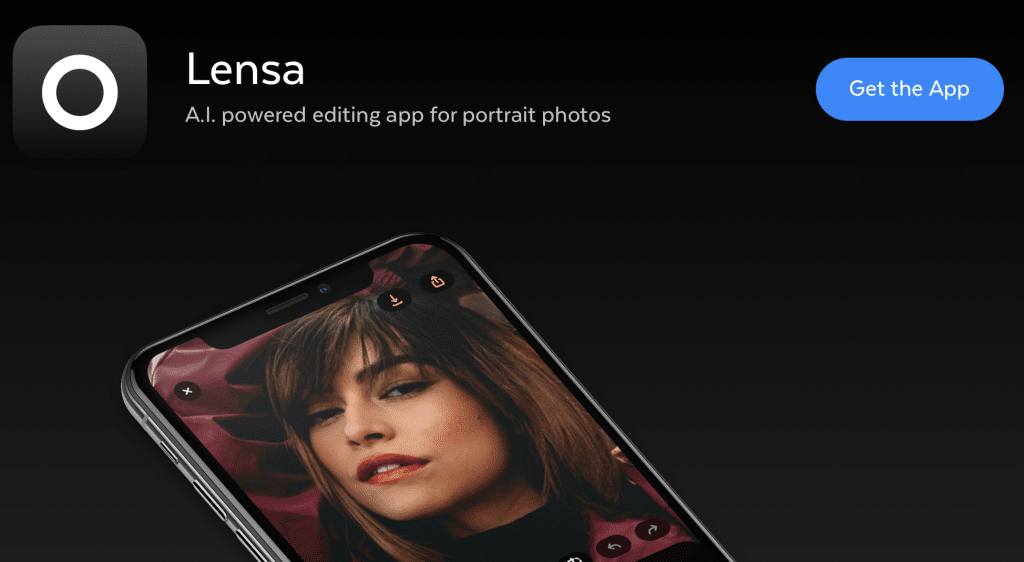 #8. Let's Enhance – Best AI Image Enhancer
Let's Enhance is a smart software that photographers or content creators can use to enhance low resolution photos in one click. Users can also use this AI software to achieve bigger picture output without quality loss.
Let's Enhance uses artificial intelligence to expand your photos to your desired dimensions and also optimize the color, texture, tone, and clarity.
You can also use Let's Enhance to prepare your friends or family members' portrait for print. Simply choose your preferred output size and then activate the zoom function. Plus, you can upscale images for websites and social media networks.
Let's Enhance Features
Equipped with an automated preset feature, which allows you to maximize the quality of your photos.
Lets you optimize your website and social media images.
Can remove spots, add clarity, and color to images.
Can expand your photos to your desired dimensions or size.
Click here to view Let's Enhance.

#9. Remove.bg – Best AI Photo Background Remover
Remove.bg is a useful tool for removing the background from every image in a matter of seconds. This tool is best for blurring backgrounds and subject isolation. Simply upload your photos and Remove.bg will remove the background with fantastic accuracy. The output is a clean photo to download in high resolution.
Remove.bg also sets you erase or restore parts of the mask. It offers free backdrops to set the newly masked subject. Remove.bg can also remove blur background and enhance the tone and clarity of your photos.
Remove.bg is completely free to use at basic quality levels. The paid plan is very reasonable for high quality work.
Remove.bg Features
Integrates with a wide range of APIs so that you can keep all your work in one place.
Lets you remove any kind of background from your photos.
Allows you to enhance the picture quality and sharpness.
Can easily replace backdrops with masks.

What is your favorite AI photo editor? Comment below and let us know today!