Artificial intelligence can help you write articles, publish blog posts, summarize text, and create content faster. We've taken a look at all the best AI article generator and word tools, and we have our results below!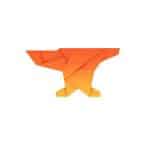 Article Forge
Top AI content generator that utilizes 8 custom machine learning models.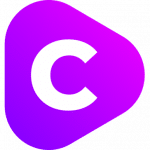 Conversion AI
Top rated AI writer with direct integration to Surfer SEO and Grammarly.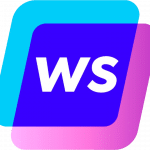 Writesonic
A modern GPT-3 article generator that creates realistic and modern results.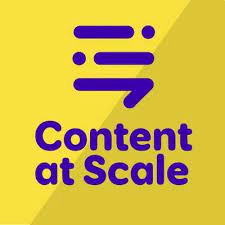 Content at Scale
Content at Scale is a smart, GPT-4 based generator that creates content FAST.
In this guide, we take a look at:
What is the best GPT-4 article writer?
Which article spinner is the most accurate?
Which AI article generator creates accurate content optimized for you?
What word tools can help you post content quicker?
How has GPT improved AI copywriting?
We've tried out each tool in detail to see how it writes articles and content for us.
Click here to view other smart SEO tools.
If there is a word tool that you use, comment down at the bottom of this guide and let us know!
Other guides you might be interested in:
The Best Article Generator, Content Creator and Word Tools
The best AI article generators are as follows:
Below, we review each option in more detail.
---
My Review
I love the way that Article Forge creates topic-relevant content in a hurry. Their latest update, version 3.0, works very well. It's completely custom, unlike other GPT-3 options on the market today. I use Article Forge to create topic outlines and rough drafts all the time.
---
Features We Like
The content generated by Article Forge is SEO-friendly.
This tool can schedule posts.
It can research any topic of interest.
It can write a fresh article or rewrite an existing content.
| | |
| --- | --- |
| Best For | WordPress users |
| Price | $27 to $117 per month |
| Discount | 6 months free for a year subscription |
| Refund | 30 day money-back guarantee |
Article Forge is one of the best AI article generators and word tools for creating unique content very rapidly. You type in your focus keyword and Article Force automatically performs all of the content creation for you. The whole process takes less than two minutes to complete.
Article Forge has just been updated to version 4.5 and it now generates higher quality content that is relevant, accurate, and useful. 3.0 uses 8 different deep learning models designed to increase the quality of the AI copywriting content generated. In our opinion, it generates some of the most interesting and unique copy out of everything in this list.
This article rewriter uses AI to automatically research any topic and read an infinite number of articles. It writes the article in its own words so that you don't plagiarize anything. The written content is SEO-friendly.
Article Forge helps with easy scheduling and it also automatically posts website content to WordPress. This tool comes at a decent price. The price tag is with 5 days of no risk and money back guarantee.
Click here to view Article Forge.
Click here to read our review on Jasper AI vs Article Forge.

Content at Scale is a leading AI content generator that excels in producing high-quality, SEO-optimized content at an impressive speed.
Simply input your desired keyword, YouTube URL, podcast, existing blog, or custom audio file, and Content at Scale takes care of the rest. The entire process is completed in mere minutes, making it a game-changer in the content creation industry.
Recently updated with advanced AI capabilities, Content at Scale now produces content that is not only of superior quality but also undetectable as AI-generated. This is achieved through a complex mix of three AI engines and two natural language processing and semantic analysis algorithms.
In my view, CaS generates some of the most engaging and unique content among all AI content generators.
This AI-powered platform is designed to automatically research any topic and generate content in its own words, ensuring that your content is original and free from plagiarism. The content produced is SEO-friendly, making it an invaluable tool for boosting your online presence.
Content at Scale also offers convenient features such as easy scheduling and automatic posting of content to WordPress and Shopify. It comes at a competitive price, offering a cost-effective solution for producing high-quality content at scale. The platform guarantees satisfaction with its service, ensuring that it's a risk-free investment for your content needs.
Click here to view Content at Scale.

---
My Review
I regularly use Jasper, Conversion AI's article generator tool to automatically create articles and marketing copy. I love how it integrates quickly with Surfer SEO and Grammarly to complement those other SEO tools. You can also create receipes, which are tasks that can be run over and over again. I'm trying to figure out a useful way to use those too.
---
Features We Like
Trusted by over 30,000 businesses around the world for automatic content writing.
Integrates directly with Surfer SEO.
Includes Grammarly built in to improve grammar and reduce mistakes.
Can write and translate into 26 different languages.
| | |
| --- | --- |
| Best For | Entrepreneurs |
| Price | $249/month |
| Discount | 2 months free for yearly subscription |
| Promotion | 5 day trial |
Jasper AI is one of the most well-known content and article generators on the internet. Its smart content generator, named Jasper, was recently updated with full GPT-3 integration and other custom features. With Jasper AI, you save hours writing clever, original content. It understands your context and purpose and generates full articles in seconds.
One feature we really like is that Jasper can rewrite your article over and over again so that you can adjust the tone to match your brand. You can also translate your content into over 11 different languages. Jasper uses perfect grammar and spelling.
Jasper AI integrates directly with Surfer SEO, which is an AI SEO tool that helps you optimize keyword frequency in your article.
Jasper AI is one of the biggest article generator tools on the internet, with over 10,000 copywriters, entrepreneurs, and agencies signed up for the tool. In addition to full articles, Jasper AI can generate you product descriptions, topic ideas, feature lists, biographies, ads, SEO titles, headlines, marketing ideas, and more.
Click here to try out Jasper AI today.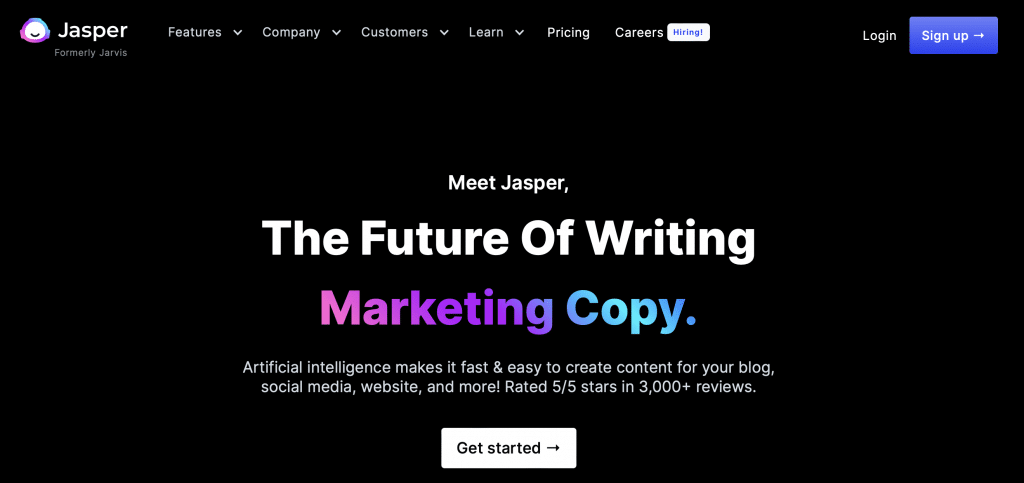 ---
My Review
Even though Writesonic is a newer AI article generator, we love how easy the interface is and how accurate the results are. We've used it to generate full blog articles before that require minimal editing. The tool users GPT-3 as its backbone, which is the buzz in the industry right now. The free trial gives you 10 free credits every month, which is a really nice perk for casual users who want to try it out first.
---
Features We Like
Can create full blog articles from AI
There is no more guesswork on creating content that converts
It can write copy that resonates with your audience
It can help you generate leads in less time
The content is SEO optimized
| | |
| --- | --- |
| Best For | Entrepreneurs |
| Price | $15 to $194 per month |
| Discount | 2 months free for yearly subscription |
| Promotion | 5 day trial |
Writesonic, formally known as MagicFlow, is a new and modern article generator that launched in 2021. It uses GPT-3 and its own proprietary artificial intelligence platform to create quality audience-centric website content.
One of the big advantages to Writesonic is that it is able to automatically generate full blog post articles with AI. This ability to write full content with an intro, body, and conclusion, is a really big advantage over similar tools.
In addition, Writesonic lets you create content for your website such as:
Landing pages
Blog article ideas
Ads titles and body
Growth ideas
Hero copy
By analyzing your inputs, pattern-matching and AI, Writesonic crafts catchy landing pages, ads, product descriptions and more. It's like having a professional copywriter at your disposal at a fraction of the cost. This AI text generator, through a series of diagnostic and prescriptive measures, helps businesses create engaging, audience-focused content.
Click here to view Writesonic.

WordAI is an automatic spinning tool that rewrites entire sentences and paragraphs so you can get new unique content. It is one of the longest-running tools in this list.
WordAI supports English, Spanish, French, and Italian and is one of the most talked tools for rewriting content.
According to the official page, WordAI uses AI to tell the difference between words. It makes sure each and every synonym that it picks makes sense. WordAI understands what each word means and how each word interacts with each other.
WordAI looks for possible ways to rewrite your website article based on what the article truly means. WordAI will often rewrite sentences, so they share nothing in common with the original sentence. It is not a tool for writing new content, but WordAI can help you spin your content into new, original work.
We use WordAI to rewrite some of our own sentences with fresh ideas and content.
WordAI Features
Able to rewrite content quickly.
It gives a touch of personalization to your content.
WordAI collects user-generated content.
This tool can write fresh and efficient titles
It understands that one word has more than one meaning.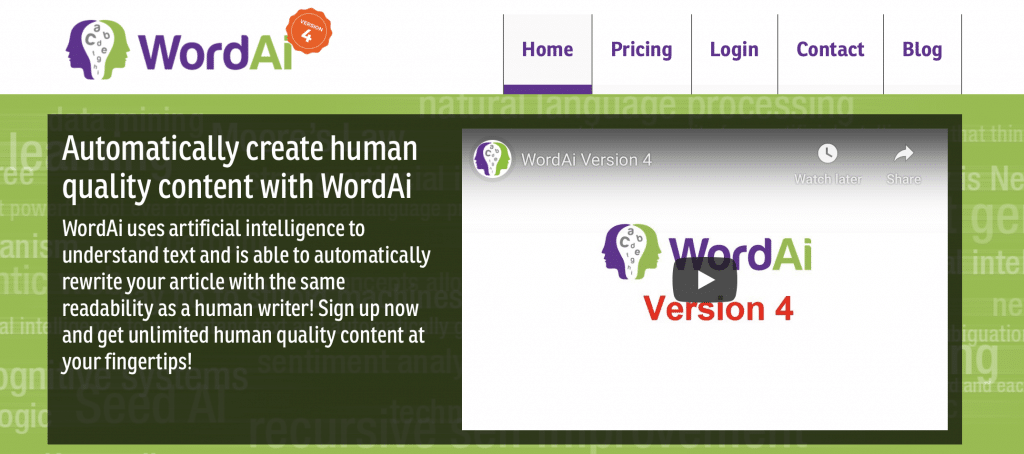 Topic is an article generator tool that helps content teams drive more organic traffic and save time researching. It uses AI to analyze real-time search data to deliver helpful recommendations.
Writers use Topic to discover what their audience wants to read. The end result is better content and more traffic.
Topic is not an article generator or word spinner. It analyzes your text and checks the entire article to understand what the content is about. Then, Topic recommends changes or topics to include to optimize the test for Google. It is a tool that helps you minimize research time writing articles.
Topic promises to create content that's better than what's posted on the internet. It might be the AI tool you need to increase traffic to your website today.
Topic Features
Creates recommend headings and topics for your article based on Google's top 30 search results.
The Outline Builder lets you build a comprehensive article outline before it starts writing.
The Content Grader ranks your content for Google-ready it is.
Uses AI to reduce the amount of research time you need to write a new article.

Linguix is a smart, AI-powered writing assistant that does more than check for grammatical errors. It is a sophisticated writing tool designed to elevate the user's writing standards and enhance overall writing in all aspects.
Linguix uses artificial intelligence to notify users of grammatical mistakes in their writing. It provides multiple options for correction using more than 2,000 rules on context.
Aside from grammar checking, Linguix supplies alternative words, phrases, as well as spelling corrections. It eliminates instances of poor phrase, sentence structures, and typos. It completes all of the work that a manual writing assistant would perform.
Linguix's AI tracks and learns the tendencies of its users and provides contextual recommendations. This helps writers to realize the problems in their writing and enable them to become a better writer and avoid more inaccuracies.
Linguix Features
This AI writer comes with a typos database of over 9 million words
It recommends words as you type
It has ready-made templates for easy writing.
It is equipped with a performance analysis dashboard.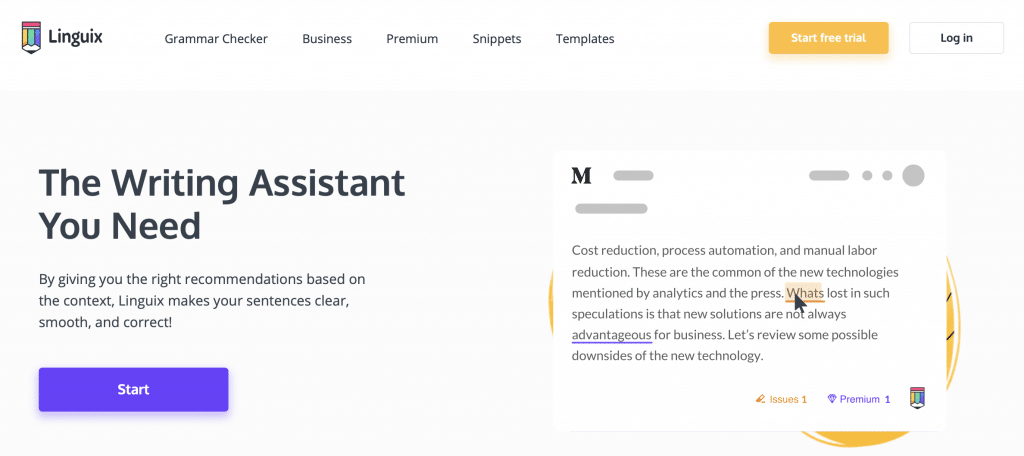 Kafkai
Best Machine Learning Article Generator
Kafkai is an AI writer that is geared towards SEO and digital marketers. It boasts about using machine learning to continuously improve its generator and create content that is relevant.
Kafkai has different article generation modes. If you want something fast, Kafkai will write for you with only a focus keyword in mind. If you want something more accurate, you can give Kafkai an intro paragraph that nudges it in the write direction to write something. Finally, you can write an article with an untrained model, which allows for some unique brainstorming type of results.
Kafkai's paid plan is very generous, letting you generate 10 articles per day on its cheapest plan.
Kafkai Features
Kafkai can be used for blog posts, PBNs, backlinks, and anything else that can satisfy search engines.
Uses a proprietary machine learning algorithm to generate content.
Has a companion WordPress plugin
Generous and cheap paid plans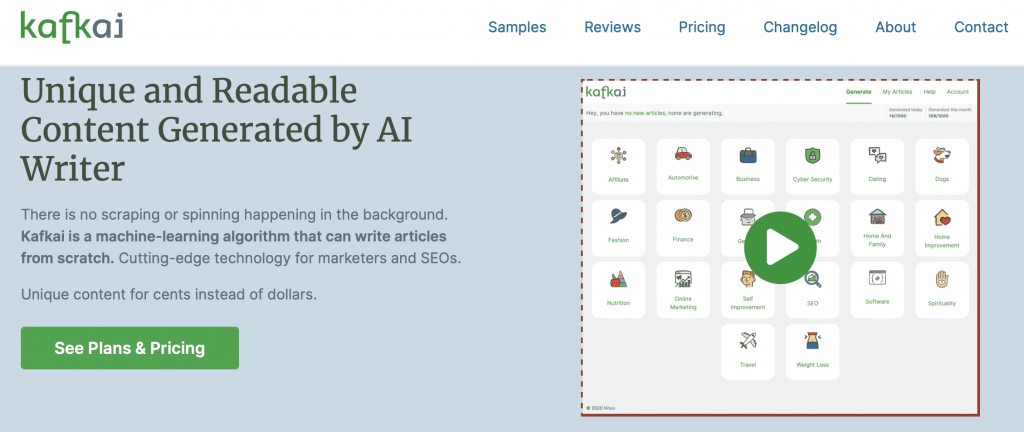 AI-Writer
Best AI Article Generator For WordPress
AI-Writer is another article generator that creates your text based on a focus keyword only. It has features for writing articles from scratch or re-writing your content too. Once it shows you your text, AI-Writer helps you edit content efficiently by eliminating all distractions found in other word processing applications.
AI-Writer acknowledges that it won't be as good as you at writing relevant content. However, the AI text generator allows you to save around 1/3 of your time by framing out good text and a solid outline. This can allow you to spend more time on SEO and website optimization.
This article spinner is available for Android, iPad and iPhone, macOS, and Windows. For short-form writers in search of minimalism, AI-Writer may be the best writing app available. Long-form writers working on screenplays or books may find its toolset light.
AI-Writer Features
Amazing AI research skills.
Can export to Medium and WordPress
AI-Writer comes with built-in buttons for adding bold and italics
Syncs using iCloud and Dropbox
It can tell you how long it can take to read through your content.

Genei
AI Article Research Tool
Genei is an AI-powered research tool for forward-thinking students. Genei uses artificial intelligence to improve productivity, summarizes a bunch of articles, analyzes research, as well as finds important information in text fast. It helps you create an actionable plan for writing your content.
Genei can summarize any web-page with natural language processing models. The advanced semantic search function identifies important sentences across multiple resources.
Students, Small and Medium companies make use of the software. Top brands using Genei to summarize articles include AWS, University of Oxford, and Nvidia.
Genei Features
Genei can help you find key information in text faster
Uses AI to analyze research
Can process more than 2000 words in a second.
70% faster reading time than a human.
Search keywords and related points across entire reading lists.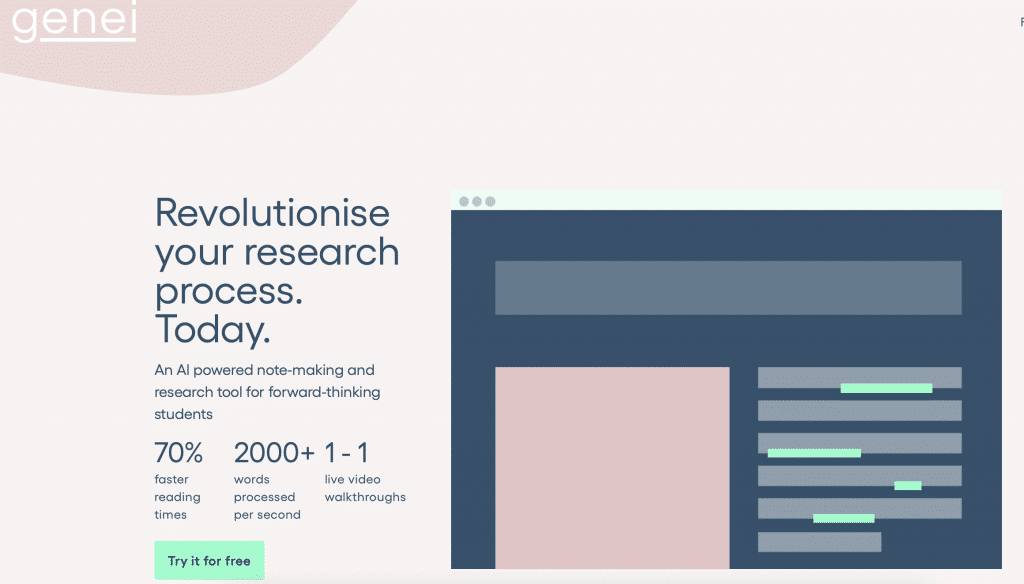 Atomic Reach
Best AI Content Optimization Tool
Atomic Reach is a content conversion platform which helps businesses to turn their content into sales. It achieves this through content scorecarding, conversion optimization, and business intelligence.
It offers plans for marketers and agencies to assist with creating high quality content to promote their website. Plus, it makes recommendations to change and update your existing text.
The Atomic Reach content optimization platform has a suite of tools that measure and analyze the users' content and provides feedback.
Whether the feedback is diagnostic or prescriptive, Atomic Reach does not influence that creative process. Rather, it uses AI to bring some science to creating engaging content. The platform is both a CMS plugin and a data analytics dashboard.
Atomic Reach is not a full SEO platform. However, it uses AI to optimize content for real people in order to create repeat customers and more ROI. It's a good tool to look into if you want to increase your revenue and sell more.
Atomic Reach Features
Atomic Reach can help bloggers with content optimization
Creates content that audiences can engage with
Gives summary report of article performance
This tool can help with text editing
Click here to view Atomic Reach.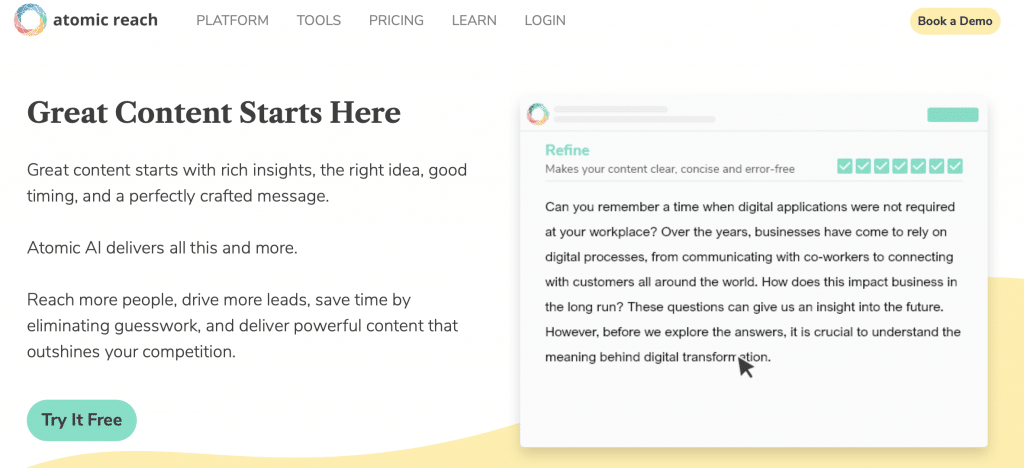 Fluently
Best AI Text Editor
Fluently is an online text editor with a multilingual translator, dictionary, and thesaurus built-in — all text editing and translating features in one simple tool. It uses AI to create a document in a foreign language while writing in your mother tongue.
It can be frustrating when you produce great marketing content and it still misses the mark. With Fluently's actionable insights by your side, you save time, produce better content and deliver incredible results.
Fluently was designed in a minimalistic way to help you focus on what matters: your content. You can paste or type your content with the powerful, rich text editor with multiple styling options. And when you translate your content it will appear in the same formatting. Translating your blog posts into other languages is an SEO trend right now. You can increase your visitors by doing this and Fluently is a good tool to get you started.
Fluently Features
The content from Fluently is SEO compliant.
Fluently supports multiple languages.
It gives a touch of personalization to your content.
It comes with an in-built text editor

Types of AI Word Tools
Article Generator
An article generator is able to create SEO-friendly blog posts, articles, and word documents from only a title and focus keyword. Then, the article generator applies an artificial intelligence framework such as GPT-3 to write coherent sentences.
Article generator's usually study other articles on the internet with similar focus topics in order to understand how to write the article.
Unlike Snazzy AI, which generates smart snippets, the article generators below can generate full blog posts.
Article Rewriter
An article rewriter take a reference word article and rewrite it in a way that looks unique, while preserving the same major points. Rewriters know how to rewrite sentences using different synonyms and reverse perspectives.
People who use article rewriters usually give a competitor's article and allow the software to rewrite it in a way that gives you a starting point for your own.
Summary Creator
A summary creator uses AI to study the complete text of an article and present an executive summary of the text. The summary creator is able to pick out key points about the article and summarize it in a way that makes sense.
There are other kinds of article generator tools on the internet, but they all fall roughly into the categories above. As AI improves, we should see more accurate articles that require less editing in order to be usable.
How We Ranked the Best Content Generators Above
In order to compile our list above, we performed practical analysis on each tool and looked at how it would perform to write full scale articles.
Ease of Use
It was important to me that the generators above were easy to use. You should be able to sign up for a plan and start automatically generating content in just a few minutes.
All of the AI article generators above do a good job of requiring some information but not everything.
Accuracy
If you are letting intelligence write you content, then the result should be accurate. All of the tools above have demonstrated that they are able to understand search intent, which is a key factor to ranking on the first page of Google.
Technology
There are a lot of GPT-3 article generators which are mostly a carbon copy of each other. We wanted the content generators that made our list to be filled with extra technology designed to improve your output.
A lot of the tools above have built their own proprietary models rather than relying on GPT-3 for results.
Pricing
All good automatic content generators cost money. There is just too much technology, research, and development built into these tools to be good quality if they are free.
However, we made sure that the options above were high quality and good value for the price they charge.
Number of Customers
Nothing validates a good idea like real paying customers. The AI article generators above are popular and used by bloggers, SEO experts, and entrepreneurs everywhere.
Can AI Writing Software Replace a Real Person
In m opinion, not yet. However, they are coming REALLY close. The content generators above are able to understand search intent and can build blog-quality content for you.
Each tool still requires you to review the output and make small adjustments and optimization.
Article generators don't do high quality formatting just yet either. You'll want to properly align your paragraphs up and create bullet points and other engaging areas to your content.
But as these tools are refined, they become better and better. So if you tried a content generator in 2017 or earlier, then they are not the same as in 2023 and are worth another look.
Conclusion
There are more quality article generators that use AI than ever before. We've hand tested all of the ones in our list and are generally impressed with the quality and level of detail.
The addition of GPT-3 has made this process more automated and accurate than before.
Try one out today and see how it works to automatically create content for you.
Have you used any of the tools above for:
Article writing or rewriting?
Blog post generation?
Content marketing?
Text translation?
AI word correction?
Comment below and let us know what your favorite word tool is that uses artificial intelligence. If you tried out any of the services above after reading our article, let us know.
Frequently Asked Questions
What is an AI article generator?
An AI article generator is an online tool that uses machine learning and artificial intelligence in order to create blog posts, articles, and content automatically. You simply enter in a writing prompt or a target keyword and the tool uses existing articles on the internet to create unique content that is accurate and timely.
What features should a good article generator have?
It is important that any article generator you try out is able to generate unique and high quality content. The output it generates should follow good SEO standards. GPT-3 article generators are popular today, but a lot of tools go above and beyond with additional technology as well.
What is the best AI article generator?
From my experience, after testing dozens, the best AI article generator is either Article Forge, Content at Scale, or Jasper AI. These tools do a great job at creating high quality content. Both tools are able to generate full blog posts of 1000 words or more.
Writesonic gets an honorable mentions. It is a newer tool that is constantly being refined and improved to output higher quality content.
Can AI article builders replace manual content writing?
No, these tools are not complete replacements for real humans yet. Manual editing is required to add emotion and proper formatting to any output. However, these tools are able to write factual content in seconds and save you a ton of research time.