In this guide, we show you the best AI SEO software tools that you need to use. If you want to optimize your website and rank on the first page of Google, these are tools you need to look more into today.
These SEO tools use smart intelligence to make it easier to:
Write content that matches user intent and Google Core Web Vitals.
Find new focus keywords that you should target for more traffic.
Find new link building strategies to gain new backlinks.
Understand your website's analytics and data.
If you know of any other AI SEO tools or other AI software in general we should check out, make sure you comment below at the bottom of this guide and let us know.
The Best AI SEO Software Tools
Here are the best AI SEO tools to try today:
Frase Review – Best AI SEO Search Intent Tool
Frase is AI SEO software that helps you to create content that is aligned with user intent. By helping you write better articles, Frase helps you rank on the first page of Google. It also automatically creates content that is usable by voice devices.
New in Frase is a fully complete automatic AI article generator that can help you write article outlines, summaries, and full blog posts! The tool allows you to write and research content faster than ever before.
Frase improves SEO and drives conversion by using AI to answer your visitors' questions. Frase's quickly evolving set of AI-powered tools help you easily identify the questions your target audience is asking online. It then quickly create optimize content capable of answering those questions.
Frase works alongside Rev, TechTarget, eToro, NP Digital, Salesfore.com, WordPress, Drupal, Adobe Marketing Cloud, and many more. The company provides an efficient guide to make sure that you are creating good content.
Frase Features
Automated question research
Content briefs to help you understand what to write
Content creation tool that helps you write content faster
Answer engine which tells you what people are searching for the on the internet
AI content optimization

Surfer SEO – Best AI SEO Optimization Tool
Surfer SEO is a leading SEO tool that writers and digital marketers can use to optimize and improve their content strategies. Surfer SEO uses artificial intelligence to enable users to
build quality backlinks
increase traffic to their site
scale business outreach.
Plus, this tool lets you write data-driven content that will make it to the front page of search engines. You can import your article into Surfer SEO and it will give you specific recommendations on what to improve to rank more. This includes alternative keywords to target and missed content opportunities.
With Surfer SEO, you won't have to create a content strategy on your own. Surfer SEO can help you map out a plan that's adjusted to your audience, niche, and domain. It will also help you dominate your target niche with lots of content ideas.
Surfer SEO provides insights on the right keywords, word count, and article structure so that you can increase your chances for high rankings. It is the number one internal SEO tool for optimizing your website and making sure it is high quality.
Opera, Inpost, Conversion.ai, and Freshbooks use Surfer SEO to get their content to the first page of search engines.
Surfer SEO Features
Generate a content strategy that suits your domain
Has one-click content guidelines
The actionable audit will help to take over your niche
Surfer SEO supports multiple languages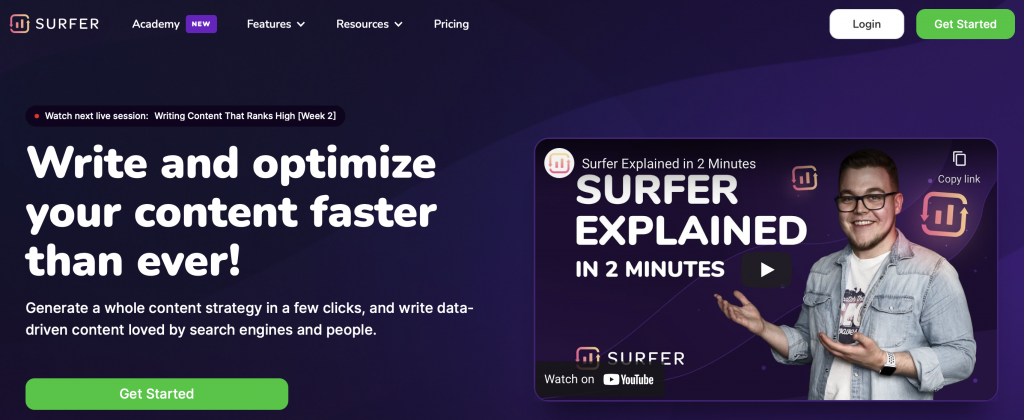 Alli AI – Best AI SEO Recommendations Tool
Alli AI is an SEO tool that offers several AI-powered SEO features to improve and optimize your website content strategies. The tool provides the user with an easy and powerful way to increase traffic, build quality backlink and scale business outreach. It is an all-in-one SEO tool that uses and promotes artificial intelligence to make smart decisions.
You can add a line of code to your website and automatically apply SEO improvements through JavaScript from within Alli. This can fix broken links, add into backlinks, and update focus keyword information on the fly.
Alli AI uses artificial intelligence to simplify SEO processes through an all-in-one software tailored for each client and packaged into a pretty nice UI. The process includes planning your SEO strategy, finding backlinks, getting code and content optimizations. In addition, the tool constantly tracks your traffic progress so that you can see how well things are working.
Some brands currently using Alli AI include Crunchbase, GIZMODO, QUARTZ, CROWD, and LifeHack.
Alli AI Features
Built-in link indexer tool
Automatic keyword optimization
AI Brand building
Point-on-site analysis
Outreach link recommendations
Competitor analysis per domain
AI niche link recommendations

Diib Review – Best AI SEO Improvements Tool
Diib allows you to grow your website really easy. With Diib's AI algorithm, you feel much more informed about what is going on with your website. Diib helps users automate their SEO, increase rankings, and benchmark against competitor websites.
It uses AI to build a customized growth plan, offer automated analytics, and keep track of your progress as you grow. Diib instantly syncs with Google Analytics and uses advanced algorithms and AI to give you an easy-to-use growth plan. You can scan your website in 60 seconds and see how to improve your SEO, speed, security, and user experience.
You don't need a professional in analytics to understand how your website is performing for your business. Diib delivers simple, high-impact analysis, reporting, and visuals to let you know how you are doing and what to do next.
Thousands of website owners, including Shopify, WordPress, Adobe, and Squarespace use Diib as an AI SEO tool to help them grow faster.
Diib Features
Social analytics reporting
Slick SEO reporting
Fasdt search engine indexing
Website and page reporting

Squirrly Review – Best AI WordPress Tool
Squirrly is the top AI SEO tool for WordPress. It is a proven, all-in-one SEO tool set that uses AI to rank your website faster. You install this plugin right in your WordPress admin panel. The tool analyzes your website and creates automatic action items.
Squirrly was built to help you better navigate the world of SEO. This tool uses AI to get excellent and data-driven SEO so that you can outmatch all your competitors. If your target is to get to the first page of Google, Squirrly gives you a roadmap plan to achieve this target.
Squirrly lets you write perfect SEO articles, organic traffic, and boost rankings. It also lets you track search rankings and every other thing that will consistently place your content on the front pages of search engines.
Squirrly is trusted by Microsoft, BBC, Creative Market, and Elegant Themes.
Squirrly Features
Squirrly lets you find and choose the right keywords
You will get a SEO green light to publish your content
Actively works to improve your online presence.
You can accurately track your ranking

Linkhunter Review – Best AI SEO Link Building Tool
Linkhunter is a unique tool that automates the way you perform link building and relationship building for SEO. It uses artificial intelligence to automatically find websites on the internet that are good candidates for you to contact and reach out to. For those that hate link building, Linkhunter is the tool you've been missing.
First, you create a campaign that calls out what you want to achieve: guest posting, link building, marketing, and other options. Next, you enter in your article or website you want to work on and its focus keyword. Linkhunter automatically goes out and finds other websites that would be good for you to contact and reach out to.
The AI SEO tool also has a ton of other nice features such as templated emails, automated follow-up emails, and campaign tracking. Linkhunter makes some of the most tedious parts of SEO a lot easier.
Linkhunter Features
Automatically finds websites on the internet that you should reach out to.
Automatically scrapes email addresses for each website
Allows you to create automatic initial emails and follow-ups.
Tracks the performance of your campaign.
Click here to view Linkhunter.

Can I Rank – Best SEO Recommendations + Consulting
Can I Rank is an automated AI SEO tool that recommends keywords to target and pages to optimize. It also analyzes your competitor's backlinks and makes recommendations on websites to target for link building. Can I Rank gives you daily recommendations on action items to complete and tracks changes in your rankings following any completed recommendations.
Can I Rank uses AI to gather information from various websites, then takes the extra step to elaborate with suggestions. Their artificial intelligence method works with providing users with data that leads them in the right direction to boost their content.
Can I Rank offers personalized reports and data-driven recommendations. It also identifies the most relevant insights across all marketing channels.
We recommend this tool if you wish to cut the time spent on analytics. If you're in need of a quick tailor-made solution to turn meaningful insights into effective marketing strategies, this tool is for you.
Some brands using Can I Rank to optimize their content include Adobe, Magento, Weebly, UC DAVIS, and DW.
Can I Rank Features
Smart A/B testing
Really good data visualization
External integrations
Automatic outreach link recommendations
Competitor analysis per domain
Website and page reporting
Click here to view Can I Rank.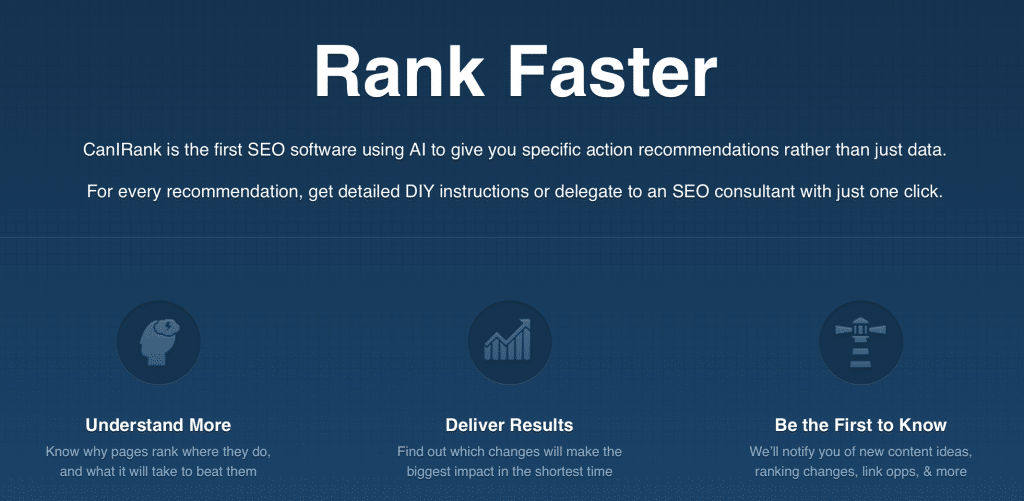 Morphio AI – Best AI SEO Data Analysis
Morphio is an AI SEO tool for digital marketers that enables them to scale their data analysis efforts. Morphio also tracks your competitor's rank changes automatically so that you know how to capitalize. And with the ability to include countless data sets into their marketing efforts, users can correlate data with their respective ROI quickly.
With hands-on data analytics automation, users receive real life action items that help improve your rankings quick. With a proprietary algorithm, users receive constant insights that can boost their bottom line. Users can also seamlessly aggregate their campaign performance and focus on the highest priority metrics.
With Morphio AI, you can also integrate Search, Display, and Social Media marketing data on a single platform. This makes it easy to monitor both paid and organic results with the data visualization tool. Other features include defining traffic, conversion, and ROI goals, being alerted about campaign data abnormalities, and more.
Brands like 360Magazine, Forbes, AITHORITY, and Betaket are currently using the Morphio AI SEO tool to rank on search engines.
Morphio AI Features
A/B Testing
Campaign tracking
Customer journey mapping to understand your sales funnel quicker
A beautiful dashboard lets you keep track of important information fast
Performance metrics on your website's traffic
Predictive analytics to suggest where your effort should be spent
ROI tracking
Social media metrics
Click here to view the Morphio AI SEO tool.

MarketBrew – Best Search Engine Tracker
MarketBrew is artificial intelligence software for SEO that allows you to track and reveal algorithmic updates for any search engine. It helps you increase your rankings on Google, Bing, and other search engines. It provides you with concise, calibrated A.I. reports with actionable SEO data and reliable ranking insights.
MarketBrew uses AI to help content marketers to eliminate a lot of the guesswork and be one step ahead of their competitors.
It provides the user with a precise description of what distinguishes the first result on Google from the second one. It points out differences and recommendations on content and description for a focus keywords. This cuts off time that a user spends manually analyzing the inner workings of search results.
MarketBrew overall provides a great visual explanation as well as step-by-step ways to swiftly and resourcefully improve your site. Some notable brands using MarketBrew include DUE, LOCALITY, REAL SIMPLE, and USF.
MarketBrew Features
Search engine modelling to give you accurate insights
Neutral network crawlers that stay on top of search changes
On-page/Off-page metrics
Simulation of competitive environment
Semantic score breakdown
Penalty Algorithms
Click here to view MarketBrew.

INK – Best SEO Word Editor
INK is a downloadable AI SEO word editor that lets you write content faster and smarter. Most writing assistants are typically for basic spelling, grammar, and tone checking. INK is a complete word editor that is made to optimize your SEO.
By entering your focus keyword, INK optimizes it while you write. It also recommends similar keywords to target, and score your article by its chance to rank in the top 10 of Google. It makes sure you use your focus keyword properly and knows related terms you need to hit as well.
INK uses AI and natural language processing to analyze your text. For any writing style or form, it works similar to Grammarly or Prowritingaid. You can write directly into the editor or import files from a URL, HTML file, or a text file. One big benefit is that you can save all your work on your PC or Mac because it is a genuine program.
You can import and export your documents in many useful ways too. It has an integrated WordPress plugin to quickly move content back and forth.
INK recently added an AI analysis features which suggest new keywords to focus on.
Some popular companies using INK include, Lexus, Career Karma, Toyota, Caliber Collision, Right Point, Team One.
INK Features
Automatically optimizes your article against your focus keywords
Users can copy-paste from Word document into INK
Highlights spelling and grammar suggestions, overuse of adverbs, hard to read sentences, and passive voice
It calculates your readability grade and your use of headings and sections.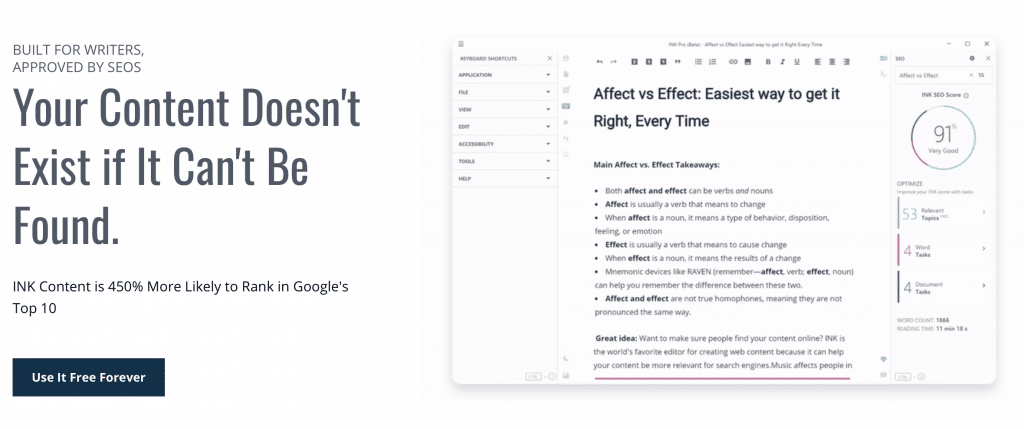 MarketMuse – Best SEO Writing and Research Assistant
MarketMuse is AI SEO software for building out and providing you with content strategies. It is an AI-driven assistant that shows you exactly what terms you need to target to compete in certain topic categories. It'll also surface topics you may need to target if you want to own certain topics.
MarketMuse uses AI to accelerate content creation, reinventing how marketers improve organic search rankings. It automatically acts as an expert in your niche using automation, allowing you to focus on increasing revenue.
Top brands using MarketMuse include, Lewis, Cortex, The Motley Fool, Volvo, and Discover.
MarketMuse Features
Powerful site audits to rank you against your competition
Automated keyword suggestions
Long-tail keywords
Search volume rank tracking
SERP Rank Tracking
Off-page SEO recommendations
Competitor analysis and tracking
Data visualization
Click here to view MarketMuse.

BrightEdge – Best SEO Content Marketing
BrightEdge is an AI SEO tool that does an awesome job helping you with SEO and content performance marketing. It uses AI to blend search intent discovery, optimized content creation, and discover what people are searching for. It also helps content marketers to create a content strategy that captures traffic and consumer interest.
BrightEdge is equipped with the Hyperlocal add-in, which allows users to map out keywords in a specific region. Its content recommendations give users the opportunity to read through precise suggestions on each page. It personalizes each page on your site according to what that specific page contains.
The platform provides a unique way to view how various SEO changes impact the brand. Story builder combines data from several pieces of the website to create aesthetic tables and charts, making it easier to decipher the data.
L'Oréal, Adobe, UC DAVIS, Twilio, Microsoft, and Cleveland Clinic are some popular brands using BrightEdge.
BrightEdge Features
It contains several modules to optimize content
Site reporting to keep track of your progress
Story builder gives you a beautiful dashboard for deciphering data
Page and keyword reporting
Intent signals make sure your pages meet Google's needs
Click here to view BrightEdge.

Clearscope – SEO Content Optimization
Clearscope is a powerful AI SEO tool for article creation. The tool makes it very easy for you to make the most out of your content. It lets you produce content that gets results on Google.
For you to drive organic traffic, your content needs more than just being readable, clickable, and shareable. Clearscope can help you produce highly sought-after content. It monitors your article as you write.
This AI SEO tool has so many great features such as campaign tracking, automated follow-up emails, and template emails. Clearscope makes the most difficult aspects of search engine optimization to be a lot easier. It integrates with third-party apps like Google Docs and WordPress for better workflows.
Some brands using Clearscope to optimize their content include Adobe, Shopify, YouTube, and Intuit.
Clearscope Features
Supports automatic keyword research and competitor analysis
Manages your content live
Supports Google Docs integration for relevant keywords
Supports social analytics reporting

Page Optimizer Pro (POP) is a powerful on-page SEO tool that you can use to curate perfectly optimized pages for search engines. It uses artificial intelligence to tell you the most important element to optimize on your page for better ranking and more organic traffic.
POP is perfect for writers, digital marketers, and SEO agencies. It is also suitable for anyone who wants to rank their content on search engines.
Here is how Page Optimizer Pro works. The first step is to load your target page and launch the POP Extension. Then select your project and page to run your on-page analysis. Finally, implement the recommendations on your page from top down.
POP takes a lot of the guesswork out of writing better content.
Freshbooks, Salesforce, Hubspot, and Sixt use Page Optimizer Pro to rank their content on the first page of Google and other top search engines.
Page Optimizer Pro Features
Works on all languages
Tells you the exact placement on your page for keywords, LSI terms, and keyword variation
Allows you to create automatic initial emails and follow-ups
This tool can track the performance of your campaign
Click here to view Page Optimizer Pro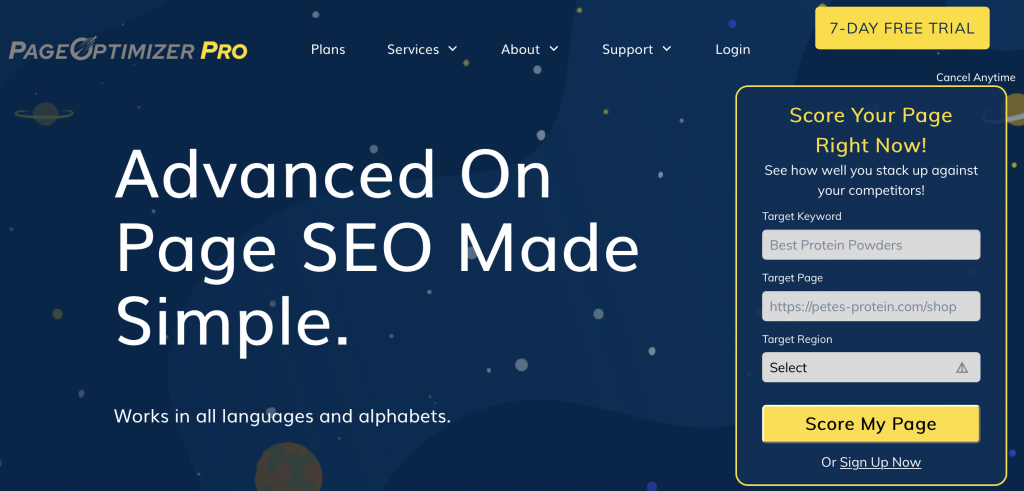 Outranking – Optimized SEO Titles, Outlines & Descriptions
Outranking is an advanced AI SEO tool for writing and researching to create high-quality content in a fraction of the time. This tool is suitable for companies, agencies, and solopreneurs.
Outranking uses AI to create content that your audience will love. It generates SEO optimized titles, outline and description, and featured snippets. It also generates paragraphs and section completions.
Outranking lets you score content for all essential on-page factors that affect ranking. It scores your questions usage, meta tags, and topic coverage. You also get feedback on your usage of related keywords, content depth, and content creation efforts.
Outranking integrates with anything that writers or SEO agencies use to create and publish content, such as WordPress, Google Docs, and Grammarly. So, if you are looking for an SEO tool that guarantees increased engagement, look no further than Outranking.
Outranking Features
Lets you research & write using concepts that influence search engine ranking.
Optimizes content for better ranking and crushes your deliverables
Enables you to create content 10X faster with AI (GPT-3).
Compatible with the Grammarly plugin for error free writing.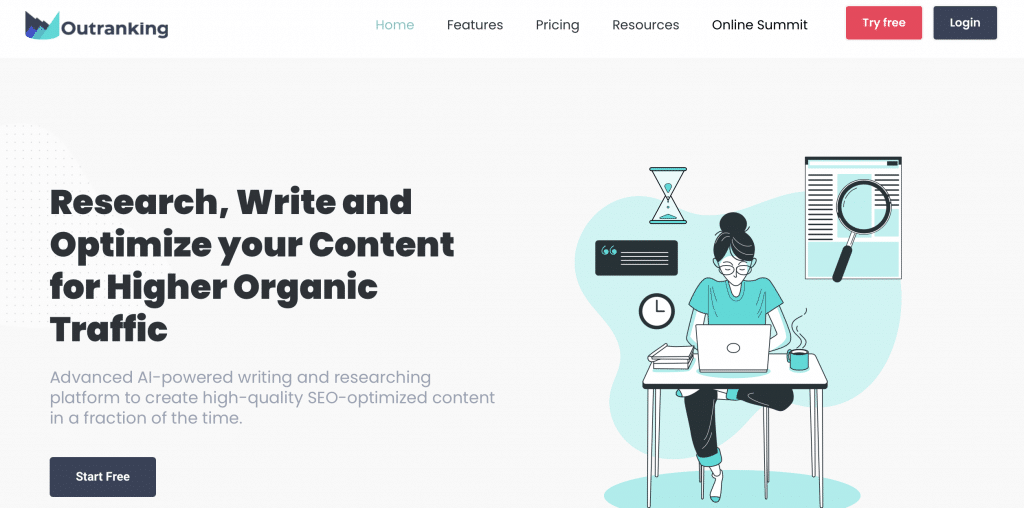 SE Ranking – SEO Analysis and Marketing
SE Ranking is an all-in-one SEO software made simple for business owners, SEO pros, and digital agencies. It is the SEO analysis and marketing tool you need in your content planning arsenal.
It offers 100% accurate keyword rank tracking across major search engines. As a matter of fact, you can track your website's ranking on the basis of city/region/country.
SE Ranking uses artificial intelligence to discover the ads and keywords your competitors are using in their organic search campaigns. You can use this tool to improve your website rankings. SE Ranking finds on-page and off-page issues, and then gives recommendations on ways to resolve the issues. Additionally, you can monitor and control your backlinks in real-time.
SE Ranking Features
SE Ranking supports in-depth website audit
Lets you discover and control all of your backlinks with ease
Alerts you about any modifications on your competitors' site
Allows both analytics and auto-posting for social media platforms

WordLift – SEO Schema Tool
WordLift is an excellent semantic SEO tool. It leverages linked data publishing and natural language processing for automating structured data markup.
WordLift analyzes content and also transforms text into search engine-friendly content. It's goal is to increase organic traffic and improve audience engagement.
WordLift is the artificial intelligence tool that you need to expand your audience base. It is perfect for publishers, companies, and agencies to get the most out of their content. It is also perfect for content marketers, journalists, and bloggers.
This AI SEO tool is simple to use. It organizes your content, makes it beautiful with data visualizations and images, and then adds relevant recommendations before publishing the content.
Airbnb, Audible, GreenPeace, and WindowsReport are some top brands using WordLift to gain more visibility on the internet.
WordLift Features
Helps search engines understand your pages
Organizes your content with the help of data
Can engage your readers and increase their dwell time
Lets you find out how search engines see your website

NexODN – AI SEO Tool to Boost Rankings
NexODN is a leading AI SEO solution for bloggers, digital marketers, and agencies. NexODN makes smart recommendations that will improve your ranking with content composition, search intent, and relevant keywords. NexODN is developed with AI predictive modeling for users to easily gather data that will reveal both on-page and off-page SEO issues.
If you're looking to maximize your business performance or acquire qualified leads, NexODN is your go-to SEO tool. This tool can automate your lead management to improve efficiency. You will reach the right prospects, monitor your ads and campaigns, and close sales with ease.
NexODN uses machine learning to track your keyword usage so that you can make informed decisions. It automates manual tasks so that you can run quality SEO on your site in a short time.
Zurich, Siemens, and Panasonic use NexODN to reach the right prospects and acquite qualified leads.
NexODN Features
Can help you increase your conversion rates and number of business inquiries
Discover profitable keywords for better ranking on Google
Reach the right prospects with the right message
Lets you track your keyword usage and performance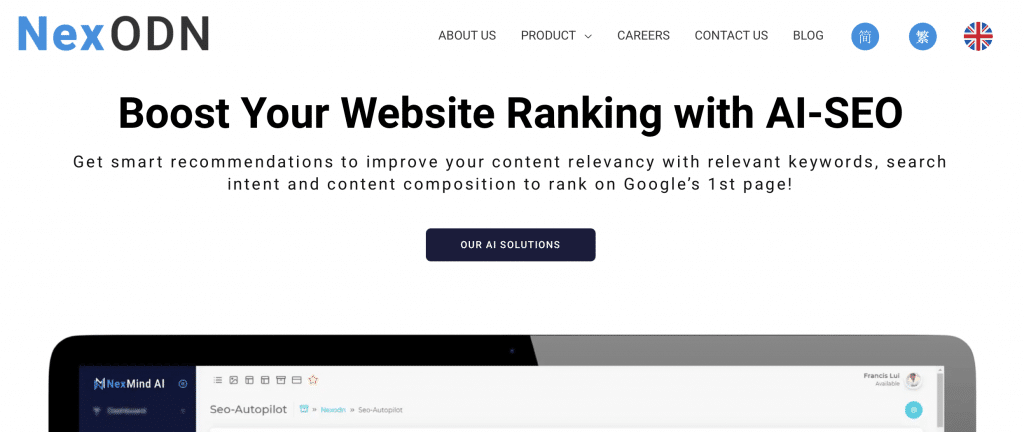 What is SEO?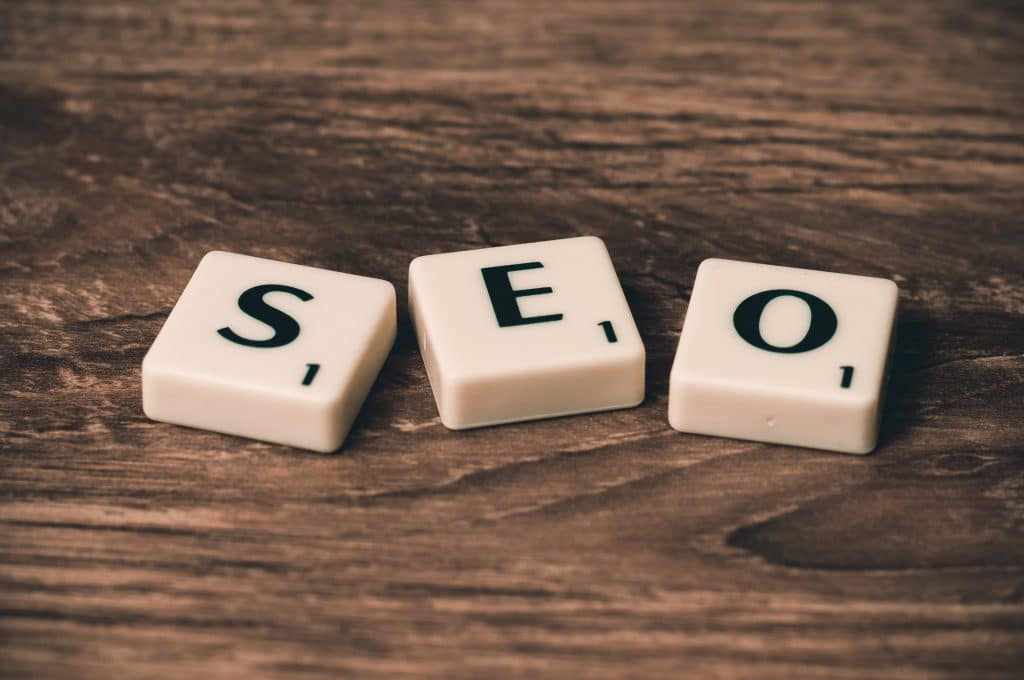 Search engine optimization, or SEO, is the process of improving the quality of your website and how much traffic flow to it. It means taking a conscience approach to improve your website in the eyes of Google and other search engines.
There are many websites on the internet that focus on SEO tips and strategies. We encourage you to go and check them out if you are interested in the topic. Anybody who owns or operates a website on the internet should learn how to improve SEO.
SEO is broken down into two categories: on-page SEO and off-page SEO.
On-page SEO
On-page SEO are actions that you take ON your website to improve traffic and rankings. These are things like:
Internal link building
Optimizing content for Google's user intent
Writing new articles
Improving page speed
Off-page SEO
Off-page SEO are actions that you take OFF of your website which have an effect on the traffic and rankings on your site. These are things like:
Building backlinks back to your site
Improving your social media followers
Researching your competitors
A/B testing Google Ads or Analytics
There are hundreds of SEO tasks that you can perform, and they all take up time. Using artificial intelligence with SEO can automate a lot of these tasks and save you a ton of time!
Next, let's take a look at how artificial intelligence can be so powerful.
Artificial Intelligence With SEO
AI SEO tools use automation to quickly perform the tasks listed above. Som: ways AI can improve SEO are:
Automatically finding you link building emails and opportunities
Quickly researching the top pages for a keyword and telling you what they contain
Researching your content automatically alongside your competitor's pages and making recommendations
Making practical recommendations out of Google Analytics data
And a bunch more! Under each AI SEO tool above, we let you know all the ways AI is used to help you improve SEO on your website.
Conclusion
As you can see, the AI SEO tools above help you increase rankings, analyze competitors, and build backlinks much faster than traditional tools. Stop spending hours analyzing reports and fumbling your way through creating your own recommendations. Artificial intelligence can quickly analyze data and recommend action items for you to take.
Out personal favorite tools above are Can I Rank for over SEO and Linkhunter for fast link building. Check them all out on free trials today and see what works for you.
What is your favorite AI SEO tool? Comment below and let us know today!