Do you want to earn new customers on autopilot? AI sales tools can help you increase revenue automatically by crunching data and analyzing your business quicker than you can.
In this guide, we take a look at:
The best sales tools and software to improve your sales process
Analytics software that uses machine learning to learn and improve your organization or business
Technology that tracks, follows, and contacts customers with personalized information
Tools that keep customers coming back to purchase from you again and again
If you have any other AI sales tools to add, make sure you comment below!
The Best AI Sales Tools and Software
How to Choose a Sales Tools For Your Business
In order to choose the right sales software for your business, you should have a good idea what you are trying to accomplish. Getting more sales and new customers is the overall goal, but what about the specifics?
Are you trying to master social media influencing? Provide a better customer experience? Retain customers long-term? Make it easier for visitors to become paying customers?
Here are some of the top factors to consider in a good sales tool.
Artificial Intelligence
A good sales tool shouldn't add more work to your plate. The best ones use artificial intelligence to automatically perform analytics, make recommendations, and execute changes for your business. Think about how you can use your tool to free up your time for other parts of your business, like SEO or social media.
Business Match
How well does the sales software match your business? If you are B2B focused, your tool should help you build industry relationships and partnerships. If you are B2C focused, you should invest in customer tools that make it easiest to create new sales. With a wide selection of products out there, be selective and sample lots to find what works for your business.
Cost
Cost is an important factor when looking at a new tool for your business. Don't just look at the face value cost of the product though. Consider how much time and effort it saves you. As well, consider how many new sales you get that you otherwise wouldn't have. A really good sales product will cost negative dollars, since the value will outweigh the cost.
The Different Types of Sales Tools
With 1000s of tools on the internet that promise to help you earn more customers, it can be overwhelming. We've broken down all of the sales software into a few major categories. Our top list below cover these categories.
Conversational Tools
Conversational tools, or chatbots, give you business a personality even when you aren't there. AI chatbots can understand the context of frequently asked questions on your website. They use AI to automatically answer customers in plain english and direct them to the right spot on your website..
eCommerce Growth
Growth tools for eCommerce websites have the main purpose of helping you increase sales and sell products. These tools know how to tie in with your eCommerce platform such as Shopify or Woocommerce. They use AI to run analytics and A/B testing on what works best for your customers.
Social Media Tools
Social media includes platforms like Facebook, Instagram, Youtube, LinkedIn, and more. Software for social media growth helps you in two different ways:
Get more followers – The more followers you have, the more cheerleaders you have to promote your business on your behalf. Increasing your reach on social media can accelerate your growth.
Send people from social media to your website – By targeting the right keywords and posting interesting content on social media, you can drive new visitors to your website. These tools use intelligence to optimize your ads, posts, and advertising.
Sales Funnel Tools
Funnel management tools keep prospective customers active and engaged better than you can do it by yourself. They take care of things like:
Tracking how customers interact and click through your website
Understanding why customers leave your website
Sending welcome and follow-up emails
Incentivizing customers with offers and discounts
Content Creation
Content creation tools take care of writing content for you. Content can be a variety of different things:
Writing articles
Optimizing your landing page
Creating ads for search and social media
Advertising summaries
A good AI word tool will create natural language content for you so that you can focus on other areas of your business.
Analytics
Analytics sales tools process data so that you don't have to. Increasing your click-through or sales rate by a percentage or two can increase your revenue tons. Sales analytics tools anlyze why you are or aren't gaining customers and can make recommendations. Use this information to optimize your processes, do A/B testing, and increase sales.
#1. Acobot.ai Review – Sales Tools for Shopify
Acobot is a powerful conversational AI tool that you can use to grow your Shopify or WooCommerce store. Acobot is a type of Chatbot that uses AI to help customers shop and push leads down through your sales funnel. It uses all proven e-commerce techniques to boost conversions, from coupons to upselling and cross-selling.

The outcomes are more product views, more add-to-carts, more checkouts and large lifetime value per customer. Powered by self-learning AI, Acobot learns from your online store by itself and gets ready to work in a few minutes.
Big brands like Burberry, Telus, and Tommy Hilfiger actively use Acobot to drive customer engagement up while bringing customer service costs down. With Acobot, you can bring the same benefits to your small business.
Acobot Features
Acobot can help your Data Security
You can use this tool to manage your email marketing
It uses multi-channel marketing to help users gain customers
This tool can manage several stores.
Can also manage your website's SEO.
Click here to view the Acobot AI sales tool.
#2. MorphL Review – Sales Tool For eCommerce Companies
MorphL is an AI platform that helps eCommerce companies make intelligent decisions, accelerate growth, and personalize experiences. MorphL consists of a suite of 10 machine learning models that improve your sales process. These models can be used across different enterprises, and also to automate customer journey.

The MorphL AI sales tool uses artificial intelligence to predict customers' behavior and optimize your digital products and services for growth. Morph.ai enables users to send targeted notifications, newsletters, and advertisements to customers. Users can generate reports on a variety of metrics, and the system also offers integration with a variety of social media platforms.
ATIS, JOT, Orange, and Shopify are big e-commerce stores using Morph to increase sales.
MorphL Features
Morph.ai integrates with several social media platforms
Users can keep track of sales and revenue
This tool can help users with onboarding new customers.
It helps simplify the buyer's journey.
#3. Octane AI Review – Sales Tool for Facebook Messenger
Octaine AI is another sales tool to help increase your customer count. This tool increases sales for stores using Facebook Messenger. It uses artificial intelligence to run abandoned cart campaigns and answer customer questions automatically. It also creates conversational FAQs, send receipts and shipping notifications, and help customers find products.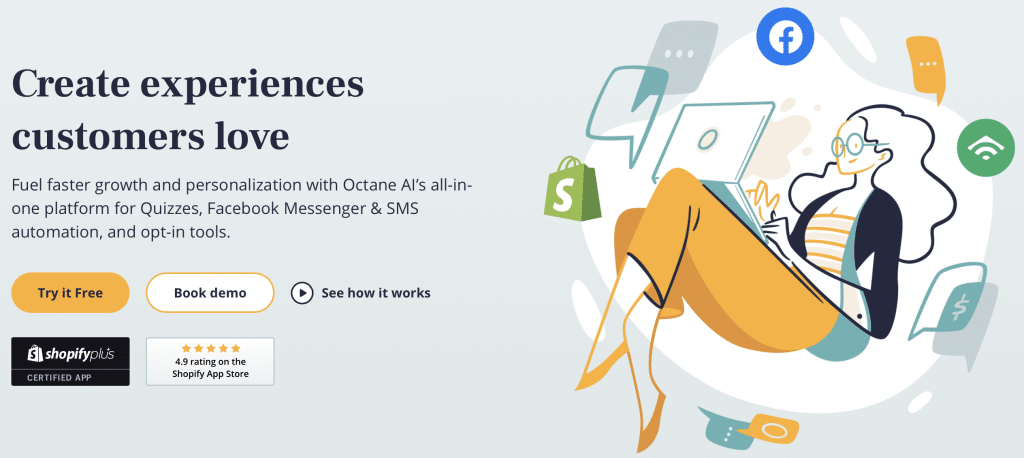 Octane AI's entire philosophy is focused on being a chatbot builder for e-commerce. Octane AI allows users to send abandoned cart messages via Facebook Messenger for all customers who have opted in. Every message sent from Octane AI concierge is 100% customizable. Sync data from Klaviyo and Shopify apps with Octane AI.
The Questions feature is a valuable tool for gathering audience-generated content, opinions, polls, surveys, and ideas. Some brands using Octane AI to improve sales include Warner Music Group, Skinny Myxes, Proactiv, and GoPro.
Octane AI Features
Octane gathers audience-generated content, surveys, and ideas.
Creates a rich customer experience.
100% customizable to suit your business.
Integrates with Facebook Messenger
Click here to view the Octaine AI sales tool.
#4. Ripe.ai Review – Automatic Sales Funnel Tool
Ripe.ai uses lists, triggers, and flows, to automatically send messages to customers after they complete an action or answer a question. This AI sales to create questions that help you to get desired feedback to improve your sales process.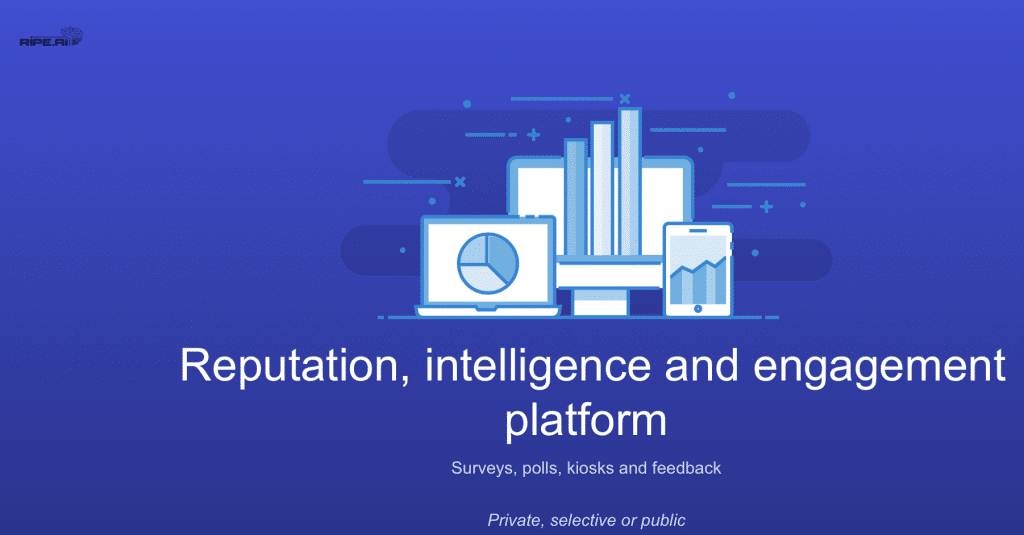 Use data sets from Ripe.ai to improve campaigns and customer support. Using this tool, merchants can automatically send abandoned cart notifications that recover more abandoned carts than just email alone.
Ripe integrates directly with popular e-commerce apps like Klaviyo, Yotpo, Gorgias, Yext and more without having to use Zapier.
Ripe AI Sales Features
Ripe.ai allows users to manage customer service through social media platforms and sync customer information.
Follows up on marketing campaigns
You can keep track of sales and revenue
Predicts buyer's behavior and simplifies the buyers' journey.
Click here to view the Ripe AI sales tool.
#5. Timely Review – Customer Booking Tool
Timely is a smart booking software for businesses. You can easily manage your appointments, clients, sales, staff, stock, reporting & more. Create the perfect client experience with fast online bookings, online payments, targeted SMS campaigns and more.

Timely uses AI to make customer booking easy. It also boosts client retention with VIP discounts and email marketing. Plus, it stores all your client information in one place with notes and automated sales and appointment tracking.
Details are automatically synced and saved to the client's profile saving you time and guaranteeing easy access to important information.
Some brands using Timely to improve their buyer's journey include PUBLIC Salon, CONTENT, Brown List, and Marcus Edwards.
Timely Features
Makes payment contactless
Can be used to schedule pre-appointment consultations
Easily maximize your bookings.
Helps to keep track of your clients.
Can handle recurring appointments.
#6. Pixamattic Review – AI Content Creator Tool
Pixamattic is another AI sales tool to earn more customers. Pixamattic is an incredible content creation tool that enables you to produce all kinds of highly-converting visual content with no string attached! It comes with a click-and-drag platform that runs completely on autopilot.

Pixamattic uses AI to perform all the essential tasks involved in the decision-making process of building an ideal look for your business. High converting visual content can cost you an arm and a leg to create. With Pixamattic, you can stay away from the hassle and still manage to get the best result!
Pixamattic has tons of templates that serve multiple niches. Your only job is to choose what you want and customize it. On top of that, it also gives you access to highly-converting sales copy.
Pixamattic Features
Comes with several templates for creating eye-catching visual content.
Compatible with iOS, Chrome, and Android.
It comes with an incredible editing tool.
Broadcast your content with one click
Click here to view Pixamattic.
#7. Crystal – AI Customer Assessment Tool
Crystal is a personality assessment solution that helps businesses gauge personalities and build teams with specific skills. It shows you the best way to communicate with any prospect, customer, or coworker based on their unique personality.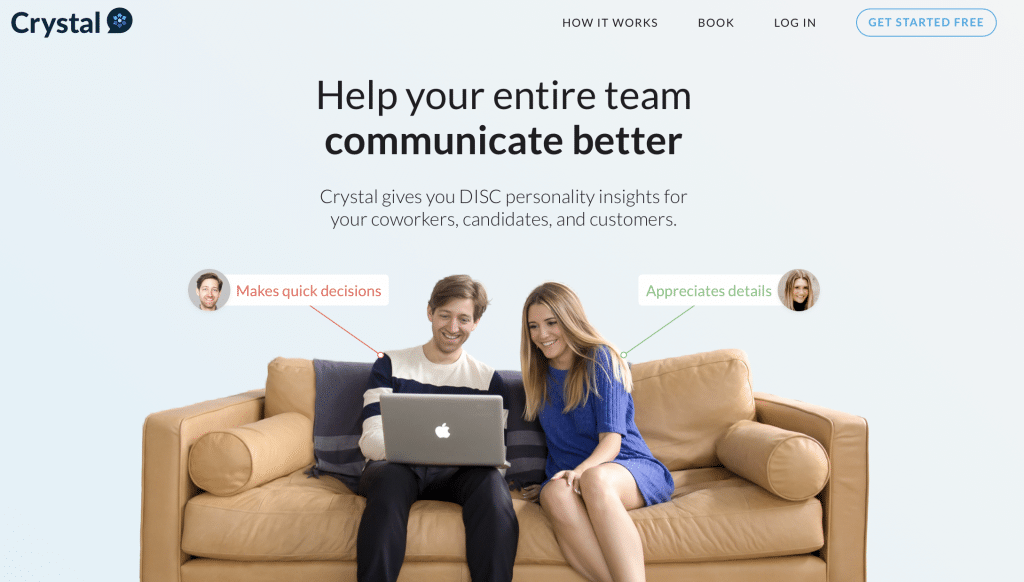 Crystal's tools and features are built to give sales professionals improved, real-time data into the people they work with every day. This includes prospects, current clients, people you meet while networking, and your own team.
Crystal uses AI to learn more about your customers than just their skills and interests. This is key to successful business relationships.
People want to work with brands they feel share their interests and values. Crystal helps businesses cater to all different types of people.
CNN, Huffpost, Fortune, WSJ, and The Guardian are big brands using Crystal to communicate with their prospects.
Crystal Features
Identify your customers' key personality traits and predict their success.
Creates Playbooks to help your team communicate.
Crystal can track your sales performance
It can keep your customers engaged on your website.
#8. Convertize Review – A/B Sales Tools
Convertize is a simple A/B testing tool that makes it easy to increase your conversions. You can edit, test, and optimize your website without coding. Using the intuitive visual editor and built-in statistics engine, anyone can test and optimize their website content.

Convertize uses artificial intelligence to personalize website content based on the visitor. Each visitor has an experience tailored to them, and the tool generates urgency through nudge marketing notifications. By setting goals and testing your content, you can generate more sales and more revenue, without paying for more ads.
Popular brands using convertize to gain more customers include Exceed, ShowSkill, PrintSome, Spinify, and HZQ Consulting.
Convertize Features
A/B testing and Split testing features
A library of 150 optimization tactics
The drag-and-drop SmartEditor allows you to edit pages without touching a single line of code
A built-in Hybrid Statistics Engine does all data mining and calculations for you
Manages your traffic, sending more visitors to your best-performing pages -so
Quick and easy to add dynamic text, personalization, and persuasive notifications to you webpages
Click here to view Convertize.
What AI sales tools have you used to increase and earn more customers? What tips and tricks would you offer to other people? Comment below and let us know.