Snazzy AI is a brand new content creation tool powered by GPT-3 to make high quality landing pages, ads, product description, blog excerpts, and more. We took a good review at Snazzy AI and have a full break down below.
We'll go over the service in detail, including:
Features
Price (Spoiler: it has a generous free plan!)
Types of content you can create
A review of the each product
and more!
What is Snazzy AI?
Snazzy is an AI-powered content creation tool. It uses GPT-3 along with a unique machine learning layer to create relevant copy for content creators. It is a smart word tool for businesses and websites to use in order to generate ideas fast.
Snazzy intakes basic information about a topic, which you supply:
Company name
Keywords
Audience
Description
It can then generate accurate descriptions, paragraphs, and content which you can modify or use directly in your work.
Click here to visit and check out Snazzy.
GPT-3
GPT-3 is a smart language model created by OpenAI that uses deep machine learning to produce human-like text. GPT-3 is the third generation of the tool and it has received a lot of praise for its accuracy. Because of this, a lot of tools have popped up that use GPT-3 to create accurate copy for businesses, students, and individuals.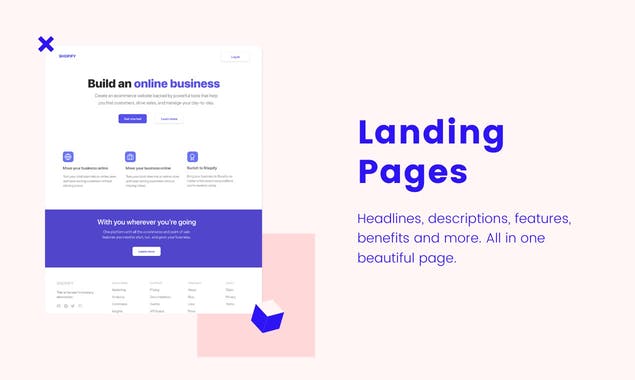 Snazzy AI Features
Snazzy AI allows you to generate a number of different types of content, including:
Google Ads
Landing Pages
Facebook Ads
Tagline
Product Description
Header and Description
Features List
Benefits List
To generate content, you simply select your template and then input some key information:
Company name
Keywords
Audience
Description
After that, Snazzy AI will generate you multiple ideas worth of content. You can then use this however you want. If you've been following GPT-3 and its application, you already know how impressive it is. Snazzy takes that a step further by applying unique machine learning and modelling to your request. This makes your result customized, professional, and even more usable.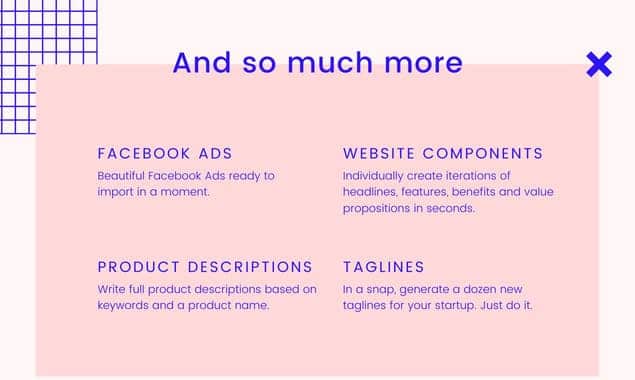 Snazzy Price
Snazzy has a very competitive pricing scheme. For FREE, you can generate up to 5 different templates per day! For most casual users, this should be more than enough.
If you need access to generate more templates, it costs $50 per month to upgrade. In your upgraded plan, you also receive access to these features:
Same day support
Early access to new features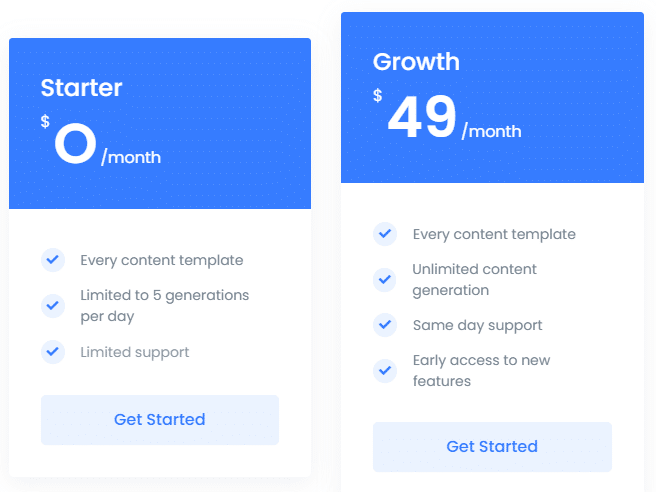 How Well Does Snazzy AI Work?
Since Snazzy has an awesome free plan, we encourage you to give it a try yourself. We ran Find New AI through Snazzy's different product templates to see what would come out.
To start, here is the templated information we put into Snazzy AI:
Company Name = Find New AI
Brand Keywords = Artificial Intelligence, AI, AI Software
Audience = Tech people, Small businesses, developers, entrepreneurs
Description = Find New AI showcases artificial intelligence software that makes your life or business faster.
We used the information above to generate a different different templates using the service.
Product Heading and Description
First off, we generated product headings and descriptions for our website. This is content that could be used on our home page to describe our website to visitors.
Some of the examples that Snazzy generated were:
Find New AI showcases artificial intelligence software that makes your life or business faster.

With AI, you get tools that are fast, affordable, and simple to implement.

Power up your business with artificial intelligence

Discover Artificial Intelligence tools and software that make your life or business faster.

Discover new AI

Find, choose, and buy AI software and services that help you build and run your business faster.
Overall, really cool stuff. The text written was informative and interesting. Definitely a few ideas that we could implement on our home page today.

Tagline
Next, we wanted to see what Snazzy would generate for a tagline using artificial intelligence. Again, we were pleasantly surprised:
All the software you need.
Be human, find AI.
Bring AI to your business.
Get your business moving.
We liked that the tool was able to give us some pretty unique ideas like "Be human, find AI".
Website Features
Next, we generated a website features list for Find New AI. These descriptions would be added to your home page to summarize major features you have.
Content Creation Tools – Convenient tools for bloggers and writers to create more content and attain more readers.
AI Content Generator – Automatically generate content based on what your customers are searching for at the moment. Content is king.
Cutting Edge AI Tools – Find New AI showcases artificial intelligence tools. Discover the latest AI technology.
Again, Snazzy AI did a great job at capturing good information about our website. This template would work better for software or app developers, but it still provided relevant content for us.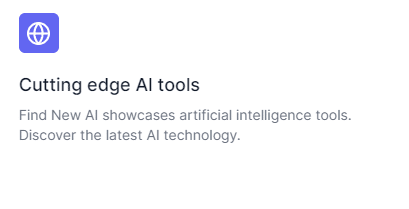 Google Ads
Next, we generated Google Ad ideas with Snazzy. It created Google ad headings and content excerpts that we could use in Google Ads today:
Find New AI – See How AI Can Help You Grow – Free Business AI – Building an AI Language

Artificial Intelligence Software That Makes Your Life or Business Faster. The Content Tool for Marketers and Bloggers. Add AI content to your website or blog.

Find New AI – Ai Content Creation Tools – Create Content Without Skills – AI Notifier

Artificial Intelligence Startup Showcasing Tools That Make Your Life or Business Faster. Artificial Intelligence Tools. Personalized Content. Tech Tools & Services. No.1 Artificial Intelligence – New AI Tools & Software AI Content and Word Tools for Techies

Find New AI – The Top 4 All In One Content – New AI Software Is Here – Content Made for You

Find New AI – Your one-stop resource for artificial intelligence software. Find New AI. Best A.I. software on the web. No Programming Required. We make it easy to find new artificial intelligence tools. Ai article generators – Word tools for content creation
Some of the copy used above is a bit too keyword spammy for us, but its hard to ignore the quality of the service.
Benefits List
For our last test (and free credit for today), we generated a Benefits list for Find New AI.
Easy to use – Our AI software, tools, and generators are so easy to use, you can have your site back up in minutes.
Make your life easier – Make the most out of your time by automating your repetitive tasks.
Easier to find the right AI tools for you – Our AI product category filter helps you find the best software. You can filter by categories including: content creation, web research, and more.
Again, Snazzy AI generated some really good benefits that we could use to describe our website.

Conclusion
Overall, we were impressed with how accurate Snazzy was able to generate content based on just a few keywords worth of information from us. A lot of the ideas above could easily be used by us in the future.
Being free for 5 credits per day is very generous for the tool to offer. We aren't familiar with GPT-3's pricing model, but we hope that this is sustainable long term. Offering 1 or 3 credits per day for free with a cheaper starter plan would still make Snazzy more than generous.
If you need to make AI content creation fast, Snazzy AI is a worthy tool to add to your arsenal.
Click here to visit and check out Snazzy.
If you have any experience using the tool, comment below and let us know today!