Artificial intelligence can be applied to the stock market to make automatic, non-emotional trading decisions. In this guide, we will show you the best AI stock trading platforms which help investors learn about and invest in the market.
More specifically, we'll go over:
The best AI stock platforms, tools, bots, and software
What each tool does in plain english for you to understand
How to create your own AI trading both
The benefits and risks of trading
If we've missed anything, make sure to comment down at the bottom of this guide today.
What is AI Stock Trading?
Artificial intelligence is the use of computers to make decisions based on trends, data, and information. AI stock trading is the action of buying and selling assets in the market with less human interaction.
AI stock platforms either trade or instruct you to trade on your behalf based on a number of things such as:
Trends about where the individual asset and overall market are going.
Information about your personal risk level
Historical data about how an asset has behaved int he past.
AI can analyze millions of potential scenarios about the market in seconds.
If you are interested in day trading, you should know that big companies have been using AI on the market for a long time. The software they use is proprietary, expensive, and high guarded. Its the reason why the overall stock market moves in trends at the same time. When one bot is telling someone to sell, other bots are automatically doing the same thing.
Luckily, there are a few AI stock trading platforms that anybody can start using today!
And we'll go over a few of the best ones below.
But first, let's just take a look quickly at how AI trading works.
How AI Trading Works
AI stock trading bots contain thousands of if-then statements.
What is if-then?
If-then is a really common programming term. Simply, if a condition is met, then perform the following action.
For example:
If a stock hits an all-time high AND the trend of buy orders is decreasing THEN initiate a stop-loss and take-profit orders.
Technically, the above sentence was an if-and-then statement, but you get the idea!
Artificial intelligence bots for stock trading are much more sophisticated than this. In real time, they can analyze historical and current trends and place these instructions to buy or sell right on the spot.
At the same time, they can monitor its previous actions and double-down or save you money if the trend reverses.
So if you are ready to jump in, lets look at the best AI stock trading platforms today.
Best AI Stock Trading Platforms
Trade Ideas

Trade Ideas is an all-in-one stocks and education platform that teaches you how to invest safely using artificial intelligence. It is a huge players in the AI stock trading world, offering to manage your trade cycles completely with artificial intelligence.
In addition, Trade Ideas offers simulated trading for new users to get used to the platform and how it works. You also get a full suite of training tools and educational documents to teach you how trading works. Online classes, webinars, and a dedicated support chat are offered to all premium users.
Trade Ideas connects directly to the stock exchange and watches every single stock and ETF that is traded. The platform performs constant analysis and reanalysis in order to provide data and recommendations to each subscriber. Trade Ideas has appeared in the 5000 Fastest Growing Privately Held Companies in the Unites States for 4 years in a row.
We like how customizable your interface is. You can keep things simple while you are learning, but check out the complex screen below for an idea of how crazy you can go with Trade Ideas.
Trade Ideas Features
Artificial intelligent robo-advising from the platform, which analyzes millions of trading scenarios each minute in order to recommend the right course of action for you.
Scans and identifies trading opportunities trading strategies. Automates your strategies and executes directly through your Interactive Brokers account.
The OddsMaker Window shows event-based odds on different scenarios and how well trading has done recently so that you can improve your strategies.
Real-time alert windows as changes in the market occur.
Fully customizable interface that lets you focus on as much or as little as you want.
Full training platform that teaches you how to use Trade Ideas and all of its features.
Click here to check out and learn more about Trade Ideas.
TrendSpider

TrendSpider is a technical analysis stock platform that scans, analysis, monitors, and automates your entire trading. It is one of the most comprehensive AI stock trading platform available today.
TrendSpider automatically analyzes the assets you want in order to identify trends and make recommended actions based on historical data. It removes all persona. bias in trading by recommending sound sound decisions.
TrendSpider University is the platform's learning center, which has a ton of great content to teach you how to use the platform and become a better trader. The courses teach you how to perform technical analysis and lay some really good groundwork before turning you loose within the TrendSpider software. 1-on-1 training and advice is also available for premium users as well.
Unlike Trade Ideas which goes 100% into artificial intelligence, TrendSpider performs the analysis and lets you decide which path to take.
TrendSpider Features
Scan the market for stocks and assets that match a specific technical analysis.
Get good trading insight with non-technical analysis visualized naturally for you.
Set alerts that reach you in real time if conditions in the market occur and need to flag you.
Get real-time data on US Stocks, ETFs, Indices, Crypto, Pinksheets, Futures, Commodities, Forex and Currencies.
Level up your trading with the industry's smartest charting platform designed to assist you with making better trading decisions.
The Strategy Tester allows you to see which trading strategies have worked and not worked in the past.
Click here to check out and see more of TrendSpider.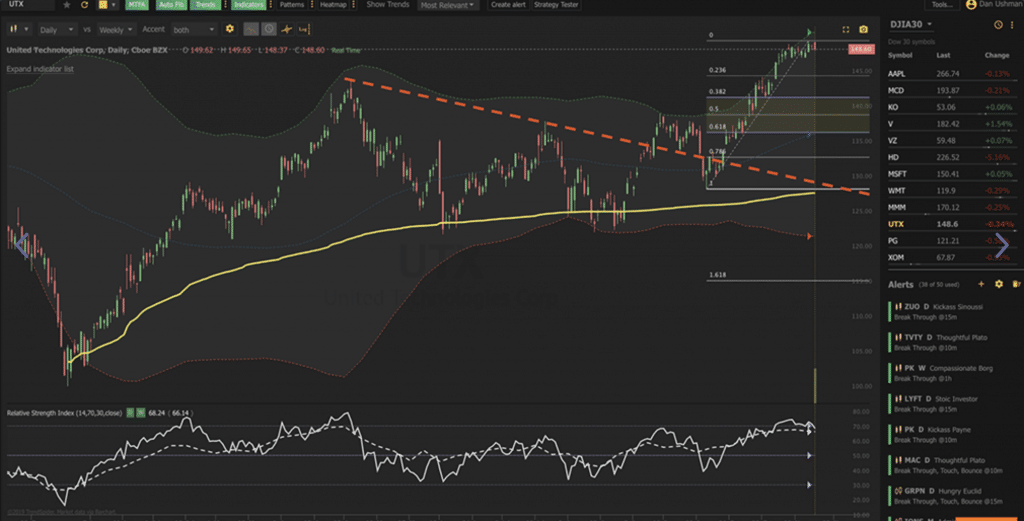 MetaTrader 5

MetaTrader 5 is a multi-asset trading platform for stocks, Forex, and futures. The platform is known for its strong trading system which lets you execute trades using a variety of methods. For those people who just want a stock trading platform, MetaTrader 5 is one of the most popular options available.
MetaTrader does include an AI stock trading add-on called Algorithmic Trading. AI can analyze quotes of financial instruments and execute trade operations on the Forex and exchange markets. The MetaTrader 5 trader uses the integrated development environment MQL5 IDE. If you don't know how to program, there is an MQL5 marketplace where you can rent or buy different AI trading robots. This lets you sample different trading algorithms as you play the market.
In our testing of MetaTrader 5, we were really impressed with the number of features in the application.
MetaTrader 5 Features
The platform has strong technical analysis features, allowing you to analyze over 100 charts at a single time, each with their own view and time settings.
Fundamental analysis is a tool that can be used to forecast the price dynamics of financial instruments.
Live breaking news alerts in the app so that you stay up to date.
Copy trading – if you don't have time to do your own trading, you can subscribe to a popular trader and MetaTrader will replicate their trades.
Mobile trading from an Android or iOS device.
Virtual hosting allows MetaTrader 5 to keep trading automatically while your computer is off.
Click here to check out MetaTrader 5.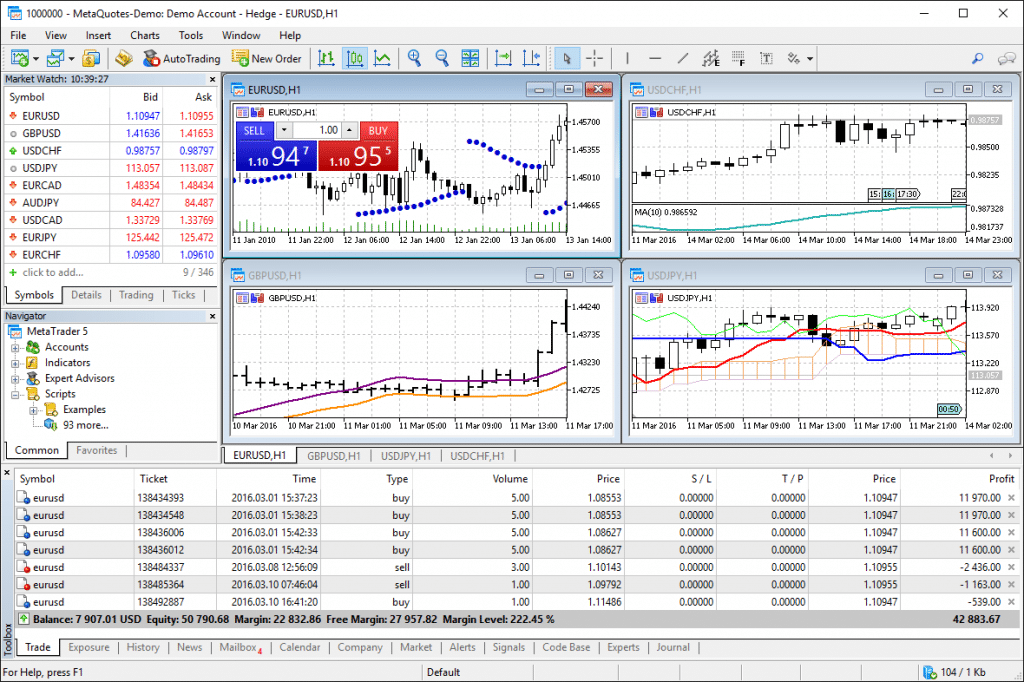 How to Pick an AI Trading Bot
All of the choices above are quality options, hand-picked for their AI features.
Here are some other factors to consider if you are stick picking one of the platforms above.
Input Needed by You
Do you want to input your own trading conditions and if-then statements into the bot? On one hand, these personalized conditions can customize the risk level of the bot.
On the other hand, you need to know what you are doing in order to set things up efficiently.
If you are new to the market, then use a platform that teaches you as you go and doesn't require your input in order to get started.
Hands On or Hands Off?
Do you want to be 100% hands off or do you want more of a say in the actions of your bot?
Some of the trading platforms above analyze the data and then ask you to confirm or execute the trigger. Others will make these decisions for you in a truly automated way.
Decide how you want to be BEFORE you get started so that your emotions don't get in the way later on.
Where Can Your Platform Trade?
Make sure your trading software can operate and be used in legitimate markets. All of our choices in this guide will give you access to everything you need.
If you are doing research on your own, make sure that the bot is compatible with both MetaTrader 4 (MT4) and MetaTrader 5 (MT5).
Supported Assets
There are many different kinds of assets include:
Stocks
Bonds
ETFs
Forex pairs
Make sure the platform you select can trade the assets you want. Even better, make sure you understand the assets you are trading.
Price
AI stock platforms cost money over and above what you already pay to trade on the market. These platforms can either be a one-time fee or a monthly subscription.
Monthly subscriptions allow you to pay less up front and reward the developer for continuing development on the platform. A one-time fee requires the developer to continuously find new customers for the platform.
We prefer monthly fees so that you can learn as you go and switch to a different AI stock trading platform later on if you'd like.
What are the Pros and Cons of AI Stock Market Bots?
Pro
Artificial intelligence can make decisions faster
AI can make more decisions in a less amount of time
There are no emotional or gut-feeling decisions
You can trade 24/7 automatically while not burning yourself out
You can analyze and trade multiple assets at a time
The more you use a bot, the better it becomes
You don't have to continuously analyze and trend the market
Cons
You need AI trading software that is constantly being updated
You have to setup your platform correctly
Your algorithm needs to be complex in order to cover complex trading
What AI stock trading platforms have you tried and would recommend? Comment below and let others if you've had any success!