The best team software uses artificial intelligence to make your group work more efficient. In this guide, we go through the best tools to management your team and collaborate better.
We'll also go through some of the best features in AI software tools for teams, including:
streamlining daily tasks
completing more deliverables
earning more sales
artificial intelligence
If your team uses a tool that you would recommend, comment below and let us know!
The Best Team Software
Different Types of Team Software
Software for teams or projects should help to organize documents and keep the team progressing along. In this guide, we've focused in on a few types of tools that use artificial intelligence to help teams succeed.
Streamlining Daily Tasks
Some of the software in our list helps to improve daily team tasks such as:
Sharing files
Collaborating on documents
Getting feedback
Tracking budget live
These are the most common tasks we perform each day. Luckily, there are some good AI team software solutions that simplify this work.
Completing Deliverables
Many teams are judged based on their ability to complete tasks and deliverables. A lot of the team software in this list helps groups:
Track deliverables
Complete tasks faster
Collaborate on work
This software uses intelligence to track costs and actual achievements verses projections and estimates.
Sell More
A lot of sales teams have one goal only: make money. This team software helps them earn more sales in a variety of smart ways:
Tracking correspondence with potential customers
Undertanding where sales are being lost in the funnel
Compare sales members with each other to make improvements
If your team needs to complete sales to make money, look for teams software that pays for itself in extra revenue.
Next up, we take a look at our favorite team software to help teams collaborate efficiently.
#1. Wrike Review
Wrike is a collaborative work management platform that helps companies do their best work — no matter where their employees are based. With many companies moving to a remote work environment for their employees, Wrike is the best platform for teams to collaborate.
Wrike uses artificial intelligence to free employees from the daily minutiae of work by streamlining effort, automating rotating tasks, and delivering invaluable insights. Wrike gives employees and companies the time, information, and freedom needed to be innovative, creative, and strategic.
Over 2 million users, including Siemens, Dell, and Airbnb use Wrike to connect geographically to ensure their organizations are aligned, agile, and adaptable.
Wrike Features
The most versatile CWM platform, delivering advanced work management.
Partners and integrates with all of the best in class tools.
Has ISO certified data centers in the US and EU.
Available via the web, desktop apps for Macs and PCs, and via mobile apps for iOS and Android.

#2. ClickUp Review
ClickUp is a collaboration tool that is suitable for businesses across all industries. This tool uses AI to help businesses collaborate on different projects. Whether big or small, businesses can take advantage of features like communication and collaboration and tasks assignment and statuses.
More specifically, users can assign tasks and comments to a specific team or members of a team. They can also mark these comments as 'in progress' or 'resolved' and also make custom statuses. Teams can set their notifications to only be sent for specific items. Furthermore, they can use the 'mention' feature to alert users who are mentioned in discussions. In terms of comments, they can still be edited even after they have already been sent.
This team software has a hierarchy of views to help users organize their projects and these include:
Teams
Spaces
Projects
Lists
Tasks
Subtasks
ClickUp is used by numerous businesses and project management teams, including Google, Uber, Airbnb, GetApp, and Crowd to collaborate on different projects.
ClickUp Features
Can be used to organize other events like birthdays and anniversaries.
You can use this tool to manage contacts and personal networks.
Create a cookbook or collection of recipes.
It has an efficient dashboard view.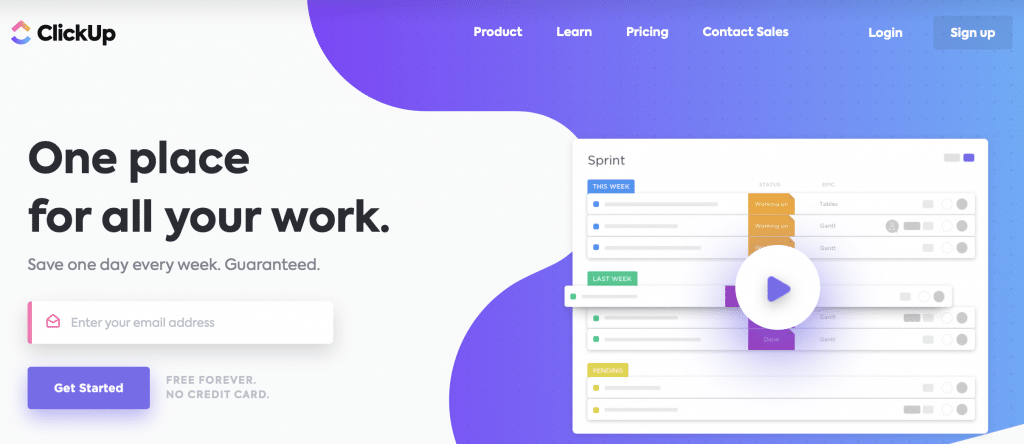 #3. Otter AI
Otter AI is a team software tool that uses artificial intelligence to improve collaboration. It generates rich notes for meetings, interviews, and presentations.
Recording and transcribing conversations or meetings can be arduous. That's why many who need to do either turn to transcription services. Otter takes an innovative approach to the task, offering real-time transcripts of conversations and meetings as they occur.
It also integrates with other features, such as cross-conversation speaker identification, good search tools, and excellent mobile apps.
Big brands like CNBC, Zoom, IBM, Columbia University, UCLA, Marketplace, and ProPublica use Otter AI to record and transcribe conversations during meetings.
OtterAI Features
The app performs real-time transcription with delayed corrections
It can also process existing audio files.
The dashboard shows all your latest account activity, along with associated quick actions for most items.
Otter lets you edit the title of a transcript, but you can't change the date.
#4. Timely Review
Timely is another team software productivity tool powered by artificial intelligence. Timely manages and grows a successful business from anywhere. It runs on all your devices, giving you the freedom to run your business on the go.
Timely uses AI to make life easier for your clients with online bookings and automated SMS & email appointment reminders. It also boosts client retention with VIP discounts and email marketing. You can use Timely to store all your client information in one place with notes and automated sales and appointment tracking.
Customise Timely to suit your business with add-ons like Microsoft Outlook, Google Calendar or Apple Calendar. Connect powerful add-ons for accounting (Xero, MYOB, Quickbooks), retail (Vend) and email marketing (MailChimp).
Big brands like Public Saloon, Content Beauty & Wellbeing, Loxy's, and Marcus Edwards Concept Saloon use Timely to stay on top of their games.
Timely Features
This app can help you manage your bookings.
It can also help you manage your clients.
Timely keeps customers records and accurately imports data.
Timely allows automatic data backup.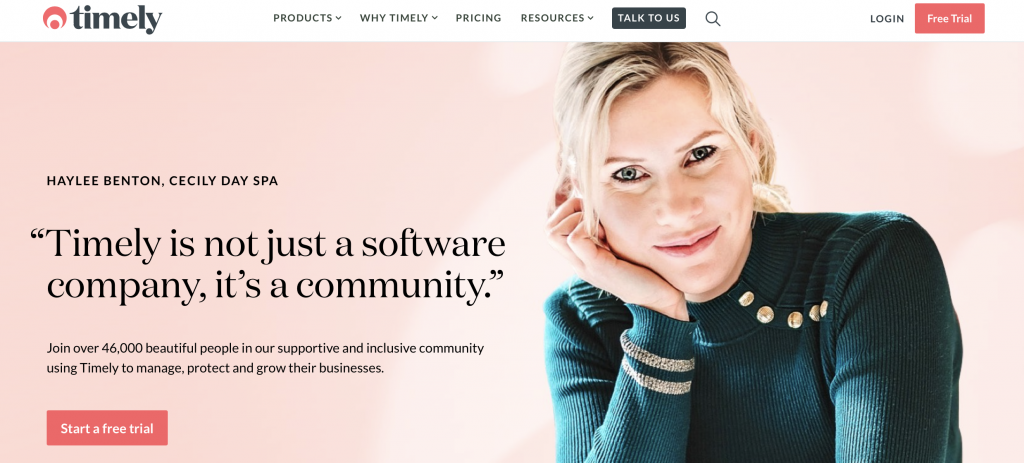 #5. Todoist Review
Todoist is one of the most popular to-do apps on the market today. It comes loaded with great features that help boost productivity. Todoist uses AI to organize tasks and set schedules and deadlines. What makes Todoist so popular is its plethora of apps and plugins for laptops, desktops, mobile devices, emails, and browsers.
It's a simple yet powerful to-do list app and team software ranked best-in-class by Apple, Google, The Verge, Forbes, and more.
Over 25 million people and businesses, including Amazon, Facebook, Disney, and Wework have used Todoist to complete more than two billion tasks and projects.
Todoist Features
use Timely to add emails as tasks from Gmail.
Acan also add websites as tasks using browser extensions.
Forward emails to Todoist as new tasks or comments.
Copy & paste multiple lines of text to create new tasks from each line.
Drag and drop the "+" button to create tasks.

#6. Bit.ai Review
Bit AI is a new-age document collaboration platform for teams to create robust internal & client facing documents with built in tracking. Bit uses AI to centralize and organize work for teams. It also helps teams to collaborate in real-time across workflows and track engagement across the content that is shared.
With Bit.ai, you have access to a modern yet simple interface that you and everyone in your team can customize. It has a workflow configuration tool as well that enables you to tailor the solution's work process to suit your team.
Each workspace on Bit.ai can be organized to avoid clutter. Each user can have permission to edit pages, too, to keep everyone apprised of updates, resources, and other important documents. Thus, everyone is aware of the goings-on regarding team projects for smoother and faster completion.
Big brands like Accenture, Harvard University, Canon, Rockspace, and the University of Michigan use Bit AI to collaborate with their teams.
Bit.ai Features
Bit allows real-time collaboration.
It has a customizable interface.
It comes with an intelligent document editor.
You can perform engagement analytics with Bit AI.

#7. Tara AI Review
Tara is an intelligent product builder that helps product managers, founders, non-technical executives, and CxOs to manage software builds from beginning to end. The solution helps users accelerate product development using artificial intelligence.
It also provides teams with the ability to deploy on-demand developers and build task lists in a single location. Additionally, the system uses artificial intelligence to enable users to instantly create development tasks and timelines for project builds.
Over 5,000 customers, including Orange, Placenote, Alto, and Airschool use Tara to manage their projects from start to finish.
Tara AI Features
Teams can use Tara AI to collaborate regardless of their locations.
You can use Tara to keep track of your milestone.
It comes with natural language processing ability.
Tara can help teams manage their projects.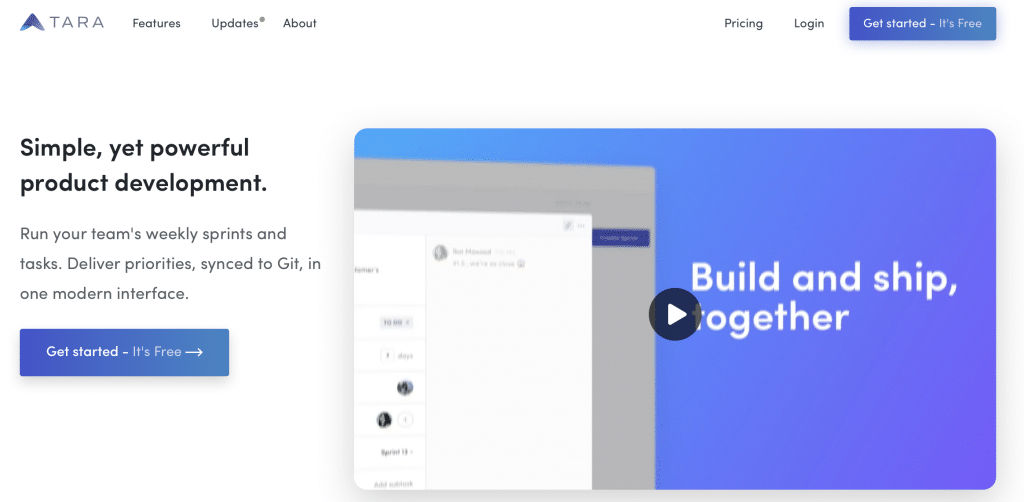 #8. Yva.ai Review
Yva is an AI-driven People Analytics and performance management system. This team software tool allows businesses to increase their performance and sell more. It helps them understand, motivate, and develop their employees.
Yva.ai uses the power of artificial intelligence to boost corporate health and performance while ensuring the individual happiness of employees. You can use Yva to scan your remote organization, understand the issues and re-engage your people.
Big names like Foxit, ABBYY, MTC, VISIER, OSOFT, GVA, Trace, Ability, and Ato Events use Yva to increase their performance and motivate their employees.
Yva Features
Can help to manage your employee performance.
Auto-generates a weekly Company Heatmap with Burnout indices and recommendations for action.
Boosts the corporate health of a team.
#9. Trevor AI Review
Trevor AI is an efficiency team software tool. Trevor uses artificial intelligence to review your task lists from task management platforms and your calendars. It also suggests the best times to complete tasks and optimize your schedule.
This tool will identify the perfect time for you to complete a task based on your availability. It will also notify you when it's the best time for you to fit something in.
This is a great tool to fight against procrastination. You can ask Trevor to add a task and it will immediately give you a selection of times in your calendar to pick from. It's just like texting a personal assistant who's always online.
Trevor AI Features
Schedule tasks instantly with drag & drop or smart suggestions.
Mark tasks as complete, within your schedule.
Real-time sync with Google Calendars.
This efficiency tool can review your performance.

#10. X.ai Review
X.ai is an AI-powered tool that helps you and your team share ideal availability so meetings get scheduled. When you connect all of your calendars with X.ai, the tool can instantly review your availability and preferences to find ideal meeting times. You can share a link to these time options or tell X.ai to send them directly to your guests.
X.ai uses AI to automate the most tedious parts of scheduling. Examples are finding compatible times to meet with large groups, sending follow-ups and reminders, as well as managing cancellations and reschedule requests.
Coca-Cola, Disney, Zendesk, AKQA, Stackchat, Bitly, Sendoso, and other big brands use X.ai to schedule meetings.
X.ai Features
This productivity tool integrates with your favorite tools, including Google, Outlook, Slack, Zoom, and many more.
This tool can also track meetings.
Google calendar integration.
Office 365 Calendar integration

What team software does your group use in 2021? Let us know by commenting below!