In this guide, we take a look at the best AI translation tools you can use to convert content from one language into another.
When looking at the right smart translator, you should consider a few key features:
Accuracy of output
SEO (if you are putting your content on the web)
Localization
Plus a few other features we will go over below.
What used to require a full team now only takes one person and some artificial intelligence to achieve.
If you use any of our best AI translation tools below, comment and let us know what your experience is!
The Best AI Translation Tools
How to Choose the Best Translation Tool For You
A lot of services on the Internet can translate text and documents for you. And most use the same Google backend API to convert documents from one language to another. However, good tools add artificial intelligence, machine learning, and a personal touch to make your documents extra precise.
Here are some key features that a good automatic translator will have.
Lots of Languages
Language is worldwide and your smart translation service should support all the specific languages you need it to.
Good Accuracy
Ideally, you should have a native tongue speaker verify that your translation is correct. Or, compare different tools by running the same text through multiple tools.
This will help you understand which tool fits your needs best.
SEO
Good smart AI translation tools will consider SEO and other good search practices in your translation. Unlike English, lots of other languages can be expressive in multiple ways. A good tool will understand which context to you.
This process of translating, localizing, and SEO optimizing is called Translation Management.
Free Translation Tools
You will find free services at your disposal. But in that case, we recommend Google Translate (featured below). Translate is a free offering from Google that does free language translation. It is fast, generally reliable, and supports over 90 languages. The end quality is average or better.
For custom smart features and artificial intelligence, pay for the right AI translation tool below.
Next, we will review our top services in more detail!
Translated Review – Best AI Translator with Human Assistance
Translated is an online-based translation tool that uses the combined power of AI and human creativity to translate documents in seconds. Translated supports more than 120 languages and allows web page, multimedia, and manual translations.
According to the team behind Translated, their mission is to create a world where internet users can communicate freely without language barrier. Translated charge $0.131 per word for professional translation.
Why is Translated different from other translation tools? Translated uses the powerful combination of machine intelligence and human creativity to create consistent quality translations.
Google, IBM, Expedia, and Airbnb use this automatic translator to craft quality content in French, Spanish, Italian, while writing in English.
Translated Features
Combines AI software with humans to translate in 186 languages and 40 areas of expertise.
Scalable for large enterprise solutions.
API and other developers tools to automate your processes even more.
Lots of experience and trust, with over 1.2 million translations performed.
Click here to view Translated.

Sonix Review – Best Audio and Video Translation Tool
Sonix is an audio and video transcription/translation tool that businesses and independent contractors can use to transcribe their audio and video files. Sonix uses AI to translate content from one language to over 40 languages within seconds. This tool can also transcribe both audio and video files in approximately 3 minutes.
With Sonix, you can review and edit your translated or transcribed content. Plus, you can even highlight and strike through the translated content to quickly find areas of focus later. This automated tool allows content export into various formats like text files and Microsoft Word documents.
Sonix charges $15 per month for its professional plan. The next higher plan is the Business plan which goes for $80 per month. The top-tier package is the Enterprise plan with a price tag of $400 per month.
Adobe, Uber, IMB, Stanford University, and the Wall Street Journal use Sonix to translate multiple documents, audio, and videos in seconds.
Sonix Features
Supports up to 40 languages.
Can translate speech to text in seconds.
Users can edit or modify the translated content easily.
Integrates with a wide range of third-party apps.

Voxqube – Best for Videos
Like other business owners, you have probably created an extensive library of videos from product demos, training sessions, webinars, in-person events, and many meetings. In most cases, these videos are done in one language, which limits their usage if you have a global audience.
Voxqube brings a fast, affordable, and high-quality solution to this problem. You can turn your videos into a localization masterpiece with Voxqube.
Voxqube is an AI video translation software optimized to deliver impressive captions in just a few minutes and over 25 languages. Voxqube uses AI to extend your video usage to a global audience for lead generation. You can use this software to translate subtitles from English into Spanish, German, French, and more.
You simply launch the software, upload a video, select your preferred language, and allow Voxqube to automate your video translation.
Key Features
Get your translations almost instantly
No hidden costs or feeds.
Voxqube will preserve the original spirit of your video.
Simplifies voiceovers and video content demand.
What I Like About Voxqube
I like that Voxqube can translate any video in any language and turn videos into localization masterpieces. I also like the fact that you can use Voxqube to reach new client bases around the globe to offer your products or services. Video translation was always much harder than text. Voxqube fills that gap nicely for me.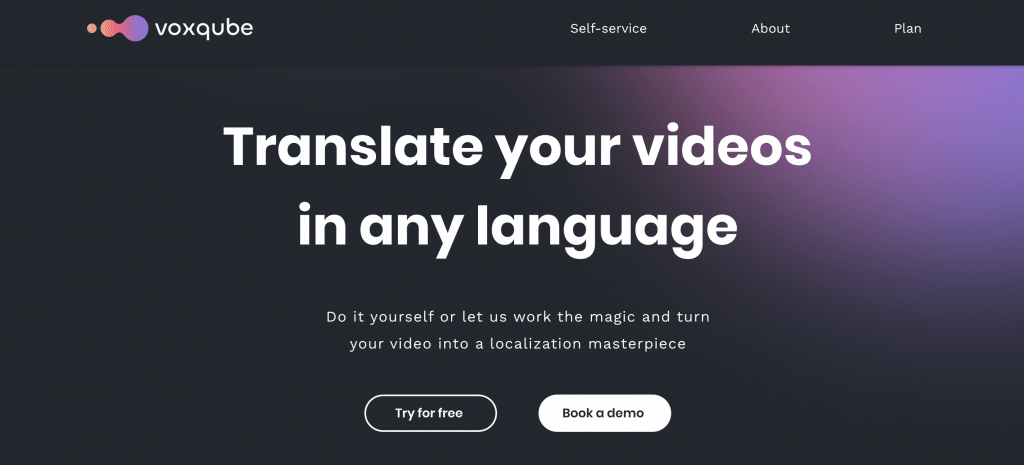 Phrase Review – Best Translation Management System
Phrase is an AI-powered translation tool and a leading translation management system. Users can use Phrase to localize your mobile applications or websites in real-time. Phrase is a comprehensive solution when you need to translate from your mother tongue to foreign languages.
With features like Smart suggest, Glossary, and Translation Memory, you can manage all your translation needs in one place.
Phrase charges $23 per month for its basic plan and $35 for its advanced package. The high-end Enterprise plan is custom priced to fit your needs.
Livestorm, the Conversation, Uship, Kreditech, and Xing use this automated translator to deliver value to their customers.
Phrase Features
Can handle complex translation projects.
Users can collaborate with team members, while commenting on their individual keys.
You can review all previously translated content on the app.
You can check your translated content for issues like broken placeholders, long wording, or mistranslated terms.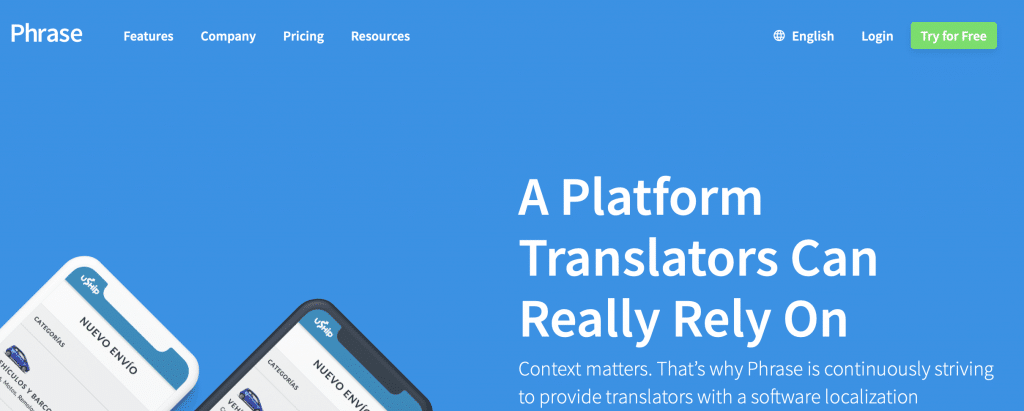 Smartling Review – Best AI Translation Tool for SEO
Smartling is one of the leading language service providers and translation management software to localize content across platforms and devices. Smartling uses AI to localize and translate high-quality content at a decent price.
What type of content can you translate with Smartling? With this automated tool, you can translate website content, mobile apps, web apps, marketing emails, product documentation, and video subtitles.
For the pricing, Smartling charges its Essential package subscribers $50 per translated and localized. This version includes English Glossary and 20 terms. There is also the Premium package which goes for $950 per translation. The Premium package comes with English Glossary and 100 terms with algorithmic approach to sourcing terminology.
Shopify, SurveyMonkey, Intercom, DoorDash, Pinterest, Wilson, TaskRabbit, Vimeo, and other big brands use Smartling to translate their content from one language to the other.
Smartling Features
Supports more than 90 languages.
Can translate website content, mobile app, product documentation, and more.
Has a built-in dictionary.
Click here to view the Smartling AI translation tool.

Fluently Review – Best Automatic Translator for SEO
Fluently is an AI-enabled document editor with a built-in translator and dictionary. With Fluently, you can write articles, blog posts, website contents, and even social media posts in your native language. The tool will automatically translate the document into a foreign language.
In other words, this automatic translator uses AI to create a document in other languages while writing in your mother tongue. You can save your content or copy-paste content into it for future use. You can also edit your translations if you want to make changes.
Additionally, this tool supports writing from right to left when writing in Farsi, Hebrew, Urdu, or Arabic. As for the pricing, Fluently charges $16 per month or $36 quarterly. If you prefer an annual subscription, then it is only $96.
American Express, Laposte, Washington State University, and King Saud University use Fluently translation software to translate documents from English to more than 55 languages.
Fluently Features
You can write SEO-friendly content with Fluently.
Supports more than 50 languages.
Comes with a built-in dictionary, plus a beautiful text editor.
Has night mode to support reading and writing at night.
DeepL Review – Best Document Translator
DeepL is an online translation service launched in August 2017. DeepL uses AI to produce translations of unprecedented quality in multiple languages. DeepL uses neural machine translation to improve its accuracy as it reads through your document.
Users can use this translation tool to translate their website from Japan to English. PowerPoint presentations and Word documents can also be translated using DeepL. This tool can translate documents in more than 50 languages, including French, German, Polish, Russian, and Portuguese in both directions.
The starter package costs $10.49 per month. There is also an advanced package which goes for $34.49. Lastly, DeepL has an Ultimate package that cost $68.99 per month.
Roche, DB, ELSEVIER, and FUJITSU use this tool to translate their website contents from one language to the other.
DeepL Features
Has the capacity to handle unlimited text translation.
You can edit or modify the translated content.
Comes with a built-in dictionary
You can collaborate with other translators
Click here to view the DeepL AI translation tool.

Gengo Review – Best AI Translation Tool with Community
Gengo is a powerful AI translation tool and a community where translators and teams can hone their skills and share experiences. Gengo uses artificial intelligence to translate content from your native language to over 50 foreign languages so that you can reach a wider audience.
Gengo supports automated quality checks, saves your translated content, and guarantees fast turnaround times. This tool also enables users to edit or modify the translated content to suit their needs.
Gengo features triggers that set both automated and human quality checks in motion. These triggers work in the background to highlight potential issues while you type or copy-paste your content into the tool.
For the pricing structure, the Standard plan goes for $0.06 per word, while the advanced plan costs $0.12 per word.
Big brands like Airbnb, Amazon, YouTube, Ripple, and The New York Times use Gengo to improve their workflow and reach out to foreign clients.
Gengo Features
Can handle complex translation.
Has a built-in dictionary to check for grammar errors.
More than 21,000+ certified translators work for Gengo.
Has a super intuitive dashboard.
Supports up to 70+ languages.

Text United Review – Best AI Translation Tool with API
Text United is a self-service translation system that uses AI to create an ultra-fast translation process. Text United has the capacity to organize translation with the highest mix of machine and humans, including proofreading and full-human translation. It also includes in-country review.
Text United has three packages: Basic, Essential, and Custom. For the basic plan, users pay €60 per month for quality translation service. Users who opt for the Essential plan pay €210 per month. The custom plan is designed to meet your specific translation needs.
Immobel, Rosenbauer, Boston Scientific, University of Lincoln, Cats, and OECD, use Text United to build international audiences.
Text United Features
Can help you communicate with your clients in their mother tongue.
Organizes people and workflow centrally to create unhindered information flow between you and your team members.
The English to French translator integrates seamlessly with an API.
Supports human translation.
Click here to view the Text United AI translation tool.

Redokun Review – Best Translation Tool for InDesign
Redokun is an artificial intelligence powered translation tool for InDesign documents. This English to French translator uses AI to translate documents without the users having to fix the layout again. Redokun is an online Translation Management system that offers project tracking, collaboration, workflow management, and version control.
In terms of pricing, Redokun's charges are decent. They charge $50 per month for small businesses, $125 per month for medium companies, and $325 per month for big enterprises. You can take advantage of their 14-day free trial to understand how the tool works.
Many successful brands use Rodoko, including 3D LMI, Saxo Bank, and Boqbalie, to translate their InDesign files on a daily basis.
Redokun Features
Comes with an intuitive interface.
You can invite others, like your colleagues or other translators, to collaborate with you.
Saves the translated document in different formats
Supports more than 30 languages.

Google Translate Review – Best Free Translation Tool
Google Translate is an internet-based translation tool from Google. It uses AI to translate up to 90 languages back and forth. It has an in-built SMS translator, audio recording, and text editor of translated words or sentences. Whether you are a translator or a freelance writer, Google Translate will help you communicate with your clients in real-time.
Before you start translating, you will choose the language you want to translate your content into and the language you will use in writing. The good news is that Google Translate is absolutely free. You don't have to pay a dime to use the service.
Furthermore, you can tap the speaker icon on the interface to hear your translated content. All of these is possible using the power of artificial intelligence. Google Translate does offer customized tools or SEO-optimized content, but it's a good free tool for simple translations.
Google Translate Features
Has a built-in voice recognition.
You can have a bilingual conversation with your team members.
Allows a phone's camera to see instant translations.
Supports up to 90 languages.
Click here to view Google Translate.

What is your favorite AI translation tool? What practical uses do you have for using one? Comment below and let us know.