It can be pretty overwhelming for most businesses to be successful. They have to grapple with marketing, sales, and customer service to promote their businesses on social media platforms. Thankfully, there are a bunch of awesome social media tools for management and growth available to help.
These tools can:
streamline your workflows
increase your follower count
help you save some time
ensure your content reaches the right audience at the right time
They each use artificial intelligence to run data analytics and help you make decisions faster.
But how do you decide which social media tool to use?
This guide will walk you through six of the very best social media growth tools out there for your business.
Why Is Social Media Growth Important?
Having a solid presence on social media is important. Here are some main reasons why:
Brand awareness
Social media growth will make it easy to spread the word about your products and mission. The more people talking about you on the internet, the more chances you have to gain customers.
Social media shares spread organically without action from you, making it a great way to grow your brand while you focus on other things.
Increasing your traffic
Using social media and linking it to your website will increase your traffic tremendously. All the largest websites on the internet have diversified traffic sources from search engines and social media.
Promoting your products and services
Investing in social media tools for growth helps you to promote your goods or services to reach your targeted audience. Again, more eyes on your product means more chances for a sale.
Brand story
Social media growth is a good opportunity to share your brand's mission and share stories. You can also gather data from audience research to improve your business processes and make decisions about how your brand story evolves.
Social media growth can help you to provide exceptional customer service that keeps your customers happy. 
Social Media Tool Features
Some important features of social media tools that your business can leverage are:
Automate Posting – Most social media growth tools allow users to automate posting on a schedule so that you have more time for other things.
Increase Follower Engagement – With social media growth tools, you can view your audience engagement rate and know the demographics of your products or services.
Artificial Intelligence – Social media tools can offer useful suggestions for you to improve your business processes to target more customers.
Track mentions and comments – Social media growth tools help you track mentions and comments so that you can swiftly respond to customers.
Negative Cost vs Benfit – A good social media tool should be negative cost after you set things up and start to benefit. It should run in the background to help you make decisions so that you don't have to.
Let's take a look at some of our favorite social media tools below and help you increase your followers today!
The Best Social Media Tools for Management and Growth
#1. PromoRepublic
PromoRepublic is a social media tool designed for businesses of all sizes. You can use it to schedule and share posts with all major social networks automatically using AI. PromoRepublic also comes with a platform to create content and preview how it looks on the fly.
You can set a posting schedule for different types of posts. PromoRepublic suggests a suitable posting schedule for each of your social networks.
You can select a country and time zone for each social account. This is useful for agencies and freelancers who operate social accounts on behalf of others. You can organize your posting schedules across a centralized calendar.
PromoRepublic Features
Automatic posting across all channels
Discover users that might be interested in your brand
Improve collaboration with customers and influencers
Separate content across different work space
Click here to view PromoRepublic.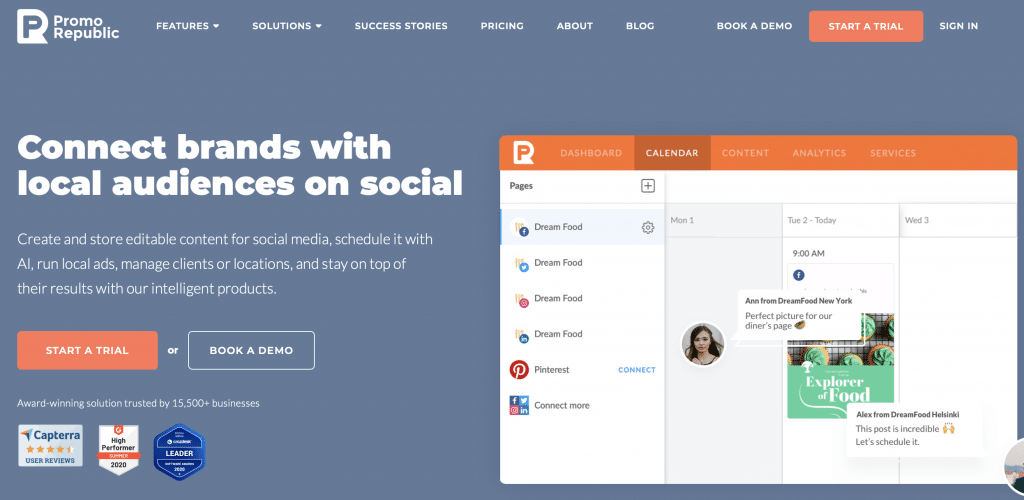 #2. Socialoomph
SocialOomph is a powerful social media tool you can leverage to grow your business. It's main goal is to share your content on social media and the internet automatically and frequently.
SocialOomph contains a plethora of advanced features for automating a wide range of tasks on social media. The app has capabilities to manage your activities on Facebook, Twitter, LinkedIn, and other social media platforms. It can even handle blog-related activities including posting and promoting WordPress content.
Socialoomph helps you increase your followers on social media via recommendations and an artificial intelligence analytics process.
SocialOomph Features
Schedule social media posts automatically and frequently
Track keyword performance on social media
Find targeted users to Follow
Automatic direct message and follow back
Calendar management
Click here to view SocialOomph.

#3. SocialPilot
SocialPilot is an excellent social media tool for the management of teams and agencies. It's easy to set up, quick to schedule content, and has multiple options for keeping your social media streams populated. Team functionality and analytics are included in every plan. SocialPilot is an affordable alternative to some pricey team plans offered by other social media tools.
SocialPilot automatically promotes your content on all networks so that you can save time. The more accounts you add to the service, the most posts it will manage for you. SocialPilot supports all the major social media networks, making it a useful all-round social media dashboard.
SocialPilot Features
Automatic post scheduling and analytics
Social inbox and engagement tracking
Good team features for collaborating
Suggested content to promote from your website
Integration with over 100 apps
Click here to view SocialPilot.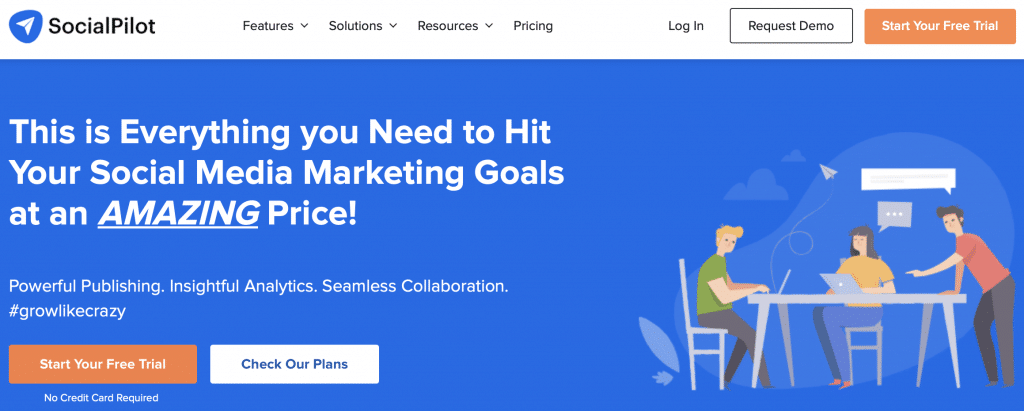 #4. TubeBuddy
TubeBuddy is a Youtube growth management tool. It is a Chrome extension that's designed to streamline your video marketing efforts. It does that with bulk processing capabilities and productivity features. 
Beyond that, TubeBuddy also helps with video SEO and offers enhanced analytics. It's really a comprehensive tool that acts as a one-stop shop for all your YouTube marketing needs. Because it resides within your Chrome browser, you don't need to leave YouTube to use it.
TubeBuddy makes it simple to share your videos to Facebook and other social media networks. It is a good companion for any Youtuber looking to grow their follower count.
TubeBuddy Features
Chrome extension means you have access to tools for Youtube fast
Advanced video embedding on other social media networks
Scheduling and marketing tools
Features to grow your Youtube channel in followers.
#5. VidIQ
VidIQ is another social media tool designed for YouTubers. VidIQ is a SaaS product and Chrome Extension that is designed to help you manage and optimize your YouTube channels. It can help you grow your channel by providing YouTube analytics and powerful insights so that you can make better decisions.
VidIQ is an enterprise-level tool that you can freely use for basic features and pro features for a nominal price. The tool has a robust YouTube SEO feature set that helps you create SEO-friendly titles, descriptions, and tags. As a YouTube creator, you'll be able to find topics and keywords more easily for your videos. 
VidIQ allows you to follow your competition and leverage what they do right for your own YouTube strategy.
VidIQ Features
YouTube keyword research to help you find your next video idea
VidIQ analytics on your content and post
Uses AI to find the best time to post
Video suggestions to follow and watch
Subscriber and competitor analysis
#6. Agorapulse
Agorapulse is a social community and moderation tool that helps businesses manage all their social network profiles. The platform is built to:
help businesses consolidate messages from different sites
publish new posts
monitor your standing on top social networking sites such as Facebook, Twitter, Instagram, LinkedIn, and YouTube.
Agorapulse is user-friendly and can be implemented right from the get-go. It offers flexibility, a short learning curve, and top-notch customer support.
It is equipped with advanced analytics and workflow automation features to allow you to optimize your operations. With this at your disposal, engaging and maintaining strong relationships with followers is easy. Raching new audiences and building connections with potential users is a breeze.
Agorapulse Features
Publish content fast and universal across all social media platforms.
Schedule and queue content simpler with a universal calendar for your accounts.
Agorapulse automatically monitors and scours your social media networks for brand mentions and shares and provides you analytics.
Automatically discover brand influencers and identify opportunities to collaborate.
Comprehensive reporting tools that show the effectiveness of your performance and social media analytics.
Click here to view Agorapulse.

Which of these social media tools is your favorite? If you use a management tool for social media and can help others out, comment below and let others know.