Rephrase AI is a new personalized video maker that can turn your script into custom sales and marketing videos using artificial intelligence. It is the world's first AI tool that brings the power of merge tags to real human videos.
Rephrase AI helps sales and marketing teams increase their conversions by 400% using personalized videos at scale. It has been utilized by Fortune 500 companies such as Amazon, Bajaj Finserv, and more.
How it Works
Rephrase uses its Generative AI engine to create personalised videos. You simply load your script into the tool, select your actor, and generate a custom talking head video. Your video can be integrated with your mailing list and other tools and sent out with customized names and other variables built into the script.
With the tool, you can create hyper-personalized and localized content for your viewers and followers. It helps you increase sales using artificial intelligence in an easy and engaging way, with content made specially in various languages.
Rephrase AI Use Cases
Rephrase lists a bunch of different use cases where this service might be useful.
Personalized Sales Emails
With the tool, you can create personalized content videos for your sales prospects. You can create videos in various languages and drive more sales to your business through your website and email list.
Banking and Finance
Banks and financial companies can cross-sell banking and services by creating personalized offer videos. You can also reward customer loyalty with exclusive offers tailored to each individual.
Consumer Goods
Shopify stores and other stores can create individualized sales and marketing videos that offer discounts or drive customers to return for another order.
Real Estate
Real estate agents can create, upload, and send customized videos that include property walkthroughs and listing information. This can help to drive sales during a pandemic when it is not easy to meet in person.
Integration
Rephrase AI integrated with other popular tools. Once connected, you can import data into your personalized video and export videos and metadata to these tools.
Some of the different tools that integrate with Rephrase are:
Mailchimp
Zoho CRM
Lyris
Emma
Snov
You can see a list of other integrations in the picture below.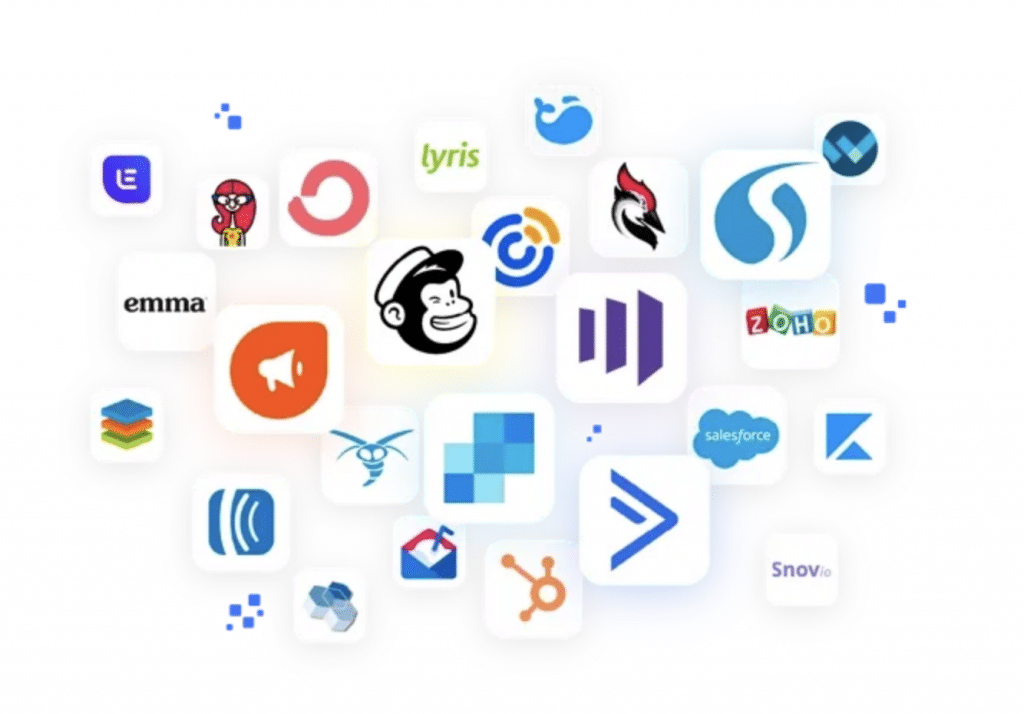 Rephrase AI API
Rephrase AI comes with an API that allows you to create and generate AI videos dynamically and on the fly. Integrate Rephrase into your program and trigger videos as needed or based on other rules.
Pricing
Rephrase offers a fairly generous pricing plan that starts at just $100 for 300 custom videos. This might not be sufficient for large email lists, but is a ton of value for non-personalized videos for your website or Youtube channel.
Full pricing details and features are as follows:
Starter Plan
$100 for 300 videos
Email support
Standard models available
Optional addon to upload custom models
Quick editing suite
CRM integration
Custom audio/video
Customizable landing page
Expert Plan
$500 for 2000 video
Everything in Starter is included in the expert plan, but you get a better deal on the price of AI personalized videos!
Enterprise Plan
Rephrase will work with you to come up with fair pricing for their Enterprise Plan, which includes the following bonus featres:
Bulk video creation
Shared team folders
Commercial use
Priority support
Add your own models
Dedicated account manager
API integration
Demo Videos
Below, you can see some demo videos of Rephrase AI in action. You can see how custom scripts and videos can be created with ease using the tool.
Click here to view Rephrase AI.
What do you think about Rephrase AI as a smart tool for generating custom videos? It uses artificial intelligence to create videos live never before.
Sign up for our email list to receive information on cool new products using artificial intelligence to make your life or business easier!