An AI Chatbot can personalize your website, earn customers, and provide each help to each visitor. In this guide, we'll show you the best ChatBots that use artificial intelligence to make your business better without any extra effort from you.
Specifically, we'll go over:
What a Chatbot does for your website.
The best AI chatbots that use extra intelligence to give you the edge.
How to sign up and integrate a Chatbot onto your website today.
If we've missed a Chatbot that you enjoy using, make sure to comment down below and let us know.
Check out our home page for more AI software tools and tips.
What are the Best AI Chatbots For Your Website Today?
Here are our picks for the top AI chatbots that use intelligence to get you more customers for your website:
Landbot – Best AI Chatbot with No Code Requirement
Landbot AI is a powerful chatbot platform that lets you create conversational chatbots for your websites. It combines rich UI elements with an interactive conversational interface to provide a no-code solution for chatbot creation.
With Landbot AI, you can manage communication and customer journey – from lead generation to customer onboarding and customer support. Once you set it up, Landbot can sit on your website, Facebook Messenger, or WhatsApp.
You can cut down on operational costs by having Landbot generate responses to inquiries automatically. Plus, it can redirect potential customize through your sales funnel.
Launch your chatbot in minutes and automate complex customer interactions, achieving more than ever while reducing development and operational costs. The Landbot chatbot software has ready-to-use templates that you can use to go live in no time.
Landbot also integrates with DialogFlow so that you can integrate natural language processing for more human like responses.
Landbot Features
Sentiment analysis for contextual next best action.
Analytics and real-time reporting
Dedicated customer success team
Multi-lingual.
Knowledge-base integration
What I Like About Landbot AI
I like that Landbot AI comes with an easy-to-use UI, which makes it easy to create highly intuitive chatbots for your businesses. I also like that this tool has many templates to help you get started. I like using the Landbot platform. You can design individual chatbots for different websites from the same interface.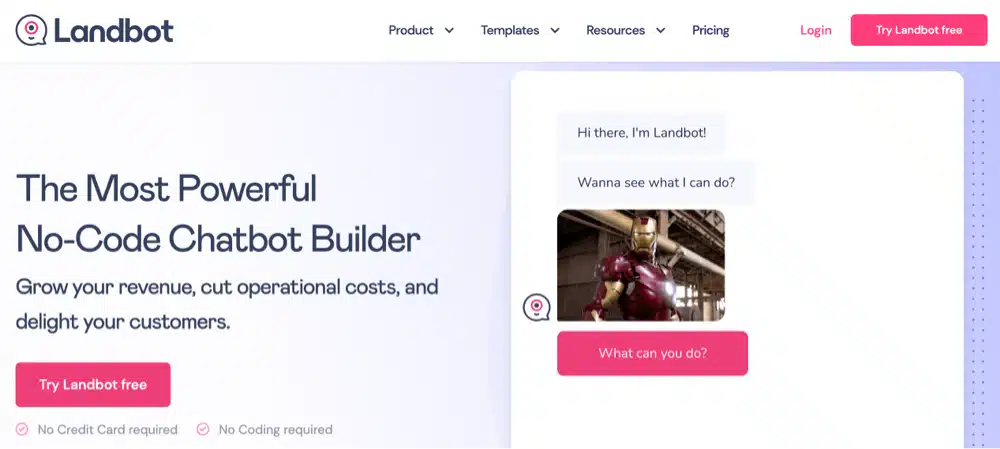 Acobot – Best Chatbot for eCommerce
Acobot is designed to supercharge your eCommerce business by bringing you in more new and returning customers. It does a great job engaging your customers while they are on your website, redirecting them to products they like based on their responses. It uses artificial intelligence to send personalized messages that make them feel catered to.
Acobot focuses on six different eCommerce areas that are the main source for sales:
Assisted Shopping through catered suggestions
Lead Generation by growing your email list
Cart Recovery by using AI to automatically send emails
Email Marketing through content that promotes opens, reads, and clicks
Discount Coupons to motivate shoppers to act fast
Loyalty Program to retain your customers long-term
Acobot is the top AI chatbot for eCommerce businesses today.
Acobot AI Features
An easy setup wizards gets you started in 15 minutes or less
Good pricing that is based on unlimited traffic and subscribers only
Automatic content creation, designs, and optimization using artificial intelligence
Focuses effort on proven eCommerce techniques that boost your sales

Collect Chat – Best Chatbot For WordPress
Collect.chat is an interactive chatbot that collects data from your website visitors by asking scripted questions – 24/7, fully on auto-pilot. Whenever a user response is recorded, you get an email notification. Anyone can build the chatbot with zero coding knowledge and install it in seconds.
You can collect leads, feedback and book meetings with your customers. Integrate the chatbot with any tool you use in your workflow. With this tool, you have an excellent platform for a higher conversion rate. This is because customers are more likely to interact with a website with an interactive chat.
Collect.chat is known for its tight integration with WordPress, allowing you to get setup in just a few clicks.
Some brands using Collect Chat to set appointments are GOV.UK, Techstars, Bank of Bhutan, Airbnb, and Canada Startups.
Collect.chat Features
Copy-paste snippet lets you quickly install Collect.chat
WordPress plugin and tight integraition
The ability to share links
Multiple language support
Drag and drop builder to customize your AI chatbot.
Click here to view Collect.chat.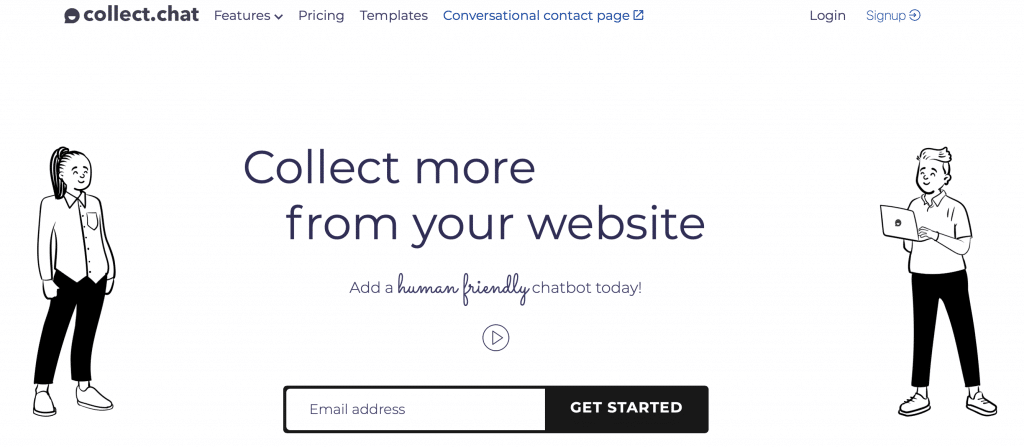 Tidio Review – Best AI Chatbot Dashboard
Tidio is a live chatbot platform that allows you to communicate with your clients personally or let your chatbot handle things. It gives a personal feel to your eCommerce business.
Tidio comes with an easy dashboard and a mobile app to answer all users' inquiries at any time from anywhere. You can also use automation as much as you like to answer customer questions and design funnels that lead to conversions.
You can use a chatbot template or create your own chatbot scenarios based on keywords and customer behavior on your site. It is easy to use and integrate with your eCommerce platform, email marketing, and help desk software.
HubSpot, CROWD, Forbes, WooCommerce, and Shopify all use Tidio.
Tidio Features
You can add a pre-chat survey to get to know the visitor a little better
Over 20 pre-translated languages are available.
The interface makes it easy to match your chat window to the branding of your website
Mobile app available
It has a Chrome plugin that sends desktop notifications when there is a pending offline chat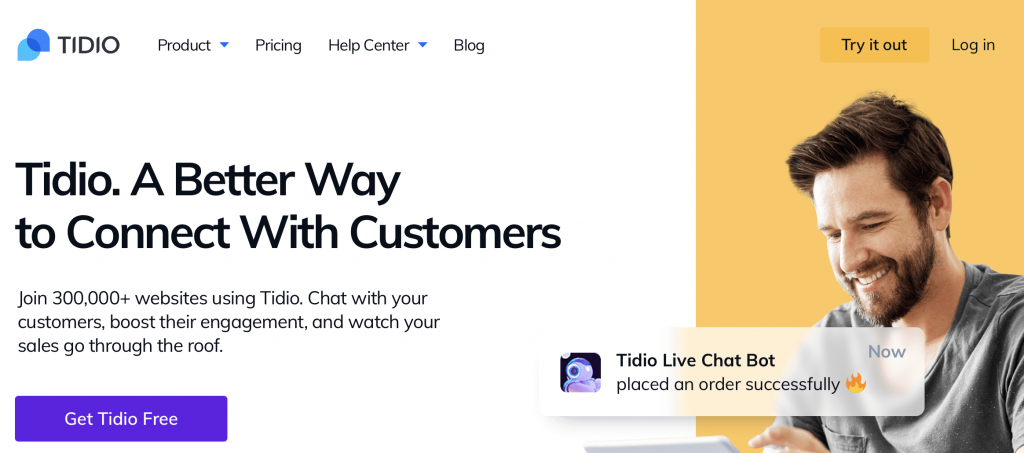 Chatfuel – Best Integration
Chatfuel is an AI bot-building platform you can use to create conversational chatbots. Chatfuel features multi-user accounts and has simple editing tools to provide an effective bot-building solution. This tool lets you design powerful conversational chatbots without prior coding or programming knowledge.
Chatfuel works well for freelancers, non-profit organizations, and small and large businesses.
Since Chatfuel supports third-party app integrations, you can sync your chatbots with Facebook, Twitter, WhatsApp, and even Dropbox. This lets you gain valuable insights into the performance of your chatbots. Having good integration means that Chatfuel excels at conversational AI.
Once setup and configured, you can use Chatfuel to manage sales, customer support, and ads.
Key Features
Comes with a user-friendly editor.
You can design chatbots without coding or programming knowledge.
Integrates with several social media services like Twitter, Facebook, and Evernote.
Pre-made answers for questions.
What I Like About Chatfuel
I like the ease of use in this tool. Integrating with a bunch of different desktop and mobile apps is a nice feature, since other Chatbots are only for your website or a single messaging tool. This is a newer chatbot solution, capitalizing on the brains behind ChatGPT to generate accurate responses and results.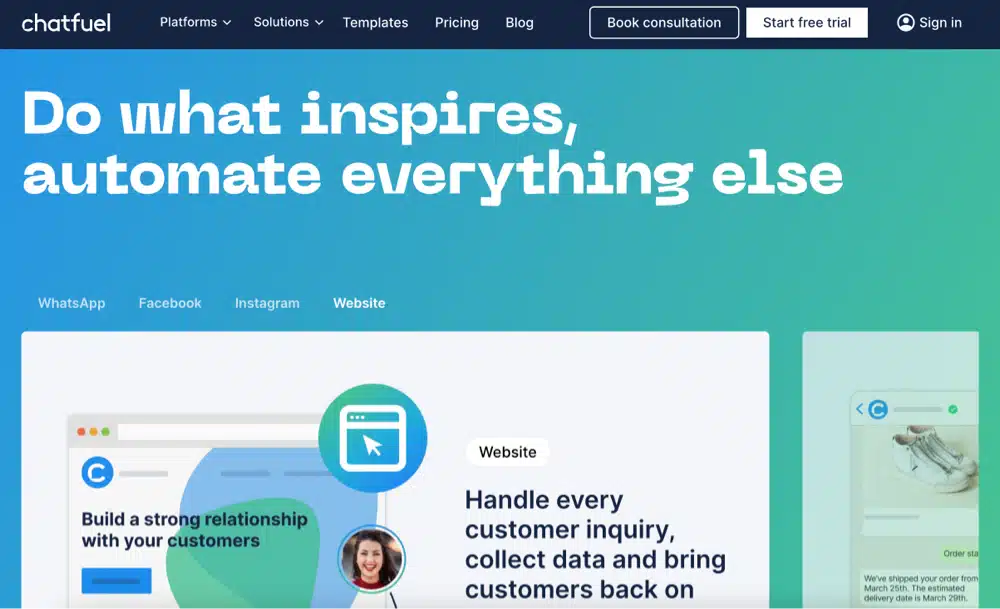 ChatBot Review – Best Chatbot For Small Businesses
ChatBot is an all-in-one platform to create, deploy, and track chatbots. It integrates with Messenger, Slack, and WordPress. ChatBot allows you to easily make chatbots using their drag and drop chatbot builder. You don't need to do any coding or have any special technical skills.
ChatBot includes diverse templates and the ability to automate key tasks right away. Easily drag-and-drop new elements to adapt any template to your needs. ChatBot is ready to work out of the box, while AI algorithms help you improve responses over time. Design smooth conversational experiences to build better relationships with your customers. Send dynamic responses that encourage customers to chat and interact. Mix and match text, images, buttons, and quick replies to show off your brand, products, and services.
UEFA, Unilever, HTC, GM, Zain, and Moody's are some big brands currently using ChatBot to stay on top of their games.
ChatBot Features
A number of integrations are available, including Messenger, Slack and WordPress.
You can also add a widget to websites that aren't on WordPress.
Other channels, like Whatsapp, Skype and Twitter, are currently being voted for.
A number of helpful tutorials are available, which are helpfully categorized by level
Unlimited conversion scenarios.
Click here to check out ChatBot.
MobileMonkey Review – Best Chatbot For Facebook Messenger
MobileMonkey is a software solution that lets you create bots using their OmniChat technology. These bots work in web chat, Messenger, and through SMS text messages. It helps you build intelligent chatbots to take your Facebook Messenger marketing to the next level. MobileMonkey is aimed at non-technical users and offers full-service support to help you get up and running.
With MobileMonkey, you can deploy various lead generation tools such as chat blasts or broadcast messages. You can also build drip campaigns to enhance your marketing efforts.
It also allows you to automate customer service by providing the answers to frequently asked questions and reduce wait time. It allows for easy human intervention and lets you override your chatbot and to enter the conversation at any time.
Big brands like DocsApp, Outdoorsy, VMware, Toyota, Century 21, and Hush Puppies currently use MobileMonkey to build intelligent chatbots for their Facebook marketing.
MobileMonkey Features
Manage numerous lead generation activities such as chat blasts, drip campaigns, and list building
Automate customer service by providing answers to FAQs
Ability to override your intelligent chatbot and jump into the conversation
Possible to connect with WordPress
Great sequencing features for drips
Click here to visit MobileMonkey.

Tars Review – Best ChatBot for Landing Pages
Tars is an AI chatbot tool that lets you create conversational landing pages. Essentially, this means replacing a traditional landing page with a chatbot. This lets you easily qualify leads and earn more customers. Tars is well optimized for mobile users and WhatsApp, providing a natural and easy chatbot conversation.
Making a chatbot is quite straightforward using Tars. You can either create a conversation workflow from scratch, or you can use a pre-built template. Visitors are more likely to turn into paying customers after they experience a personlized chatbot that figures out wheat they need.
Some companies using Tars are DHL, American Express, Bajaj Finsery, and more.
Tars Features
Conversational bots replace traditional landing pages
Unique Chatbot URLs
API integration so that you can place Tars on any website
Bot design customization
Conversation workflow creation to customize your visitor's experience
Click here to view Tars AI Chatbot.

Gobot Review – Best Chatbot For Shopify
Gobot is one of the best AI chatbots for businesses running on Shopify. It integrates with Shopify to drive more revenue and slash support tickets. It also boost of email and SMS opt-ins, and collects customer profile data with bots and shoppable quizzes.
You can have one-on-one conversations with your customers 24/7 and answer their questions without the need to intervene manually through Gobot.
But that's not all.
It can help you automatically qualify leads and connect them with your sales representatives. While it does help with winning new customers, you can also improve your customer satisfaction with it.
Thousands of stores rely on Gobot, including Blush & Bar, CAREX, and Havard University.
Gobot Features
It integrates with Shopify and MailChimp
Ability to override your AI chatbot and jump into the conversation
Great sequencing features for drips

Gorgias Review – Best AI Chatbot For Customer Satisfaction
Gorgias is the best Chatbot solution for customer service. It is the all-in-one helpdesk for customer service and live chat. It collects customer support messages from every channel (email, live chat, phone, etc.) into one view to help you streamline your support tickets.
Gorgias integrates with Magento, Instagram, Gmail, Facebook Messenger, Live Chat, Slack, and much more.
It also has the most powerful integration with Shopify and Shopify Plus, so you can see order details for a customer. You can also see refund, cancel, or duplicate orders without leaving the helpdesk app. Use templates, automations, rules, and macros to cut support time. Your support team will be more productive and your customers will love you.
Some brands using Gorgias include 310 Nutrition, BOKKSU, STEVE, MADDEN, MUMT, and much more.
Gorgias Features
Gorgias connects all your support channels
Smart autoresponders
Chat campaigns
Revenue dashboard for tracking your sales
Anti-collision tools for mentions and internal notes.
Conversation history
Gorgias connects all your support channels
Smart autoresponders
Chat campaigns
Revenue dashboard for tracking your sales
Anti-collision tools for mentions and internal notes.
Conversation history
ShoutOUT Review – Best Text Message Chatbot
ShoutOUT is the customer messaging platform for all kinds of businesses to reach their customers via the preferred channel – SMS, Email, WhatsApp & Messenger. ShoutOUT supports businesses to keep in touch with their customers by automated, personalized and targeted SMS and Emails. ShoutOUT also has WhatsApp Business API & Facebook Messenger integration too for extra customization.
ShoutOUT facilitates businesses to track customer actions in different channels and have a better understanding of consumer behaviors/patterns.
The company works with over 300+ brands in 40+ countries with 3500+ users such as Sampath Bank, DSI Tyres, Mobil, Abans, etc.
ShoutOUT Features
2-way messaging
SMS & Email marketing platform
SMS API for developers
WhatsApp and Messenger integration & chatbot automation features
ShoutOUT forms, surveys, and SMS polls
Click here to check out ShoutOUT.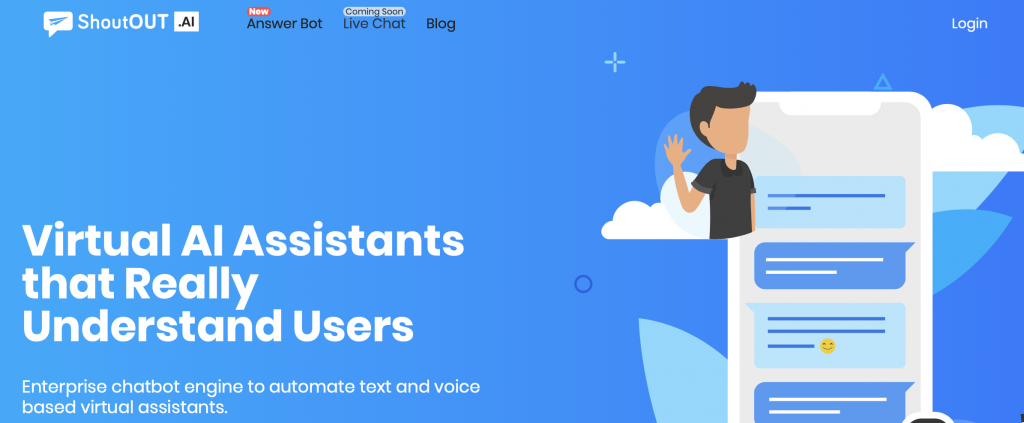 Botsup Review – Easiest AI Chatbot
The Botsup AI chatbot lets you combine live chat and an automated chatbot, like many of the tools on this list. It also integrates with the most popular CRMs and email marketing services. Botsup markets itself as the easiest Chatbot to get up and started with.
Botsup allows you to proactively start conversations with customers engaged with the products or services on your website. It uses conversations for conversions and allows you to create scenarios that help you get more sales.
It offers integrations with many third-party tools such as Zendesk, Help Scout, and more. Botsup is more suitable for fairly large businesses, and the pricing reflects that.
ABC Banks, VMware, Outdoorsy, and some NGOs are currently using Botsup to virtually engage with their customers.
Botsup Features
No code is required to setup your Chatbot for your website or Whatsapp
Drag and drop interface builder to custmoize your bot how you want
Create personalized messages for any scenario
Lightning fast loading times that never disappoint
Click here to check out Botsup.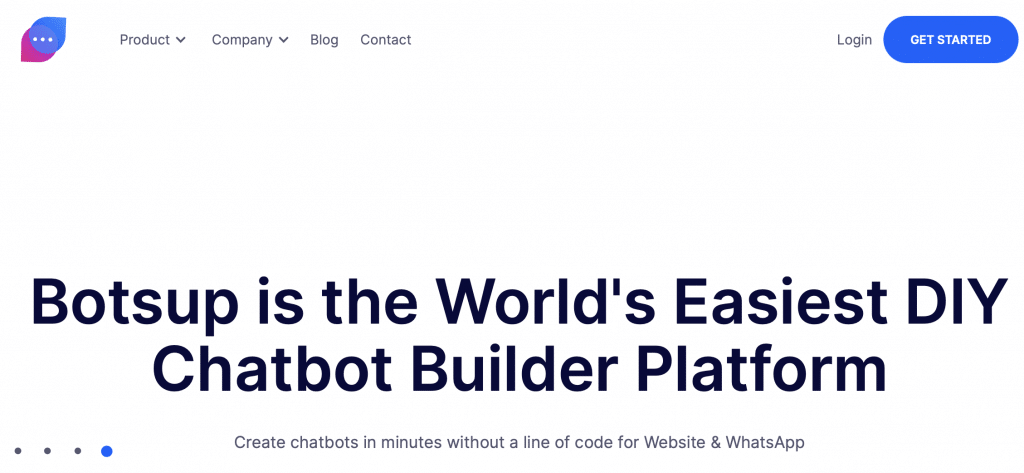 What is a Chatbot?
A chatbot is a software application that lets visitors and customer interact and chat with a computer system instead of a live human. Chatbots are preferred over basic human conversations for a few different reasons:
It can be live 24/7.
It provides instant answers.
Smart AI chatbots can understand desire and give personalized answers and actions.
It can gather data for you to understand and capitalize on.
Artificial intelligence can take a basic chatbot and supercharge it with some really unique and advanced features.
Artificial Intelligence
An AI Chatbot is one that offers extra customization that lets you tailor your bot for your business. Some of the most common AI features that a chatbot offers are:
The ability to customize messages automatically based on a user's demographic, viewing history, referral source or other personalized feature.
The option to automatically follow up or send users to different funnels.
Features to automatically integrate into your website without coding.
The ability to understand the context of a customer's question and automatically respond in plain english.
Why is everyone using Chatbots?
If you are a business that isn't using a Chatbot yet, you are missing out! The stats from Hubspot don't lie:
71% prefer using chatbots for customer service because they get instant answers fast.
Chatbots increase conversions on your website by 45%.
Almost 50% of shoppers are willing to buy something completely from a bot
So if you want to keep up with the competition, install and try out a Chatbot today. Next, we take a look at the best chatbots available today, focusing on ones that use artificial intelligence to make things really easy for you.
How to Integrate a Chatbot into your Website
So you understand the benefits and you want to integrate an AI chatbot into your website today. How do you go about doing it?
The easiest way is to click on any of the links above and get started. Each website has documentation showing you how to get setup and started relatively quickly. Most of the options we featured above do not require any extra coding knowledge and you can be up and running fast.
If you don't have time to integrae a chatbot into your website by yourself – Contact us! We provide AI consulting services to help you get up and running:
Install AI software on your website
Configure and setup dashboards and analytics on your software
Optimize your AI tools as you go to increase engagement, customers, and visitors to your website
Provide continuous updates and long-term consulting for your business.
Contact us if you are interested in learning more and discussing the details.
Which AI chatbot is the best for your business? Comment down below and let us know what you use today!