Artificial intelligence can help you save money and tighten up your finances. We've collected the best AI money tools on the internet below and we review each of them in detail.
So if you want to:
Earn more passive income through investments
Understand where you are spending your money
Save for an upcoming house, trip, or other expence
Want to retire early
Then use one of these smart money management tools today. They pair well with our top AI smart investment tools or AI crypto platforms.
The Best AI Money Tools
Want to check out these tools for yourself? Click on the links below to head directly to each website.
Next up, we go through these money tools in a lot more detail.
Plum Review
Plum is an AI money tool that can help you grow your money in real-time. This tool uses artificial intelligence to help you cut your monthly expenses and earn passive income effortlessly.
Once you create an account on Plum, you are directed to link your bank account. Plum then tracks your expenses and income. With this information, it then sets aside some money automatically for investments and passive money.
Plum is safe, secure, and easy to use. Plus, it can help you invest your money in blue-chip companies like Apple, Google, and Microsoft. All you need to do is to open shares or stocks and the app walks you through the entire thing.
London Evening Standard, MoneySavingExpert, Bloomberg, and Financial Times have promoted Plum as a way to make wise investment decisions.
Plum Features
Tracks your spending and helps you save money automatically with 0.40% interest or more.
Helps you invest your money in blue-chip companies like Apple, Google, and Microsoft.
Understand changes in your expenses automatically.
Mint Review
Mint is a one-stop-shop for all your money management challenges. It uses artificial intelligence to enable you to experience a fresh way of managing your finances. It helps you reach your financial goals with custom budgets, personalized insights, and spend tracking.
Mint uses financial sciences and behavioral sciences to deliver unique responses based on a users' financial needs. Whether you want to invest your money or automate savings, Mint has got you covered. Mint can also automate your monthly expenses and make payments on your behalf.
This smart AI money tool can track your spending so that, in real time, you will see where your income goes and comes. If your expenses fluctuate at all, Mint will recommend the best way for you to handle it.
Mint Features
Lets you see where your money is going by adding bills, investment, credit cards, and cash
Helps you make wise investment decisions and grow your money
Improve your spending habits and help you prepare for the future.
Tracks all your bill and notifies you of the next due date to avoid late fees

Nova Money Review
Nova Money is one of the best AI money tools on the market. It helps you build financial freedom while you stay in control of your finances. It can also help you set savings goals and track your income and expenses so that you can easily achieve these goals.
As with other money management tools out there, Nova Money uses open banking to keep track of your account in one place.
Nova Money is highly regulated by the FCA (Financial Conduct Authority). This is the same agency that regulates the activities of banks and other financial institutions in the UK. Nova Money uses cutting-edge technology and standard encryption to protect users' funds or deposits.
With Nova Money, you can track your spending, so you stay in line with your goals or financial objectives. So, if you are looking for a tool that will help you manage your personal finances, give Nova Money a serious consideration.
Nova Money Features
Nova uses AI to show users how to achieve their financial projection
Lets you keep track of your spending so that you don't spend outside your budget
Monitors your bills so that it alert when the bills go up.

Cleo Review
Cleo is an A money management tool to help you with your accounting. Cleo enables users to connect their bank accounts to their Facebook Messenger for easy money management.
Cleo messages you when your financial trends change for the better or worse. Or, you can check up with her for a status update for the current money. She's like a personal chatbot for your finances you can use to make smarter money decisions. You can ask Cleo whether you have the budget to afford a coffee, and Cleo will answer your question in real-time.
Cleo uses AI to set limit on your spare change and help you invest the change in different investments. It can also aside your spare change as savings for bigger investments in the future.
Cleo Features
Cleo notifies you when you don't stick to your financial goals
Tracks your spending, so you don't spend more than your budget
Saves or invest your spare change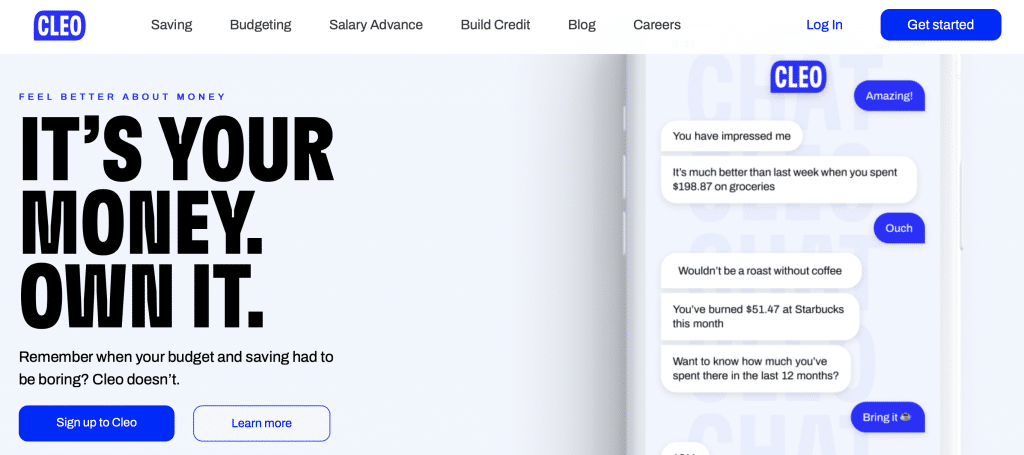 Olivia Review
Olivia is a powerful financial assistant that uses AI to analyze your spending patterns. It also helps you spend smarter so that you take control of your finances. It also partners with retailers to offer exclusive discounts the next time you hit the market to make new purchases. 
Olivia can help you create spending strategies so that you save money for investments. Olivia can see your spending history, but doesn't transact on your behalf. It offers a nice historical calendar for you to view. You are always in control of your finances and personal information. 
Olivia Features
Can review your spending and advice accordingly so that you grow your money
Gives you personalized recommendations on how to spend within your budget
Uses bank-level encryption to store and transmit users' data.

Betterment Review
Betterment is an AI money investment tool that can help you grow your money in real-time. It gives you the inspiration, tools, and advice needed to become an expert investor. It makes investing easier. Whether you have $10 million or $10, you can get started with Betterment to earn more money.
If you want to diversify your investment portfolio, Betterment has a wide range of financial instruments, including stocks and ETFs. This money management tool will guide you through goal setting, risk levels, and portfolio options.
Betterment charges very low to grow your money and the fee is transparent. With an annual fee of 0.25%, you can be in charge of your finances at all times.
The New York Times, CNBC, Forbes, and Business Insider have advertised Betterment as a quality tool for people to manage their finances.
Betterment Features
Makes investing as easy as possible for you
Walks you through risk levels, portfolio options, savings features, and goal setting
Can grow your money with less volatility by investing in ETFs and some stocks.
Link your bank accounts to keep track of your finances in one place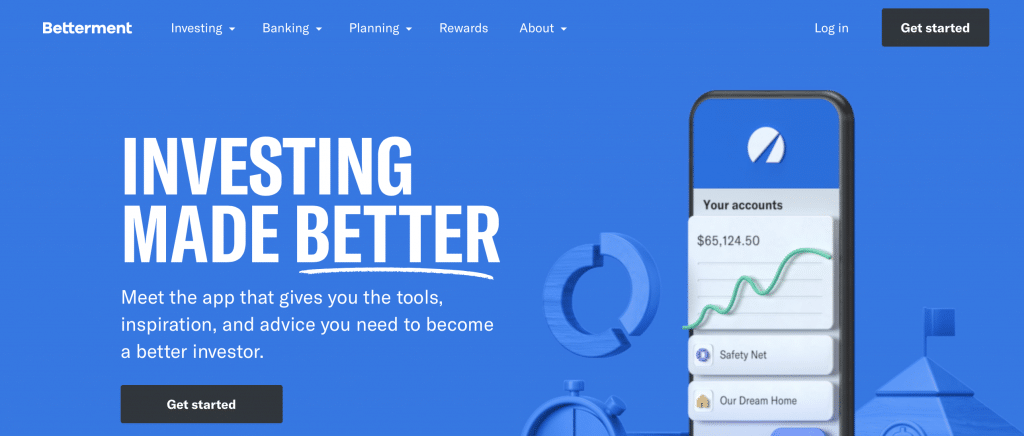 Wizely Review
Wizely is a machine learning and augmented reality tool that lets users make smarter financial decisions. Wizely understands your financial life and makes recommendations on how to gain financial wellness and grow your money. This money management tool monitors your balances and notifies you when there is an imminent risk.
Wizely can help you reach your goals, whether weekly, bi-weekly, or monthly. You can withdraw your money at any time of the day. In fact, you will even earn interest on your deposit to reach your financial projections faster.
This AI money tool will ask you simple questions about your finances and thus create a personalized plan to help you grow your money.
Wizely Features
Never pay more than your household bills in any month
Tracks your spending and helps you save money with interest
Helps you save spare change after making payments
Helps you reach your financial projections faster

MoneyMade Review
MoneyMade is an AI money investment platform where you can grow your hard-earned money. It lets you discover online investment opportunities. Whether you're interested in Collectibles, real estate or farmlands, MoneyMade has got you covered. MoneyMade also covers investment in stocks and commodities.
When you launch MoneyMade, you arer asked to list your investment objectives. MoneyMade then uses AI to highlight different investments that meet your goals.
MoneyMade uses artificial intelligence to send you personalized investment opportunities by text to your registered mobile number. MoneyMade is the quickest way to grow your money without any hassles.
TradeApp, M1, WeFunder, and over 150 platforms use MoneyMade to stay on top of their investment goals.
MoneyMade Features
Can help you generate passive income from 15 income sources
Gives you the opportunity to build your investment portfolio from scratch
The sign-up process is simple and straightforward
Finmatex Review
Finmatex is an AI money assistant designed and developed to help investors manage marketplaces. It is also a personal finance management tool that the average individual can use to grow their money and create wealth.
Finmatex uses the power of AI to suggest attractive investment opportunities for users. It also uses AI to improve customer experiences in real-time. You can customize the tool to meet your financial needs. Finmatex has different investment schemes with mouth-watery ROIs. Plus, it partners with banks, credit unions, and other financial institutions.
If you are looking for a platform where you can easily grow your money and create wealth, then you won't go wrong with Finmatex.
Finmatex Features
Helps users save time and cut costs
Creates value and helps organizations generate returns on their investments
This AI-enabled tool is highly customizable to meet your needs

Have you used any smart AI money tools to help you grow your net worth? Comment down below and let us know what you like!