Save time finding web data, email addresses, leads, and customers with automated web scraper tools. In this guide, we'll go over the best data scraping tools on the internet.
This includes automated scraping for:
web data and information
email addresses and contact information
lead and customer data
If you have a web scraper tool you like to use, make sure you let us know.
The Top Web Scraper Tools
Types of Web Scraping Tools
Depending on what your needs are, there are a few different data scraping tools available on the internet.
API Creation
APIs let you extract web data quickly by turning websites into predictable loops of data. Some websites offer a scraper for developers and other websites to grab data as they want. Other web scraping tools uses intelligence to create an unofficial API from scrratch.
After you use your tool to create your API, the tool will give you instructions to gather data whenever you need.
Email Address and Lead Information
Some web scraper tools automate your SEO tasks for you. They use artificial intelligence to scan websites and pull out lead information like:
Name
Address
Email address
Guest post information
If you are trying to do link building, guest posting, or relationship building, these tools can helps.
What does your business use a scraping tool for? Next up, we review some of our top picks.
#1. Seamless AI Review – Best Web Scraper Tool for CRMs
Seamless AI is a marketing intelligence platform to find and develop sales leads. Seamless makes it easy to find people, get emails and phone numbers, and use insights to build relationships. It imports directly into your CRM software.
The web scraper tool uses AI to search for companies, titles, keywords, and names. You can use Boolean searches and add quotes and minus signs to filter the searches any way you want. For companies, it provides suggested searches as you type. Seamless scrapes websites, social media, and other resources on the internet.
It's important to set goals in any business to help you stay on target. Seamless AI has tools that make it easy to set and track your goals. Enter the data about your sales and commissions targets into the Sales Income Calculator.
Invision, Google, Amazon, Facebook, Slack, IBM, and LinkedIn use this data scraping tool to find contacts everywhere on the web.
Seamless AI Features
Seamless AI has fast Integration into CRM/Marketing Automation.
Finds the right people at the right time to maximize revenue results.
Finds perfect emails, phone numbers and insights of any professionals.
Identifies all the new contacts and accounts.
Seamless AI finds insights on all the contacts that matter most to growing your business.
Click here to view Seamless AI.

#2. APIfy Review – Best Data Scraping Tool to Create APIs
APIfy is a web scraper tool and automation platform. It uses artificial intelligence to extract data from websites, crawls lists of URLs and automate workflows on the web. APIfy takes advantage of the latest technologies, enabling you to extract data or perform automated actions on practically any website. You can run your jobs automatically every minute, hour or day.
APIfy makes it really simple to implement any sort of web scraping script necessary. They have a very comprehensive and easy-to-read documentation that makes migration from other scraping services quite easy. Plus, APIfy's lowest pricing tier is free.
Some popular brands using APIfy to scrape data include Microsoft, THORN, Impact, and Accenture.
APIfy Features
Automatically creates an API for you out of any website.
Free pricing tier
Smart error debugging and notifications
Scrape data from websites quickly

#3. FindEmails Review – Best Business Email Scraper
FindEmails is an email finder and email verification service combined, which provides detailed scoring. Users can search for email addresses either with a web browser extension or through FindEmails.com. The tool was previously known at Toofr.
Instead of relying on internal databases to find email addresses, this tool uses AI to search for verified email addresses in just one step. FindEmails also offers curated email contacts that can be used to build out mailing lists.
The tool offers an extension for Chrome that makes it easy to find email addresses directly on the web page
Oracle, Office Depot, Zendesk, Udemy, and Gainsight use FindEmails to find anyone's email on the internet.
FindEmails Features
Find email addresses on any site with the web extension
Quick results
Search with just prospect's name and company
Easy to use platform
Search by API built to scale
Click here to view FindEmails.

#4. Hunter.io Review – Best SEO Lead Web Scraper Tool
Hunter is an email finder and email verifier tool which allows you to perform domain search for email addresses. Launched in 2015 Hunter is available as a Chrome extension and Google Sheets add on. Hunter is a top tool in the SEO community for finding link building emails.
Hunter.io can be used to quickly find email addresses for businesses or individuals within that business. It uses AI to scour the internet for the email results that you're looking for. It's completely legal to use Hunter, but you must abide by data rules when using the results in your marketing.
Over 2 million professionals, including some big brands like Google, Adobe, and Invision use this platform to scrape websites and find leads.
Hunter.io Features
Hunter lets you find email addresses in seconds and connect with the people that matter for your business.
Hunter lets you verify or find new emails.
You can use this tool for domain search.
Hunter can help you track your marketing campaigns.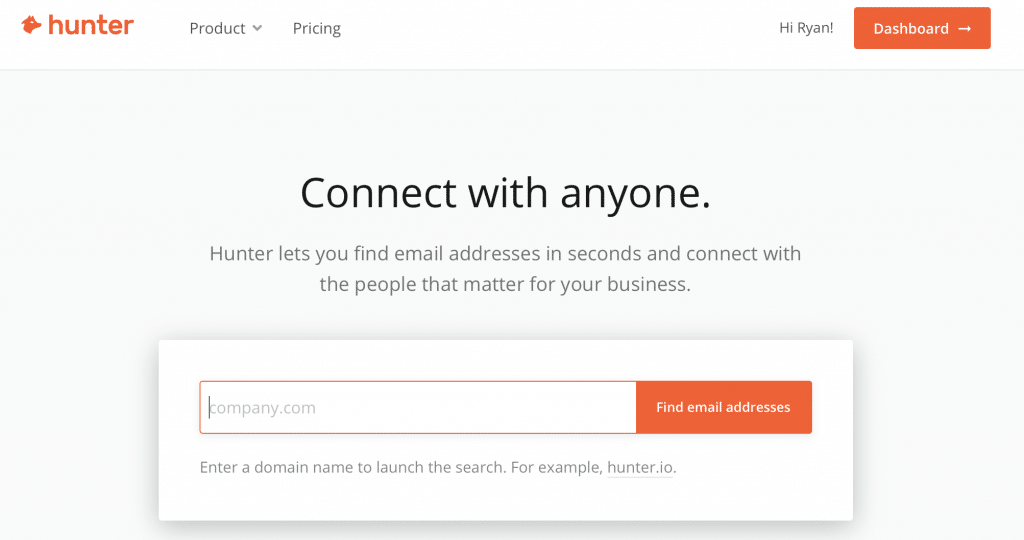 #5. ScrapingHub Review – Best General Web Scraping Tool
ScrapingHub is a provider of full stack web scraping solutions, offering a suite of platform products for transforming websites into data at scale. This tool is known for building, deploying and running web crawlers, providing up-to-date data along the way. Collated data are displayed in an amazing stylized interface where they can be reviewed with ease.
ScrapingHub uses AI to scrape similar pages from the website. There are quite a number of spiders crawling billions of pages. But this tool has the power to crawl sites using multiple IPs without the fear of getting banned.
Big brands like OLX, Gartner, Zeus, Jobsite, and Barcelo are using ScrapingHub to support their businesses.
ScrapingHub Features
It requires zero programming knowledge.
Templates are created by clicking on elements on the page you would like to scrape.
Supported by headless browsers.
ScrapingHub's automatic data extraction API (beta) provides eCommerce and article data extraction at scale.
Click here to view ScrapingHub.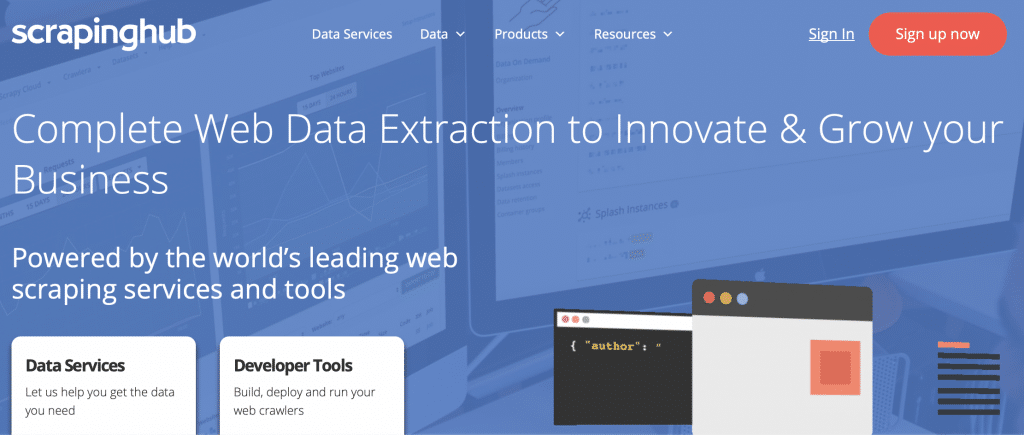 #6. FindThatLead Review – Best Customer Finding Scraper Tool
FindThatLead makes it easy and fast to find qualified contacts for your sales team. Instead of your sales reps sitting idle waiting for leads, they will be busy closing new deals. It is a B2B scraping tool that gives you contacts fast.
FindThatLead uses AI to build hyper-targeted lists for your ideal buyer persona. Spend less time doing manual prospecting and more time closing sales. FindThatLead provides lead search, email verification, and social search that helps in sales and recruiting.
Once signed up, FindThatLead dashboard has tabs for the 5 core features. The dashboard is neat and intuitive with overall navigation easy & efficient.
Zappos, Deloitte, Salesforce, Criteoz, and other big brands use this tool to close deals.
FindThatLead Features
Helps you search for companies on the web.
Also helps you search for companies on various social media platforms.
Runs a validation and verifies emails if they are correct.
You can send emails to the prospects you have generated from FindThatLead right within the dashboard.
Click here to view FindThatLead.
#7. ScrapingBee Review – Best Web Scraping API for Developers
ScrapingBee is a web scraping API that handles headless browsers and proxy management. Web Scraping is hard and scraping at scale can be very challenging. ScrapingBee uses AI to execute Javascript on the pages. It also rotates proxies for each request so that you get the raw HTML page without getting blocked. They also have a dedicated API for Google search scraping.
The software offers a Chrome version with headless mode to extract data. It has a simple parameter to scrape every website using React, Angulars, Vue.js or any other libraries to extract data as per requirements.
SAP, Zapier, Contently, Zillow, Woo, Trainline, Freelancers, Small and Medium companies make use of this software.
ScrapingBee Features
Supports JavaScript rendering
Provides automatic proxy rotation.
You can directly use this application on Google Sheet.
The application can be used with a Chrome web browser.
Great for scraping Amazon.
Support Google search scraping.
Click here to view ScrapingBee.
What web scraper tools do you use in your business? Pick a tool that uses artificial intelligence to make things easier for you. Comment below and let us know if any of these tools interest you.