Google Sheets is a powerful online excel tool that has a lot of great capabilities. Developers have created Google Sheets tools and applications that use AI and other smart features to interact with the tool.
In this guide, we'll take a look at all the best Google Sheets tools to check out today. We've included tools that:
and a lot more!
If you have a Google Sheets tool you enjoy using, comment down at the bottom of this guide and let us know.
The Best Google Sheets Tools to Try
Sheety
Siteoly
Bold
Castodia
Sheet2Site
Glide Apps
Sheetson
Coupler.io
Sheetsu
What is Google Sheets?
Google Sheets is a web-based spreadsheet program, similar to Microsoft Excel. Like Excel, it allows you to fill, program, edit, and manipulate grid cells how you want. It also recently added Macro support, letting you program automated tasks and jobs to run in the background.
Being web-based, Google Sheets also adds a unique area of accessibility that Excel has never had right. With Sheets, you can create API frameworks that access sheets and read, write, change, or delete data as necessary.
This has led some really cool Google Sheets tools that use data from a Sheet to populate and update apps, websites, and programs.
Next, we will take a look at some of our favorite tools in more detail.
#1. Sheety Review
Sheety is a Google Sheets tool for productivity that converts your Google sheets into a completely RESTful JSON API. It uses artificial intelligence to perform various actions like 'Get', 'Put', 'Post' and 'Delete' any spreadsheet. Give life to your websites, apps or other portals of your preference from a single spreadsheet. It adds another level of interactivity to the user's prototypes.
With Sheety, retrieve and update all data in real-time with the help of coding. You are not required to involve in very complex code work and waste your quality time while working in a backend. Let your clients work with a smoother and simpler CMS platform such as a spreadsheet.
Through this platform, a person or business can update their website by editing a Sheets field. Once you connect your Google account with Sheety, it automatically creates endpoints from your tabs or sheets within the spreadsheet.
Sheety Features
You can add and link new sheets to Sheety with the help of a 'Sync' button
Allows you to create a website with any Google Sheet and instantly turn it into an API
Track your progress with a checklist
Ffetch your spreadsheet data from any website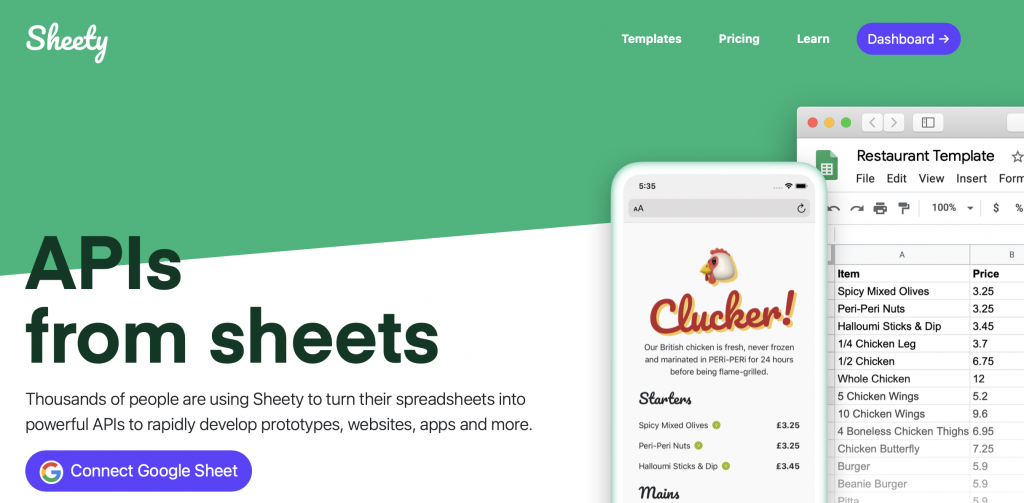 #2. Siteoly Review
Siteoly allows you to create and build an entire website with just Google Sheets. This tool is a no-code tool that uses AI to build websites from Google sheets. You can select from 50+ design templates and create your site in less than 10 minutes.
It's often tough to build data-rich websites without writing code. On top of this, when you want to make it mobile responsive with search and filter functionality, it gets much complex. Adding maps, forms, videos, creating pages to the site keeps increasing the complexity. Siteoly includes all of these as features, nice and easy.
Additionally, Siteoly can help you maintain your cards in multiple sheets. In fact, if you want to write blogs from Google sheets, you can achieve that with this tool.
Siteoly Features
Embed HTML, maps, forms, and other objects on any page
Create blog posts and CMS features from Google Sheets
Connect chat integration to your website with a few clicks
External Javascript support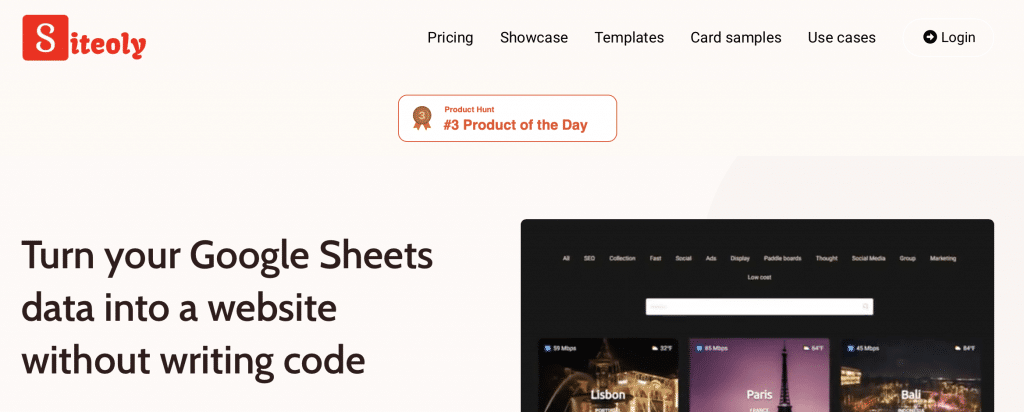 #3. Bold Review
Bold is a Google Sheets tool that allows you to instantly turn your spreadsheets into software for your team. Bold uses AI to provide you with a customizable, collaborative team software system. It provides all the data used to run your business in a single place.
Bold connects all the Google Sheets or Airtable bases into a single platform so you don't have to hunt around for the right Sheet. It also offers an app interface to your data with forms, lists and buttons. Additionally, Bold adds a collaboration feed to your data so you can work with your team in the context of your business data.
Bold Features
The minutest details of every element and section can be configured from Google sheets.
Displays videos in all pages
Builds list of books, blogs, affiliates, companies, jobs, and anything else
Supports hundreds of Fonts
Filter and search functionality.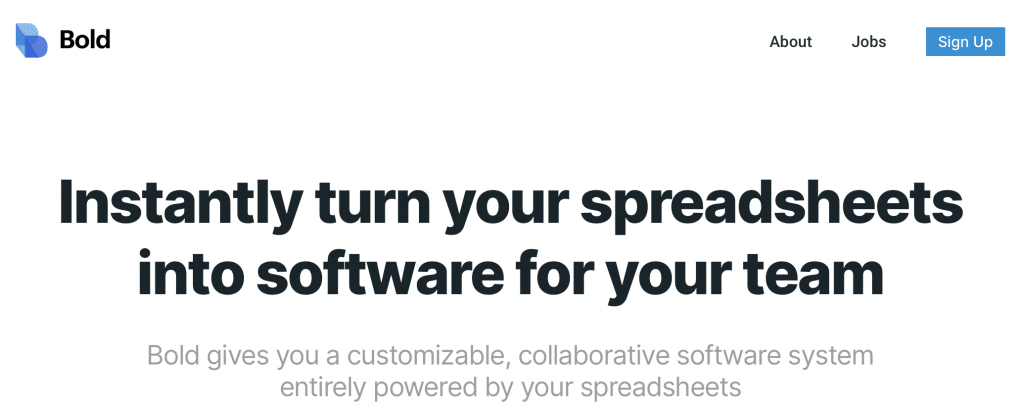 #4. Castodia Review
Castodia allows you to extract data from a database directly onto Google Sheets. The software uses AI to connect sheets to databases, runs and saves queries. It also auto refreshes every few minutes. This software platform can automatically query the database, schedule queries, and update the same any day or time successfully.
Castodia offers a dynamic query input, uses auto-generated input fields to work on SQL queries, and change the same whenever needed. Users also get to pre-schedule their queries, to update them at any time or any date.
With Castodia, users can create an input field associated with the UI-based query and add the required variables. It runs lengthy queries and enables users to control, share, log, write or overwrite those queries for auditing.
Big brands like MATTPRESSO, Conversation Labs, Snap EDA, and Fabric use Castodia to extract data from a database directly with this Google Sheets tool.
Castodia Features
perform data analysis
Decent search and filter options
Generate detailed query based reports in line with privacy related rules and regulations
Get pre-scheduled queries and update them at any time or any date.

#5. Sheet2Site Review
Sheet2Site is an intelligent Google Sheets tool for anyone wanting to create websites with pictures, text, filters, and links. Plus, you don't need to write a single piece of code. It comes loaded with numerous pre-designed templates that can be used to create an elegant website within a time span of five minutes. These websites can then be easily managed with just a Google Sheet working in the backend.
Sheet2Site also advertises top tier customer support that aims at getting users online as quickly as possible. All resulting websites are highly responsive and look great on any device. The tool caters to users of various industries that include sports, food, travel, and business. Other industries are real estate, tools, affiliate, portfolio, events, technology, and more.
Deliveroo, Harvard University, The Hustle, Green school, and Freetrade have used Sheet2Site to create different websites.
Sheet2Site Features
Include type forms, Facebook post links, Twitter links, meta title, meta description, and more
Comes with great pre-built templates
Can build responsive mobile-friendly and responsive
Click here to view Sheet2Site.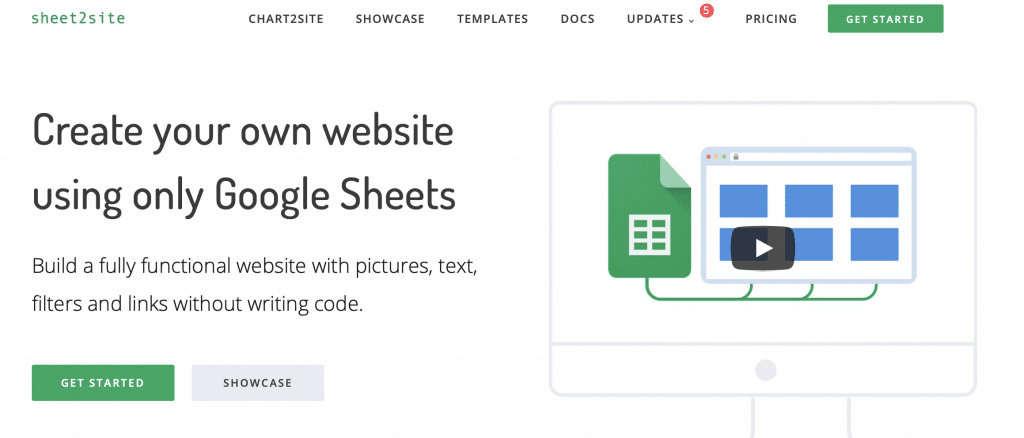 #6. Glide Apps Review
Glide Apps simplifies building app building by allowing anybody to develop with no code. This tool combines an easy-to-use builder with Google Sheets. Glide gives you a simple but powerful editor to visually build apps and leverages Google Sheets to store the data.
Using Google Sheets as a database means you have full control of your data in a visual interface. You can interact with your database with no code, and as easily as you would with a spreadsheet.
Glide gives you a lot of components to work with, such as a map view, calendar view, and user list. It really does cover a lot of the basic components you would find in most apps.
Over 100,000 people and companies have made apps with Glide, including big brands like Uber, Zoom, Whirlpool, Costco, Nasa.
Glide App Features
Lets you build apps with no code in a visual editor
Offers a number of free and paid templates
In Glide's spreadsheet, rows function like objects
A modern dashboard allows you to access your apps, view templates, and review analytics
Click here to view Glide Apps.
#7. Sheetson Review
Sheetson is an AI-powered Google Sheets tool that gives users an instant backend solution for all their coding projects. Sheetson's motto is no setup, no worries, and unlimited possibilities. It is a super easy tool to help transform any Google Sheet into a database with RESTful API support.
Built with user's data privacy in mind, Sheetson are operational even when the spreadsheet is private. Sheetson is easy to use, but has comprehensive documentation for developers.
Sheetson allows basic CRUD API requests without advanced features of a RESTul API:
Relational tables
Filter/query
Sorting
Sheetson Features
Build instant APIs from Google Sheets for free
Create as many rows and spreadsheets as you want
Get APIs up in seconds without server setup and maintenance
Never expose your data to the world with public sharing
Use Google Sheet as a database manager
Make as many design requests and revisions as you want
#8. Coupler.io Review
Coupler.io is a data integration software tool that can help you consolidate data from all your business units. This software is ideal for small to medium-sized businesses and freelancers.
Coupler can pull information from Airtable, Pipedrive, Xero, Google BigQuery, and other Google Sheets integrations. It uses AI to synchronize data between various apps and your spreadsheet. You can also automate the transfer of data by setting up a schedule. You can easily navigate the system even if you don't have coding knowledge.
Coupler.io can help you synchronize your data from different business apps so that you have an organized set of information that you can review. It's a prime Google Sheets tool for moving data between systems using Sheets.
Coupler Features
View data from other online tools in Google Sheets
Synchronize data from Airtable, QuickBooks, a CRM, and other tools automatically
Can manage operations data
Has a productivity tracker and sales metrics
Can be used to generate financial reports
Click here to view Coupler.io.

#9. Sheetsu Review
Sheetsu allows businesses to collaborate with clients and partners to create and edit data on spreadsheets. This AI-enabled Google Sheets tool allows employees to add collaborators to projects, view real-time changes in the sheet, and chat with team members from within documents.
The application lets administrators set expiration dates on projects and grant permissions to download, copy, or print content among specific collaborators. Stakeholders can utilize the explore functionality to view trends and gain data insights through customizable visuals in real-time.
Google Sheets provides an API and Zapier integration, which lets businesses connect with several third-party platforms such as BigQuery, Microsoft Office, and Outlook. Other third-party platforms supported are Apps Script, Trello, Slack, Mailchimp, and more.
General, Upwork, Stanford, Code For America, and IMGUR use Sheetsu to create and edit data on spreadsheets.
Sheetsu Features
Allows you to create and populate websites, apps, and other databases like CRMs.
Can fill up a spreadsheet and place your data in other spots using its API.
Allows collaborative editing of spreadsheets in real-time.
Supports offline editing.
Integrates with other Google products.

What other Google Sheets tools have you used in the past? Comment below and let us know!