Today, your business needs to have a mobile presence. In this guide, we show off the best tools that turn a website into an app with AI.
Specifically, we'll go over:
The best website to app makers
Key features you should look for
How these tools use artificial intelligence to get things done quicker than ever before
If you have used any software that turns a website into an app, comment down below and let us know.
The Best Website to App Makers
What Do These Tools Really Do?
So how do these tools really turn a website into an app with AI? And how involved do you have to be in the process?
The large majority of websites on the internet follow a predictable pattern. They have a header at the top of the page, a call to action, a contact page, blog posts, and other predictable sections. Most websites on the internet use a CMS such as WordPress, which means that they share common layout files and naming conventions.
Most of these tools use this predictable information to automate turning your website into an app. You don't have to do very much work yourself.
In addition, business apps also follow a predictable convention. Most business apps have a side or bottom menu, interactive blog posts, contact forms, and login pages. Again, these tools use AI to fit your website's structure into this predictable app format. 
The whole process is seamless, automatic, and professional.
Next up, let's look at some of our favorite tools that turn any website into an app with AI in more detail.
Twinr Review
Twinr is a mobile app development platform that uses artificial intelligence to automate how you convert your website into a functional mobile app. It has focused on the app-building process to get things done faster.
Once you sign up, Twinr can convert any website into a high-quality and mobile-friendly native iOS app, Android app, or both.
The app-building process is simple. You create the app, customize it to suit your brand, preview the app, and publish it in any of your preferred app stores. This AI app builder supports website technologies and lets you publish a new app in both Google and Apple stores with a free trial.
Key Features
Has push notification features that you can add to your site.
Smooth onboarding features for new users.
Supports different languages.
Keeps app current with live updates
Guarantees placement on the Android or Apple App Store
What I Like About Twinr
Twinr is a game-changer. I like that the features are easy to learn and the apps are optimized for mobile phones. I also like that it supports Google AdMob to enable you to monetize your app through app open ads, interstitials, and banners. It has a lot of features to add mobile features to your app automatically.

MobiLoud Review
MobiLoud is an AI website to app tool that converts any website into a native mobile app. This tool can get your app live on Google Play Store and Apple Store without being rejected.
Regardless of the CMS that your site is built with, MobiLoud will automatically sync with your site 100%. Plus, all your website content will be accessible instantly on the app for easy management.
MobiLoud is the fastest way for you to get a mobile app from your website. The process is simple. It uses artificial intelligence to configure, customize, and test your app for effectiveness. MobiLoud helps you save costs that you would have spent to hire professional app developers.
Additionally, this tool will give you everything you need to generate revenue through your new app. Small Business Trends, GoDaddy, SitePoint, and Elegant Themes have been using MobiLoud to convert different websites into native mobile apps.
MobiLoud Features
MobiLoud lets you build an app in hours
You can monetize your apps with ease
This tool syncs 100% with your website
Automatically transfers all your content to the app for easy management.
Appypie Appmkr Review
Appypie Appmkr is an AI app creator for any website. If you are looking to expand your business reach, you can rely on this app to create a native mobile app from your website. This tool has a feature that lets you use your app to receive payments directly from your clients.
Once you launch the tool, enter your business name, pick a suitable category and an appealing color scheme. Then, add exciting features and hit the convert button. Your website is converted into a native mobile app. Publish the app in app stores to reach a wider audience.
Appypie Appmkr has unlimited push notifications support that allows you to reach your customers with important information on deals and discounts.
Appypie Appmkr Features
Lets you offer loyalty rewards to your customers
You can receive payments for your business through direct & safe gateways
Equipped with form builder features that allow you to create appointment and inquiry forms
Comes with 24/7 chat support to address your queries
Click here to view Appypie Appmkr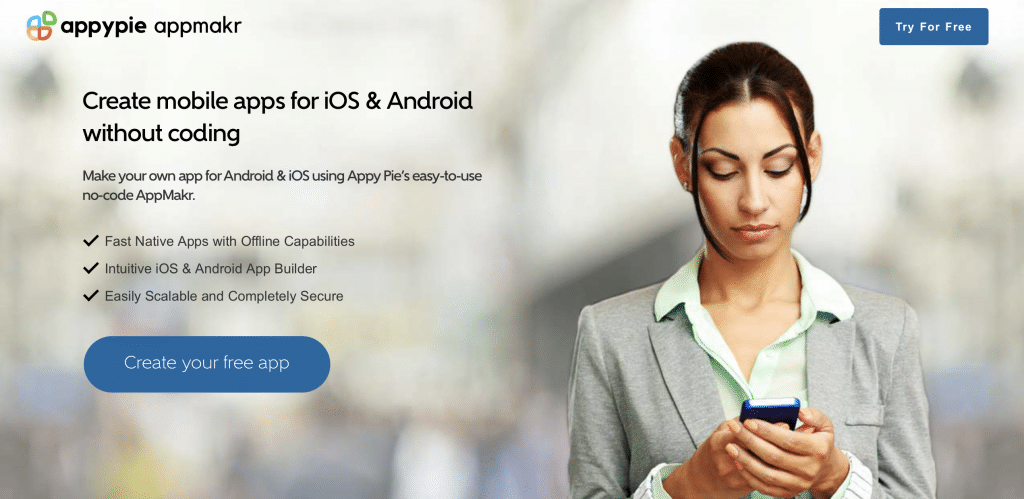 Website Into App Review
Website Into App is a powerful app maker that uses AI to convert websites into native mobile apps. This tool provides you with a mobile app that is ready to be uploaded to the App Store.
Simply launch the tool and enter your website URL in the space provided. In less than a day, the team at Website Into App will develop your app and deliver it to your inbox. This tool uses human interaction on top of AI to get the job done. When it is complete, you can access the app and upload to the Google Play Store or App Store.
Website Into App uses AI to create a wide variety of mobile apps, from business apps, product apps to entertainment apps. Avant Garde and RS are a few software companies that use this tool to convert their websites into mobile apps.
Website Into App Features
No code required
The team at Website Into App handles all the technical aspects for you.
Affordable to run
Features to help you stand out in the crowd
Click here to view Website Into App
Convertify Review
Convertify is a website to app converter using your website URL. It can create Android & iOS apps in less time than professional app developers. It also uses artificial intelligence to automatically transfer all your content into the new app.
When you launch Convertify, submit your website URL and receive your app in less than 24 hours in your inbox. Get the app and upload to the App Store or Play Store. This tool is also built on AI with human interaction.
Convertify can create apps that let you upload and download files in real-time. Plus, it supports all kinds of databases including MySQL, Oracle 12c, Microsoft SQL Server, PostgreSQL, MongoDB, MariaDB, and DB2.
Relationship Hero, Sun Room, and Gofer Gift are top brands using this tool to create native apps from their websites.
Convertify Features
Lets you send deep linking notifications and targeted notifications to certain users of your app
You can upload and download files via the app
Your app will read and understand all kinds of databases
Your new app will record and play videos and audios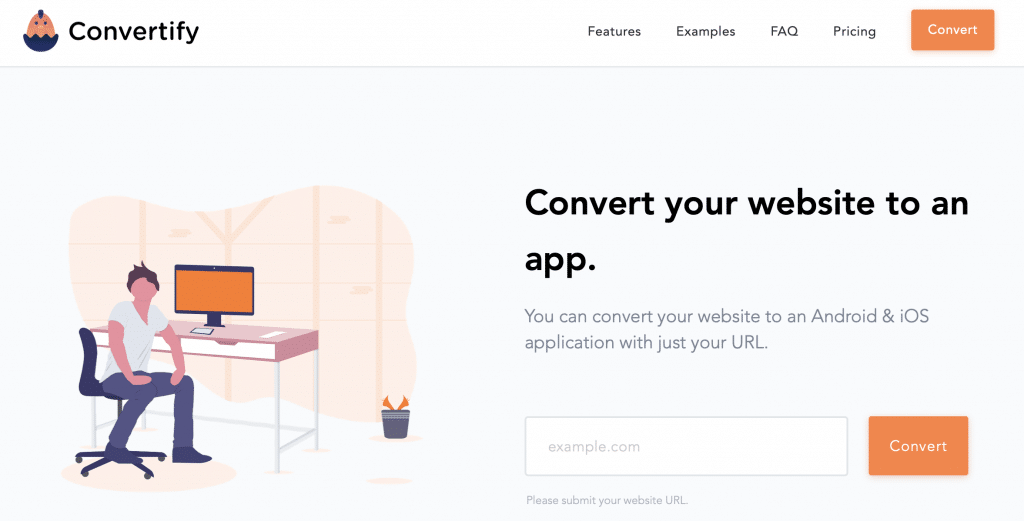 GoNative Review
GoNative is an AI website to mobile app converter. This tool makes it easy for businesses and independent contractors to create a native mobile for Android and iOS. The app comes with a variety of native features and SDKs.
GoNative will enable you to download full source code for backup to meet your business needs. It works in mobile browser, and you don't need to maintain Android & iOS source code.
Plus, there are no cookie-cutter templates in GoNative that will limit the functionality or flexibility of the app.
GoNative Features
Your app will be able to record and play audios and videos
GoNative guarantees a 100% white label solution
Your app will be free from ads or hidden fees
The app will be completely branded and styled to meet your needs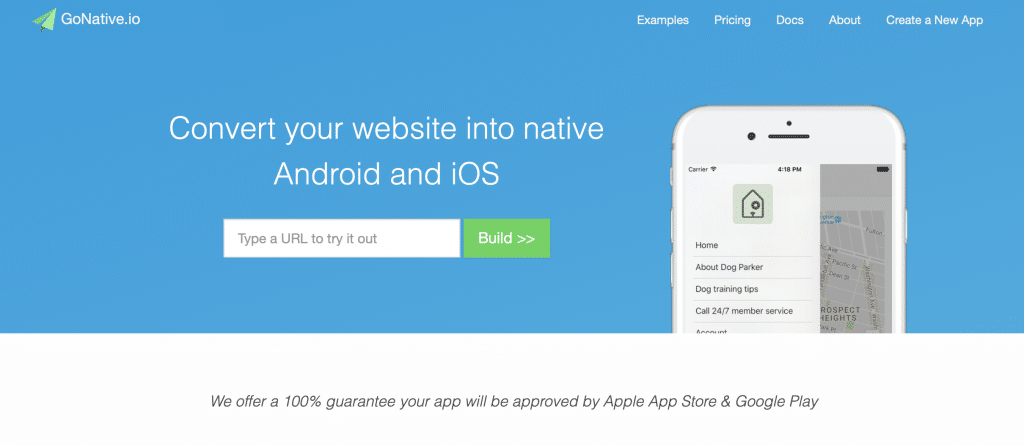 AppMySite Review
AppMySite is one of the best mobile app builders on the market. It uses AI to create highly customized mobile apps that align with your business goals. In fact, it lets you redefine your online business with native apps for both iOS and Android. With AppMySite, you don't need prior experience or technical know-how on how to create mobile apps.
Compared to a custom app development platform, AppMySite allows you to create an app within minutes with instant app delivery. Once you receive the app, you can easily upload it to the App Store or Play Store.
Additionally, AppMySite comes with troubleshooting features. You can test out your site on multiple emulators and real mobile devices.
NewsWire, Product Hunt, WP Engine, and Trustpilot use this tool to scale their businesses and reach a wider audience.
AppMySite Features
AppMySite lets you create flawless iOS and Android mobile apps in minutes
You can customize your app icon and splash screen
This tool lets you build your business app now and pay later
With AppMySite, you won't write any single line of code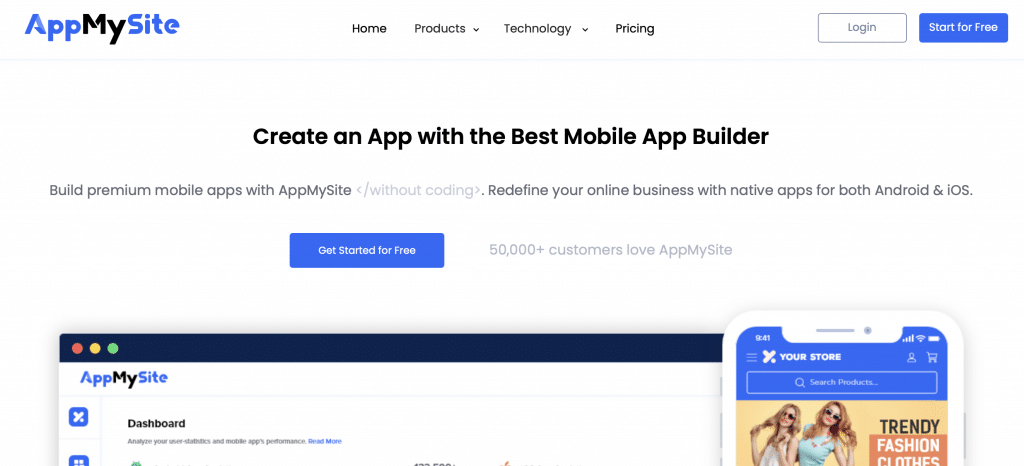 Web2Application Review
Web2Application is an AI tool that allows users to turn any mobile website into an app. You can use this tool to create beautiful and native iOS and Android apps to start engaging your clients. The good thing about Web2Application is that you don't have to be a coding expert or programmer.
The app creation process is very simple. Submit your website URL in the space provided and the team at Web2Application will take it up from there. You will receive your apps in your developer account within 48 hours.
Web2Application is easy, fast, and comes with WhatsApp support. All apps are native and can be customized to your liking.
Web2Application Features
Lets you send your push notifications to browsers like Chrome so that your clients don't miss any update
Comes with a smart link that will direct customers to download your app in the right native store for iOS devices or Android devices
Automatically uploads the apps to your Google developer account and to your Apple developer account.
Click here to view Web2Application
AppPresser Review
AppPresser is a powerful app builder built for websites running WordPress. This tool is for those working with clients or those who need an app for their business. With AppPresser, you don't need any app development experience.
AppPresser works like building a WordPress website. You can create menus, add pages, and customize the design. AppPresser has support to include BuddyPress, WooCommerce, and Membership into your apps. You can also use AppPresser to build Podcast apps, LearnDash apps, and Nonprofit apps.
Woo, LearnDash, and GB Gifts use AppPresser to build native iOS and Android apps in less than 48 hours.
AppPresser Features
This tool lets you create iOS and Android mobile apps that integrate with WordPress
You can use your WordPress content in the mobile app
No previous app creation experience required
Enjoy our automatic updates and always stay in line with Google play and App store guidelines
What tools have you used to convert your website to apps for iOS and Android? Comment down below and let us know what has worked well for you.