Artificial intelligence has disrupted the gym and fitness industry with smart workout recommendations and body tracking. In this guide, we go over the top AI fitness products and apps to try out!
These apps fall into a number of different categories:
Complete smart at-home workout solutions
AI fitness apps for creating working plans
Form and motion capture apps to correct your form
Comment down at the bottom of this guide and let us know what your favorite AI fitness product or app is!
The Best AI Fitness Apps and Products
FitnessAI
Aaptiv coach
FitBod
Fitness Ally
spartanApps Coach
Infigrow
Gymfitty
Yoganotech
Types of AI Fitness Products
Fitness solutions have exploded in popularity over the last 5 years as people look to become healthier. From at home to in the gym, there are a few different types of exercise products on the market.
We've taken a look at a few different AI fitness areas.
At-Home Workout Solutions
Some companies are offering complete at-home products and solutions. Peloton has famously become popular for providing curated classes and exercises to go along with their spin bike.
You'll find a few other at-home solutions below with built-in artificial intelligence. This helps you work out at home efficiently like never before.
AI Fitness Apps
Software apps for tracking your workouts and exercises have been super-charged with new AI features. AI exercising apps have a few common features:
Tracking your workout progress
Logging your exercises
Correcting your form
These apps use artificial intelligence a few different ways to stand out from each other.
if there is another type of AI fitness we should look at, contact us and let us know! If you have a product or app you want to promote that uses artificial intelligence, we'd like to take a look.
Next, we take a look at some of our favorite fitness apps and products using artificial intelligence.
The RENPHO AI Smart Bike is a compact home bike that allows you to work out, lose weight, and improve cardio.
It uses AI to provide functional threshold power (FTP) training. FTP calibrates your workouts live so that you push yourself a little bit extra each time you use the bike. The bike uses real-time power, cadence, time, calorie, and heart rate details (with an Apple Watch) to optimize your workout.
Unlike Peloton, the RENPHO bike requires no membership. The free included app features over 70 different courses to ride on and 5 different training modes. You get professional classes and challenges to bike on without the the price of the Peloton.
A tablet screen is not included with the RENPHO bike, but you can buy an iPad below and still be thousands less than the Peloton alternative.
RENPHO Auto Resistance Exercise Bike for Zwift, AI Smart Stationary Indoor Cycling Bike, Bluetooth Fitness Upright Bike for Home Gym, Workout Cycle Bicycle
Auto Resistance for Zwift, mimicking the Incline: Automatically adjusts the pedaling resistance in real-time according to the terrain in Zwift without constantly making resistance adjustments to the bike, which is painful and breaks momentum. Ride and sweat together with the world's bikers and compete in the Zwift community.
70+ Free Classes by AI Gym App(No Membership Required): The AI Gym app provides 15 Professional Coach Video Classes, 9 Scenic Rides, 5 Map Rides, and 45 Riding Challenges without extra cost and subscriptions. Whether you are looking for a sweat-inducing fat burn session, steep hills that will give an intense leg pump, fast speeds for a thrilling cardio burst, or a leisurely scenic ride. This indoor cycling bike can do it all. [NOTE: Tablet Not Included]
AI-optimized workouts: Functional threshold power(FTP) training & customized training-The AI tech algorithmically calibrates workouts to help you achieve fitness goals based on your FTP training zones. Riders will train with real-time power, cadence, time, calorie, and heart rate (Apple Watch & ANT+ heart rate monitors connected) to understand and optimize their effort during cycling workouts.
Compact Home Gym: This exercise bike features adjustable handlebars (height) and saddle (height/distance) to suit riders between 4'11" to 6'1" (max weight 265lbs). Equipped with a smooth freewheel design, the AI bike ensures the utmost safety and allows for a seamless brake-free experience in a compact frame. Compact Footprint 3.1'x1.4'(4.3 sq.ft). Assembled dimensions 40" L x 20" W x 49" H. To protect the floor or carpet from damage, place a mat under the Bike. (Mat not included)
Quiter and Smart Motor Damping Design: The permanent magnet brushless servo motor provides both self and up to 80 auto-adjusting digital resistance levels to offer a smooth and quiet ride so you won't wake the family with your late-night cycling! The straps pedals can be swapped out for others with clip-in/toe cage/SPD. A premium airflow saddle offers comfortable riding. Note: We don't recommend standing up riding on AI bike.
Apple iPad (9th Generation): with A13 Bionic chip, 10.2-inch Retina Display, 64GB, Wi-Fi, 12MP front/8MP Back Camera, Touch ID, All-Day Battery Life – Space Gray
WHY IPAD — All the essentials in the most affordable iPad, with a beautiful 10.2-inch Retina display, powerful A13 Bionic chip, and an Ultra Wide front camera with Center Stage. Work, play, create, learn, stay connected, and more.
IPADOS + APPS — iPadOS makes iPad more productive, intuitive, and versatile. With iPadOS, run multiple apps at once, use Apple Pencil to write in any text field with Scribble, and edit and share photos. iPad comes with essential apps like Safari, Messages, and Keynote, with over a million more apps available on the App Store.
FAST WI-FI CONNECTIVITY — Fast Wi-Fi keeps you connected at home, work, school, or wherever you go with your iPad.
PERFORMANCE AND STORAGE — The A13 Bionic chip gives you the graphics performance you need. And with all-day battery life, iPad is perfect for playing immersive games and more. Choose from 64GB or 256GB storage options.
APPLE PENCIL AND SMART KEYBOARD — Apple Pencil (1st generation) transforms iPad into an immersive drawing canvas and the world's best note‑taking device. The Smart Keyboard features a comfortable typing experience and folds into a slim, lightweight cover for protection.
#2. Tempo AI Home Gym Review – Best AI-Powered Home Gym
Tempo AI Home Gym is an AI fitness personal trainer that comes with a complete home gym experience. You will feel comfortable keeping this tool in your living room or family room.
Tempo AI Home Gym has all the required equipment you need to work out with Tempo's virtual training sessions. The training session mimics typical gym fitness classes or personal trainer sessions.
It looks more or less like a cabinet with a built-in 42″ TV on which you can watch subscription workout classes. There are built-in 3D sensors that are supposed to alert you any time your form isn't right. Basically, the Tempo uses AI to provide a full gym experience, classes included, at home. The built-in TV will let you know how you can improve your stance or movement in real-time.
Tempo is a unique home gym solutions available today. With the rise of Peloton and other sophisticated at-home solutions, Tempo is using artificial intelligence to take the home gym to a new level.
EXCLUSIVE: Click here to get $275 off your first purchase on the Tempo Studio AI trainer!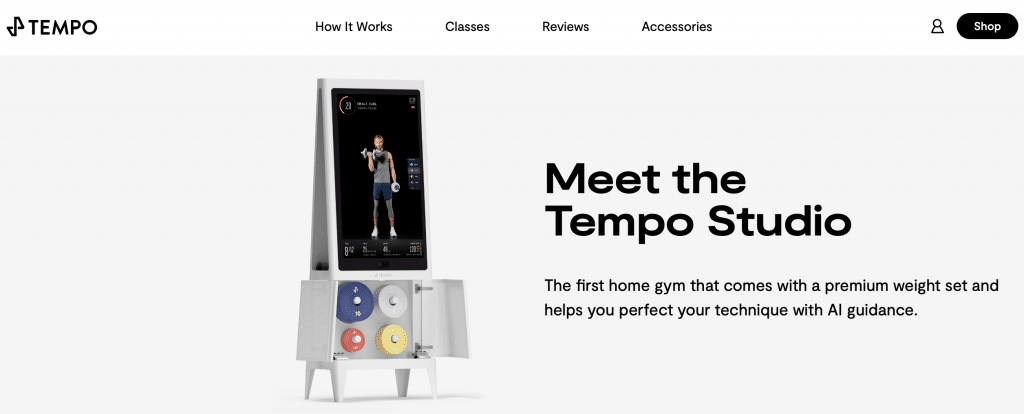 #3. FitnessAI – Best AI Strength Training App
FitnessAI is an AI-powered personal fitness trainer. It uses artificial intelligence to create personalized weight lifting plans for its users.
How does it work? The app uses machine learning to help you do "progressive overload" in your workout. In fact, the app has tools built into its system that optimizes sets, reps and weight for each exercise, each time.
The algorithm tells you how long you should rest for and makes recommendations around how to adjust the difficulty level for subsequent times. The app also gives clear insights by tracking your progress over time.
FitnessAI is the price of a coffee per week in work out and feel better.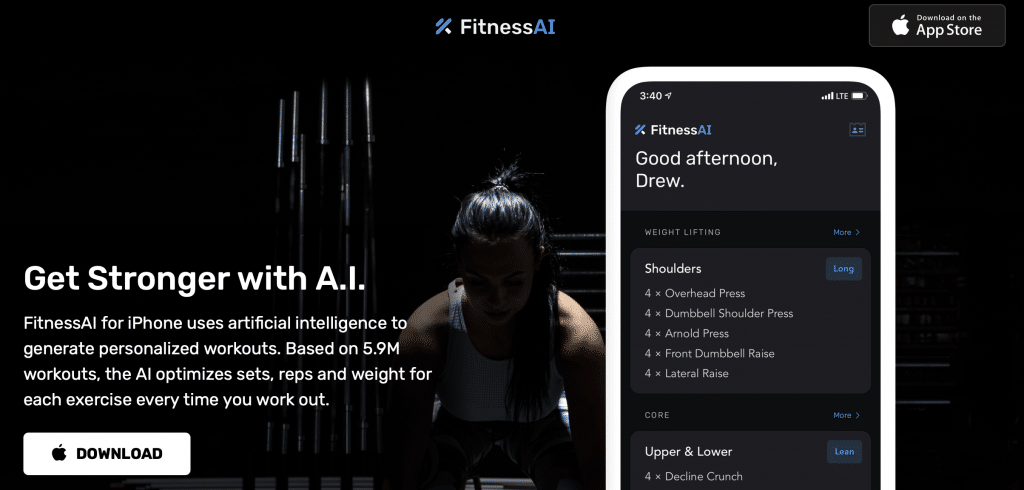 #4. Aaptiv Coach – Best AI Personal Trainer
Aaptiv Coach is a well-renowned personal trainer that offers personalized fitness and lifestyle plans. This tool has a virtual AI fitness trainer coach built in, plus personalized workouts from real life trainers.
To create a customized plan, Aaptiv is fed with a few details like eating habits, fitness goals, and current fitness level. It also uses AI to collect data from wearable or smart devices such as a fitness tracker.
By analyzing the complete data, this personal trainer provides you daily, weekly, or monthly personalized exercise to achieve your goals.

#5. FitBod – Best AI Fitness Data
FitBod is an AI fitness personal trainer that uses various algorithms and machine learning to make changes to a fitness plan for desired results. Fitbod creates a personalized exercise plan for you after you answer a questionnaire. You also input your body type, fitness goals, and the availability of fitness equipment near you.
The workout plan in FitBod shows you the right type of exercises to be engaged in to achieve any fitness goal. The tool also goes as far as suggesting the number of sets and repetitions that are needed to be done to achieve the goal.
Additionally, with its built-in demonstrations and recovery sections, FifBod will answer your questions about the type of exercise and muscle groups to build. Fitbod's functionality and design are great.
The app flows smoothly and is laid out in an easy-to-use format. The variety of workout styles, exercises, and other customization options are where Fitbod really excels.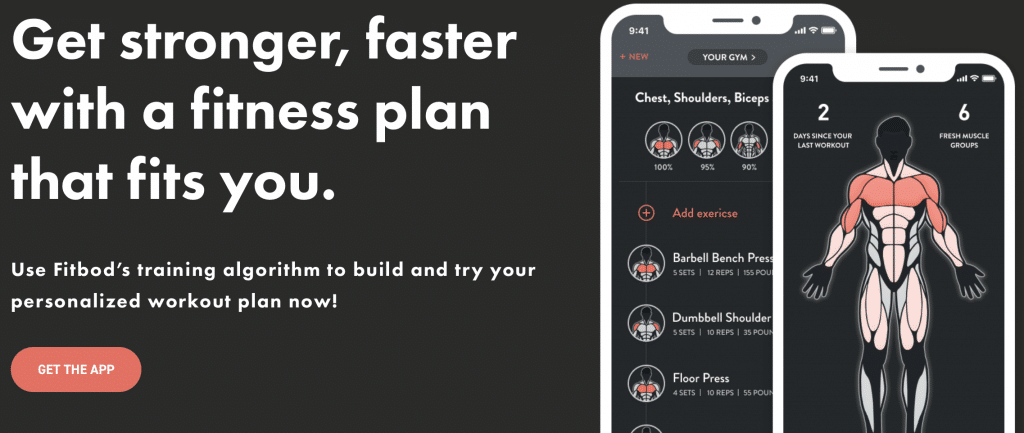 #6. Fitness Ally – Best AI Fitness Form Feedback
Fitness Ally is a mobile fitness app that features Allie. Allie is your fitness assistant for on-demand home workouts that makes fitness approachable and accessible to people of all levels.
Ally uses artificial intelligence to see your workout in real-time and coach you through exercises with instant, effective feedback and motivation. Ally understands proper technique and exercise psychology and uses this information to help you workout better.
The best part about Ally is that it does NOT require any additional equipment. No weights, wearables, or gym accessories. All you need is a phone to track you.

#7. SpartanApps Coach – Best AI Training and Nutrition App
SpartanApps Coach is an AI fitness assistant that makes personalized fitness plans specifically for you. It was the culmination of 7 years of development and learning, combined with extensive analysis of more than 5 million recorded workouts.
First, SpartanApps Coach uses AI to ask you a few simple questions. Then in less than a minute, your personalized training plan is created. As you progress, SpartanApps Coach uses AI to analyze your data and dynamically optimize your training plan.
The SpartanApps Coach can design training plans for burning fat, building muscle, increasing strength, and improving endurance. It also provides a good nutrition guide tailored to your goals.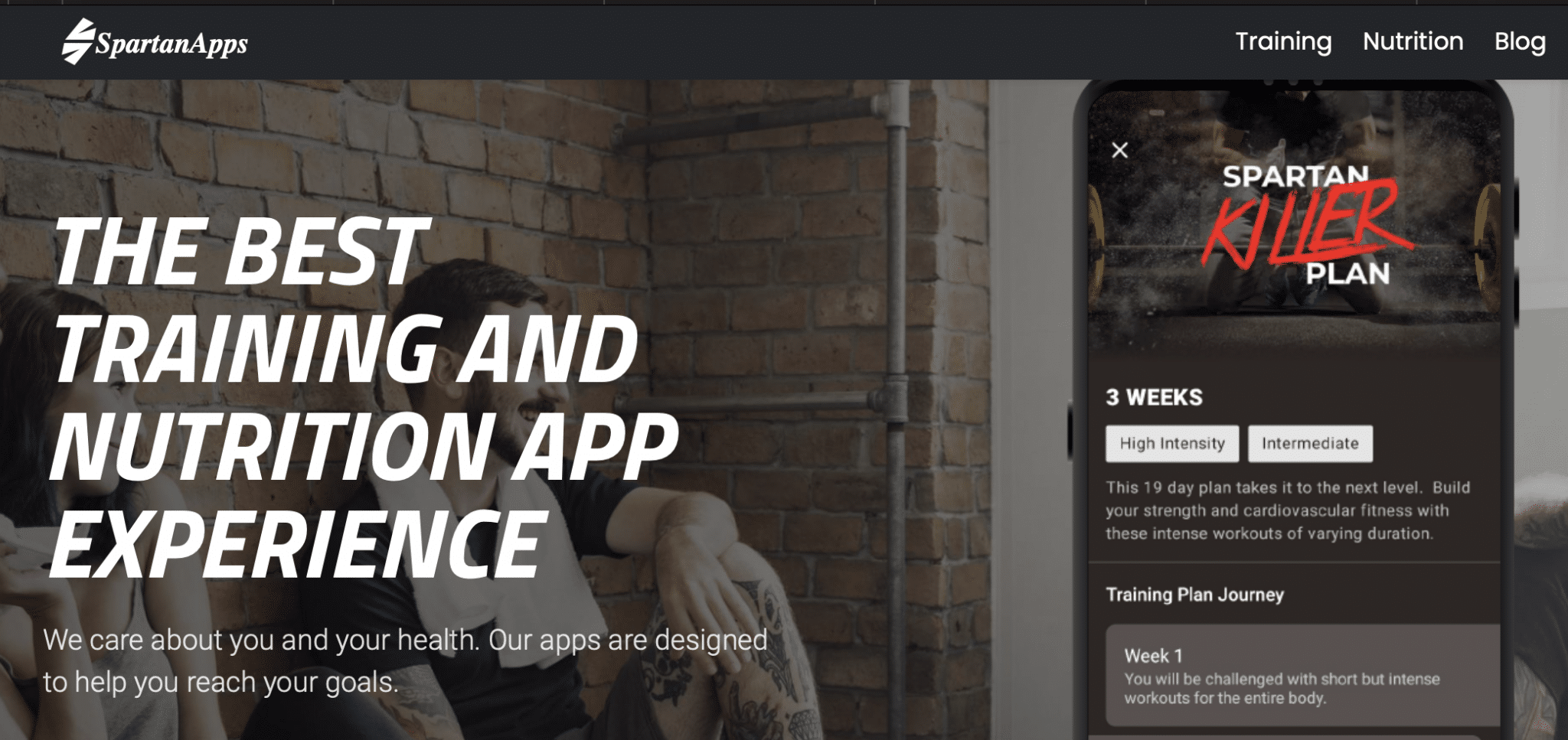 #8. Infigrow – Best AI Training Assistant
Infigrow is an AI Fitness Training Assistant that provides personalized workouts from expert trainers around the world. It also gives real-time feedback about exercise form, rep count, and motivation. It's your lifestyle buddy to help you lead a healthy and successful all-round life.
It's not just any other fitness app, this is a personal training, nutrition, and meditation assistant. It combines all these features to help you achieve your fitness goals and improve your life.
How it works? The app uses AI to correct your exercise form, count your reps, and guild you to achieve your fitness goals.
Infigrow is coming soon to the iOS store and is an app we've been tracking for a while! As soon as it is released, we will update this paragraph with more information.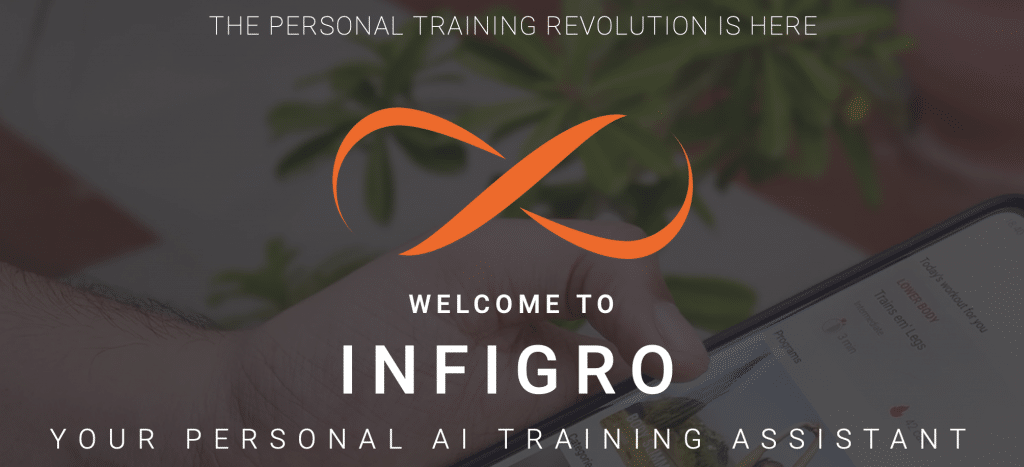 #9. Gymfitty – Best Smart Workout Plan Creator
Gymfitty is an AI fitness personal trainer. It uses artificial intelligence to invent workouts and monitors your performance in real-time. It also adapts your workout accordingly.
Instead of being stuffed with hundreds of workouts, this personal trainer offers smart workouts to achieve fitness goals. Users have to enter a few details like body type, gender, current fitness level, and future goals to get a customized plan.
The more you use Gymfitty, the more bespoke to your behavior it'll become. No two accounts look the same. You might be doing the same workout as your friend, but you'll be instructed differently based on a number of factors.
Gymfitty will be available to download soon. As soon as more information is released, we will update this paragraph.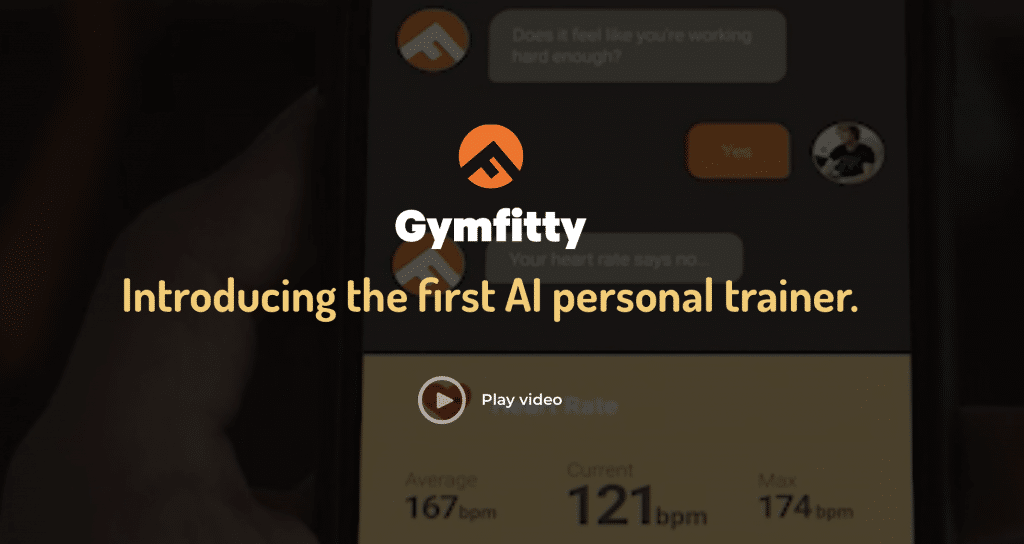 #10. Yoganotech – Best AI Yoga App
Yoganotech is an AI personalized Yoga coach. It uses AI to help yoga enthusiasts to perform the movements correctly and track their progress precisely.
Yoganotch takes app-based yoga practice beyond simple yoga videos. Yoganotch is your smart yoga companion, which guides you through the practice and gives live feedback on your yoga form.
For example, Yoganotch advises you to "square your hips", if it senses that your Warrior I alignment could be improved. And if you did correct your posture, Yoganotch notices that too and lets you know.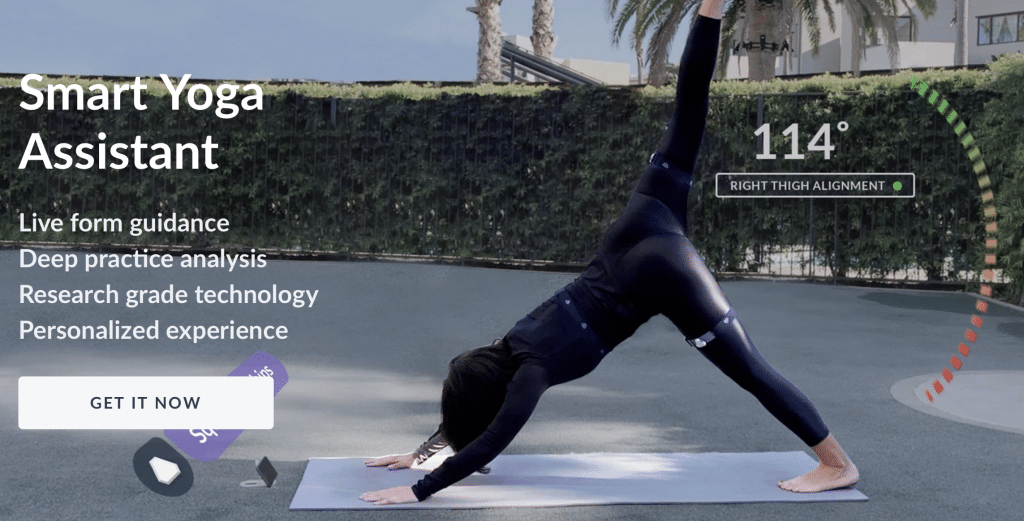 What AI fitness products have you tried out? Let us know what your favorite option is.