Peloton is the market leader for an at-home smart bike. However, a new option from RENPHO offers similar value at a much cheaper cost. In this guide, we compare RENPHO vs Peloton to determine:
What features each bike has
The difference in price
A comparison of the design and specifications
Which AI smart bike you should buy today
If you own either of these smart bikes, comment down below and let us know when you think.
How to Buy these AI Smart Bikes
The RENPHO Smart Bike is available directly from Amazon around the world. Use the box below to buy yours today.
On the other hand, the Peleton bike can be purchased directly from the official website.
Click here to check out and purchase the Peloton.
What is the RENPHO AI Smart Bike?
The RENPHO AI Smart Bike is a stationary bike that lets you improve cardio, lose weight, and workout. This AI smart bike is designed for those who want to work out quietly while watching their favorite movies on Netflix. It uses artificial intelligence to algorithmically provide functional threshold power training. Each time you use this bike to work out, the functional threshold power training calibrates your endurance and limits to give extra push in your next workout.
The RENPHO uses calorie, time, cadence, and your heart rate details to optimize your workout experience. It works in collaboration with an Apple Watch and has a free app that features more than 70 classes. Unlike the Peloton, this smart bike doesn't require a monthly membership subscription. Plus, you get 5 training modes to challenge your fitness level without paying a premium.
While the RENPHO AI Smart Bike doesn't come with a tablet screen, you can purchase an iPad to view your workout metrics in real-time. Doing this is still cheaper than the Peloton, which we will get to later.
What is the Peloton Bike?
The Peloton Bike is a premium indoor workout equipment equipped with 21.5-in HD touch screen tablet, Bluetooth and Wi-Fi connectivity. The Peloton Bike lets you do cardio exercises and other workouts ranging from strength training, meditation, running, and yoga.
The tablet streams on-demand and live classes and also allows you to enter into a competition with other riders. Classes can also be streamed from the mobile app or website and shared from an iOS device using Airplay.
Peloton classes are recorded daily and uploaded to the library for on-demand access 24/7. Peloton produces 19 new classes per day, which means that the service has grown an enormous amount of content.
This high-end bike has a live leaderboard that shows riders' ranking based on the energy expended or output.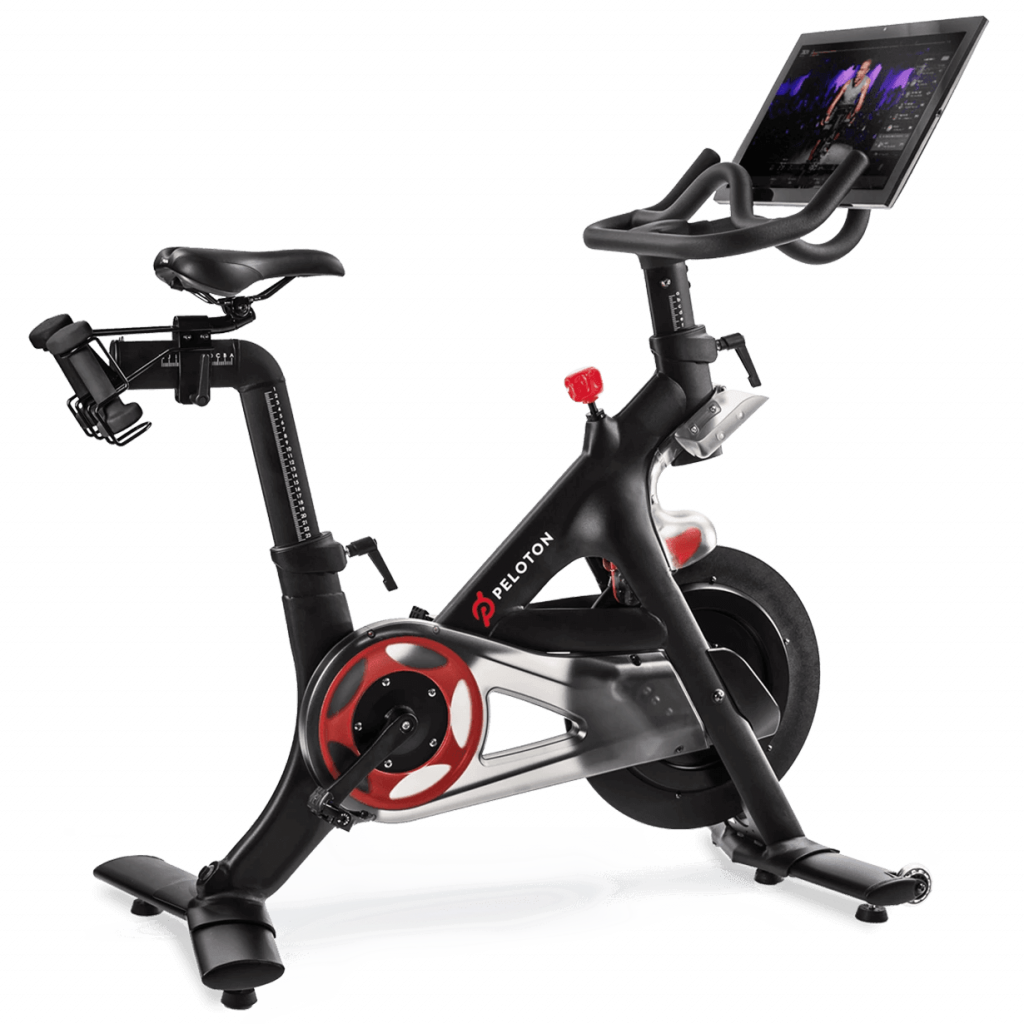 Price
The price tag for RENPHO AI Smart Bike goes for $499. There is often a coupon on Amazon that gives you additional money off. This price tag makes RENPHO a cheaper alternative to Peloton. If you're looking for a cheap and rugged workout machine, you won't go wrong with RENPHO.
However, keep in mind that you'd have to purchase the screen separately. An iPad can be purchased for as low as $300.
All RENPHO classes come for free in the mobile app. New workout classes are added infrequently.
On the other hand, the price tag of Peloton is $1,895. While Peloton is pricey compared to the former, it offers live exclusive classes for those looking to lose weight or workout.
However, the live classes are not free. You have to pay an additional $49 every month to get access to the live classes.
Design and Specifications
Made with carbon structural steel, the RENPHO Bike measures 20-in height x 40-in length x 49-in width. This size makes it easy for you to squeeze it into your bedroom or living room. It's a great space saver with adjustable handlebars, display height, and seat.
On the other hand, the Peloton bike takes up a larger footprint. Its weight is also nearly double of the RENPHO.
The Peloton Bike is robust in shape and sleek in design. It can fit any size rider, as its screen, handlebars, and seat can easily be adjusted. The Peloton has an electromagnetic resistance that helps you simplifies the equipment's adjustment.
The table below shows the specification comparison of both workout bikes:
| | | |
| --- | --- | --- |
| Specifications | RENPHO Bike | Peloton Bike |
| Frame | Carbon structural steel | Welded steel, ED power coated |
| Resistance | Smart motor damping | Magnetic adjustment |
| Dimensions | 40-in height x 49-in length x 20-in width | 53-in height x 59-in length x 23-in width |
| Max weight | 265 pounds | 297 pounds |
| Weight | 77 pounds | 135 pounds |
| Screen | No screen | 22-in HD touchscreen |
| Access | Through a free app | Through live and on-demand classes. |
Workouts
The RENPHO smart bike is a stationary workout bike that is very easy to set up. This AI smart bike provides a wide range of workouts, including:
Cycling
Aerobic
strength building
endurance
balance training
vigorous exercise
moderate intensity exercise
flexibility.
The Peloton, on the other hand, is designed for those who can shell out too dollar for hardcore workouts. The different workouts you can experience on this state-of-the-art exercise equipment include:
running
strength training
spin workouts
HIIT Ride
Endurance
balance training
yoga
meditation
The Peloton has a monthly membership cost of $49 to access the live classes.
Other Key Features on the RENPHO
The RENPHO comes with lots of exciting features for the average fitness enthusiast. Some of these features include:
Artificial Intelligence
Being an artificial intelligence powered bike, the RENPHO algorithmically uses your biometrics to recommend a workout that would help you achieve your health and fitness objectives. All you need to do is to input your fitness goals and start to track progress.
This smart bike has built-in speakers with Wi-Fi and Bluetooth connectivity. While you ride, it also displays your workout metrics such as your distance, speed, and calories burned.
Resistance Adjustments
The RENPHO is designed to automatically adjust your resistance level so that you can enjoy an effective and smooth riding experience. This smart bike adjusts resistance based on the users' goals, power output, cadence, and experience level to get the best results possible.
Free App With 70+ Classes
The RENPHO app has more than 70 courses and 5 training modes, including power training programs, coach video classes, HD scenic rides, and much more. The biggest advantage of using this AI gym is that no membership is required.
Safety Ensured
RENPHO is designed with a smooth freewheel pedal and enclosed wheels that immediately stop rotating the moment you stop cycling. This safety measure is incorporated so that you can coast along when you stop cycling without worrying whether the pedals will catch on clothes, pets, or your children.
Ergonomic Comfort
The cushioned seat is designed with comfort in mind. The seat allows for longer and comfortable training sessions. The RENPHO has ergonomically positioned handlebars so that you can ride this fitness equipment as an exercise bike or a spinning bike.
Other Key Features on the Peloton
As with the RENPHO, the Peloton also has interesting features that will keep fitness enthusiasts engaged in intense workout. Some of these features include:
Live Weekly Classes
The Peloton lets you enjoy a live ride. Plus, you get real-time encouragement from top instructors. So, if you're a beginner, you won't find it difficult to master a workout that's tailored to help you reach your fitness goals.
To access the live classes, you'll subscribe to a $49 monthly membership package.
Cushioned Seating
The Peloton is equipped with cushioned seats and an adjustable sports series for a comfortable workout or training session.
Display and Connectivity
The Peloton bike has a 21.5-in HD touch screen display so that users can stream a wide range of cycling classes. The screen displays your workout metrics, including calories burned, distance, and speed. It also has built-in speakers with Wi-Fi and Bluetooth connectivity.
Resistance Adjustments
This premium exercise equipment features a resistance knob that you can use to adjust your workout intensity, so that as you ride you can match your live instructor's directives. You can also adjust the handlebar, seat, and screen to fit your workout styles.
On-demand Library
The Peloton has workout classes ranging from 5-90 minutes. So, finding a ride to match your mood is a breeze. Keep your workout fresh with a variety of themes, music genres, and difficult levels.
Other Smart Bike Alternatives
Smart bikes are a growing niche and there are even more alternatives available. Use the links below to check out RENPHO and Peloton alternatives
Are you planning on buying an AI smart bike? Do you have the RENPHO, Peloton, or another alternative already? Comment down below and let us know today.