Are you still designing your presentations using PowerPoint? In this guide, we go over the best AI presentation software tools that use artificial intelligence to generate beautiful slides. Create professional presentations that make a big buzz.
Below, we go over:
What features a presentation generated by AI gives you
The best AI presentation software
How to get started creating better slideshows today
What are the Best AI Presentation Tools?
Decktopus (Best Overall Tool)
Slidebean (Best for Startups)
Beautiful.ai (Best Interface)
Slides.ai (Best for Businesses)
Haiku Deck (Best on Mobile)
Tome (Best for Teams)
Present AI (Best Google Slides Support)
DeckRobot (Best PowerPoint Import)
Pitch AI (Best Video Importing)
If you have a tool to add to our list, comment at the bottom of this guide and let us know!
What are AI Presentations?
Presentation tools that use artificial intelligence can decrease how long it takes you to create a professional looking presentation. AI is used to simplify some of the most tedious parts about using Microsoft PowerPoint or other basic tools:
Text and images are automatically aligned and put into place
Stock images, graphs, and other improvements are recommended on the fly for you to add
The theme of your presentation is automatically made consistent and beautiful
Presentations all follow a similar format and story. Because of this, artificial intelligence is an obvious fit since the back-end can handle everything.
Next, we'll show you some of our favorite AI presentation software tools and explain how they can save you time making beautiful slides today.
Decktopus AI (Best Overall Tool)
Decktopus AI is a simple and smart AI presentation software that can help you create content-rich and visually stunning presentations within seconds. This tool gives you access to millions of stunning images, GIFs, icons, and quotes. It also provides automatic auto-adjustments to create a perfect presentation for business.
Decktopus AI will add contact forms, embedded feedback, and rating elements to make your presentation interactive. Once you launch the tool and subscribe to a paid plan, you can type in your content and watch Decktopus adjust the presentation to suit your audience.
You don't need any design experience to craft a compelling presentation. This software will automatically adjust your typed-in content and tailor the slide notes to suit the topic and audience. You can also add a personal touch to your presentation with audio and video narration.
Free Features
Paid Features
Remove the Decktopus logo watermark.
Work on the same document with your co-workers.
Hundreds of presentation templates that suit your needs.
Share your presentation online.
Download your document in PDF/PPT format.
Record your voice on pages and present as if you were there.
Capture data within presentations with embedded forms
What I Like About Decktopus AI
I like Decktopus AI because it's dedicated to presentation. It will save you the precious time of going back and forth searching for perfect templates and make you less dependent on PowerPoint.
I also like that Decktopus AI is quick and simple to use. Plus, the designs are always spot-on. This tool feels more modern than other smart presentation tools.
Click here to check out Decktopus AI.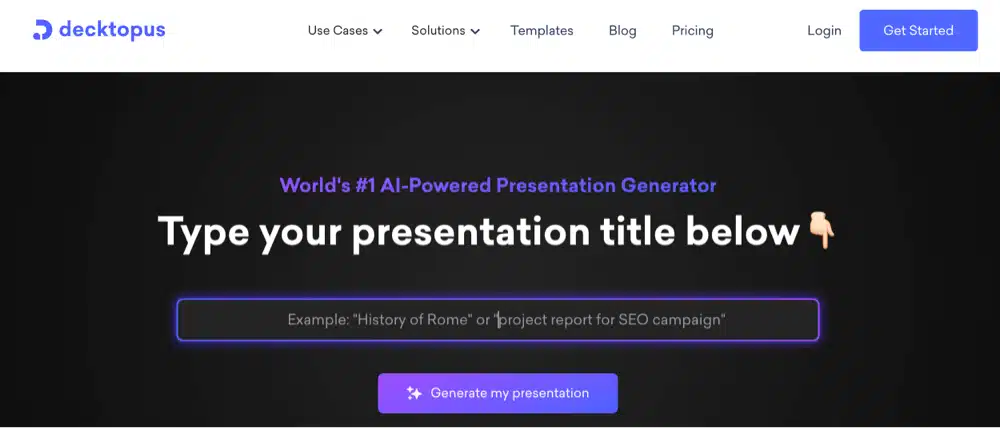 Slidebean (Best For Startups)
Slidebean is an awesome presentation tool that has added artificial intelligence features to make its platform smarter and easier to use. Slidebean's initial niche is in creating pitch decks for startup and new companies, but the tool can make presentations for anyone with high quality.
The Slidebean AI presentation software offers the following smart features:
Information you want on the slide is run through an AI algorithm and the best layout is automatically selected for you.
Fill in the blank templates let you automatically fill in customized information specific to your presentation.
Theme can be automatically updated on the fly to create consistent beautiful presentations.
If you have a report or word document, Slidebean can automatically help you design a presentation around it.
Free Features
Access to dozens of free templates
Access to all AI features
Free stock photo media galleries
Paid Features
Collaborate on your presentation with other people
Share your presentation with others
Export copies to PDF and HTML
Track analytics and data about your presentation
Remove Slidebean branding
What I Like About Slidebean
I like that Slidebean has stunning graphic design elements and is very easy to use. I showed the tool to my friend, who had no graphic design experience at all, and he could make presentations that were better than Powerpoint ever god. Slidebean's results are more interactive too, which your audience will enjoy.
With its intuitive analytics interface, you can see which investors viewed your deck and how long they spent viewing each slide.
Click here to check out Slidebean AI presentations now.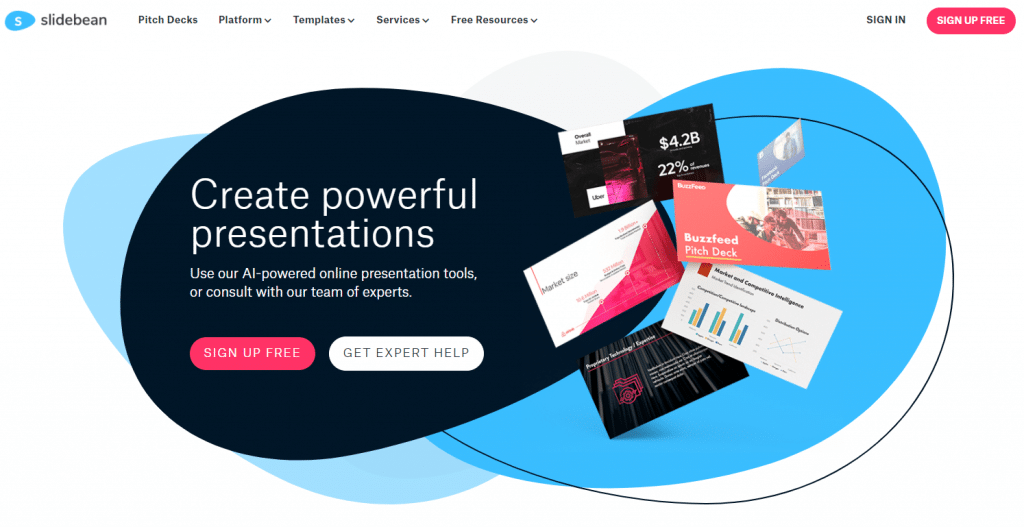 Beautiful.ai (Best Interface)
Beautiful.ai is one of the major players in this space. They allow you to create beautiful presentations that look professional in just a fraction of the time. Over 600,000 people have created over 5 million slides on the Beautiful.ai platform. And the team has used this information to refine and improve their product to make it better.
The Beautiful AI presentation tool uses artificial intelligence to automate and simplify some of the most tedious parts about building a presentation:
Millions of stock photos can be instantly added to your slides quickly.
Text, images, and charts can be added to different locations on your slide quickly and are automatically size-adjusted and put into place.
Moving objects around on your slide automatically moves other objects into place
Hundred of beautiful slide templates can be quickly added to your presentation
Changing your background automatically changes your foreground colors to ones that match and go good together
Our favorite part in testing Beautiful AI was how objects in your presentation automatically fit into place based on manual actions you take. You never have to adjust objects just because you needed to add another one.
Free Features
100 slides
Over 60 templates
Customizable themes
Millions of free stock images
Collaboration between multiple users
Export into PDF or PowerPoint
Paid Features
Editable PowerPoint export
No Beautiful.ai branding
Analytics and data on your presentation
More customizable fonts, images, and templates
Desktop Player
I like how Beautiful.ai has awesome team collaboration features. Each team member can comment on every slide in your presentation without any back-and-forth through emails. I also like that Beautiful.ai is easy to use and is equipped with a great library of royalty-free images.
Click here to check out Beautiful.ai right now.
Slides.ai (Best for Businesses)
Slides.ai is another tool specializing in creating professional pitch decks for your business or idea. The tool simplifies the creation of your presentation into 12 steps that use technology to fine-tune your slides for presenting. Slides.ai has worked with Chase, Google, the NBA, and Adidas to create professional presentations.
Artificial intelligent features in Slides.ai include:
Slides automatically find and recommend images that look beautiful in your presentation
Quickly adjust the design of your presentation with a single click
Lots of smart analytics tell you who has viewed your presentation and for how long
Like the other tools in this guide, Slides.ai makes it easy for you to change your theme and update your design to be consistent across the board.
Free Features
Your first presentation or pitch deck is completely free
Paid Features
Advanced data anlytics
Export to PDF
Unlimited visitors per month
I like Slides.ai because the artificial intelligence component of the tool will automatically help you find slides and recommend images that will look good in your presentation. I also like that this tool can adjust existing presentations to make them more compelling with a single click. A bit of generative AI can really improve your slide deck.
Additionally, Slides.ai comes with smart analytics, which will notify you when someone views your slides and for how long.
Click here to check out Slides.ai
Haiku Deck (Best for Mobile)
Haiku Deck is an online tool that allows you to create presentations on your computer or mobile phone. Its recently introduced Haiku Deck Zuru, an AI presentation software toolkit that automatically transforms your content and stories into stunning presentations. Haiku claims you can upload an outline, and Zuru will build you a polished presentation pitch deck in minutes.
Artificial intelligence features included in Haiku Deck Zuru are:
Intelligent image matching instantly matches your text up to an appropriate stock photo.
Zuru creates the layout of your slides automatically based on an AI algorithm.
Haiku analyzes any images you provide it and applies a color palette that matches.
Fonts, image filters, professional style, and polish are automatically added to the presentation when it is created.
Some companies offering glowing reviews for Haiku Deck include MacWorld, XConomy, and more.
Free Features
None – Haiku Deck offers a free trial of its complete AI presentation software to try it before you commit for good.
Paid Features
Unlimited presentation creation
Download files for offline viewing, printing, and editing
Place custom branding in your presentation
Automatically build presentations with artificial intelligence using Zuru
What I like About Haiku Deck
I like that Haiku Deck has many templates, royalty-free images, sharing options, and tutorials. I also like that the AI presentation features work automatically with Zuru to build presentations.
Click here to visit Haiku Deck today.
Tome Review (Best for Teams)
Tome AI is a powerful deck and presentation builder that can generate some really stunning designs. It has a drag-and-drop interface that is more intuitive than others on my list. Plus, a few of its AI presentation features can transform any speech into engaging presentations.
Tome offers a wide range of classic options, including adding text or visuals with just one click. It strikes the right balance between manual and automatic creation.
Instead of spending countless hours resizing images to fit your company's branded template, Tome AI automatically embeds custom visuals alongside interactive docs from Twitter, Giphy, Miro, and Figma. Tome AI also lets you embed native video recordings to give a personal touch to your story.
If you want to try out Tome, you'll appreciate how each it is to create a presentation:
Launch Tome AI, click "Get Tome For Free," and sign up for an account.
Once your account is ready, click "Create" to create a workspace.
Enter in a name for the presentation you want to create in and press enter.
The AI component of Tome AI will handle everything, generating an 8-page PowerPoint that is ready to present. The first page serves as the header.
Like PowerPoint, you can adjust the presentation by clicking the part you want to edit.
Free Features
Access to multiple templates and stock images.
One-click themes
Easy sharing for any screen.
Paid Features
Your team members can offer feedback directly on slides.
Live, interactive content from the web.
Lightning-fast auto-save
Functional, good-looking presentations on either desktop or mobile.
Build a powerful story with any content.
What I Like About Tome AI
I like that Tome AI is very easy to use. I found that this presentation maker could create designs within seconds, faster than sending a message or email. I also like that this software can help you visually bring your ideas to life and share them with others.
Click here to check out Tome AI presentations now.

Present AI (Best Google Slides Support)
Creating slides and making presentations together can be overwhelming without any design or technical skills. Present AI harvests the power of artificial intelligence to help users generate interactive presentations at a fraction of the time that would have been spent on PowerPoint. It is best suited for busy professionals, students, and teachers.
Present AI is simple to use – simply launch the software, enter your topic of interest, and allow Present AI to generate the presentation in seconds. Unlike other presentation tools, Present AI lets you easily export your work to Google Slides. You can also download your presentations as a PPTX file to edit later.
Try selecting different art styles to make your presentation more exciting and interactive.
Free Features
There is no free trial available!
Paid Features
Export to Google Slides or as a PPTX for easy editing.
Create visually-appealing presentations on the go.
No design or AI expertise is needed.
Millions of free stock images.
What I Like About Present AI
I like that Present AI can help you create interactive presentations 10X faster than PowerPoint. It is easy to use and automates the tedious parts of creating slides, generating the content, and finding stunning images. I also like that Present AI has several customized templates for your brand style.
I've moved from Powerpoint to Google Slides for some applications, so the integration is a nice feature.
Click here to check out Present AI

DeckRobot
DeckRobot is the perfect AI companion to Microsoft PowerPoint. It allows you to import your .PPT file and then automatically use AI to improve the design. DeckRobot can also redesign an existing presentation to add new colors, fonts, and styles within seconds.
This tool comes with millions of slide examples for better story-telling. Make every deck consistent with your own brand colors in a single click.
There are an unlimited number of styles to choose from. Plus, you can format and place your brand into an old slide deck (slides from the web, client materials, or old documents).
Free Features
Upload 3 to 4 types of good slides you usually use.
Paid Features
The templates are embedded with corporate fonts, icons, colors, headers, and more.
Collaborate on your presentation with other people
Fix all visual elements in each slide of your presentation.
Removes DeckRobot branding.
What I Like About DeckRobot
The one thing I like about DeckRobot is that it reduces manual work. PowerPoint support is handy, since that is what most people still use. DeckRobot has hundreds of templates and royalty-free images that you can leverage to create a compelling presentation.
Click here to check out DeckRobot AI
Pitch (Best Video Importing)
Pitch AI is one of the best presentation tools on the market. Pitch AI lets you build slides and presentations from scratch using pre-built templates. Its editing and cropping features give you absolute control over your presentation.
It's best suited for entrepreneurs or inventors who need slide decks to convince investors to invest in their ideas. Pitch AI has everything you need to generate beautiful decks right at your fingertips, from data integration to advanced design options.
This presentation maker can help you deliver on-message, on-brand sales decks that keep design, marketing, and sales happy. It puts updated colors, fonts, and templates at the front, helping you create interactive presentations. You can add a personal touch to your presentation by uploading your own videos or adding embedded videos from Loom, Vimeo, and YouTube.
Free Features
Live video collaboration
Custom templates & fonts
Unlimited presentations
Recordings
Paid Features
Export to PPTX
Unbranded PDF exports
Go back in time to see progress or recover previous versions.
Smart presentation analytics.
Bring stories to life with embedded videos.
What I Like About Pitch AI
I like Pitch AI because it has one workspace but with boundless possibilities. Whether you want to create project plans, pitch decks, or conference keynotes, Pitch AI has a space to share all the work that matters. I also like that you can use Pitch AI to hold engaging meetings and edit presentations together in real time.
Click here to check out Pitch AI.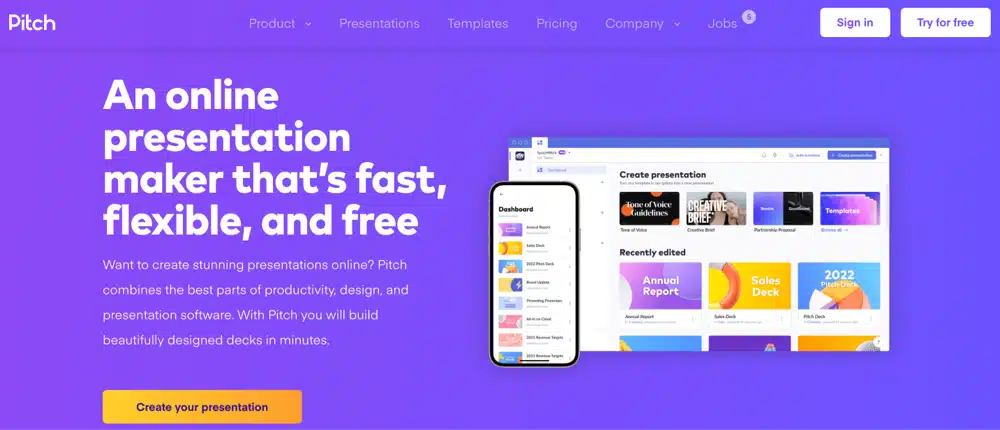 AI Presentation Advantages
You can probably see how already, but using artificial intelligence to automatically create presentations has a number of cool benefits:
Less tinkering. Your text and images automatically line up and fall into place.
Uniform design. All images and colors stay consistent no matter how much you need to edit the design.
Fast creation. Automatically create presentations from reports and documents.
Time saved. Spend more time doing other work and let your AI presentation software create your presentations for you.
Which presentation tools with artificial intelligence built in have you tried? How much time did it save you over traditional presentation software? Let us know by commenting below so we can add to this guide if there are any other solutions out there.