Are you still designing your presentations using PowerPoint? In this guide, we go over the best AI presentation software tools that use artificial intelligence to generate you beautiful slides. Create professional presentations that make a big buzz.
Below, we go over:
What features a presentation generated by AI gives you
The best AI presentation software
How to get started creating better slideshows today
If you have a tool to add to our list, comment down at the bottom of this guide and let us know!
What are AI Presentations?
Presentation tools that use artificial intelligence can decrease how long it takes you to create a professional looking presentation. AI is used to simplify some of the most tedious parts about using Microsoft PowerPoint or other basic tools:
Text and images are automatically aligned and put into place
Stock images, graphs, and other improvements are recommended on the fly for you to add
The theme of your presentation is automatically made consistent and beautiful
Presentations all follow a similar format and story. Because of this, artificial intelligence is an obvious fit since the back-end can handle everything.
Next, we'll show you some of our favorite AI presentation software tools and explain how they can save you time making beautiful slides today.
Best AI Presentation Software Tools
Slidebean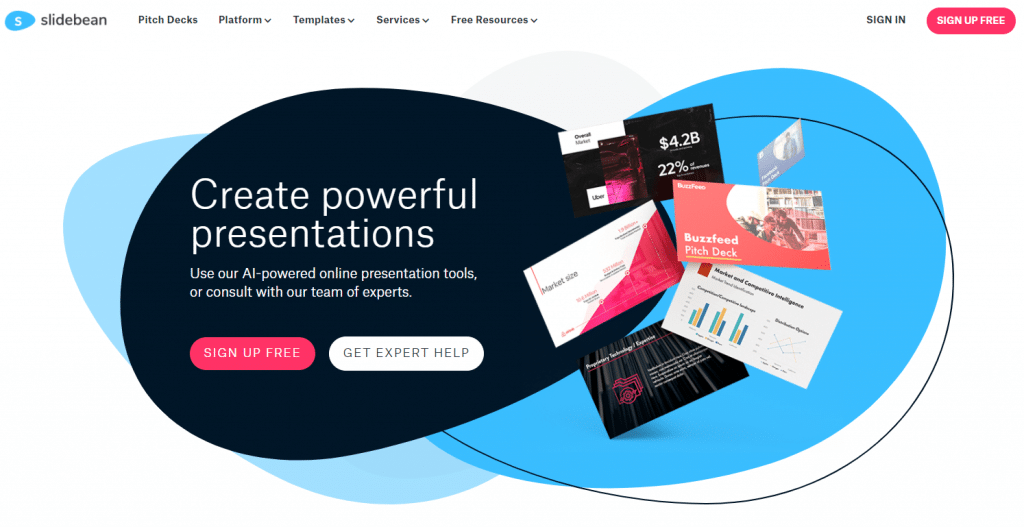 Slidebean is an awesome presentation tool that has added artificial intelligence features in order to make its platform smarter and easier to use. Slidebean's initial niche is in creating pitch decks for startup and new companies, but the tool can make presentations for anyone with high quality.
The Slidebean AI presentation software offers the following smart features:
Information you want on the slide is run through an AI algorithm and the best layout is automatically selected for you.
Fill in the blank templates let you automatically fill in customized information specific to your presentation.
Theme can be automatically updated on the fly to create consistent beautiful presentations.
If you have a report or word document, Slidebean can automatically help you design a presentation around it.
Free Features
Access to dozens of free templates
Access to all AI features
Free stock photo media galleries
Paid Features
Collaborate on your presentation with other people
Share your presentation with others
Export copies to PDF and HTML
Track analytics and data about your presentation
Remove Slidebean branding
Click here to check out Slidebean AI presentations now.
Beautiful.ai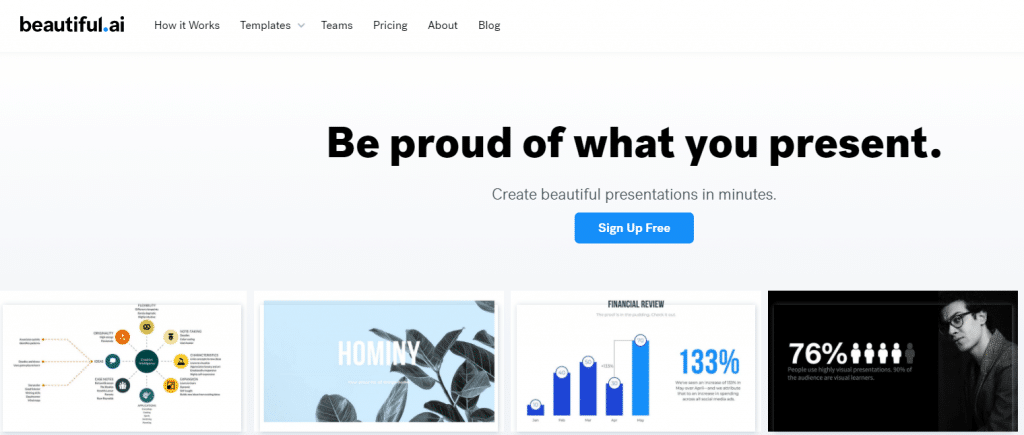 Beautiful.ai is one of the major players in this space. They allow you to create beautiful presentations that look professional in just a fraction of the time. Over 600,000 people have created over 5 million slides on the Beautiful.ai platform. And the team has used this information to refine and improve their product to make it better.
The Beautiful AI presentation tool uses artificial intelligence to automate and simplify some of the most tedious parts about building a presentation:
Millions of stock photos can be instantly added to your slides quickly.
Text, images, and charts can be added to different locations on your slide quickly and are automatically size-adjusted and put into place.
Moving objects around on your slide automatically moves other objects into place
Hundred of beautiful slide templates can be quickly added to your presentation
Changing your background automatically changes your foreground colors to ones that match and go good together
Our favorite part in testing Beautiful AI was how objects in your presentation automatically fit into place based on manual actions you take. You never have to adjust objects just because you needed to add another one.
Free Features
100 slides
Over 60 templates
Customizable themes
Millions of free stock images
Collaboration between multiple users
Export into PDF or PowerPoint
Paid Features
Editable PowerPoint export
No Beautiful.ai branding
Analytics and data on your presentation
More customizable fonts, images, and templates
Desktop Player
Click here to check out Beautiful.ai right now.
Slides.ai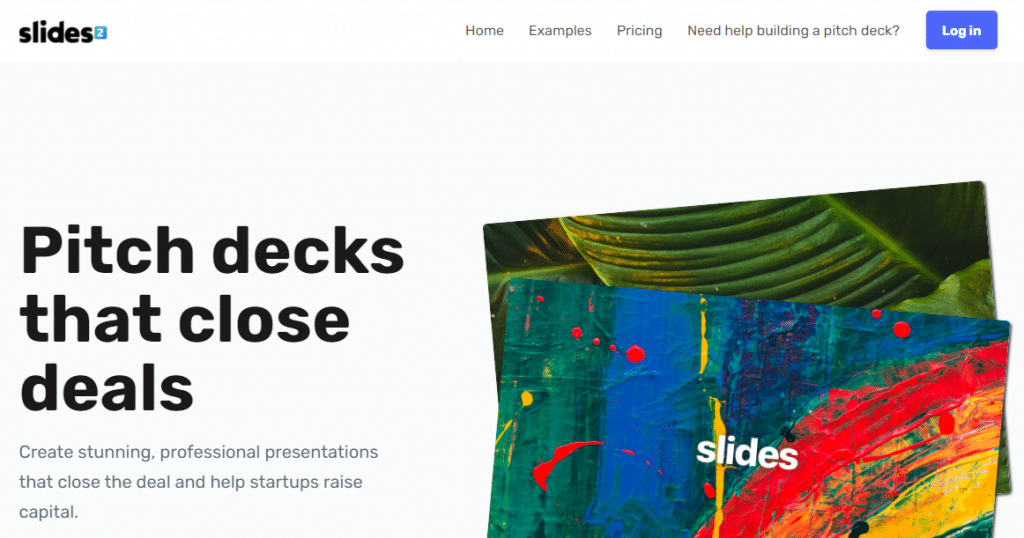 Slides.ai is another tool that specializing in creating professional pitch decks for your business or idea. The tool simplifies the creation of your presentation into 12 steps that use technology to fine-tune your slides for presenting. Slides.ai has worked with Chase, Google, the NBA, and adidas to create professional presentations.
Artificial intelligent features in Slides.ai include:
Slides automatically finds and recommend images that look beautiful in your presentation
Quickly adjust the design of your presentation with a single click
Lots of smart analytics that tell you who has viewed your presentation and for how long
Like the other tools in this guide, Slides.ai makes it easy for you to change your theme and update your design to be consistent across the board.
Free Features
Your first presentation or pitch deck is completely free
Paid Features
Advanced data anlytics
Export to PDF
Unlimited visitors per month
Click here to check out Slides.ai
Haiku Deck
Haiku Deck is an online tool that allows you to create presentations on your computer or mobile phone. Its recently introduced Haiku Deck Zuru, an AI presentation software toolkit that automatically transforms your content and stories into stunning presentations. Haiku claims that you can upload an outlines and Zuru will build you a polished presentation pitch deck in minutes.
Artificial intelligence features included in Haiku Deck Zuru are:
Intelligent image matching which matches your text up to an appropriate stock photo instantly.
Zuru creates the layout of your slides automatically based on an AI algorithm.
Haiku analyzes any images you provide it and applies a color palette that matches.
Fonts, image filters, professional style, and polish are automatically added to the presentation when it is created.
Some of the companies offering glowing reviews for Haiku Deck include MacWorld, XConomy, and more.
Free Features
None – Haiku Deck offers a free trial of its complete AI presentation software so that you can try it before you commit for good.
Paid Features
Unlimited presentation creation
Download files for offline viewing, printing, and editing
Place custom branding in your presentation
Automatically build presentations with artificial intelligence using Zuru
Click here to visit Haiku Deck today.
AI Presentation Advantages
You can probably see how already, but using artificial intelligence to automatically create presentations has a number of cool benefits:
Less tinkering. Your text and images automatically line up and fall into place.
Uniform design. All images and colors stay consistent no matter how much you need to edit the design.
Fast creation. Automatically create presentations from reports and documents.
Time saved. Spend more time doing other work and let your AI presentation software create your presentations for you.
Which presentation tools with artificial intelligence built in have you tried? How much time did it save you over traditional presentation software? Let us know by commenting down below so that we can add to this guide if there are any other solutions out there.