The rise of ChatGPT and AI has created some very interesting tools to compose, write, and record music with. In this guide, I'll show you the best AI music generators you can use for free today to:
Create beats and instrumentals automatically
Compose music
Make your voice sound like Drake, Taylor Swift, or other popular artists
AI-generated music is now so high quality that many people cannot tell the difference! If you need help creating studio-quality music, comment below and let us know what you need.
What are the Best AI Music Generators?
Table of Contents
Beatoven
Beatoven is a powerful music generator that you can use to create royalty-free music of different genres based on your input and preferences. Beatoven creates your own music instrumentations that you can use for a variety of purposes:
for an agency or music production houses
YouTube, podcast, and audiobook creators
indie game developers
music producers and independent producers
instrumentalists
Beatoven uses AI to analyze existing music and learn the patterns and styles that make up different genres. To compose unique music, you must pick a style or genre, make some cuts, choose the correct mood for the cuts, and then start composing.
Beatoven will then generate music based on your selections. This AI music tool also lets you modify the melody or remove (or add) specific instruments.
What I Like About Beatoven
Beatoven is a nice and polished way to create instrumentals for background music. Once you play with the tool, you'll notice a similar style that you see in a lot of Youtube videos.
One of the unique features of Beatoven is its ability to collaborate with human musicians. Asad Khan, Abhishek Borkar, Chhote Rahimat Khan, and Khalid Ahamed are some musicians you can collaborate with on Beatoven.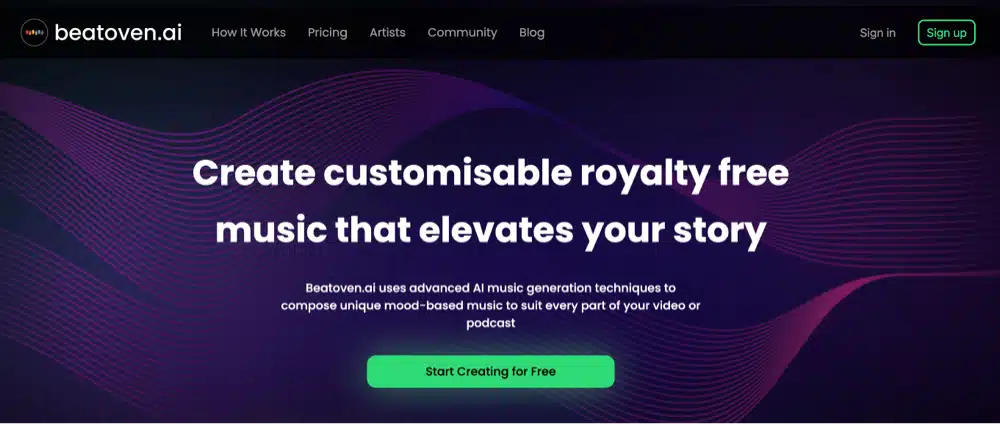 Boomy
If you are looking to generate original music for your content and want a lot more variety, Boomy is for you. Boomy is an audio editing AI software tool that lets you produce music or songs as if they were produced in a musical studio.
Boomy has various tools that enable you to create and customize your compositions, including a music library with multiple genres, instruments, and sound effects. It uses artificial intelligence to copy musical styles.
Creating a song on Boomy is really simple. You just have to launch the tool and tap on the "Create" and "Song" buttons one after the other. Then, select your preferred style and customize your settings.
Once you are done with the settings, tap "Create song" and allow Boomy to generate original and different song options. Choose the one that better suits your content.
What I Like About Boomy
One of the features that I love most about Boomy is its ability to generate original lyrics based on user input, which means you can enter your preferred theme or topic for your song. Boomy will generate lyrics that suit the style or theme of the music.
Additionally, what stands Boomy out from the crowd is its easy-to-use interface, which has all the parameters to adjust tempo, key and other compositions.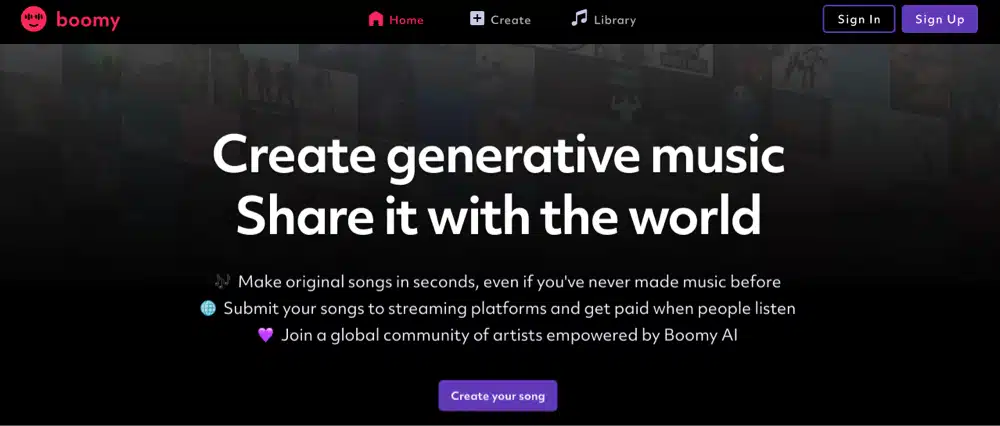 Aiva
Aiva was developed way back in 2016, long before GPT took over the world, for YouTube creators, Podcast creators, audiobook creators, and production houses.
Aiva is a powerful music generator that uses AI to learn the style and pattern of different music genres. Then, you can use its model to create high-quality music even when you don't have any production skills. You can use Aiva to compose music or soundtracks for movies, video games, ads, and lots more.
One of the unique features of Aiva is its ability to generate songs in different styles. You can choose a ton of options, including:
Chinese
tango
modern cinematic
20th-century cinematic
fantasy
sea shanty
jazz
What I Like About Aiva
Aiva offers a unique and seamless approach to music composition. Its collaborative features make it easy to work with others and share music with a broader audience. It also offers a range of customization options, letting you adjust your compositions' tempo, key, and other parameters. Plus, you can modify or edit existing soundtracks.
Soundful
Soundful takes music production to a new level. You can generate original, royalty-free soundtracks in real time within seconds. This AI music tool is best for producers, creators, and brands looking to create tracks for YouTube, Facebook, Instagram, Twitch, movies, ads, and corporate websites.
Soundful is designed to offer an accessible and easy-to-use music creation experience for users with any level of music expertise. It lets you generate different compositions based on several inputs: tempo, mood, and genre. You can even adjust the melody, instrumentation, and other parameters to suit your needs.
The music generated is royalty-free, so that you can monetize your soundtrack on any streaming platform.
What I Like About Soundful
Soundful is the coolest music generation platform I have ever used. I could use it to generate soundtracks for my YouTube channel and corporate website in seconds. I could customize the music the way I wanted it to sound. I think the framework of Soundful is really solid to create high-quality music in the future.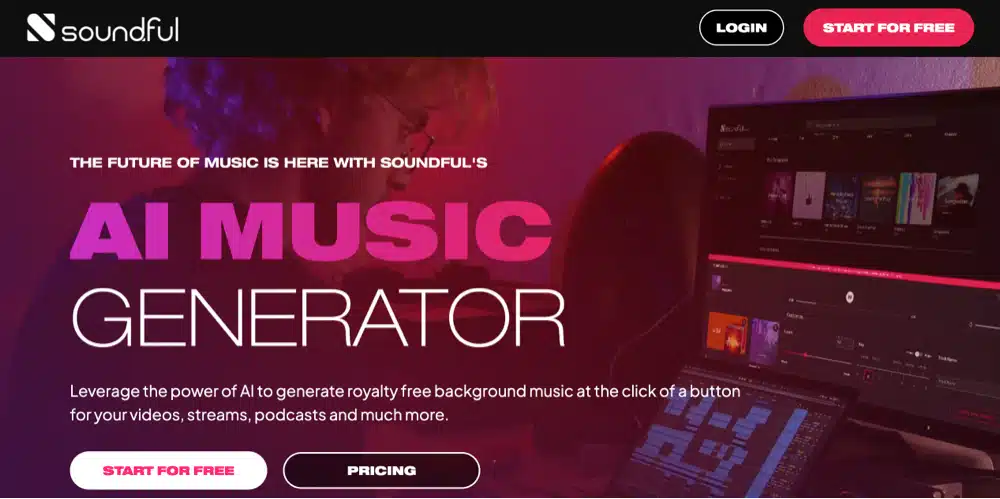 Soundraw
Soundraw is an AI music production platform where you can easily create royalty-free songs based on your preferred inputs. All you have to do is to find a track you like, customize the file to suit your preferences, download the stems, and you're good to go.
Soundraw uses machine learning and a combination of manual tools to enable you to create original soundtracks with ease. There is a customization option that you can use to fine-tune existing music to suit the type of genre that you have in mind.
If you only have the free version, you must subscribe for unlimited downloads before using the tool to generate music.
What I Like About Soundraw
What I love most about Soundraw is that it is really easy to use. Getting access to all of the stems is key for more advanced producers. The plugin has good compatibility features with Premiere Pro and Google Chrome support.
MusicStar
MusicStar is a soundtrack generation platform for discovering original, royalty-free soundtracks for your content. It uses cutting-edge technology to generate music compositions and provide you with customizable tracks that fit your projects.
The AI component analyzes the structure and patterns of different music genres, allowing you to create coherent and natural soundtracks. MusicStar suits producers, content creators, YouTubers, podcasters, and audiobook authors.
To get started with MusicStar, you first pick a genre from a variety of genres (like country, rock, rap, hip hop, and pop), choose your favorite artist from the drop-down (like Drake, Nicki Minaj, Ariana Grande, Future, and Justin Bieber), give your song a title, add your lyrics, and you're all set to produce something unique.
What I Like About MusicStar
This platform understands specific musical artists or styles, which is a helpful feature if you are looking for a particular vibe or soundtrack. I like how the user interface or dashboard has the tools to easily adjust various settings and parameters, including instrumentation, key, and tempo.
SoftVC VITS Singing Voice Conversion
If you have seen the Drake and The Weeknd AI song that went viral recently called "Heart on My Sleeve," which was created with SoftVC.
SoftVC VITS is a free way to create studio-quality music for your project by replacing your original voice with AI models that sound like real singer. This AI music generator is also designed to assist in the post-production process of music recording.
SoftVC is run through Google Colab, which has a list of instructions and scripts that you run in succession. This tool does all the work for you:
Take your input vocals
Conditioning your files for AI
Loading in the AI models for real artists
Replacing your vocals with the AI model
You can use SoftVC VITS to convert singing voices from one singer to another within minutes. The AI components understand musicians' voices and applies the characteristics to your vocal tracks, letting you transform your audio files from one singer to another with almost 100% accuracy.
What I Like About SoftVC
The high point of using SoftVC VITS is its accuracy. In just a few clicks, you can replace the vocals on any song with another real-life artist. Some of the legal validity and ethical concerns are valid, but you can't deny that the tool works.
Hosting SoftVC on Google Colab is genius because it takes away all of the manual effort.
Click here to view SoftVC VITS Singing Voice Conversion.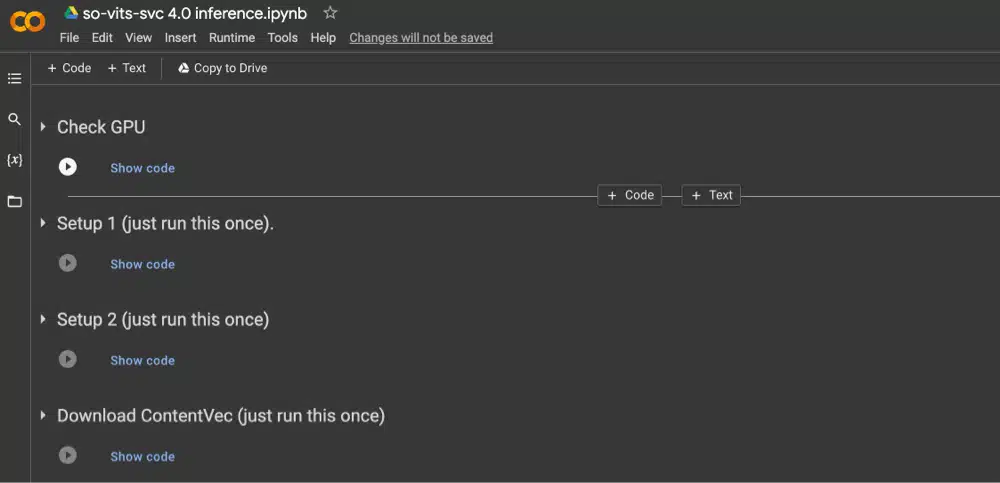 What is an AI Music Generator?
AI music generators are software tools that use machine learning algorithms to create original music compositions.
These tools analyze patterns in existing music and use that knowledge to generate new melodies, harmonies, and rhythms. Some tools even allow you to create new vocals with AI.
How Does It Work?
AI music generators use machine learning and neural networks to analyze and learn from musical data.
They identify patterns and relationships in the music, such as chord progressions and melodic structures.
Based on this analysis, the AI generates new music that aligns with the learned patterns.
Benefits of Using AI Music Generators
AI music generators offer a range of benefits that can enhance the creative process and empower musicians.
Efficiency: AI can quickly generate musical ideas, helping musicians overcome creative blocks and meet tight deadlines.
Creativity: AI offers endless possibilities for experimentation, allowing musicians to explore new sounds and styles.
Accessibility: AI music generators democratize music production, making it accessible to independent artists and hobbyists.
Ethical Considerations and Challenges
AI music generators raise important ethical questions and challenges that musicians must consider.
Authorship: Who owns the copyright to music created by AI? How is credit and attribution handled?
Originality: Can AI music makers be considered truly original, or is it just a recombination of existing patterns?
Human Touch: Can AI replicate human-created music's emotional depth and nuance?
How to Get Started with AI Music Generators
Ready to explore the world of AI music generators? Here are some tips to get you started:
Understand the Technology: Learn about machine learning and neural networks to understand better how AI music generators work.
Experiment with Tools: Try different AI music generators to find the one that best suits your creative needs and workflow.
Customize Parameters: Experiment with different settings, such as genre, tempo, and instrumentation, to achieve the desired musical output.
Collaborate with AI: Use AI as a creative partner to enhance your compositions and explore new musical ideas.
Stay Ethical: Be mindful of ethical considerations, such as authorship and originality, when using AI-generated music.
Conclusion
In conclusion, AI music generators are revolutionizing the music industry by offering creative, and efficient solutions for composing, producing, and recording original music.
With powerful tools like Beatoven, Boomy, Aiva, and SoftVC, musicians and content creators can now generate high-quality, royalty-free music in various genres and styles. As you explore these AI-driven platforms, it's essential to understand the technology and how to use it to your advantage.
Embrace the potential of AI music generators today to elevate your music production and unlock endless creative possibilities.
Frequently Asked Questions About AI Music Generators (FAQs)
Is there an AI that can generate music?
Yes, there are several AI music generators available, such as Beatoven, Boomy, and Aiva. These AI tools can create original music compositions, beats, and instrumentals in various genres and styles.
Is AI-generated music copyrighted?
AI-generated music can be subject to copyright, but the ownership and attribution may vary depending on the terms and conditions of the AI generator platform used. It is essential to check the specific terms of use for each AI music generator to ensure compliance.
What is the AI that generates melodies?
Aiva is an example of an AI that generates melodies. It uses machine learning algorithms to analyze patterns in existing music and creates new melodies based on this knowledge.
What is the AI that can sing my lyrics?
SoftVC VITS Singing Voice Conversion is an AI tool that can replace your original voice with AI models that sound like real singers. By inputting your lyrics and following the provided instructions, SoftVC can generate a studio-quality vocal track using AI-generated voices.
Can AI really replace artists?
AI cannot truly replace human artists, as it lacks the emotional depth, nuance, and personal experience that shape human creativity. However, AI can be a valuable tool for artists, enhancing their creative process and exploring new sounds and styles.
How do AI music generators work?
AI music generators use machine learning algorithms and neural networks to analyze and learn from musical data, identifying patterns and relationships in music. Based on this analysis, the AI generates new music that aligns with the learned patterns.