Thousands of new podcasts are popping up monthly and creators are publishing high quality content faster than before. The AI podcast software tools in this guide help you create professional audio shows in less time.
In this guide, we'll go over:
the key types of AI podcast tools
which ones you need to launch or improve your podcast today
how to download and get started with each one
If you use any AI podcast tools to help publish shows faster or clean up your audio, comment down at the bottom of this guide and let us know. We want to raise awareness and help others create good content.
The Best AI Podcast Software Tools
Key Features in the Best AI Podcast Tools
Intuitive Editing
The best AI podcast tools should be equipped with highly intuitive editing tools. These editing tools should let you slide, dice, and rearrange your episodes quickly and in real-time.
Drag and Drop
The best AI postcast tool comes with drag and drop tools. Edit your show in minutes using highly intuitive drag and drop. These tools will cut down on your editing time and help publish your episodes on major podcast platforms.
Save Money On Fees And Equipment
You don't have to pay thousands of dollars to studio managers for you to sound like you have a big budget. With the best AI-powered tools, you will sound like a professional and clean like your favorite big-studio shows.
Next, we review some of our favorite AI podcast tools in more detail!
Buzzsprout Review
Buzzsprout is the easiest way to host, promote, and track your podcast. It uses artificial intelligence to automatically master files and add transcription. It also adds analytics to your podcasts for quick tracking. With Buzzsprout, your podcast will appear on Apple Podcast, Google Podcast, Spotify, and Amazon Alexa.
Buzzsprout can help you host, distribute, share, and track your podcast. The platform streamlines features, favoring simplicity to get your episodes out into the world as quickly as possible. In fact, upload your audio file and Buzzsprout will take care of the rest. You can publish hour episodes immediately or schedule a time you want your listeners to listen to the podcast.
Buzzsprout Features
Lets you publish your episodes immediately or schedule it for another day
Magic Mastering feature optimizes your files automatically
Lets you add automatically add episode transcriptions
You have the option to add a podcast player to your website

Alitu Review
Alitu is an AI podcast tool for both beginners and experienced podcasters. If you want to sound good and automate the complex part of production and editing, Alitu is perfect for you. Alitu uses AI to amplify compression and reduce background noise. It also uses AI to automatically cut out umhms.
This podcast tool is equipped with simple drag and drop tools for easy editing of your episodes. It will save you hours of final mixing and audio equalizing. Additionally, you can use Alitu to edit your mistakes and trim recordings. Plus, you can add music to your episodes fast.
Alitu uses AI to help you add intros, outros, and ad slots. So, if you are looking to become a solo podcaster, this tool will give you the winning strategies.
Alitu Features
Made for both newbie and experienced podcasters
Fully web-based; no software downloads required
Lets you fix mistakes, cut out silences, and polish up your episode.
Automates converting and cleaning up audio files
Drag and drop episode builder
Easy to remove any mistakes or add music and fades
Spreaker Review
Spreaker is an AI podcast tool for podcasting creation, hosting, publishing, and monetization. It uses artificial intelligence to enable you to produce your passion project or grow your podcast business. Spreaker has all the tools you need to succeed as a professional podcaster.
Publishing your episodes is a breeze with Spreaker. With the click of a button, your content can be heard instantly on various podcast platforms like Apple Podcasts and Spotify.
With Spreaker, you don't have to be an elite to monetize your content. As your audience listens to your podcast, you can earn money effortlessly.
Spreaker Features
Records HD video so you can upload your podcasts onto YouTube
Records separate lossless WAV tracks locally and in the cloud
Is equipped with a soundboard for live editing
Automatic post-production
Podcast.co Review
Podcast.co is a powerful podcast tool that you can use to launch, distribute, and grow your podcast with ease. If you're a professional podcaster, you can use Podcast.co for transcription. It also gives you a full dashboard to play sound effects and other live-effects.
Podcast.co uses AI to enable you to publish your content on Apple Podcasts, Spotify, and Stitcher. It also lets you funnel listeners towards your episodes. If you're looking for a podcast tool that will allow you to focus on creating great content, then give Podcast.co serious consideration.
Podcast.co Features
Fully-fledged pro-DAW with tons of advanced features
Android Audition Toolkit app to record, edit, and convert audio files
Royalty-free sound effects library
Essential Sound Panel to remove unwanted noises and achieve smooth sound

Descript Review
Descript is a collaborative audio/video editor for podcasters. It works like a doc and is equipped with a screen recorder and full multitrack editing. Descript used AI to enable audio file editing and text rearrangement for smooth podcasting.
Its overdub feature allows podcasters to create a text to speech model of their voice. It also helps podcasters to easily correct their recordings with ease.
This podcast tool also uses AI to achieve quality in voice synthesis. Plus, it allows trusted collaborators to generate audio using your Overdub voice. This tool lets you create subtitles in your videos leveraging the power of artificial intelligence.
Descript Features
You can record and edit podcasts with your iPhone or iPad
Professional-quality mixing and mastering
Works with a variety of plugins
Offers post-production effects
Can capture screen recording and remote recording.
Auphonic Review
Auphonic is an AI podcast tool that lets you clean up your audio files with the click of a button. If you are looking to use an interview format, Auphonic will automatically level your audio levels and make you sound like a professional podcaster.
First, you will upload your audio file and Auphonic's algorithm will identify different music and voices. The tool will then process and optimize the sound separately so as to fine-tune your podcast's audio quality.
Auphonic uses AI to achieve a professional quality result. It is perfect for podcasters, broadcasters, and radio shows. It is also perfect for movies and screencasts.
Auphonic Features
Automatically balances levels between speakers, music, and speech
Transcribes audio to over 80 languages
Automatic content deployment to YouTube, SoundCloud, Google Drive, Podlove, and more
Automatic noise and hum reduction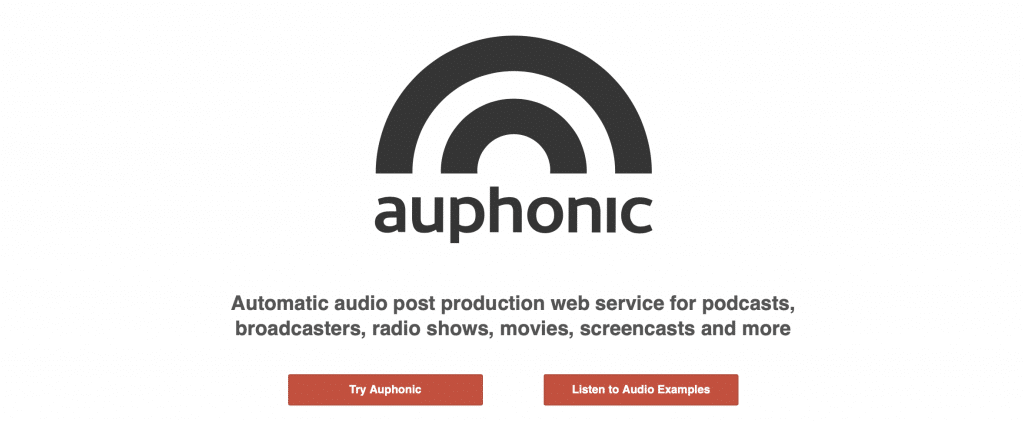 Squadcast Review
SquadCast is your one-stop-shop podcast tool that lets you separate and sync audio from guests. You can easily edit the audio files from your guests. It is also a podcast recording solution that aims to simplify post-production and collaboration.
The problem of audio sync and lost recordings are a thing of the past with SquardCast. To start using this tool, you need to create an account and send an invite link to at least three guests. You can then start recording your episodes.
This podcast tool will then upload your content to the cloud and your local drive. After recording, you can drop each person's separate audio track into a DAW for editing.
SquadCast Features
This tool has video capabilities to see your guests while you record
Guests using SquardCast don't need an account
The Podcasts are backed up on the cloud
Eliminates audio drift and simplifies editing

Podcastle Review
Podcastle is one of the best AI podcast tools that lets you bring your stories to life. It comes with everything that you need as a podcaster to easily produce high-quality content.
It uses the latest AI technologies to remove background noise, add realistic voice skins, and correct bad audio recordings. Podcastle let's you convert your blog posts and articles to podcasts. It also lets you edit your content in real-time.
You can choose from different voice skins or publish your audio anywhere you want.
Podcastle Features
Compatible with Windows and Mac
Lets you record anywhere with the Hindenburg Field Recorder app
Supports all types of audio files
You can extract the best audio quality and automatically sets audio levels
Clipboard feature to store clips for later use

The right AI podcast tool can really save you time. From pre-production to post-editing, there is a lot of software to help you out.
What AI podcast software do you like using? Comment below and let us know so that we can update this list!