Are you having trouble landing your dream job? Create your next resume and cover letter with the help of artificial intelligence by using one of the best AI resume builders in this guide.
An AI resume builder is a software that analyzes your skills and experience, and generates a personalized resume template. The tool uses machine learning algorithms to create a resume that matches your unique profile.
AI resume builders are becoming more common because they save time and effort. They also allow you to customize your resume according to your preferences.
In this guide, we go over the best software tools to create professional resumes and cover letters that you can use to earn job interviews.
If you have used any of the tools in our list, comment down below and let us know.
Let's take a look!
What is the Best AI Resume Builder?
I think that the best AI-power resume builder is Rezi. It uses artificial intelligence to match up your experience with keywords that your job is looking for. Then, it builds you a matching resume that you can use to become a top level job candidate.
Review of Our Top Resume Builders That Use Artificial Intelligence
Here is a list of our top resume builders:
Writing a resume, cover letter, or resignation letter can be overwhelming if you don't do these things regularly, and that's where Rezi comes in. Rezi is an AI resume builder that can help you create professional resumes and cover letters that are application tracking system (ATS) friendly within seconds. Rezi understands what today's employers are looking for in hiring documents and is poised to create you unique documents that will wow any employer.
To complete the resume creation process, you use Rezit to enter information about yourself:
contact details
a short professional summary
your job experiences
completed projects
achievements
certification
education
soft skills
Rezi uses AI to optimize your resume with the right keywords so you get past applicant tracking systems. Plus, it comes with over 313 modern templates to make your content stand out and be unique in a ton of different resume formats. Rezi is guaranteed to land you more interviews.
Pricing
Rezi has four different pricing plans, depending on how in depth and how often you need to use the system.
Basic plan – $2/month
Plus plan – $9/month
Pro plan – $29/month
Lifetime plan – $69/month
Key Features
Rezi can generate keyword optimized resumes.
Offers a quick and hassle-free experience.
Professional resume templates to pick through.
Also includes a cover letter builder.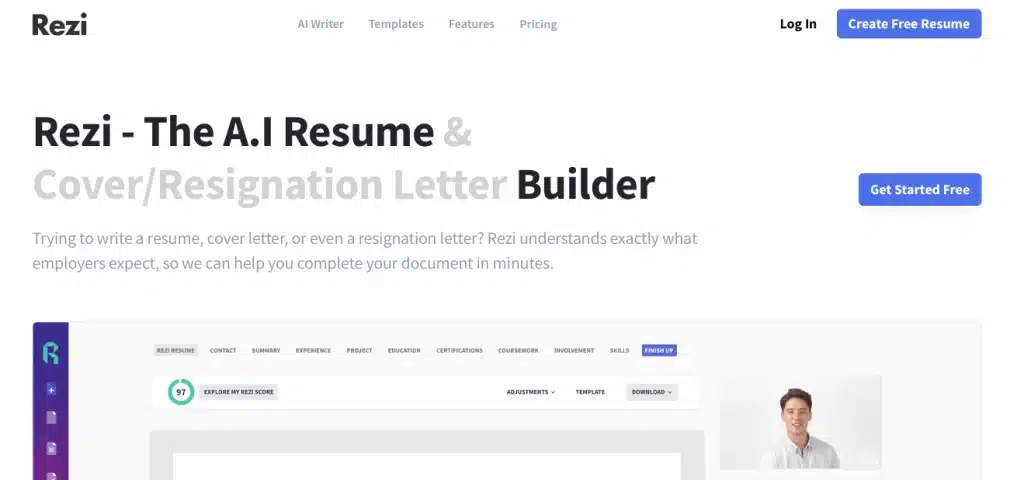 Skillroads is the world's leading online resume creator powered by artificial intelligence. Skillroads lets you create a sharp and modern resume by having you answer a sophisticated questionnaire that helps place your experience in relevant sections within the platform. Skillroads Resume Builder also has a writing service that you can order to write your cover letter and LinkedIn profile so that you don't lose your chance to land your dream job.
Here is how the Skillroads resume builder works:
First, you have to sign up on the Skillroads website using your name and email address. To start building your resume, fill out your job history, education, career expectations, and professional summary. Within 1 minute, the system will generate an impressive resume that will attract the attention of employers.
When the process is done, you can download your resume and start sending it to recruiters. Skillroads Resume Builder is very easy to navigate and all results are ATS-compliant. It is arguably the most popular resume maker on the internet today.
Pricing
Skillroads gives you access on a per document basis, so you don't have any recurring fees to worry about.
Cover letter = $60
Resume + Cover letter = $140
Resume + Cover + LinkedIN profile editing = $215
Key Features
Use Skillroads Resume Builder to generate AI resumes in seconds.
Uses the questionnaire method to collect your information.
Your data is protected by strong 256-bit encryption and SSL certificate.
Click here to view Skillroads Resume Builder
Resumaker is a powerful resume builder that job seekers can leverage to secure their dream jobs. Job seeking can be cumbersome, but Resumaker can make the process easy. Resumaker gives you a platform to create an ATS-compliant resume in minutes.
Here is how Resumaker works:
Once you launch the tool, you have to select a template from the over 100 ready-to-use template. Then, you enter in key information:
your professional summary
job experience
skills
education
Wait for the system to generate your result and you will be able to download a perfect resume in seconds. Resumaker creates impressive and eye-catching documents based on expert knowledge from HR professionals. Plus, your data is protected by 256-bit encryption and SSL certificate.
Pricing
A nice perk about Resumaker is that it is completely free! You can try it out and then decide if the quality is good enough or whether you want to try a builder that uses more sophisticated artificial intelligence.
Key Features
Resumaker lets you create content from a current resume or cover letter or from scratch.
Intuitive navigation between sections.
Free unlimited download in several formats (including PDF and .docx among others).
Resume Genius is an artificial intelligence resume builder that can help you create top-notch documents, including cover letters, within 12 minutes. This resume builder offers ATS-friendly templates so your application can pass through applicant tracking systems and head to the employer's mailbox.
To start the resume generation process, you first select your preferred template and color. Then, you fill in details like education, relevant skills, work history, and professional summary.
After entering your details, Resume Genius then uses AI to create and show you a preview of your document. You can edit, modify, or even change templates at this point before downloading. Users can download each document in your preferred file format
Resume Genius has a wide range of templates to browse through and choose from.
Pricing
14-day trial access = $2.90 ($23.90/month automatically afterward)
Monthly plan = $6.40.
If you want annual billing, you will pay $76.80 for a subscription.
Key Features
Enjoy a huge range of free basic templates.
Create ATS-friendly documents
Get free advice from professionals.
Click here to view Resume Genius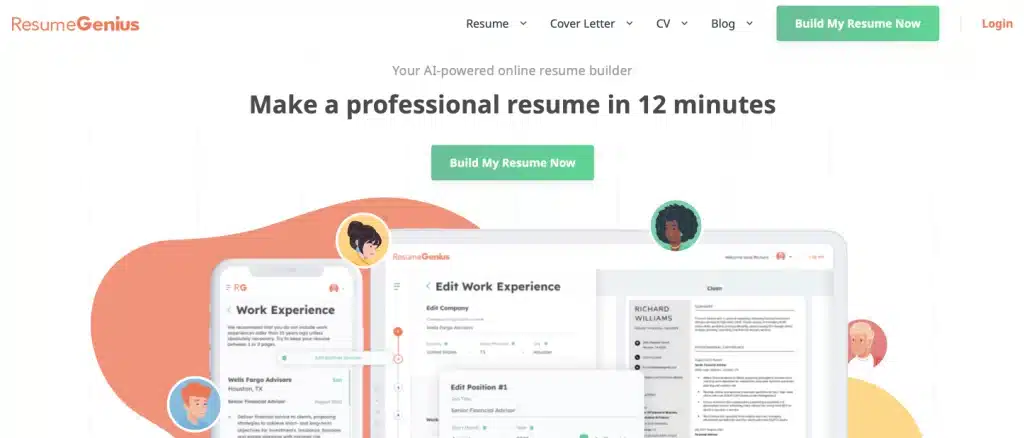 ResumeStar is one of the best free resume builders that leverages artificial intelligence to create impactful profiles. ResumeStar uses AI to formulate modern-styled one-page resumes to increase your chances of getting hired by top employers.
ResumeStar is specifically designed for students who belong to the IT industry or for those seeking for entry-level jobs.
ResumeStar also uses AI to match your skills and qualities to your dream job and gives you a calculated rating score. It also helps you stand out among hundreds of applicants by offering unique suggestions to improve your document.
After generating a document, you can share it as a QR Code for easy storage.
Pricing
ResumeStar gives you access for.a one-time fee of $24.99.
Key Features
Scores your document using AI based proprietary algorithms.
Offers a wide range of resume and cover letter templates.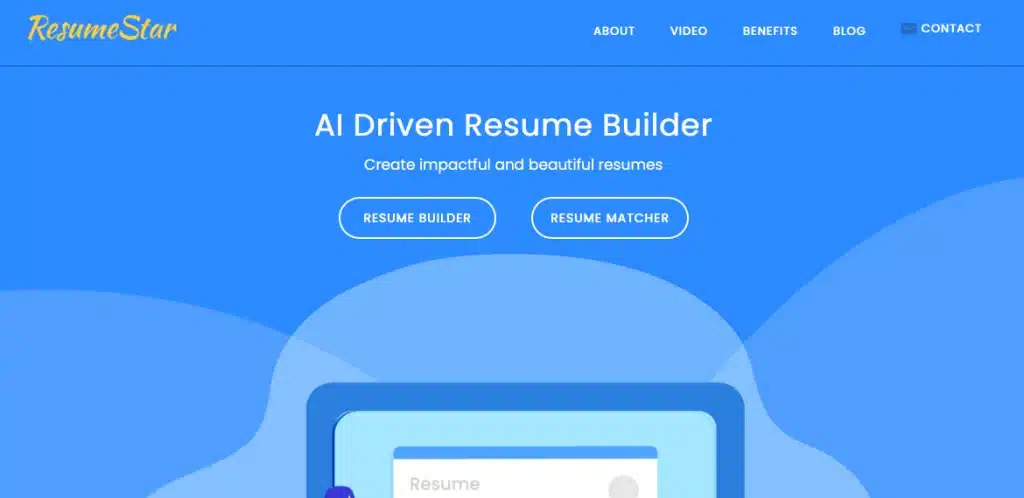 Hiration Resume Builder is one of the world's leading document reviewers, powered by AI. It doesn't create resumes from scratch, but uses AI to scan existing resumes and cover letters and suggest improvements.
This resume scanner helps you check your content and offers recommendations for improvements. You can upload both resumes and cover letters into the service.
With Hiration Resume Builder experts suggestions feature, you can create keyword optimized resumes within seconds. No more wordy reviews, use the suggestion to craft a high impact resume. You can use this tool to identify missing skills on your resume to boost your employment chances.
Pricing
$19.99 1 Month. ($20 / Month).
$39.99 3 Months ($13 / Month).
$69.99 12 Months ($6 / Month).
Key Features
Enjoy consistent page design.
Pro-tips available at every writing step
Has a built-in application parser, ensuring compliance with ATS.
Click here to view Hiration Resume Builder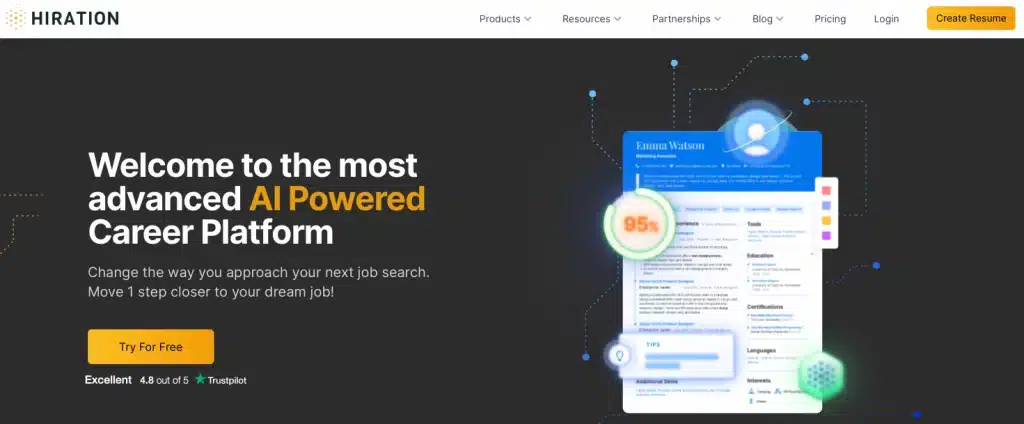 CVJury is an online resume builder for students and job seekers looking to land their dream job. CVJury uses AI to scan your resume or job description and help you identify areas that need improvements.
You can then edit, optimize, and improve your documents right within the tool before sending it out to recruiters.
CVJury is also a cover letter/LinkedIn profile generator. You can use this tool to craft a high impact cover letter and LinkedIn profile so that employers will come looking for you. There's a wide range of ready-to-use templates to choose from or you can start with a blank template and customize it your way.
Pricing
No information
Key Features
Offers template suggestions based on your industry and country.
Custom sections are available.
Comes with multiple download formats.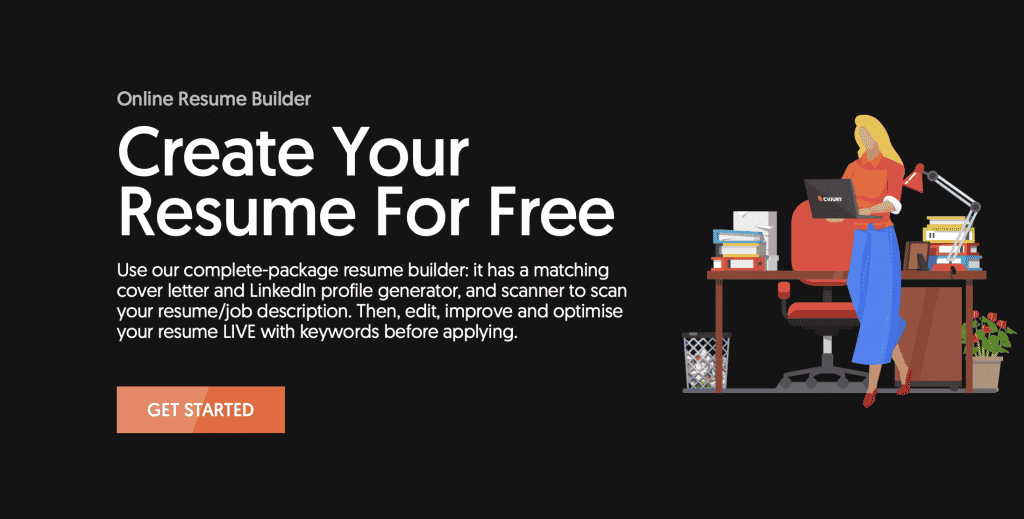 AutoResume is the perfect AI resume builder that you need to stand out from the crowd. It's suitable for both entry-level and experience-hire jobs.
You can use this tool to manually create a document or deploy artificial intelligence to scan an existing document for possible improvement. AutoResume uses AI to optimize your resume to entice potential recruiters within minutes.
Here is how AutoResume works:
First, you have to enter the online job URL and the tool will automatically fill in key sections of your document. You'll provide additional information about the job for proper organization. Next, you'll have the option to scan resume examples in order to pick the perfect template for you. There are over 100 professional templates to browse through.
Allow a few seconds for the AutoResume resume generator to work, and then download your resume or cover letter in your preferred format.
Pricing
Basic plan – $2.95 trial for 3 days
Premium plan – $12.95 per month
Key Features
AutoResume comes with attractive and creative templates.
Quick turn-around time.
You can choose between manual or AI generation.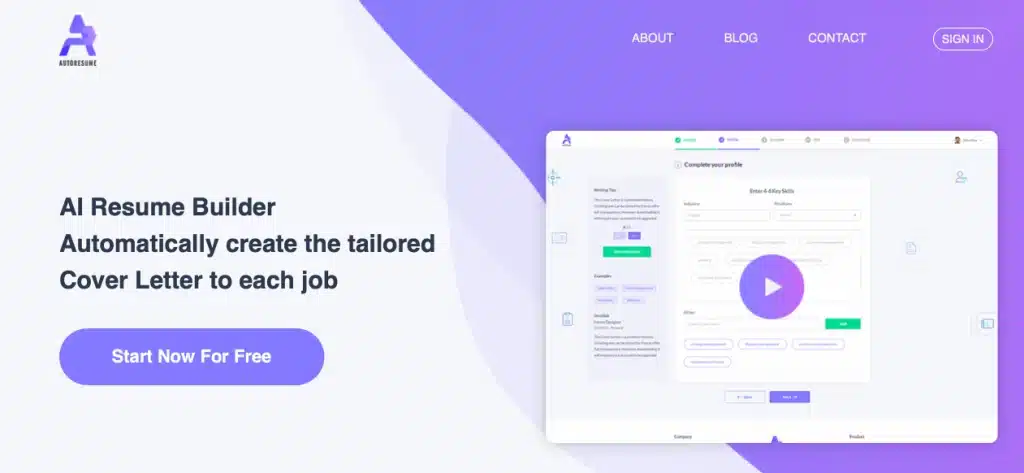 Cvviz is a bit different than the other options in this list. Cvviz is an AI resume screening software designed specifically for companies looking to ease their hiring process. This software goes beyond contextual screens and keyword matching to pinpoint the most outstanding applicants.
It is also equipped with an applicant tracking system, which helps companies find the most suitable candidates for their job positions.
Cvviz screens resumes contextually, looking for candidates that are a good fit for your business. It makes the hiring process seamless for companies. It automatically parses out key data about your candidates, including:
Name
Contact Information
Key competencies
Fit for your job
After your data is extracted, you can edit and filter each candidate in different ways. It helps you prepare better for giving interviews as well. Hundreds of companies have used Cvvis to help with hiring.
Pricing
Starter plan – $59/month
Basic plan – $89/month
Standard plan – $149/month
Pro plan – $239/month
Key Features
CVViZ comes with a 14-day free trial.
Offers precise screening and review.
Allows you to filter, edit, and perform analytics on your content.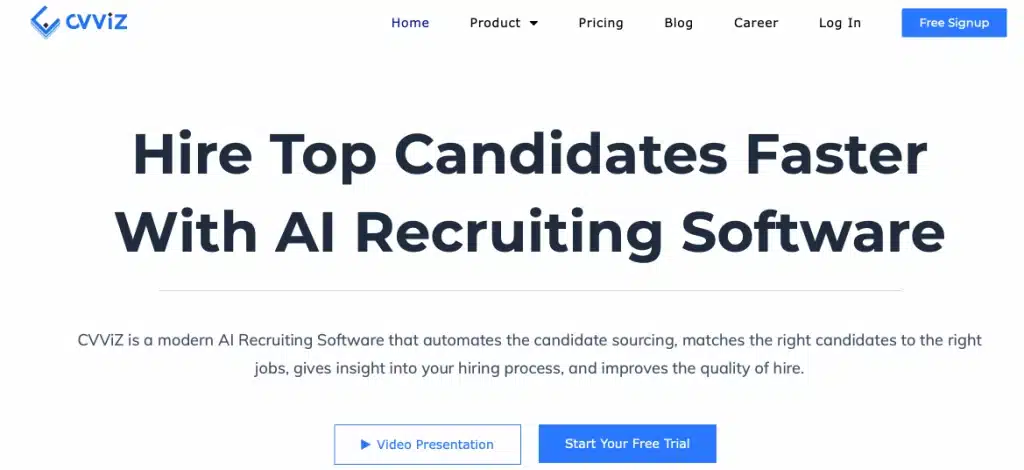 What is an AI Resume Builder?
An AI resume builder is a website that allows users to build a resume using artificial intelligence (AI). These websites allow you to upload your resume or fill in your work experience and then AI intelligence does the hard work. Some of the options in our guide above even generate a cover letter for you.
The best part is that they save you tons of time. Instead of having to write a resume from scratch, you can simply let these tools do all the heavy lifting.
How Does it Work?
The basic idea behind an AI resume builder is that it scans your resume or work history and generates a personalized version based on what it finds. For example, if you mention working at Google, it may suggest that you include some keywords related to search engine optimization. If you don't want to use any keywords, you can just leave them blank.
Conclusion
If you are having trouble during your job hunt, it could be your resume and cover letter that is the problem. Use an automated tool to stand out against other applicants and earn more job interviews today.
The tools we've listed above use artificial intelligence to automatically design you good look resumes that will wow any potential employer. These tools either scan your current resume or have you enter in information about key information:
Professional Experience
Education
Transferrable Skills
Then, you can pick either classic or modern resume templates within each tool to place your experience on top of.
If you used any of these tools to help you in your job search, comment down below and let us know what you used.