Automated product research software can help you find software and hardware worth advertising, selling, and recommending to your customers, friends, and peers. In this guide, we go over the best AI product research software tools that use intelligence to help you find winning products to promote.
Specifically, we'll go over:
The different types of product research software
The best AI product research tools
Top features you should look for in this kind of software
How to sign up and get started with these tools today
If you know about any other AI product research software tools that we didn't cover below, make sure to comment below and let us know!
The Best Product Research Software Tools
Here are our picks for the best AI product research software tools that use AI:
Next, we go into these software tools in more detail.
Sell The Trend
Best eCommerce Product Research Tool
Sell The Trend is a leading product research tool designed for who want to find profitable dropship items. It uses AI to gather relevant data for you by checking trendy and hot products on Amazon and other sales data from stores like AliExpress and Shopify.
Sell The Trend works in four simple steps:
First, it uses AI to help you pick winning products from 83 different eCommerce niches
Next, the tool matches you with the best suppliers from across the world so that you can contact them and work out any details are you need.
Sell The Trend then helps you create high-performing pages to connect you with your target audience
Lastly, the tool helps you buildssatisfying customers with 1-click fulfillment.
Aside from helping you to find winning products, Sell The Trend also imports items into your WooCommerce or Shopify store to sell. Sell The Trend offers a dropshipping course where you can learn the nitty-gritty of dropshipping. It also provides you with an audience builder for Facebook ads.
Sell The Trend is full-featured and we think it's the top AI product research tool to try today.
Pricing
Sell the Trend offers a simple single package for paid users. For $40 per month, you get full access to the NEXUS Product Explorer and Hot Stores. You can push 5000 products to your store in one click. All users get access to the Chrome Extension and all AI smart features.
Sell The Trend Features
Sell The Trend helps you find winning products to sell in your store in seconds.
It can help you track your product delivery to buyers.
You can use this tool to create highly converting product pages automatically.
Click here to view Sell The Trend

Jungle Scout Amazon Product Search
Best Amazon Product Research Software
Jungle Scout is the number one product research software in the eCommerce space. It comes with lots of tools to help sellers find low-competition, high-demand, and fast selling products.
It has a searchable catalog called Product Database, which allows you to set specific filters and choose categories so you can discover top performing products.
Jungle Scout uses AI to crawl the eCommerce market to fetch you sales data of winning products that you can also sell to make money. It is a time-saving tool in learning how to evaluate products to private label and sell.
Not only is this software easy-to-use, it also offers 24/7 customer support and free educational resources to ensure your success.
Unlike Sell The Trend, Jung Scout doesn't help you build product pages. It's also geared more solely towards product research in general. For online blogs and amazon affiliate websites, we recommend Sell The Trend. It is a top AI product research tool.
Pricing
Jungle Scout offers 3 different pay plans:
Basic ($49 per month): In the basic plan, 1 person gets access to track 20 products at a time. You can query Amazon sales estimates 500 times per month and can perform 3 searches per day for most functions.
Suite ($69 per month): Fpr am extra $20 per month, you get access to more in-depth historical and keyword data. You can search the database for opportunities as many times as you want each day.
Professional ($129 per month): In the Professional plan, you can track up to 1000 products at a time. 6 users can access your data at a time and you get better historical data tracking.
You get up to 55% off your plan if you subscribe to Jungle Scout for a full year.
Jungle Scout Amazon Product Search Features
Jungle Scout helps sellers to decide what products to offer.
This software can research your competitors' keyword optimization strategies.
It can research company's ads and marketing strategies for inspiration
Click here to view Jungle Scout Amazon Product Search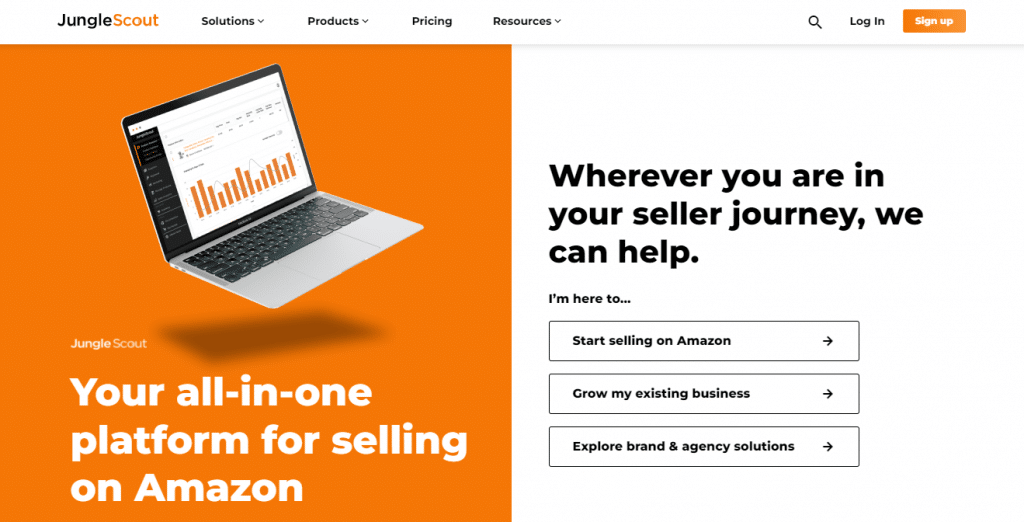 Niche Scraper
Best Competitor Product Research Tool
Niche Scraper is one of the best product research bots on the market to support eCommerce businesses. Instead of spending countless hours researching top selling products and niches, Niche Scraper will help you discover products that are already selling higher on other stores.
We like that this tool offers revenue estimates for each product to help you make decisions. With Niche Scraper, you will get access to thousands of winning products that you can sell to make money.
Niche Scraper is very easy to use. The bot uses web crawlers to spy on your competitors' store, allowing you to review their selling strategies, marketing plans, and keyword optimization strategies.
Niche Scraper helps take the guesswork out of the way and show you top performing products to sell.
Pricing
Niche Scraper offersa free and a premium plan:
Free Plan: The free plan gives you limited access to products on the platform. There is a 3 day delay in new procuts showing up for you.
Pro Membership ($49.95 per month): The Pro membership gives you instant access to trending products on AliExpress, Facebook, and other data sources.
You can save 60% on your membership if you subscribe for a year.
Niche Scraper Features
Niche Scraper handpicks winning products for you to promote and try.
Lets you easily find top-selling stores on Shopify and also give insights about hot products.
You can import products from any store you're spying on.
Click here to view Niche Scraper
Sellerapp
SellerApp is a behavioral eCommerce analytics tool for both beginners and professional sellers on Amazon. Its function is to help you derive actionable insights from market data and other trends.
With these insights, you can optimize, boost your sales, and improve your bottom line. Sellerapp uses AI automation to research and give you marketing words and tutle optimization details.
Sellerapp uses artificial intelligence to help you search winning products, monitor sales, optimize SKUs, and scale your operations all the way to success. It also tracks your competitors so you can discover their top keywords and best selling strategies.
Sellerapp can also suggest profitable keywords that attract buyers and boost conversions.
Pricing
Sellerapp offers three different pricing plans to check out:
Freemium ($0): This plan lets you track two products long-term and gives you 10 searches per day. You can't export any reports or share access with your team.
Pro Lite ($49/month): The Pro-Lite plan lets you track 20 products at a time. It gives you access to basic product research and keyword research tools, plus shared access for team members.
Professional ($99/month): The Professional plan lets you track 50 products at a time and gives you full access to all other tools.
Sellerapp gives you a 25% discount if you subscribe for a full year.
Sellerapp Features
Sellerapp can help you streamline all your campaigns.
It can identify profitable keywords that boost conversion.
It can also help you track your competitors' performance.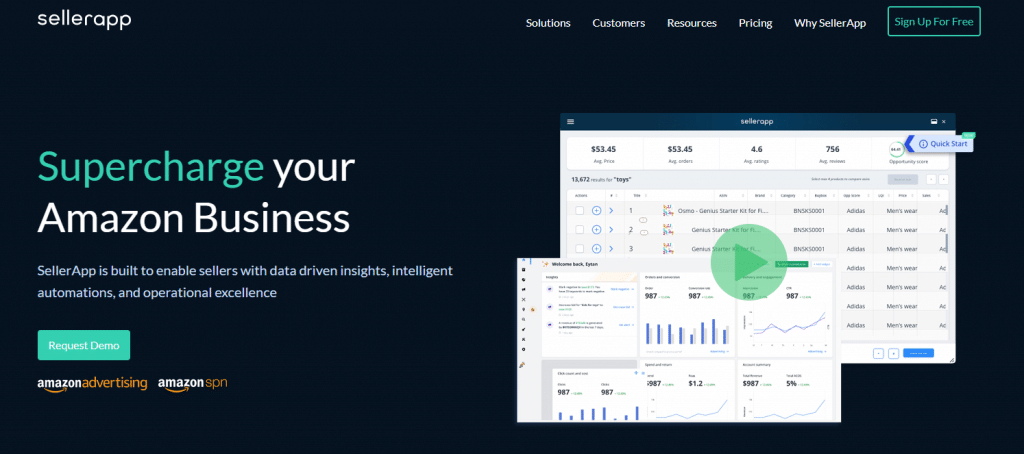 Reviewr AI
Best AI Product Research Tool
Reviewr AI is a product research tool designed and developed for players in the eCommerce industry. Researching top performing products to sell can be time-consuming, but Reviewr AI can make that happen in seconds. This tool understands how the internet thinks and behaves towards hot and fast selling products.
Unlike other tools on this list which give you full control, Reviewr takes the guess work out of it.
Upon launching Reviewr AI, you will type in the product you're looking for, your budget estimate, and email address. This software then uses artificial intelligence to comb the marketplace in search of relevant product information to help you make an informed decision.
Reviewr AI collects reviews about the product from reputable and credible sources like YouTube, Reddit, and independent review sites. It then filters out dishonest reviews and leaves real reviews made by buyers.
With Reviewr, you will save money and countless hours you would have spent researching the genuineness of products.
Pricing
Reviewr AI is completely FREE to use right now. Everyone should try this tool out as a preview for what an AI product research tool can do for you.
Reviewr AI Features
Reviewr AI helps you summarize product research from the internet into simple bullet points.
It collects and analyzes reviews from trusted sources only.
It also helps you filter out scam websites and products with dishonest reviews.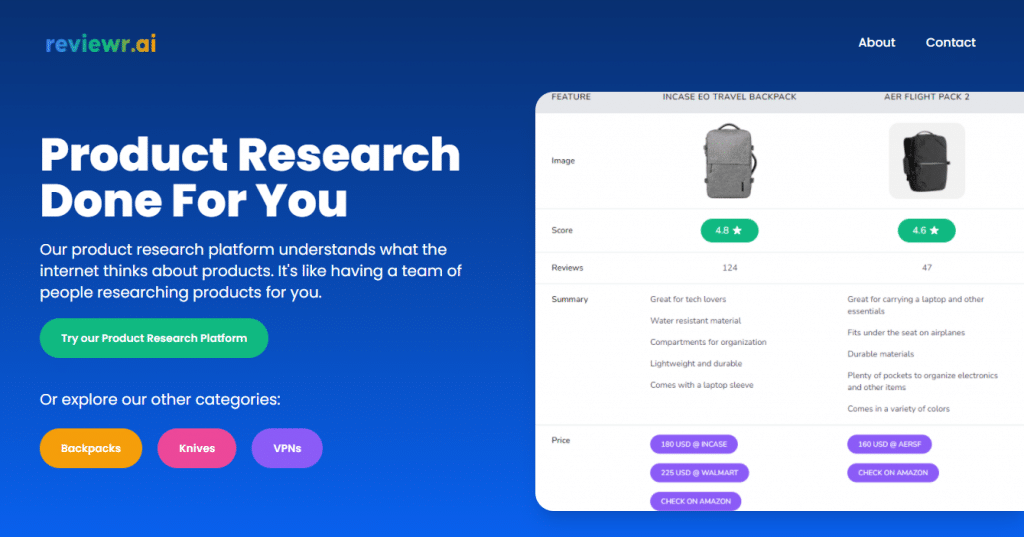 Allfactor
Best Analytical Product Research Tool
Allfactor is a leading eCommerce analytics platform. It provides you with a ton of data that you can use to make decisions and thrive in your niche. With Allfactor, you will be able to optimize product offering, conduct competitive analysis, and track performances.
This product review software also lets you stay atop trends, master market intelligence, and spy on top competitors on Amazon, Shopify, Walmart, and Etsy. It uses AI to help you zero in on best performers so you understudy their strategies and keyword optimization skills.
Additionally, you can closely monitor your chances of succeeding a particular niche market.
If you desire a complete solution that would help you stay on top of your eCommerce game, then look no further than Allfactor.
Pricing
Allfactor offers three different plans:
Essential ($0): For no cost, you get limited access into the product and store databases. You get weekly ranking updates and limited tracking on 2 products at a time.
Professional ($29/month): The Professional plan gives you full access into the databases and access to advanced search and filter features. You can track up to 200 products at a time and get a detailed view on 25 products per day.
Elite ($99/month): The Elite package gives you tracking on 1500 products at a time with 100 searches per day. You also get access into Allfactor's API for advanced control of your data.
Allfactor Features
Allfactor helps you master the eCommerce market aided by graphs, tabulations, comparisons, and trendlines.
It gives daily updates of key indices surrounding the market.
It recommends top performing products in every category.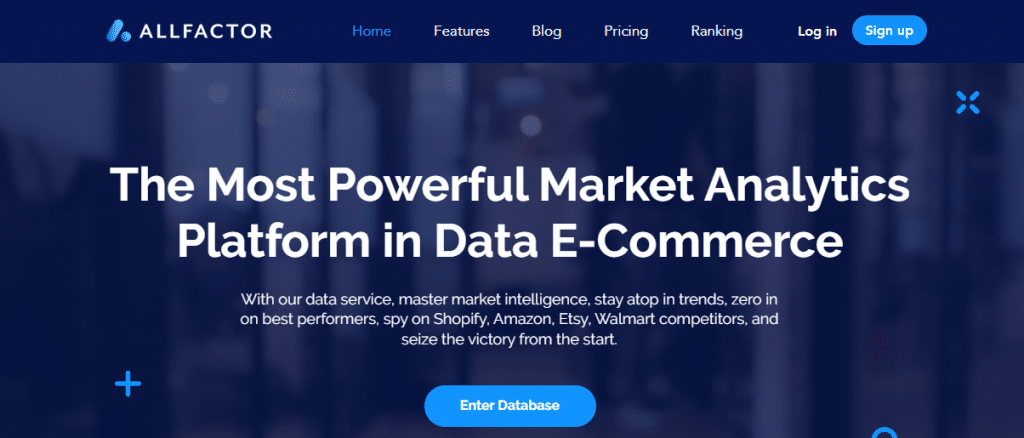 D-Nicheur
Best Amazon Supplier Review Tool
D-Nicheur is the perfect tool every Amazon affiliate seller needs to save money and time. It allows you to find top performing products that you can promote. D-Nicheur finds trending products that are just starting to gain in popularity.
D-Nicheur works by using machine learning to review the Amazon Marketplace and see what your competitors are doing. It offers you tips that you can use to sell more products and increase your conversion rate.
Unlike other product research tools, D-Nicheur will pair you with reputable suppliers so that you can start selling right away. Use D-Nicheur to refine your searches with sites, data, news, or the appropriate keywords.
Pricing
One big drawback to D-Nicheur is that they are not transparent in their pricing plans. They claim that the tool can be used for less than $20 per month, but they don't give you full details until you sign up on the website.
D-Nicheur Features
D-Nicheur lets you research thousands of winning products on auto-pilot.
It helps you find the information you need to succeed as an Amazon FBA seller.
It can research your competitors' warehouse to discover top performing products.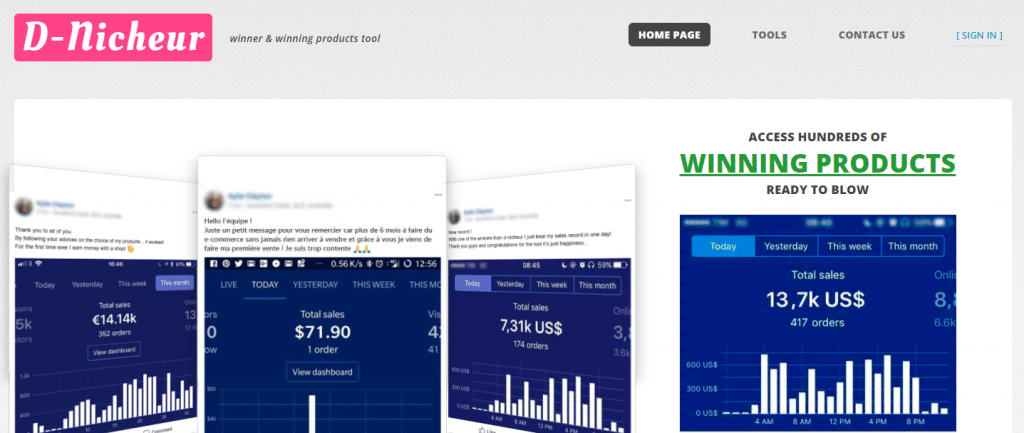 FindNiche
Best Ali Express Product Research Tool
FindNiche is a free AI product review tool that can help you find winning products. It is for eCommerce businesses who want to find hidden products to promote. It uses AI to provide you top performing products on AliExpress.
You can easily check the degree of competition, number of orders, as well as the regions or countries where products are performing well. We used this information to find similar products on Amazon and Shopify that we could also promote.
FindNiche lets you research your competitors' strengths and weaknesses through their keywords or domain name. You can review their weaknesses and outperform them. It also reveals their strategies so that you can up your game.
FindNiche lets you check the ads link, Alexa rank of Shopify stores, and engagement data.
Pricing
FindNiche offers three major plans, plus an enterprise option.
Basic ($9): For just $9, you get access to all AliExpress data and charters. You can search 20 different keywords daily and track 20 products at a time.
Elite ($59): The Elite plan gives you access to both Shopify and AliExpress databases. You can make 20 searches per day and track up to 500 products at a time.
Premium ($99): The Premium plan gives you access to analytics from Shopify, AliExpress, and Ads. You get 100 searches per day and nearly unlimited product tracking and exporting.
If you subscribe for a full year, you get 40% off your monthly price. FindNiche also offers a 3 day trial for just $1.
FindNiche Features
FindNiche can help you spy Facebook, Instagram, and YouTube keywords
It can recommend hot products to sell on Shopify.
Product trends help you discover winning and top performing products on the go.
Can help you research your competitors' winning strategies and products

Pexda
Best Potential Products Tool
Pexda is a data-driven AI product research tool for eCommerce sellers. It can help you hunt top performing products so that you save thousands on ads and countless hours doing research.
Pexda leverages artificial intelligence to add winning products daily to help you maximize profits and drive down ad expenses. This can save you a lot of manual searching time.
Pexda can also help you discover hot products before they start trending. Imagine being the first merchant to sell potential hot products. You would make a lot of money before these products go viral.
Pexda also lets you uncover the audience that converts best for every product. The tool connects to:
AxiExpress
Amazon
Ebay
Facebook Ads
Youtube Videos
It's a powerful tool with reasonable pricing.
Pricing
Pexda offers 3 different pricing plans:
Standard ($29.95 per month): The Standard plan forces a 3 day delay on brand new products, but otherwise gives you free access into all of its reports and data. This includes the AI Auto Hunt tool too.
Premium ($49.95 per month): Pexda offers unlimited products per day and instant data access in this plan.
Ultimate ($199.95 per month): The Ultimate plan gives you access to curated special products that you can sell on your site. Pexda promises increased sales and first-in access.
Pexda is offering a 50% off deal on all of the pricing plans above.
Pexda Features
Pexda is equipped with powerful data that lets you target products on multiple websites.
Suitable for both beginners and professional sellers.
Auto hunts winning products without you lifting a finger.
Can match you with credible suppliers on the market.

Zonbase
Best Chrome Product Research Extension
Zonbase is an all-in-one product research tool for Amazon sellers who want to find winning products online. The software provides sellers with a wide range of tools, including a revenue estimator, keyword finder, keyword analysis, brand ranking tracker, list optimization, and reverse ASIN lookup.
Zonbase uses the power of artificial intelligence to search the Amazon Marketplace. It can check what your competitors are doing and researches their selling strategies for you.
Zonbase then helps you compile a list of top performing products. It comes with Chrome Extension to help power your product search.
Zonbase offers a free trial so that you can see how powerful the tool is. It has a team of product research experts that can help you find your winning products.
Pricing
Zonbase offers two simple pricing plans:
Standard Plan ($47 per month): In the standard plan, you can 10 keywords per day and 40 items to track at a time. You also get access to hot trending product information, but not the Chrome extension.
Legendary Plan ($97 per month): In the Legendary Plan, you get 250 serches per day and 100 items to track. Plus, full access to the Chrome Extension
If you subscribe to a yearly plan, the Standard plan is $37 per month and the Legendary Plan is $67 per month.
Zonbase Features
Can help you check competition, market saturation, and other interesting data.
Get estimated product sales per month.
This tool can help you find new keywords for your PPC and SEO Campaigns.
You can find the keywords your competitors are ranking for.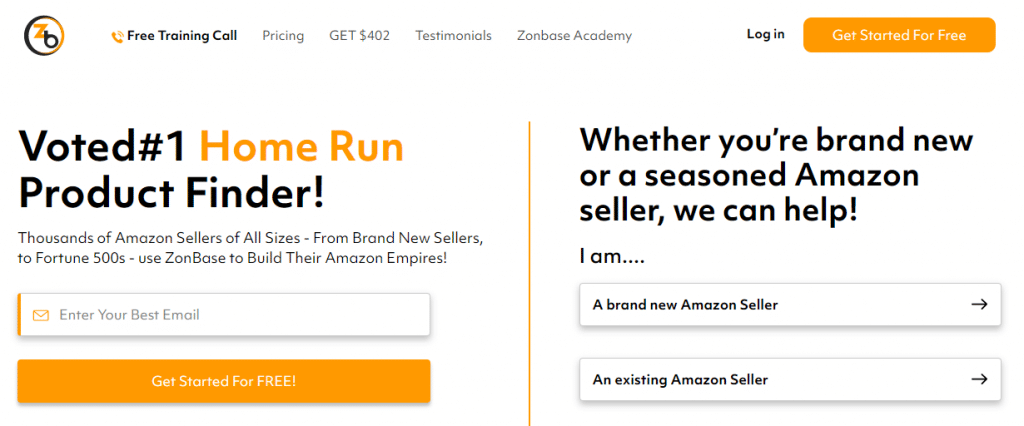 Exploding Topics
Best Upcoming Products Tool
Exploding Topics helps you discover new untapped keywords before they become too competitive to rank. It is a data-driven tool that provides curated results that saves you research time.
Exploding Topics helps bloggers and content creators to identify new topics that are starting to explode. It uses AI to analyze millions of data points from sources like online communities, Tech news, shopping, and search engines. Each topic is summarized neatly for you with traffic trends and other info.
Exploding Topics enables you to create content around potential ranking keywords before they get super competitive. Exploding Topics put each topic into one of these three categories:
Peaked: Topics that have reached their heights and start to decline.
Regular: Topics that have gained good traction over a period of time.
Exploding: Topics that are currently hot.
Pricing
Exploding Topics is completely free to use. You can see basic information on the website and sign up to a free weekly newsletter.
You can also sign up for Exploding Topics Pro, with custom curated trends that are right at the start of taking off. You can see what is included in Exploding Topics pro below. Overall, this is our pick for best custom curated AI product review and research tool.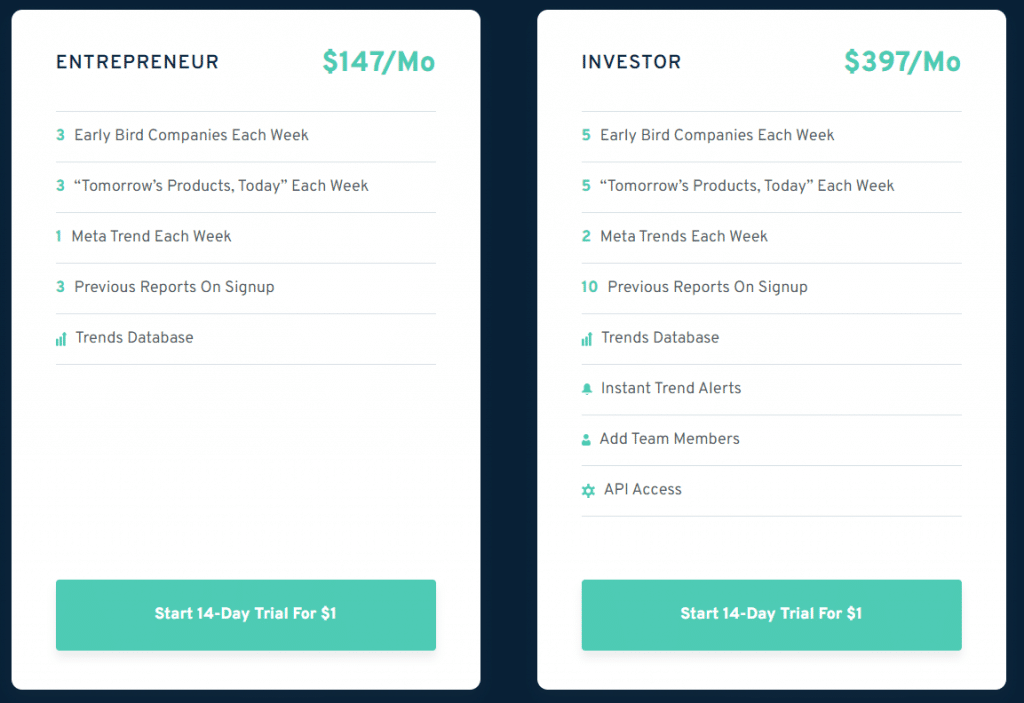 Exploding Topics Features
Exploding Topics is a one-stop aggregator for trending topics
The tool sources topics from millions of data points.
Its algorithm can help you identify low competition keywords and emerging content ideas.
Click here to view Exploding Topics

What smart product research tools have you checked out? Comment down at the bottom of this guide and let us know.