AI Shopify apps bring new intelligence to your ecommerce store so that you can sell more and make more money. In this guide, we go over the top AI Shopify apps you should check out today.
Specifically, we'll go over:
The best AI Shopifyy Apps
How AI apps work smarter than traditional web software
A review of each of our top tools
If you have any questions, make sure you comment down at the bottom of this guide.
The Best AI Shopify Apps
Don't have time to read this entire guide? Here is a list of our favorite AI Shopify tools.
Shopify Apps Introduction
Shopify is one of the fastest and developed ways to quickly open up an ecommerce store. You can quickly and easily outfit your store with a number of common features:
Multiple products
Discount codes
Special
Email lists
Rewards
And hundreds of other features.
Shopify apps allow you to extend the functionality of your store even further. AI Shopify apps use artificial intelligence to make smart decisions on your behalf. They can help you increase sales and dominate your niche quickly.
If you've used any AI Shopify tools make sure you comment down below and let us know what you would recommend.
Next, we go over our top Shopify apps with smart intelligence in more detail.
Dialogue AI Automatic Personalization
Dialogue AI Automatic Personalization is a Shopify tool designed to help Shopify store owners increase their AOV, session time, and conversion. It uses artificial intelligence to analyze individual behavioral data in order to display only what buyers want to see.
Dialogue AI presents shoppers with supplementary, interesting, and relevant products to increase their basket size.
It automatically creates banners for products with high margin and to improve buyers' experience. It lets you create "how-to" videos to educate your buyers how your products will solve their pain points. All you need to do is to create the videos, upload the content, and allow the tool to place the videos where prospective buyers will easily watch them.
Dialogue AI Automatic Personalization integrated with a wide range of tools, including Javascript, Catalog feed, and Google Analytics.
Dialogue AI Automatic Personalization Features
Helps you increase conversion rate analyzing your users and display only what they want to see.
Helps you create rich content across your Shopify store.
Can also automate upsell and cross sell based on the buyers' journey.
Easy to use design templates
Click here to view Dialogue AI Automatic Personalization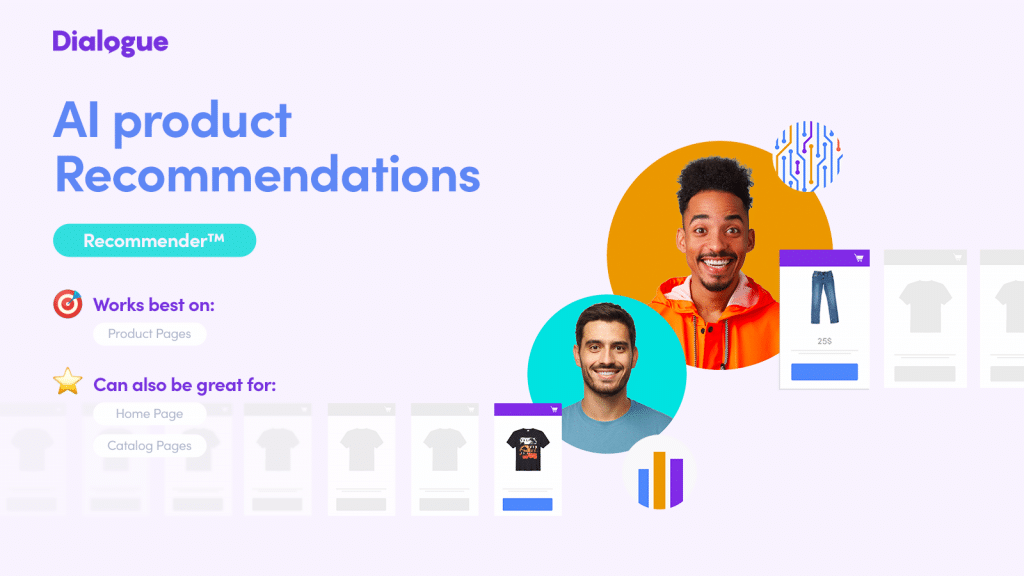 Suggestr AI Recommendations
Suggestr is an AI Shopify app for those looking to create a new Shopify store. Once you finish setting up your store, install Suggestr to help you recommend products that convert to your prospective customers.
Suggestr uses the power of artificial intelligence to automatically pick only the best products to display in order to boost discovery. Its AI and ML mechanisms outperform manual recommendations by ten times.
Suggestr is designed to perfectly work for cold-start customers. It can also recommend Facebook-quality products for your brand.
The company has a customer success manager (CSM) for each user. The role of the CSM is to hold users by the hands every step of the way. Popular brands like UddStudio, Beyond The Vines, and Dalstrong use this tool to increase their sales by more than 5%.
Suggestr AI Recommendations Features
Great at suggesting Facebook-quality products to meet the needs of shoppers.
Helps you boosts conversion rates, increase AOV, and unlock more revenue on auto-pilot.
This AI Shopify app encourages shoppers to buy more with cart-page suggestions.
The dashboard is highly intuitive and shows how much the tool has helped generate per sale.
Click here to view Suggestr AI Recommendations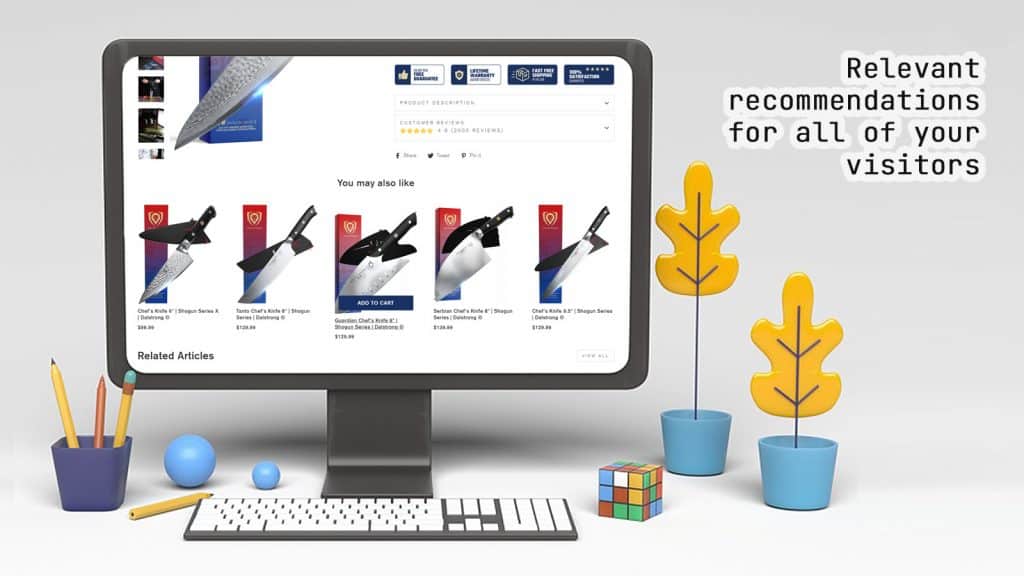 Translation Lab
Translation Lab is a powerful AI Shopify tool for people who want to sell stuff using Shopify. This app lets you sell globally, as it uses AI to translate your store and its pages in multiple languages and currencies.
Translation Lab can help you boost sales and reach new markets. Before Translation Lab hits the market, online Shopify sellers found it very difficult translating their checkout pages.
Now with Translation Lab, users have nothing to worry about.
Translation Lab automatically detects the language of your store visitors and also loads the store to suit buyers' preferences. This means adding multiple languages to your store is a breeze. No extra code nor external backend. Additionally, with the click of a button, you can change your store default language with Translation Lab.
Translation Lab Features
Works seamlessly with Shopify's new multi-language feature.
Translate Lab uses the Google NTM engine to translate your store to any language suitable to your shoppers.
Supports up to 160 different currencies around the world.
Automatically translates product options in bulk.
Click here to view Translation Lab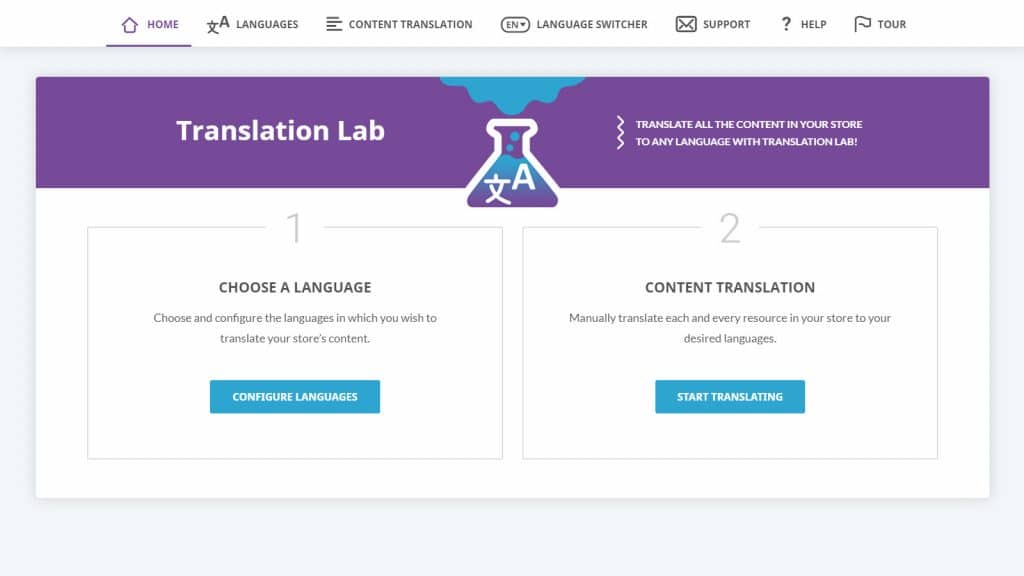 Gobot AI Chatbot and Quiz
Gobot AI Chatbot and Quiz helps you automate support and convert more with guided selling quizzes. It is a known fact that shoppers usually struggle to make the best buying decision. But this tool displays the perfect products always for shoppers to see and also help reduces repetitive customer support tickets.
Gobot AI Chatbot and Quiz uses AI to learn about the customers' needs and pain points and makes personalized recommendations.
Gobot helps reduce uncertainty in the buyers' journey, makes buyers feel tended to. Plus, the number of returns to your Shopify store are reduced. With this tool, you can send personalized SMS and emails to both existing and prospective customers based on their preferences of shopping.
Use Gobot to personalize your marketing channels and build buyer profiles. Sync actions, answers, as well as other important buyers' data with Drip, Klaviyo, Attentive, and Active Campaign.
Gobot AI Chatbot and Quiz Features
Helps shoppers find the right products with personalized suggestions.
Offers 24/7 customer support to reduce support burden.
Can help you grow your SMS and email marketing list faster than other tools on the market.
Click here to view Gobot AI Chatbot and Quiz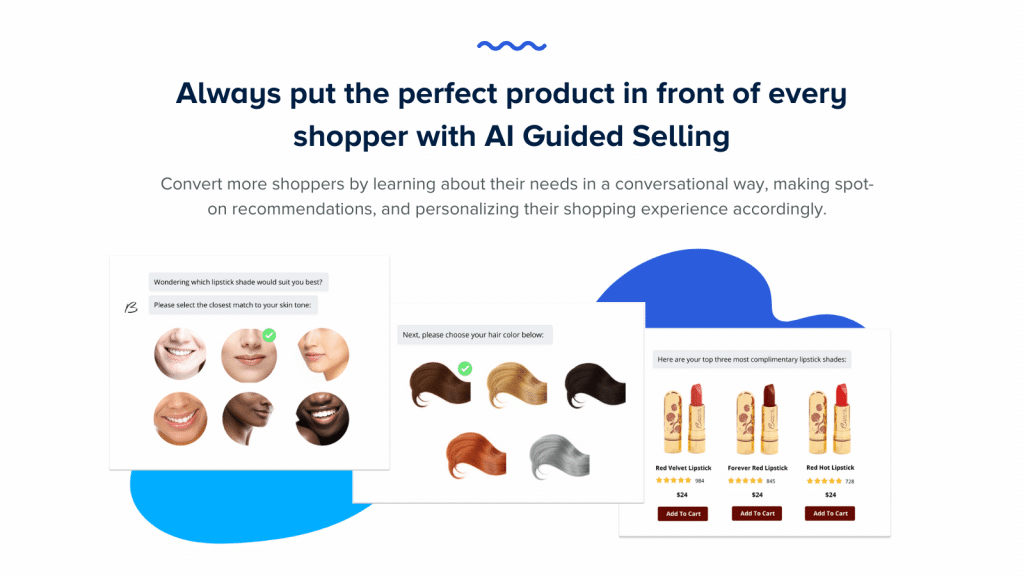 AI Images SEO
AI Images SEO uses the power of artificial intelligence to generate alt text on all your product images. It does this by first scanning all the images to determine whether or not there is missing alt text. In the online shopping marketplace, alt-text helps shoppers enjoy better shopping experience and also attracts traffic to your website.
In fact, Google uses alt-text to understand the subject matter of a product image. So, if you want your product images to come up on Google, alt-text is mandatory. AI Images SEO is a Shopify app that simplifies this whole process. It catches your store up to industry standard automatically.
AI Images SEO is easy to install. It is user-friendly and comes with features to help you boost your Shopify store.
AI Images SEO Features
Can automatically generate alt text on product images with AI.
Helps store owners to improve Google Image search rankings.
It is user-friendly and doesn't require coding knowledge.
Click here to view AI Images SEO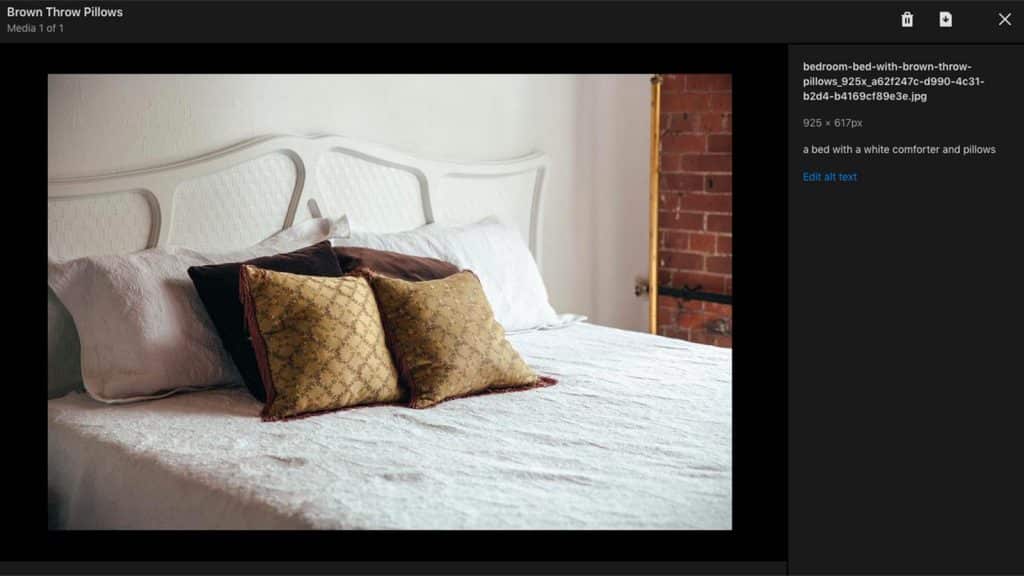 Sizify AI Clothing Size Chart
Sizify AI Clothing Size Chart is for those store owners selling clothing apparel. It uses artificial intelligence to help store owners recover lost sales with size guide and apparel size recommender. It makes online shopping better for both shoppers and merchants.
Once you install Sizify, a widget will appear on your storefront. The function of the widget is to offer tailored clothing size recommendations or a size chart that best fit each visitors to your store.
In the configuration for the tool, you can input settings that help guide your visitors. The purpose of the Sizify AI Clothing Size Chart is to remove size uncertainty when shoppers storm your store to find the best apparels.
This app is compatible with both legacy themes and online store. Installing this app means your customers will enjoy a better clothing sizing experience.
Sizify AI Clothing Size Chart Features
Reduces abandoned carts and costly returns.
No coding is needed. One-click install.
You can create hundreds of size charts for specific products.
Click here to view Sizify AI Clothing Size Chart
PriceIntelligence AI
PriceIntelligence AI is a price competitor and monitoring tool. It uses AI to help merchants track their competitors' products prices and also draw comparison based on similar products. The mission of this tool is to help store owners win more buy boxes.
PriceIntelligence helps you set competitive and flexible prices on auto-pilot using rule-based dynamic pricing.
With PriceIntelligence AI, you will get daily custom notifications on:
exact and similar product matches
smart price recommendations
in-scope SKUs
other important updates on your dashboard
With just a few clicks, all your in-scope data will be synced to give you a hassle-free and seamless pricing experience.
PriceIntelligence AI Features
This tool will help you save time and manpower needs.
You will get daily price movements on your dashboard.
Helps you make data-driven pricing decision to win more buys.
Lts you accurate match similar and exact products
Click here to view PriceIntelligence AI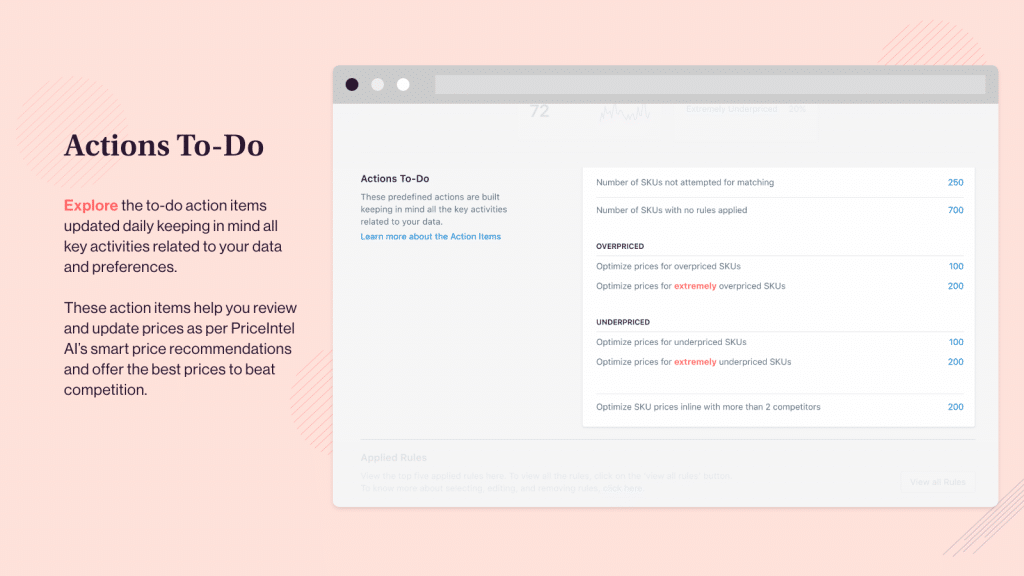 AI Product Description Writer by Copysmith
AI Product Description Writer is a writing tool that helps you write AI augmented product descriptions for your entire store. The tool comes from Copysmith, who has one of our favorite automatic article generator products and GPT-3 software.
AI Product Description Writer uses artificial intelligence to supercharge your entire workflow. Whether you are a copywriter or not, you have a partner you can trust in this tool. Climbing your way up SEO rankings is a breeze with this tool.
The biggest benefit of installing the AI Product Description Writer is that all product descriptions created are unique and the cost is just a fraction of the amount you would have paid an in-house copywriter. You can generate hundreds of unique product descriptions in minutes.
AI Product Description Writer by Copysmith Features
Write unique product description that fit your brand tone.
Ensurers your product descriptions are SEO-optimized.
Saves you time and energy.
Click here to view AI Product Description Writer by Copysmith
Bold Brain Store AI
Bold Brain Store AI helps you leverage data power to boost conversions and outsmart your competitors. It uses artificial intelligence to collect vital information or data from both your potential and existing clients to optimize your store and improve their shopping experience.
Bold Brain Store AI always displays the most effective products for your customers to see and actively works to ease their pain points.
Upon installing the app, a widget will appear on your storefront. The widget comes with a wide range of features including:
recently added products
ecently viewed products
most popular products,
people also bought products
top-rated products
smart widget
Bold Brain refines itself to offer smart suggestions for your store visitors.
You can monitor the performance of your store in real-time with this tool. Bold Brain Store AI integrate with a wide range of third-party apps, including MailChimp, Bold Bundles, Bold Upsell, and Bold Loyalty Points.
Bold Brain Store AI Features
Helps merchants boost conversions with recommendation widgets for recently viewed products, related products, and often purchased products.
Enables merchants to use prebuilt or custom audiences for targeted emails via MailChimp.
Get valuable insight about the performance of your store.
Click here to view Bold Brain Store AI
Smart Search Bar & Filters
Smart Search Bar & Filters is a product search tool designed to help shoppers easily find the best product that will ease their pain points. It is perfect for those whose theme doesn't have a search bar. Smart Search Bar comes with a search result page to improve shoppers' experience.
If your visitors have no idea of what to type after clicking the search bar, this tool will display a drop-down list for the most search terms, collections, and the most popular products.
Smart Search Bar & Filters come with misspelled words recognition, selling recognition, and synonyms recognition.
Smart Search Bar & Filters
Helps you insert smart & beautiful search bars to any Shopify theme.
Is 100% mobile and user-friendly.
Smart Search Bar & Filters help merchants grow conversions with ease.
It doesn't require your personal assistant. Just set the tool up and forget.
Click here to view Smart Search Bar & Filters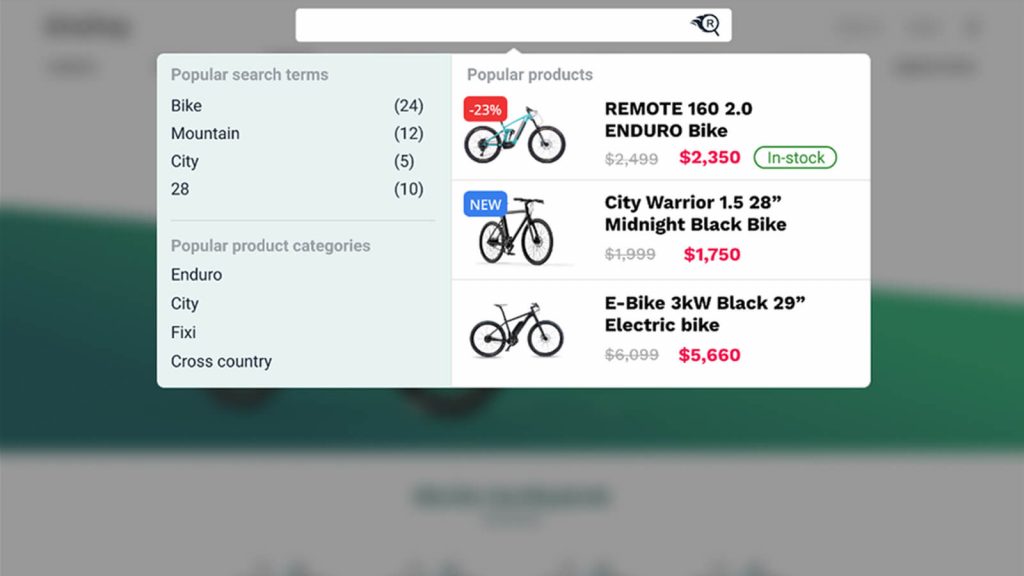 What is your favorite AI Shopify app? What other tools do you have deployed in your ecommerce store today?
Comment down below and let us know what you like to use today.