GPT-3 software demos and examples are the biggest trend in artificial intelligence. The open-source tool from OpenAI allows you to generator custom content automatically with AI.
As developers have gotten access to it, a number of GPT-3 software examples have come out for automatically creating:
Content
Emails
Landing Pages
Resume
Knowledge Bases
and a lot more!
In this guide, we take a look at our favorite uses of GPT-3 to create smart content with AI. If you know of any other tools we should add, make sure to get in touch with us and let us know!
The Best GPT-3 Demos and Examples
What is GPT-3 By OpenAI?
GPT stands for Generative Pre-trained Transformer. It is a research company funded by Elon Musk to develop automatic content based on artificial intelligence. GPT-3, the third generation of the tool, is a big deal because of how advanced artificial intelligence has become in understanding:
purpose
context
understanding
You can insert a few parameters into the API such as
business name
description
features list
The tool can turn that into blog post ideas, landing page content, and more.
GPT-3 can answer questions, summarize long texts, translate languages, and even create computer code.
How Do You Get Access to GPT-3?
The tool is currently in beta mode and is collecting data for an official release later in 2021. In order to get access to it, you need to request access from OpenAI.
In your application, you need to say what kind of tool you will try to develop. There is a long list of developers requesting access, so approval can take weeks.
Next, we go over the best GPT-3 demos and examples that we have found in more detail.
Writesonic Review – Best GPT-3 Blog Article Creator
Writesonic is the tool formally known as MagicFlow. Writesonic is an AI-powered content marketing assistant that generates useful text for your website including:
Blog ideas
Blog intros
Emails
Google Ads
Facebook Ads
Landing Pages
Product Descriptions
Growth Ideas
Plus, Writesonic uses GPT-3 to generate full blog articles. Brands, website owners, and entrepreneurs can use the tool to generate compelling marketing text in a second.
The tool has a generous free access tier which lets you create some basic text for free to try out the service.
Writesonic Features
The only GPT-3 software tool that generates full blog articles
Can create growth kits and ideas for new companies
Is a single source for many of the other tools in this list.
Click here to view Writesonic.

Snazzy AI Review – Best GPT-3 Content Generator
Snazzy AI is a GPT-3 powered platform that helps businesses create content for their brands. It is built for teams and agencies that understand the value of great content at scale. Snazzy AI can automatically generate:
content ideas for landing pages
social media ads
marketing copy
product descriptions
blog excerpts
and a bunch more! It is one of the best AI tools for people who manage their own website. Startups can use Snazzy to create all the copy they need to get started with a single click. Big brands can also use the tool to not only scale their creative offerings, but also impress their clients with compelling content.
Snazzy AI offers a wide range of templates to create compelling content for your brand.
Snazzy Features
Lets teams and businesses to easily create landing pages, taglines, and Google Ads.
Create instant results and content for your website with GPT-3 AI.
Takes the "heavy work" of content writing off your plate.
Creates human and scalable content using a wide range of templates.
CopySmith Review – Best GPT-3 Writing Software
CopySmith is a GPT-3 powered writing software that enables businesses and independent contractors to craft high-converting sales copy and marketing copy in seconds.
CopySmith was designed and developed by a team of experienced marketers, copywriters, and AI researchers from global tech giants. The tool adapts to your style the more you interact with the generated copy.
This GPT-3 tool can help you generate Google Ads, Instagram ads, Facebook ads, Taglines, and much more. There is also a wide range of templates for you to choose from, plus you can also customize a template for your brand.
Brands like Starkmatix, Guitar, Marshalls, and Change.org use this tool to create marketing copy that sell.
CopySmith Features
Can handle content needs for your clients at lightning speed.
Lets you manage your ad campaigns, on-site content, and social media posts.
E-commerce brands can use this tool to craft compelling product descriptions for their storefront.
This AI copywriter lets you better understand your brand's style and tone.

Headlime Review – Best GPT-3 Landing Pages
Headlime is software designed and powered by for businesses to craft sales copy and create landing pages in seconds. It can help you create custom landing pages with no designing, writing or coding required.
Like others in this list, Headlime is simple. When you run this tool, explain your product in twenty words and Headlime will use that information to generate appropriate design templates. You can then choose from the hundreds of templates that you can generate.
Drag and drop your chosen templates to start building your page. After building your page, you can download the page to start using it wherever your website is hosted.
BigCommerce, Business Insider, Digital Marketers, and Havas Media use Headlime to create beautiful landing pages for their brands.
Headlime Features
Writes high-converting copy and weaves it into an HTML template.
Generated content appears as if it is written by a human copywriter.
Comes with an easy-to-use drag and drop editor.
Uses conversion-trained AI to determine what works best for your brand.
ActiveChat Review – Best GPT-3 Chatbot
ActiveChat is a customer service automation tool powered by GPT-3. ActiveChat can help customer support teams automate repetitive tasks with natural language understanding. Customer support teams can also use this tool to improve their routines and day-to-day tasks. It is an AI chatbot with extra smart features.
ActiveChat lets you track customer sentiment and engage live chat teams when necessary. This tool can also help you improve sales by finding the right words for every customer. It is best suited for enterprise customer support in telecom, SaaS, services, and e-commerce.
SalesLift, Outreach, AWS, and Degrees use this tool to automate their customer support responsibilities.
ActiveChat Features
Helps businesses improve customer care through WhatsApp, Apple Business Chat, SMS, Web Chat, and much more.
Lets users automate repetitive customer service conversations and improves productivity.
Keeps a complete history of interactions.
Finds the right words for every customer.
Click here to view Active Chat.
Blog Idea Generator by Topic Review – Best Article Idea Creator
Blog Idea Generator by Topic is a GPT-3 powered tool to generate blog ideas to fill your content needs. You enter a subject in the topic generation search bar and Topic will generate content ideas for you to create your copy. It does this by analyzing your topics with top-performing content on Google. The tool then delivers unique ideas using GPT-3 algorithm.
With this tool, you can consistently create content that matches your readers search intent. You can also fill your content calendar with a few clicks. Blog Idea Generator by Topic helps you drive more organic traffic so that your website can rank higher.
Unlike other blog idea generation tools out there, Blog Idea Generator by Topic takes your audience into account. So many big brands use this tool to generate blog ideas, including Curated, WSI, Elementor, Bigger Pockets, and PLAID.
Topic also has an awesome AI article generator tool to check out too.
Topic Blog Generator Features
This GPT-3 powered tool generates blog ideas just by entering a topic.
Can help your website rank on search engines.
Can also help you drive organic traffic for lead generation.
Click here to view Topic Blog Idea Generator.

CopyAI Review – Best AI Marketing and Sales Tool
CopyAI is also another writing software powered by AI for brainstorming and writing marketing and sales copy. This tool enables you to craft marketing copy in seconds.
If you already have marketing or sales copy from other tools, you can use CopyAI to generate more ideas. You can also check what's missing in your copy before you publish. CopyAI creates compelling content while you focus on other important aspects of your business.
Here is how CopyAI works. First, you select a type of copy such as blog introductions, headlines, social media posts, or product descriptions. You then describe your product and enter the name of your company. CopyAI then generates 10 results from the information you provided within seconds. You can choose from any of the results or run the tool again for more ideas.
CopyAI Features
Allows you to create digital ad copy, LinkedIn ads, Google Ads, and Facebook ads.
Has a built-in dictionary to check spelling errors and omission.
Create social media posts with artificial intelligence that has captains.
Helps you determine what's missing in a marketing copy.
Company in a Box Review – Best GPT-3 Startup Tool
Company in a Box is a GPT-3 powered software that lets you create high-converting landing pages for your startup ideas with a few clicks. With Company in a Box, you can vet more ideas, stick to the ones that work, and start generating leads.
Instead of wasting time and money testing different ideas to determine which one will work, this tool will save you that time and money. You can test different ideas with this tool with no limitation.
If you have start up ideas and you are struggling with how to get started, you won't go wrong with this tool.
Company in a Box Features
Lets you focus on building your business, while you focus on building your products.
You can build a search engine landing pages quickly.
Use this tool to write SEO-friendly landing page content.
Allows the collection of a wait-list.
You can interact with your potential customers better than with other tools.
Click here to view Company in a Box.

Rezi Review – Best GPT-3 Resume Builder
Rezi is a GPT-3 resume builder for job seekers and those that want to change careers. Using this tool completely eliminates the need to sit in front of your laptop or PC and create a resume from scratch. Rezi will craft an appealing resume for you using text generation AI and billions of data points.
Rezi will collect your content and job title, then use GPT-3 algorithm to generate a resume that is irresistible to recruiters or employers.
This tool is perfect for job seekers, school-leavers, and those you want to apply for postgraduate studies. Businesses can also use Rezi to create a high-powered cover letters to gain clients.
Rezi Features
Creates amazing resumes, with options to edit templates or make your own masterpiece.
Rezi will score your resume so that you know your chances of getting an interview.
You can see what, where, and how to improve your resume and cover letter.
You can target ATS keywords with Rezi to improve your interview chances.

HelpHub Review – Best GPT-3 Knowledge Base Creator
HelpHub is a GPT-3 enabled content generator. It uses AI to generate original content for your businesses. When you run HelpHub, all you need to do is to give your article a title. Then HelpHub uses the article title as a foundation to generate the content.
You can also write a few bullet points of what you want the article to be about. HelpHub will take it up from there by creating original content that covers your key points. Lastly, you can edit the generated content if you wish. It's all left to you.
Thousands of businesses, freelancers, copywriters, and agencies use HelpHub to generate quality content.
HelpHub Features
Lets you collaborate with unlimited team members on your website.
Allows you to track article views, user search queries, traffic to your website, and other key metrics.
Comes with a simple-to-use editor that you can use to create compelling content.
You can add your company logo and favicon, or even use your own domain name.

Magic Sales Bot Review – Best GPT-3 Email Software
Magic Sales Bot is GPT-3 enabled software that businesses can use to create tailored B2B sales email with a click. In other words, Magic Sales Bot uses GPT-3 to create and send high-converting sales email to your potential clients. With this tool, you can prospect 10 times faster.
Spend less time writing emails and doing manual research. With this tool, you will focus on other day-to-day activities of your business. Use Magic Sales Bot to create copy that is more valuable, personalized, and relevant to your prospects.
Marshalls, Change.org, Volcom, and Profitboss are some big brands that use this tool to send compelling sales email to their customers.
Magic Sales Bot Features
Can be used to send branded emails to target customers.
Each time you run the tool, you get LinkedIn profiles and emails for potential recipients.
Lets you send personalized cold emails.
Supports different email clients.
You can use this tool to generate as many sales emails as you want.
Click here to view Magic Sales Bot.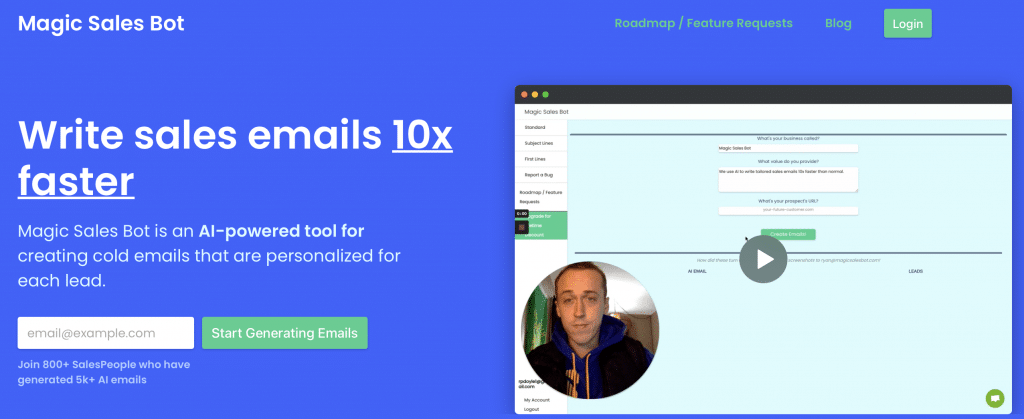 What are your favorite uses for the new GPT-3 by OpenAI? Comment below and let us know what other GPT-3 demos and examples you've tried out.