Do you need to create realistic audio for your Youtube videos, Tik Tok, presentation, or other voice-over content? Murf is an AI text-to-speed tool that blew me away with its audio quality and I think it might be great for you too. In this Murf AI review, I'll go over:
What Murf AI is and why it's such a good AI voice generator tool.
Key features you should check out today
How to use Murf Studio, the user interface powering the platform
Key pricing details
When you are done, you will be able to replace expensive voice actors with a single AI tool. If you've tried the Murf AI speech software and have some feedback, we want you to comment down below.
Let's check it out!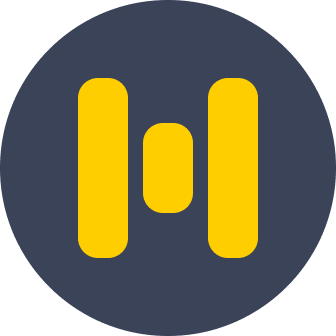 My Review
Murf is the most enjoyable voice generator tool I've used ever. Murf Studio is easy to use to input and edit text and then generate AI voices for. I like that you get granular control over the pitch, speed, and emphasis of every word you input.
---
Features I Like
Over 120 premium voices
The ability to edit every word
Syncing audio up to existing presentation is fun.
| | |
| --- | --- |
| Best For | Content Creators |
| Price | $26/month |
| Discount | 33% off for a yearly subscription |
| Promotion | Free plan available |
What is Murf AI?

Murf AI is an artificial intelligence-powered text-to-speech tool that lets you type in any text and create flawless voices of your entry. This can change the way you create and edit voiceovers, allowing you to create flawless and lifelike audio for your script or ideas in minutes.
One reason why Murf has gotten so popular is because of how lifelike the result is. It uses artificial intelligence to under the English language and automatically add voice fluctuations and emphasis. Its audio characters don't sound as robotic as other text-to-speech tools and the output is generated quickly.
Over 100 high-quality voices across 15 languages are offered.
What Can You Use Text to Speech For?
You can use a text-to-speech tool like Murf AI to create podcasts, high-quality videos and presentations for corporate organizations and entertainment. Most users try Murf for one of two reasons:
They aren't comfortable using their own voice in content.
They want a second voice to play off their own in a realistic conversation.
This tool is used for:
e-learning narrations
voicemail recording
explainer videos
game voices
IVR phone system
YouTube videos
Murf AI Key Features
Murf AI is packed with lots of exciting features, including:
Murf Studio
After you subscribe, Murf Studio is the online tool and user interface you use to generate your audio. In the studio, you get to pick through the different studio-quality AI voices. Then, you can paste in your script text and then micro-adjust the pitch and speed of your voice actor.
As you build, you can always preview your output and see how things sound. If you have a presentation to sync up to, Murf Studio guides you through that process as well to sync up your audio.
A solid interface is the number one thing I look for in a good AI software tool and Murf gets 100% in this area!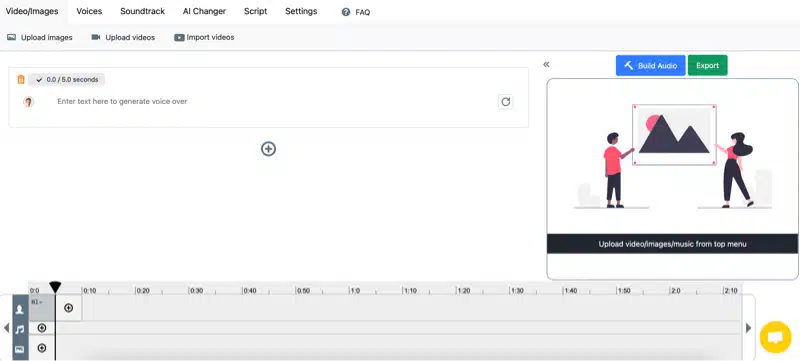 AI Voice Generator
Murf AI comes with 120+ realistic AI voices in over 20 languages. You can leverage the voice diversity to create content for a global audience. You also get kids, middle-aged, and young adult voices to choose from in different accents.
You can transcribe your recorded audio and sync audio with video presentations with a single click. In general, the tool is packed with a ton of intelligence that makes AI text-to-audio generating more efficient than ever.
Premium AI Voices Library
This text-to-speech AI tool comes with a diverse library of characters to help spice up your projects. You have access to an ever-expanding selection of voices in different languages and accents.
With the recent addition of African American AI to its voice collection, this is the text-to-speech tool to beat. You don't have to spend much time generating premium voiceovers.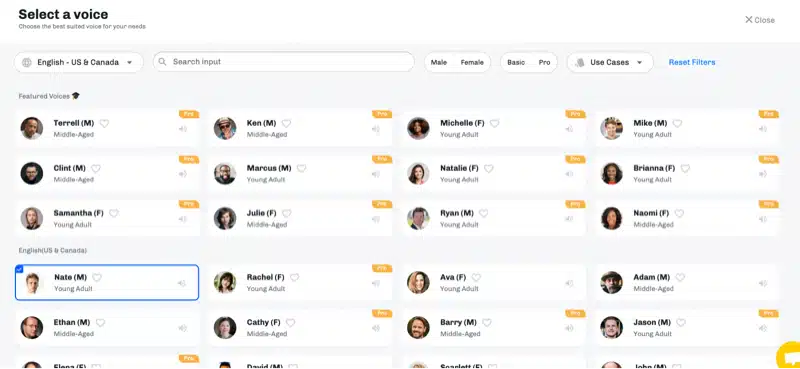 AI Voice Changer – Pitch, Emphasis, Speed, Interjections
You can use Murf AI to transform your voiceovers to a professional-quality AI voice from a simple recording.
You can adjust a number of factors, including:
Pitch
Emphasis
Speed
Interjection
You can change the pitch, tone, and speed to suit your presentations. Murf AI uses machine learning technologies and natural language processing to create voiceovers to suit your project.

TextBased Audio Editor
Murf AI accepts both text-based and voice-based inputs. This means that you can upload a text file or an audio file and the tool will instantly convert it to any character of your choice.
The simple text-based audio editor lets you edit your recorded voiceovers to suit any project. You can also do other things like adding images, music, or videos to your content. The text-based audio editor can also give you a real human voice on any background sound.
Granular Voice Pronunciation
Murf gives you ultimate control in your output by allowing you to edit the pronunciation, emphasis, and pause of every word you input. This is key in order to create realistic outputs that don't sound robotic and use any slang words you need to. You can even add phonemes to each word too.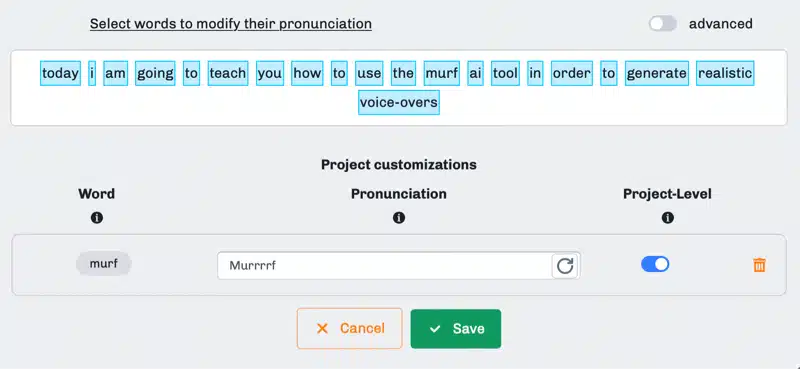 Collaboration Features
Murf AI is designed for individual users and teams, with features to help you collaborate with your team members to create voiceovers at scale.
If you are on a paid plan, like the Enterprise Plan, you can create natural-sounding voices regardless of the authoring tool you are using:
iSpring
Adobe Captivate
Articulate360
You are able to collaborate with your team members to create, edit, and share files on one platform.
Robust Data Protection
Murf AI is equipped with robust data protection and security protocols. All your data is hosted on secure servers, plus, access control is protected using two-factor authentication. All data is stored in AWS (Amazon Web Services), a service that's compliant with all security regulations and data privacy, including GDPR, SOC, FedRAMP, HITECH, HIPAA, DSS, and PCI.
The bottom line is that Murf AI protects your data whether in transit or at rest.
Murf AI Pricing
Murf AI has four different pricing options, including a free option and three premium plans to explore. You can get monthly plans or yearly plans depending on how long you want to commit.
Free Plan
The free plan is exclusively designed for those who want to test the working capability of the tool before committing to a paid plan. The plan comes with the following features:
Single user.
No downloads
10 minutes of transcription
10 minutes of audio generation
Share link for video/audio output
Get over 120 voices.
Basic Plan – $26/Month or $312/Year
The Basic plan is designed for individual users. The plan comes with the following features:
Single user
Access to email and chat support.
Commerical usage rights
AI voice changer
Unlimited downloads
Access to over 130 voices in 20 languages.
You will enjoy 2 hours of voice generation per month.
Pro Plan – $52/Month or $624/Year
The Pro plan comes with the following features:
Up to 3 users.
You will enjoy priority support.
Commercial usage rights.
Recorded voice editing.
Access to over 120 voices in 20 languages.
4 hours of transcription per month
8 hours of generation per month
Unlimited downloads.
Enterprise Plan – $167/Month or $1999/Year
The Enterprise Plan is exclusively designed for teams. The plan comes with the following features:
Up to 5+ users at once
Unlimited storage and downloads.
Deletion recovery.
Centralized invoicing.
Dedicated Account Representative
Collaboration and Access Control
Single-sign on (SSO)
Custom voices.
Unlimited Voice Generation Time
Unlimited Transcription time.
Who is Murf AI For?
This text-to-speech AI tool is developed for a wide range of users/professionals, including:
educators
product developers
podcasters
animators
corporate coaches
authors
marketers
customer service representatives
Content creators will also find Murf AI useful. You can use the tool to create realistic voiceovers for Tik Tok and Youtube.
So, if you are looking to create the perfect voiceovers for your projects on a budget, Murf AI has got you covered.
Things I Like About Murf AI
AI voice generator tools that are realistic and usable are pretty new. Murf does a really good job blending solid technology with an easy to use interface.
After reviewing the software, here are some of the things I liked about Murf AI:
I like how you can change the voice pitch, tone, and speed to suit your presentation. The voices are pretty realistic by themselves, but these micro adjustments let you create the perfect character for your application.
Murf AI has a wide range of voices to choose from, including male and female voices. 24 languages are supported, which is an impressive feat by itself as well.
I also liked that a Google Slides add-on is available. You can sync up your audio with your presentation with just a few more button clicks.
I enjoyed playing with the extra effects found in the tool. Murf AI is equipped with additional speech filters like helium voices, monster voices, that you can apply after or during your recordings.
Finally, the price is a big win. Monthly plans start at $13 and content influencers get near unlimited use. This is a lot cheaper than the voice generator tools I used five years ago.
Overall, Murf Studio is easy and enjoyable to use.
Things I Don't Like About Murf AI
Better than a lot of other voice generator tools out there, but Murf can still use some further improvement to its intonation. For casual videos, the inflections are still a bit too robotic. The team commits well to new features, so we hope that they'll continue to make improvements.
One of the other complaints I see a lot online is that minutes don't carry over from month-to-month. I didn't have an issue with this, because two hours is more time than I need, but it's worth mentioning if you have special needs. The Enterprise plan features unlimited generation.
Video Review
Want to see this tool in action? Here's a collection of video reviews I really enjoyed watching for more information.
Best Murf Alternatives
Play.ht is a powerful AI text to speech generator. If you are looking to convert text into natural characters, Play.ht has got you covered. After conversion, you can download the audio as MP3 and WAV files.
Using Play.ht is really easy. Once you launch the tool, choose a character type and import or type text into the space provided. Play.ht will instantly turn the typed text into a natural human audio. You can then enhance with SSML tags, pronunciations, and speech styles.
Play.ht Features
Lets you generate realistic audio for e-learning, podcasts, and videos
Use Play.ht to convert your blog posts to audio to increase your user engagement and brand visibility
Access to more than 570 accents from several providers.
Deepsync is an interesting AI generator that creates content that sounds like your own voice. It allows you to upload your own sample and then generate audio files worth of text that sounds exactly like you.
Deepsync uses artificial intelligence to clone you based off of audio samples. It learns your accent and your expressions and creates a model that sounds exactly like you. Then, you can enter in your text and Deepsync will record audio of the words using your sample.
Deepsync Features
You can create high-quality AI audio in multiple languages using your own talking.
Easily re-edit your audio or create multiple versions of your audio during recording without having to start over from scratch.
Anywhere in the world, you can create high-quality audio content, without the need for physical equipment or a studio.
Lovo
Lovo is a powerful AI text to speech generator. It is a perfect tool for games, audio ads, audiobooks, and e-learning. This voice generator targets marketers, authors, animators, and customer support teams who don't want to record their own audio.
Lovo lets you create human-like voices and content. It works by importing text into the box provided. Lovo then uses artificial intelligence to convert the text into super realistic human voices.
Lovo Features
Has over 180 unique characters in 33 languages to fit your content.
Lets you create voice-overs from text to increase your user engagement
Adds human emotions to all audio
Create a customized audio skin in less than 15 minutes.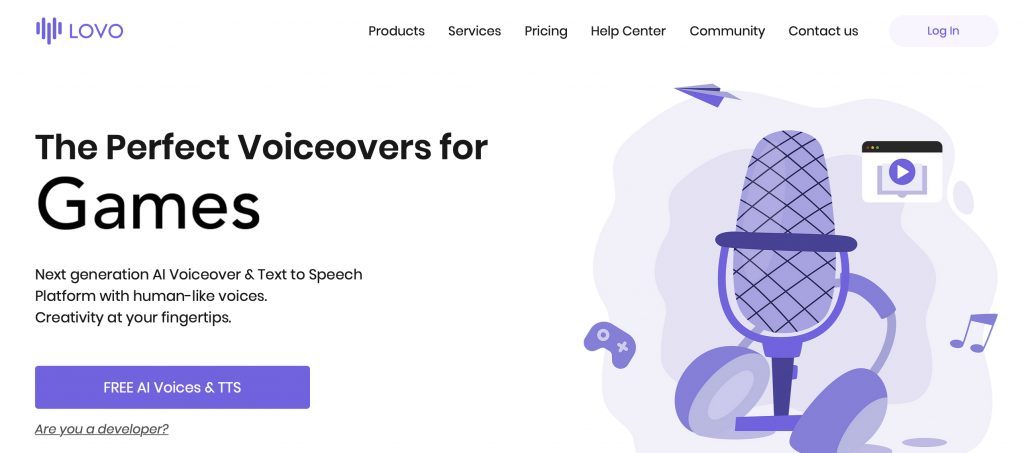 Frequently Asked Questions about Murf
Is Murf AI any good?
Murf AI is the number one rated AI voice generator on the internet today. You can generate AI voiceovers and text to speech for any application and edit the voice to sound exactly as you want it to.
Is Murf AI free?
Murf features a free trial plan that allows you to trial all of the 130 voices in the platform. You don't get to download the end product on a free account, but you can generate 10 minutes worth of AI voices and also share the link with team members. It is a good way to try out the service before you buy.
Do you get natural human voices with Murf?
Murf has become a very popular AI voice generator tool because of how accurate the voices it generates are. You can select over 130 different voices and also edit and customize the tone, style, speed, and other factors. You can make the voices as accurate as you want them to be.
What operating systems does Murf support?
Murf is a web-based platform and is supported by all Windows and Mac users.
What is Murf Studio?
Murf Studio is the user interface you see once you sign up for an account and login. Within the Studio, you can create, edit, preview, and download your voiceovers and AI generated audio content.
Who uses Murf?
Murf is popular for students and companies who require audio voiceover work but don't want to use their own voice. It is also popular for content creators on Youtube, TikTok, Instagram, and other platforms where you might need narrated audio content.
Conclusion
Murf AI is a great speech generator tool for creating professional sounding voiceovers. With over 100 voices to pick from and the ability to adjust speed and tone more, there are nearly limitless possibilities. Murf uses AI to create realistic sounding audio out of any text or script you have.
Compared to other voice generators, Murf Studio is easy and painless to use. The user interface is simple to understand and the audio quality is better than other tools on the market. This speech software gets regular updates and improvements to it.
It's not quite perfect though. There are some limitations when it comes to personalizing intonation to match your language. However, the pricing is reasonable, and the tool is available for free for those who want to test it out..
If you're interested in trying out this text-to-speech generator, click here and let us know what you think.