If you are a content creator for a blog or social media channel, you don't have to create banners and images from scratch anymore! In this guide, I'll show you the best AI banner maker tools that will automate your processes and create eye-catching images with artificial intelligence.
We'll review and compare Visme vs Canva vs Adobe Express vs other lesser known graphics design tools.
These banner maker tools can create images for:
WordPress
Instagram
TikTok
Facebook
Pinterest
And other digital applications. They use templates and smart intelligence to automatically design backgrounds, place text, create graphics, and optimize size for your need. Unlike Luminar (full review here), which has graphics design features, the tools below focus on social media and blog content creation.
Did you know that good graphics can help your SEO?
If you use any of these, or a different AI banner maker tool, comment down below and let me know what your favorite is.
What are the Best AI Banner Maker Tools?
Visme is powerful AI banner maker tool to give serious consideration if you're looking to create top-notch inbound and outbound brand experiences for your business. Whether you are a total novice or you have ample experience with banner designs, you can rely on Visme to give your business a life outside of the slide deck.
Visme is best suited for digital marketers, content creators, podcasters, animators, and YouTubers. You can create all of the featured images and blog images you need very easily.
To use Visme, choose from the over 100+ already-made templates, enter in the information you need, and generate impressive and eye-catchy ad banners. Visme marries ease of use with capabilities to develop a platform where users can give their marketing campaigns a boost.
Visme is equipped with short videos and animations to help you master the tool. It uses AI to automate repetitive tasks and simplify the process of creating brand documents and images.
Key Features
In addition to graphics, Visme allows you to create boardroom presentations.
This banner maker has engaging charts and infographics.
Lets you easily create professional branded images and documents very easily.
Equipped with a wide range of design templates.
What I Like About Visme
I liked that Visme has a social post component. You can use Visme to create scroll-stopping social content for your social media audience, while maintaining your brand guidelines. Then, you can automatically post it to any of the networks you are connected to. This is the perfect tool for influencers or new content creators.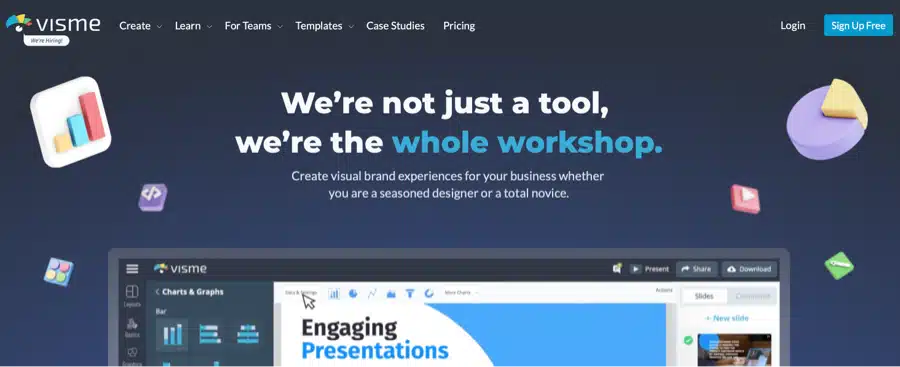 Canva
Canva is one of the biggest online design tools of all time. It is free to access and learn basic features, but requires a payment to truly appreciate it's power and use of AI and templates.
Templates are a great way to speed up the design process when looking to create banners for WordPress and social media posts, and that's what Canva does. Canva provides access to a large library of templates, photos, and fonts, which can be customized to bring your vision to life. It helps take out the tedious part of banner designs by automating the process using artificial intelligence.
Canva comes with a broad array of tools for free, with advanced resources and features available when you subscribe to one of its four paid plans. Canva Pro is highly rated and is often a must-purchase for influencers or website owners.
With Canva, you can collaborate with ease. You can invite your team members to edit with you, leave feedback, or scale your visual content. If you're on a tight budget and you need a banner design tool to help you streamline the design process, Canva is a great option out there.
Key Features
Features team folders, which help to stay organized, store brand assets, and manage content.
There's a built-in comment feature to help you communicate with your team and resolve suggestions.
Canva provides real-time collaboration across departments, companies, and countries.
Lets you plan, create, and schedule social media posts.
What I Like About Canva
I liked Canva because it is equipped with thousands of professional templates, quality content, and images to choose from. Whether you want to customize an office template or you're looking to design something that's more personal, Canva does just that. It is perfect for creating social media content, images for blogs, and more.

Abyssale
Abyssale is an AI banner maker tool that you can rely on to design different professional banners for your content and marketing campaigns. Once you select your preferred template and connect your business data, Abyssale generates eye-catchy banner images within minutes that you can use to wow your audience.
This banner maker uses AI to simplify and quicken the design process. It also uses AI to automate layout management and line break.
One significant advantage of using Abyssal over other banner makers is that Abyssale's templates are rich in functionality and cater to ad design. The tool lets you generate image variations, cutting out most of the repetitive design tasks. With Abyssale, you can enable things like image split testing and personalized email marketing. In fact, any member of your team can generate or create classy, on-brand designs.
If you're more tech-savvy, you will enjoy the features that Abyssale packs. However, to get maximum results, ensure you integrate your business data into the Abyssale API to separate from the competition.
Key Features
Abyssale lets you create on-brand images and designs in a click.
No design or drawing skills required.
Equipped with a template builder to enable you to unleash your creativity.
Automates repetitive tasks.
What I Like About Abyssale
I liked that you don't need any design skill to use Abyssale to generate professional ad banners. All you need is to choose a template from the over 100+ home-made templates to generate stunning banners or on-brand images from any data.

Adobe Creative Cloud Express
Adobe Creative Cloud Express (or just Adobe Express) is a powerful toolset for creating professional content. This software offers everything from basic editing to high quality effects. You can use it to make banners for social media, marketing campaigns, presentations, or anything else you might need.
Adobe Express is completely cloud based, so you can access your files and work on them whenever you like. And because it is always updated, you never need to worry about having outdated versions of the program.
By default, Adobe Creative Cloud is free. This allows you to access thousands of templates, assets, and fonts. You get some basic photo editing and effects to help you create the images you need. You also get 2 GB of cloud storage included for free.
The premium plan costs $10 per month and it comes with thousands of other fonts, templates, and designs. You also get access to over 160 million royalty-free Adobe Stock photos. Other AI banner features are included too, including the ability to automatically refine, size, and add your branding.
The old Adobe Spark software has been replaced by Adobe Express, for those familiar with that tool!
Key Features
High quality design tools from Adobe, who has been a leader in this space for decades.
Refined AI features including background removal and adjustments.
Completely accessible and stored in the cloud.
What I Like About Adobe Express
Adobe has been in the graphic design space for years, so you know that you will get a polished product from them. For just $10 a month, access to 160 million stock photos is a nice perk. Plus, you get extra cloud storage and features too.
Click here to view Adobe Express.

Placeit
Placeit is an AI automation tool for ad banner creation. Placeit marries technology and design to create a high-quality marketing and branding tool. Anyone, whether individual or teams, can easily create stunning and professional visual assets for their businesses.
Whether or not you possess artistic or technical skills is immaterial when using Placeit. Simply choose your preferred template, provide your business andcampaign data, and you're good to go.
Placeit comes with thousands of free templates, mockups, logos, designs, and videos. Everything you need to make your brand outstanding is available on the Placeit design interface.
Key Features
Very easy and simple to use.
Comes with thousands of banner templates.
Is a highly affordable AI banner maker.
Placeit lets you create free logos for your business.
What I Like About Placeit
I liked that Placeit is packed with the largest collection of mockups on the internet. With this feature, all you need to do is to simply drag and drop your chosen designs to the mockups to create stunning product shots on a single click.
Bannerbear
Bannerbear is a complete toolkit for ad banner creation. Bannerbear offers end-to-end solutions for automated video and image generation with REST API, template management, and much more.
You can use Bannerbear to generate ecommerce banners, social media visuals, and dynamic email images to boost your digital marketing campaigns.
Bannerbear uses the power of AI to create automated workflows that will help you take care of repetitive tasks while you channel your time and energy to what matters most. It's catered more towards techy users who are comfortable working in code.
If you're looking for a banner maker to generate images and video animations for your campaign, look no further than Bannerbear.
Key Features
Bannerbear has stunning templates that will match your brand.
Uses AI to auto detect faces in photos and position them correctly in your banners
Supports different languages including Chinese and Japanese.
Bannerbear offers easy integration into your existing platform or apps.
What I Like About Bannerbear
I liked that Bannerbear comes with auto resizing features. This banner maker can auto-resize text when you generate variations with product names and long titles. I also liked that Bannerbear has collaboration features. You can work alongside your team members when designing templates.
Snappa
Snappa is an AI-powered banner maker that has changed all of these narratives. Digital ad production can be a hassle without the right skill sets and software. It requires repetitive work and some forms of technical know-how. Creating and publishing ads also takes time and money, thereby making scaling almost impossible for most creatives.
Snappa makes digital ad production very easy and efficient. You don't need any coding skills or even watch long video tutorials to understand how the tool works.
The process is simple.
First, you pick a template from the over 100 ready-to-use templates. Then, you provide your campaign information and generate impressive and eye-catching banners for your business. In Snappa, you can whip up graphics for ads, social media, blogs, and much more.
Snappa also lets you schedule and share your graphics as you want. Whether you want to share your graphics on Facebook, Twitter, or Instagram, you can do so without leaving this tool.
Key Features
Snappa is designed for speed.
This tool is simple to use, with no learning curve.
All photos and graphics included in Snappa are 100% royalty-free.
Snappa can help you build relationships on social media.
What I Like About Snappa
I liked that Snappa is easy to use. Even a non-designer without any computer skill can use this banner maker to generate visuals and publish content online. I also liked that it comes with a nice set of templates and offers unlimited possibilities for creative minds.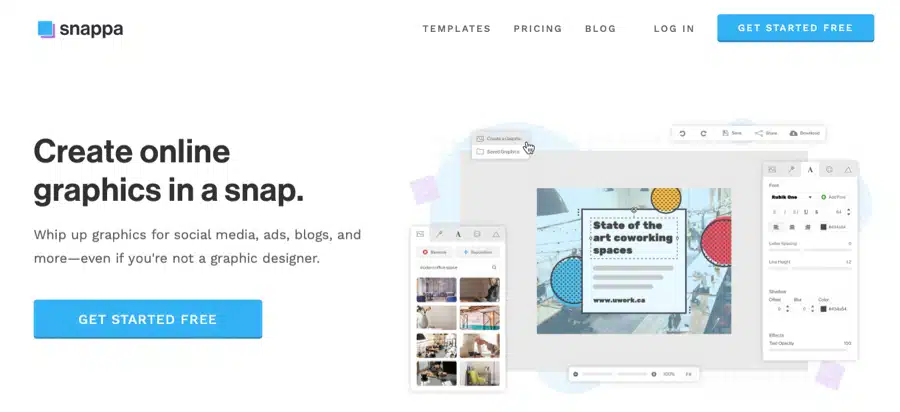 Bannerwise
Bannerwise is a complete toolkit, ad banner maker, and a creative management platform. With Bannerwise, you will unlock the full potential of digital advertising. Use Bannerwise to create stunning graphics and on-brand ads across all network and digital advertising channels.
Here is how it works:
Once you launch Bannerwise and subscribe to a paid plan, you will be allowed to choose a template that best suits your campaign. After selecting a template, provide more information about your campaign and business, and start your banner design.
Bannerwise will help you eliminate repetitive tasks and speed up the design process. You can create any type of ad banner with no extra costs in minutes. The dynamic ads will perfectly match your brand guidelines.
Key Features
Bannerwise can streamline the ad banner generation process so you can get the most out of your creations.
This banner maker supports up to 90 languages.
Autoscale your designs to any size or variation.
What I Like About Bannerwise
I liked that Bannerwise is an all-in-one platform for creative minds. You can use this tool to create on-brand designs for any network or channel. I also liked that Bannerwise supports ad production scale up from one design/size to multiple variations.
What is Banner Maker Software?
A banner maker is a program that allows users to create their own custom banners. These tools allow users to easily add text, images, videos, links, and other elements into a single image file with different layers. This file can then be published to various websites and social networks.
Banner makers are a subset of full graphics design software packages such as Adobe PhotoShop, Figma, or Sketch. Those tools allow you to do EVERYTHING, but are much more complex in nature. Banner makers are designed for non-graphical users who just want to create eye-catching banners and images for their blog or social media quickly.
Features to Look For in AI Banner Makers
There are many features to look for when choosing an AI banner maker. Here are some things to consider before purchasing:
Design Templates
Are there pre-designed templates included in the tool or available for you to purchase? If not, what kind of templates does the product offer? Some products only have basic templates while others offer dozens of templates.
Templates save a lot of work for you you because they have images, backgrounds, and text that already flow well together. When you add your personal flair on top of it, the artificial intelligence creates you what you need fast.
Customization Options
Does the product let you customize each element of the banner? Can you change colors, fonts, and sizes? How many customization options does the product offer? You want to look different than everyone else, so you need a banner maker with lots of different design elements that can be customized.
Support
Is the product supported by customer service? Do they offer live chat support? What happens if something goes wrong? Will they refund your money? These are all important questions to ask yourself.
I've picked the AI banner maker tools above because they get frequent updates and have good support for their product.
User Interface
How easy is it to navigate the interface? Does it have a drag and drop feature?
Nowadays, anybody can be a social media influencer or run their own blog. Because of this, banner maker tools are a necessity. You shouldn't need a graphics design diploma or have to hire professional designers in order to create eye-catching images.
File Format
What file types does the product save files in? JPG, PNG, GIF, PDF, PSD, TIFF, EPS, and SVG are all very common for different needs and uses. WEBP is a new file format that is popular on blogs today because of the size savings it offers.
Mobile App
Does the product come with a mobile app? Can you create banners and designs from your phone while you are on the go or only within the online tool? This can be a big time saver if you tend to travel a lot.
Social Media Integration
Does the product integrate with popular social media sites like Twitter, Instagram, Pinterest, or TikTok? Can it automatically adjust banner sizes for each social network? Being able to quickly post your content as soon as it is done is important and can save you time later.
Video Editing
Does the AI banner maker include any video editing capabilities? What if you needed to add an animation or voiceover? Some of the tools above work great with videos as well.
What Can You Create With a Banner Maker Tool?
A good tool will have thousands of templates and options to create different types of banners including:
Featured images for blog posts
Social media profile pictures
Instagram story templates
Business cards
Charts, graphics, and infographics
Edited photos
If you need a tool that will design something specific for a social media platform, comment down below and let us know what you are looking for!
Conclusion
Online banner makers that use artificial intelligence can really help make your life easier. A tool like Canva or Adobe Express is more than just a banner generator and has other advanced features to check out. Other solutions on our list above keep things more simple and casual.
No matter what your skill level is, there is an AI banner maker tool on this list for you. If you have a question about any of the tools above, make sure you let us know and we will help you out.