Photo restoration software can transform your old photos and make them look new again. Good restoration software uses AI to automatically improve photos.
In this guide, we look at:
The top photo restoration software
How each software tool uses AI to make things simple
Key features in each tool
If you know about any other photo restoration software worth checking out, comment down below.
The Best Photo Restoration Software
Don't have full time to read out guide? Click on the links below to check out our top photo restoration software options.
Photo Restoration Software FAQ
What is the best way to restore old photos?
All the software in this guide are meant for restoring old photos back to life. When you load your photo into the software, zoom in really close. This will allow you to add precise effects and AI tools to it with high accuracy. Each software in this guide will modernize your photos and make them look brand new.
How much does is cost to restore old photos?
Photo restoration software can be free with limited features. In general, good software costs between $20 and $50. If you choose to use a restoration service to fix your images, you will pay $30 or more per photo.
Can old faded pictures be restored?
Yes! Artificial intelligence and photo editing software is as smart as ever. You can brighten up photos, restore faded sections, and make them look HD.
Luminar 4 Photo Restoration Review
Luminar 4 is a full-featured photo editor. The photo restoration software feature is an AI tool that can transform your old or damaged photos back to their original state. It can eliminate stains and splotches. It has tools that are similar to that of a photo editor. Luminar 4 uses the power of AI to remove blemishes, dirt, and scratches.
Once you launch the software, you can draw lines on blemish areas. Then, Luminar 4 will analyze the surrounding pixels to generate a corresponding texture. Use the Exposure, Clarity, and Tone brushes to enhance your old photos.
Luminar 4 features a wide range of tools, including Details Enhancer, HSL, Dehaze filters, and Denoise. If you have old photos that require a yellow shade, you can use these tools to tone down the temperature. Luminar 4 costs $89 to purchase. You will enjoy using this software to transform your old photos.
Luminar 4 Photo Restoration Features
Luminar 4 recovers faded photos
Can serve as a plug-in for Adobe software
Can help you eliminate splotches and stains
Equipped with details enhancer tool
Click here to view Luminar 4 Photo Restoration

Vance AI Photo Restorer Review
Vance AI is a photo restoration software that automatically restores old or damaged photos using deep learning. Vance AI can remove spots, fractures, and scratches on your old photos. It can transform your damaged photos back to their original state. Vance AI is much more than just restoring old photos, it can enhance the face and sharpen color in old photos.
Here is how it works. Launch the Vance AI software and upload old digital photos. Vance AI then uses deep learning to transform your old or damaged photos back to life in seconds.
Vance AI is equipped with a wide range of photo editing tools that can repair damaged photos for social or print media. If you want to enhance the faces on old photos, you can count Vance AI to do a perfect job. Vance AI comes in two pricing tiers – Basic and Pro. The Basic price is $9.90/month and the Pro price is $19.90/month.
Vance AI Photo Retoucher Features
Can remove scratches, tears, and spots
Enhances photo quality by sharpening color with AI
Can also enhance and detect human faces in your damaged photo
Vance AI permanently deletes images after 24 hours
Click here to view Vance AI Photo Restore
MyHeritage Photo Enhancer Review
MyHeritage Photo Enhancer is an AI photo restoration software for exploring family history. It is home to some of the best tools and techniques for colorizing and enhancing historical photos.
The tool takes you on a meaningful discovery journey to discover your family history, ethnicity, and race. It is equipped with sophisticated matching technologies, at-home DNA functionality, and billions of historical records. MyHeritage uses artificial intelligence to automatically enhance your family photos. It can remove dirt, blemishes, and scratches on old family photos.
MyHeritage can help you build your family tree. All you need to do is to add a few names and the software's matching technology will delight you with new and wonderful discoveries.
My Heritage Photo Retoucher Features
Enhances your family photos with the touch of a button
Can transform faces on a damaged photo
Discover your family history and build your family tree
Can help you discover your ethnic origin and unknown relatives
Click here to view My Heritage Photo Enhancer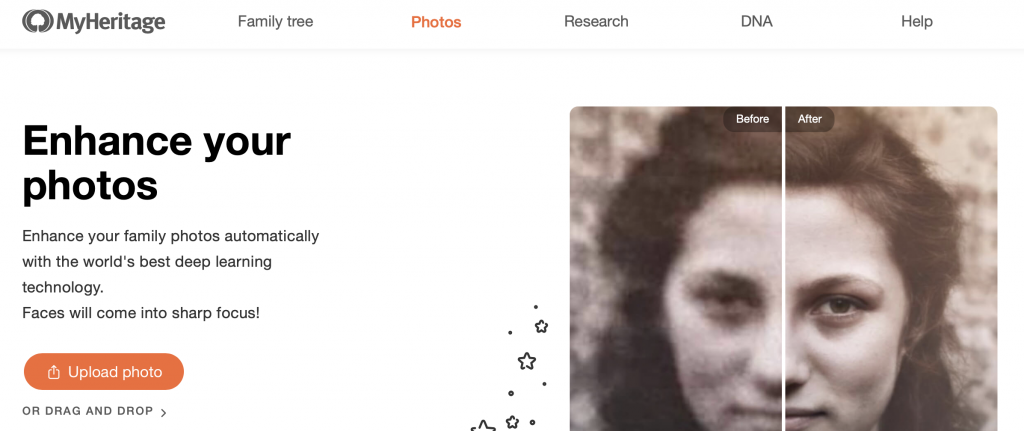 Photo Works Review
Photo Works is one of the best AI photo restoration software on the market. Its precision healing tool can erase dust, lint, and scratches to revive old photos. Colors, values, and textures on damaged photos can be blended to an extent that nobody will guess the photos were restored.
You can use Photo Works to change any background and remove unwanted details in your old family photos. If you have old photos that you want to revive, simply launch this software and upload the old photos. Then allow Photo Works algorithm to neutralize undesired parts, dust, and scratches out of the shot. You can then introduce a filter and export the results. Photo Works costs $19.25 to download the software on your PC.
Photo Works Features
Photo Works can remove scratches and blemishes on damaged photos
Can smoothen skin texture
Helps you retouch portraits
Can add depth and transform old photos back to their original state
Click here to view Photo Works

AKVIS Retoucher Review
AKVIS Retoucher is the perfect software to restore your old photos. AKVIS Retoucher uses AI to improve picture composition and clean up imperfections. Historically, AKVIS Retoucher is one of the oldest photo restoration software on the market.
Restoring old photos can be overwhelming and messy if you use the wrong tool. AKVIS Retoucher has changed the narrative. You can bring your old or damaged photos back to their original state using AKVIS.
This AI photo restoration software has a user-friendly graphical interface with organized layout that lets users see their new photos in real-time. AKVIS removes scratches, dust, and undesired elements. It also draws missing parts. It also removes distracting elements, date stamps, and enlarges the photo's canvas.
AKVIS has 4 pricing tiers that cost between $87 to $154.
AKVIS Retoucher Features
Removes scratches, dust, and undesired elements
Compatible with Photoshop Elements, Corel PaintShop Pro, AliveColors, Adobe Photoshop
Has a multi-language user interface
Can remove larger and complex objects.
Click here to view AKVIS Retoucher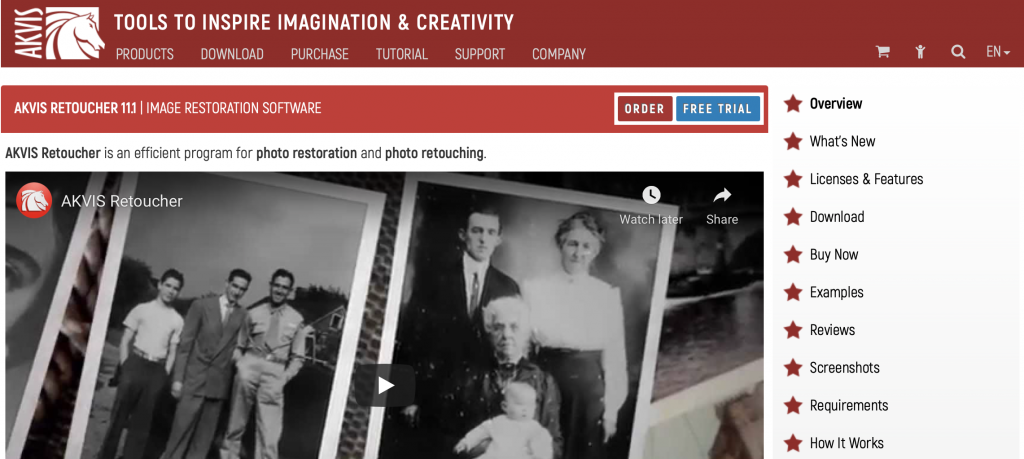 SoftOrbit Photo Retoucher Review
SoftOrbit is a powerful photo restoration tool for families. It works by eliminating defects, performing basic retouching, and restoring spoiled parts. It uses artificial intelligence to transform old or damaged photos and bring them back to life.
The whole process is very fast. All you need to do is to upload the old or damaged photos you want to transform. SoftOrbit will automatically identify areas that need improvement or enhancement. The software removes blemishes, dust particles, and scratches. Your finished photo will appear stunning and realistic.
SoftOrbit costs $24.99, and you can give your old photos a new life!
SoftOrbit Photo Retoucher Features
SoftOrbit colorizes old or damaged images automatically
Can remove scratches, stains and tears
Use SoftOrbit to get rid of grain and blur
This software lets you add date stamps and captions on transformed photos.
Click here to view SoftOrbit Photo Retoucher

PhotoGlory Photo Restoration
PhotoGlory is a photo restoration software that uses AI to eliminate splotches, stains, and tears from old or damaged photos. PhotoGlory can restore colors to washed out and faded photos in real-time. If you're looking to turn an old photo of your grandma into a vibrant stunning portrait, PhotoGlory has got you covered.
PhotoGlory is very easy to use. Launch the software and upload your old photos in the space provided. PhotoGlory will automatically transform the old photos into stunning portraits. You can also manually modify the photos by adding colors to meet your preferences.
Whether you are a professional in photo restoration or you're a complete beginner, you will love PhotoGlory's semi-automatic and intuitive workflow. You can also enhance your retro photos using over 100 premade effects.
PhotoGlory Photo Restoration Features
Lets you add date stamps and stylized text labels
You can restore colors to washed out and faded photos
Can colorize a black and white photo in real-time
PhotoGlory can remove tears, stains, and creases
Click here to view PhotoGlory Photo Restoration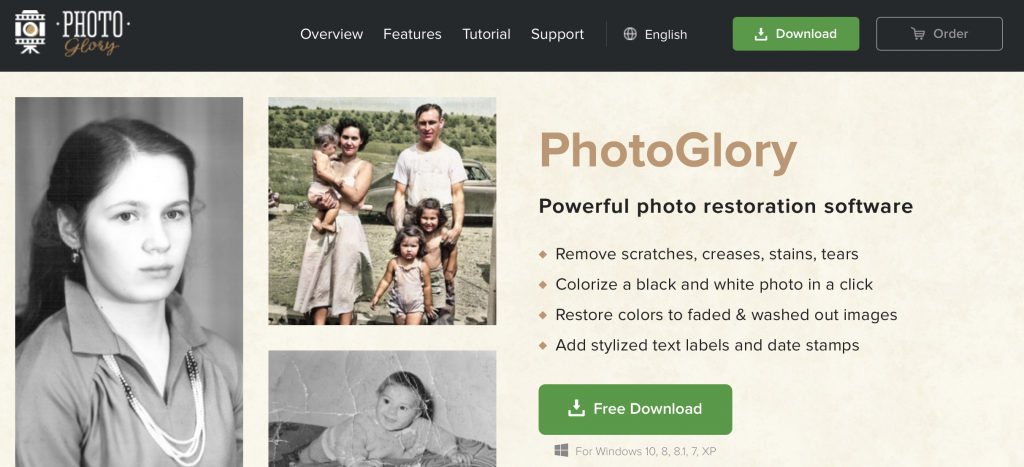 Photo Restoration Services
Photo Restoration Services is a business that offers restoration services. PRS can give your old photos a new lease of life. The services can repair scratched, stained, and torn photos. Faded photos can also be repaired and corrected back to their original state. If you have any damaged photos, Photo Restoration Services can help you reassemble and recreate any missing parts.
This service can also help you achieve black and white photo colorizing. It can restore the smile back in your old pictures. Photo Restoration Services can also upscale old photos up to 40x without losing quality. The cost of using this service starts at £10 per photo. The exact cost deon the quality, size, and extent of damage.
The Argus, Royal Air Force, DRFC, Lad Bible are some popular brands using this service to transform old photos for social and print media.
Features Of Photo Restoration Services
Lets you add color to black and white photos
Add cartoon effects to your transformed photos
Easily remove noise and fix underexposed photos
Lets you sharpen lines and deblur photos
Click here to view Photo Restoration Services

Wondershare Fotophire
Wondershare Fotophire is an AI photo restoration software that removes unwanted objects, watermark, or age scratches in seconds. You can use this tool to eliminate errors on old or damaged photos. You can also transform torn photos back to their original state.
The first step is to import the old photos and mark the unwanted details you want to eliminate. Then, click erase and wait a few seconds for the software to remove the unwanted objects. The photo background is not impacted, but you can use a small brush or the clone stamp to do touch-ups to your old photos.
Wondershare Fotophire uses AI to analyze the old photos surroundings to detect areas that need improvement. It then fills the affected parts with matched textures. Restoring old photos starts at $39.99.
Wondershare Fotophire Features
Lets you upscale old photos up to 40x with more added details
Suitable for both experts and beginners
Helps you make photos clearer by removing out of focus blur and motion blur
Can eliminate background, luminance blur, and chroma
Click here to view Wondersharer Fotophire

What photo restoration software have you tried out? Comment down below and let everyone know what has worked well for you.