In this guide we go over the best DAW for new and experience music producers. Your Digital Audio Workstation is your music production home where you make beats, produce tracks, and mix songs. You can also use it to produce podcasts.
We'll show you:
the best free and paid DAW software on the market
Which tools match best with your type of music
How to buy and get started with the best DAW software
If you use any of these tools or other digital audio workstations, comment down below at the bottom of this guide.
BONUS: Promote your music on social media using a tool like PromoRepublic!
The Best DAW Software
Don't have time to read? Use the links below to check out the best DAW software today.
Next, we take a look at each of these software packages in more detail.
#1. Reason
Reason is a powerful DAW software for musicians, soundtrack editors, music producers and directors. This software helps users to nail music ideas as they strike. Reason's professional production tools and intuitive music making gadgets will get you started in less time.
Priced at $399 ($19.99/month), Reason is equipped with a range of plugins. With its modular nature, you can route anything to anywhere, just like CV, MIDI, and gate. Thus, this makes it great for sound design.
You can use Reason to easily record, arrange, and edit your songs. To start making music, all you need to do is to connect your MIDI controller, and you're good to go. If your music is too tight, you can leverage the ReGroove Groove Mixer to balance things.
Reason Features
Perfect for creative sound design and a virtual modular environment
Has an Intuitive interface
Rack Extensions that integrate native into Reason
Interactive artist lessons for guitar and piano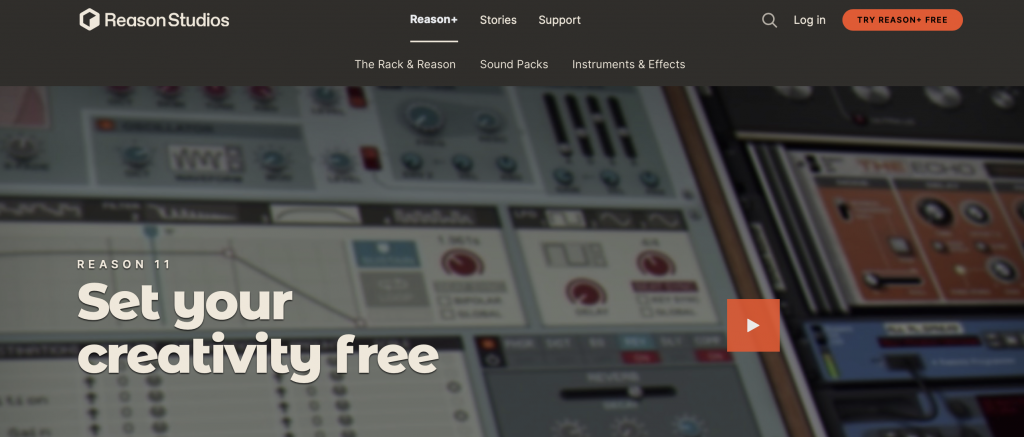 #2. FL Studio
Designed and developed by Image-Line, FL Studio is one of the best DAW for Windows and Mac. It comes with a wide range of synths and options for musicians, soundtrack editors, and producers to play around with.
When it comes to sequencing drums, FL Studio is very outstanding thanks to the step sequencer in the channel rack. With this feature, you can lay down some simple drums and make micro adjustments easily.
FL Studio is one of the best DAW software because is user-friendly. It is designed with adaptability and customization in mind. Whether you want to record, mix, or edit your songs, you can do that with the touch of a button.
The price tag of FL Studio is $99 (Fruity), $199 (Producer), $299 (Signature), or $899 (All Plugins). Some of the artists advertised on the website are Porter Robinson, Madeon, Martin Garrix, and Metro Boomin.
FL Studio Features
Capable of handling complex audio routing and track organization
Step Sequencer for fast drum programming
Flexible audio recording and editing with Edison
Good templates and example projects included

#3. Logic Pro
Logic Pro is one of the best DAWs on the market and it is developed by Apple. Logic Pro that lets you produce high-quality music with the touch of a button. Since inception, it has gained the attention of electronic music producers due to its highly intuitive interface and preset-heavy library. It is perfect for electronic music producers and musicians.
Logic Pro makes instrument recording and editing vocals a breeze. It supports two major extra plugins – Sampler and Quick Sampler. These plugins let you extend its functionality by creating and editing sampler instruments.
The price point for Logic Pro stands at $199 for the current version.
Logic Pro Features
Amazing built-in synths like Harmor for Additive/FM Synthesis
Equipped with Space Designer
Supports EXS24 sampler for great music production
Has a built-in MIDI chord analyzer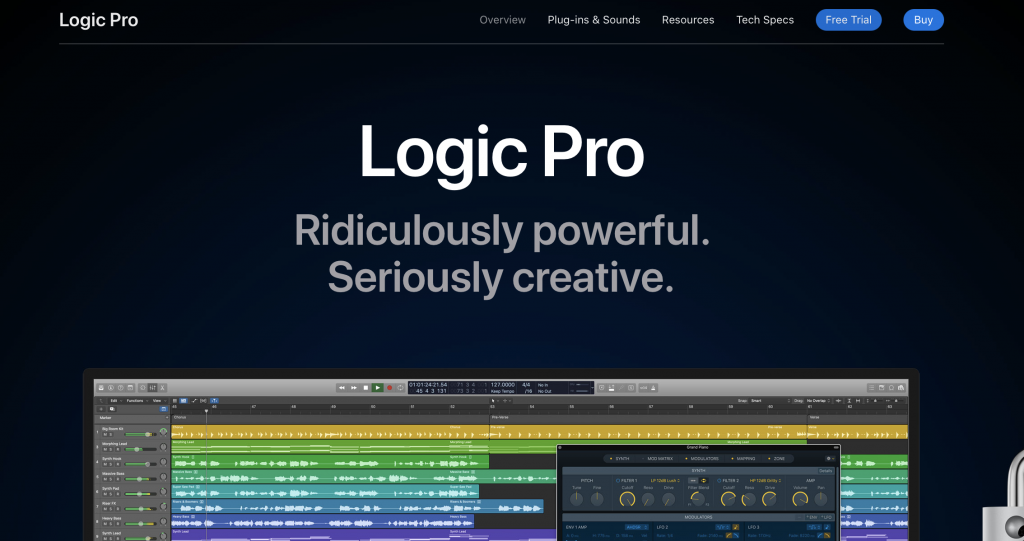 #4. Reaper
Reaper has most of the features of the other best DAWs in this list. However, it is one of the most inexpensive DAWs on the market. Reaper supports tracks, audio processing, MIDI, and plugin support. With as little as $60, you can get this software to record, edit, and mix your songs.
This tool is perfect for musicians, soundtrack editors, and composers. If you care about straightforward usability and simple layouts, you won't go wrong with Reaper.
Reaper is also suitable for simple recording. You can lay down your track in layers and use Reaper to align things easily.
Reaper Features
Uses remote collaboration technology
Has Audio and MIDI in same track
Equipped with 30 Modulators
Live performance and arrangement in the same view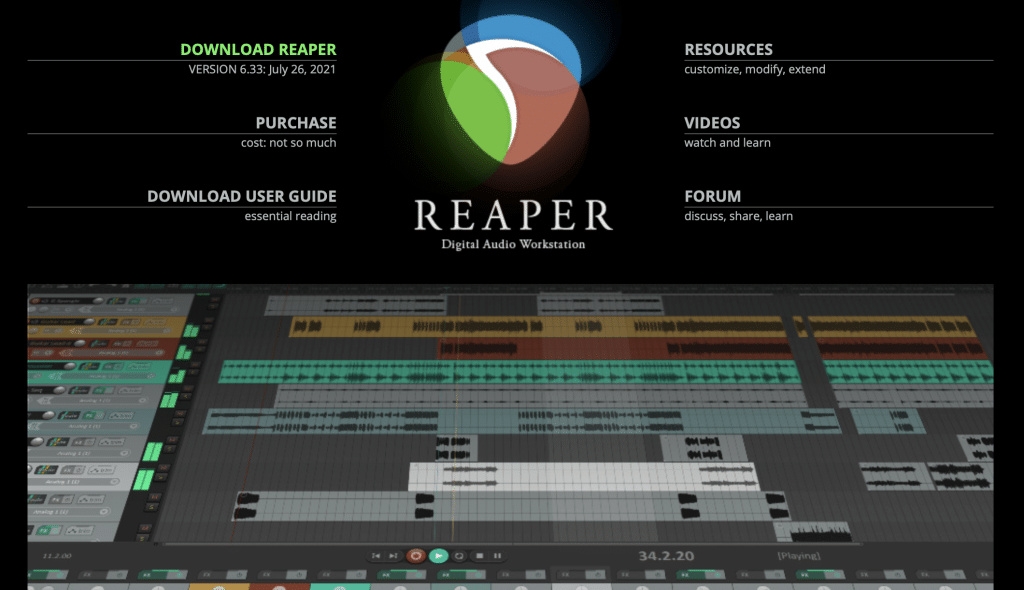 #5. Cakewalk by Bandlab
Cakewalk is the best DAW software for modern recording studios. It is the first DAW software to offer a 64-bit Mix Engine. This engine delivers accurate, dynamic, and clean mixes every time. It comes with a complete music production package. Plus, Cakewalk is equipped with an interface that amplifies inspiration and effortless workflow.
With Cakewalk, you can compose, record, and edit your mistakes in real-time. You can also manipulate pitch and other aspects of your music recordings. This free DAW is best suited for electronic music producers and artists. Users can use Cakewalk to achieve pristine pro-studio sounds.
Whether you want to track, master, or mix with FX ranging, Cakewalk by Bandlab has got you covered. Plus, did we mention that Cakewalk is free?
Cakewalk by Bandlab Features
Supports 64-bit Mix Engine
Compatible with touch devices to add workflow-enhancing efficiency.
Supports VST3 format for Windows machines.
Click here to view Cakewalk by Bandlab

#6. Tracktion Waveform
Tracktion Waveform is one of the best digital audio workstations on the market. It is best suited for Experimental, EDM, Hip Hop, songwriter, band recording. It comes with a wide range of content resources and FX plugins for your creative workflow.
Users can use this DAW software to mix, record, and share their songs to social media platforms like Facebook, SoundCloud, and YouTube quickly. Tracktion Waveform is designed to emulate analog consoles. Plus, it is equipped with an expandable library of ProChannel modules, including powerful EQ, dynamic compression, and resonant filtering.
The pricing is divided into 3 tiers for you to choose from – Basic ($119), Standard ($259), and Extreme ($1,069). Waveform has a user-friendly interface that a lot of beginners will find useful.
Tracktion Waveform Features
Has up to 128 audio tracks, 1,024 MIDI tracks, and 512 instrument tracks.
Integrated hardware setups and surfaces are available
Timing and pitch correction software built-in
Has high-quality plugins.
Click here to view Tracktion Waveform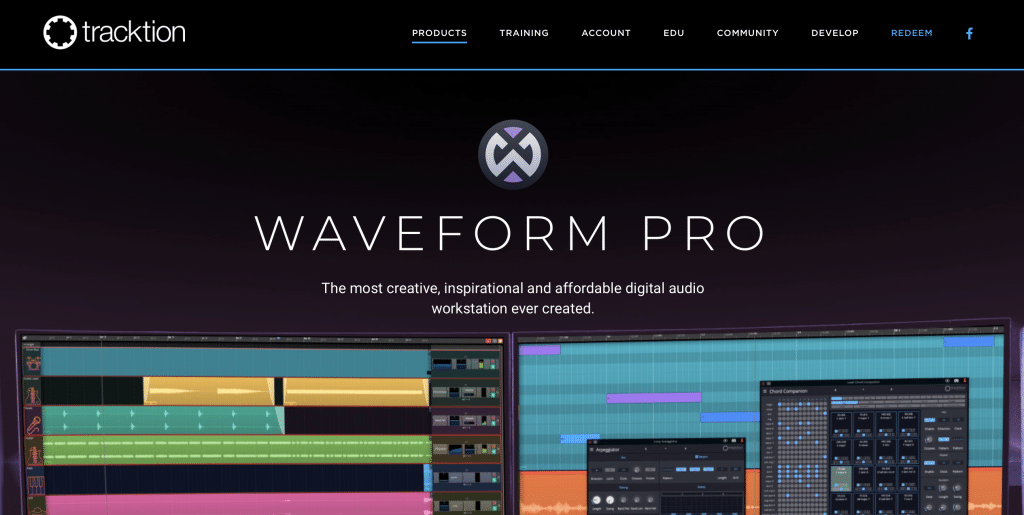 #7. Ardour
Ardour is an open source DAW software. It lets you record, edit, and mix on Windows, macOS, and Linux. Ardour is perfect for Audio Engineers, musicians, soundtrack editors, and composers. It has a nice audio interface where you can plug in a keyboard or microphone to start recording. You can import MIDI or audio files from your hard drive onto the software.
Sound editors can cut, move, copy, and paste to achieve high-quality music production. Ardour also has unlimited redo/undo in the same window.
While mixing, you can include all the buzzwords like isolate, sync, and EQ. Additionally, Ardour comes with lots of plugins, including LADSPA, LinusVST, and LV2.
Ardour Features
MPE support (for keyboards like the Roli Seaboard)
Has a colorized menu
Equipped with virtual reality production tools
Has a wide range of plugins.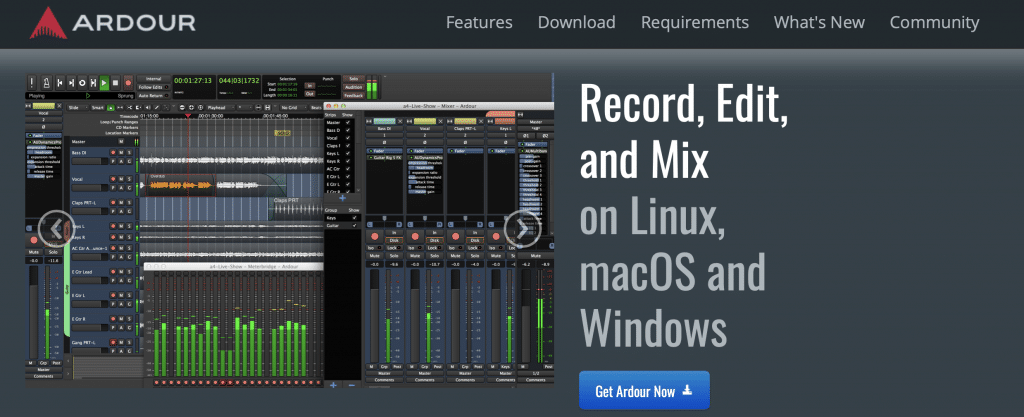 #8. Audacity
Audacity is a free and open source DAW software for music producers, artists, and sound engineers. Developed by a group of volunteers, it works with macOS, Windows, or Linux. Audacity lets you record live audio via a mixer or microphone. It also enables musicians to digitize recordings from other media.
Users can export their recordings in different formats at once. The sound quality is top-notch, as it supports 16-bit, 24-bit and 32-bit. With Audacity, formats and sample rates are converted using dithering and high-quality resampling.
Audacity has a range of plug-ins and options, including LV2, LADSPA, and VST. It also supports Nyquist and audio unit effects plug-ins.
Audacity Features
Comes with a large range of keyboard shortcuts.
Easy editing with Cut, Copy, Paste and Delete.
Supports LADSPA, LV2, Nyquist, VST and Audio Unit effect plug-ins
Users can easily import, edit, and combine sound files.
#9. Studio One
Studio One is one of the best DAW software that offers a decent option for free. Studio One is the only digital audio workstation with Harmonic Editing. It is best for electronic musicians, DJs, and sound engineers.
This DAW software offers Chord Track so that songwriters can easily create and change chord progressions. Studio One lets you record, compose, and produce songs all in one dashboard. It provides integrated tools that beginners can use to kick-start their careers from initial inspiration to mastered production.
Studio One supports drag and drop workflow. You can convert audio to MIDI and vice versa using the drag and drop option.
Studio One has both free and professional versions. The professional version costs $159.99 (Artist) and $599.99 (Professional).
Studio One Features
Comes with an automatic chord detection
Has metadata editing tools
Has Multi-touch display support
Simple interface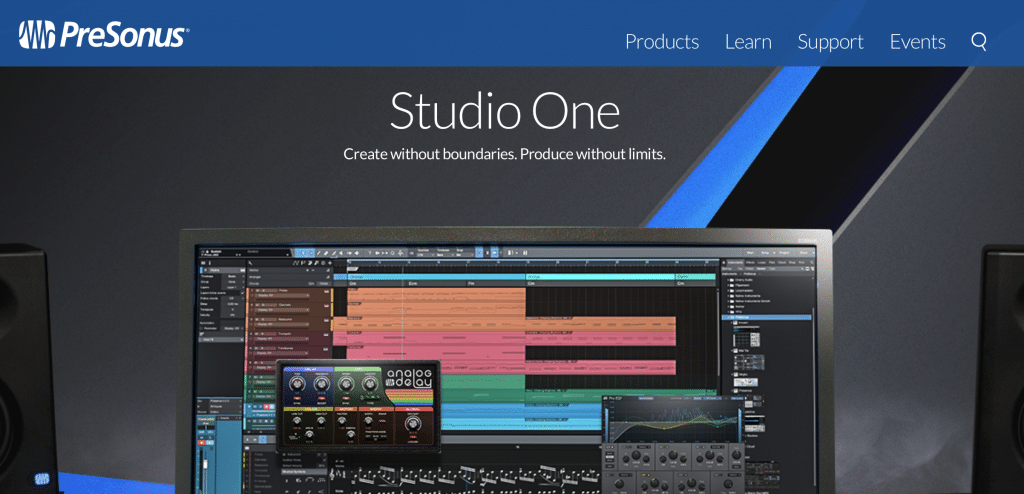 #10. Ableton Live
Ableton Live was designed and developed with live performance and music production in mind. It doesn't have as many bloated features as other DAWs do. Workflow and simplicity are core factors to Able Live's design. It is best for music writers, producers, and sound engineers.
With Ableton Live, it's easy to access sound effects and instruments in the same interface. It helps with the technical side of music production so that you concentrate on making music. The pricing is divided into 3 categories – intro ($99), Standard ($449), and Suite (749). Depending on your level of expertise in music production, choose the pricing tier that you're comfortable with.
Some of the artists that promote Ableton are Skrillex, Diplo, Flume., Deadmau5 and Netsky.
Ableton Live Features
Has useful built-in effects like Echo, EQ Eight, Reverb etc.
A simple interface
Supports creative MIDI Effects for note manipulation
Supports session View for Live Performance and Clip Improvisation
Click here to view Ableton Live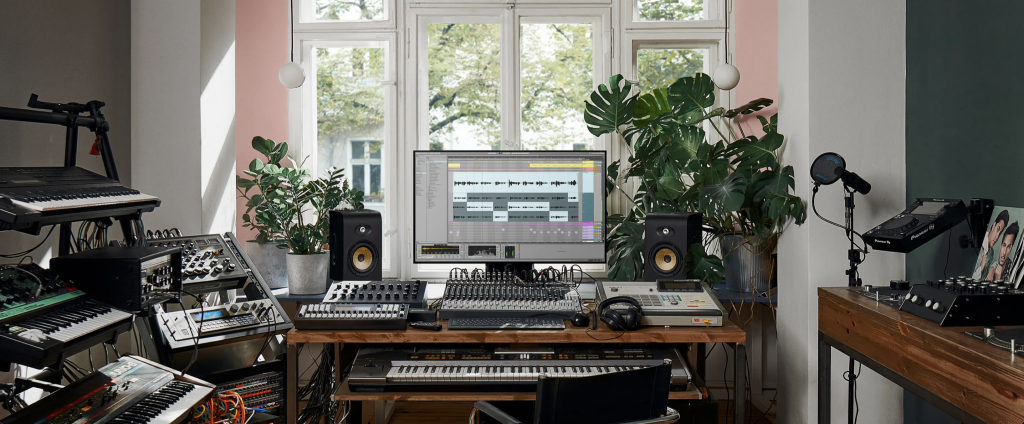 Want to see more information about the best DAW software?? Check out this guide video below.
What is the best DAW on the market for you? If you use any of the options above, comment down below and let us know what you prefer.