In this guide, I will completely review Shakespeare AI in detail, a newer AI content writing platform for full blog posts, ads, emails, and other copy.
I'll go through key features you should know about and list out all of the templates you can use. At the bottom, I'll generate a short output can a full blog post and run them through an AI content detector to see if Shakespeare AI can really write unique content or not.
If you want to try out Shakespeare yourself, use the button below.
Shakespeare AI Overview
Shakespeare is an AI copywriting tool capable of generating almost any type of copy that you need to improve your professional and personal life. It has convenient templates for different things like sales letters, social media content, essays, emails, Amazon product descriptions, or ad copy. Shakespeare AI will give a human voice to your copy at the speed of a machine.
This tool best suits digital marketers, writers, students, entrepreneurs, content creators, and SEO agencies. It joins the wave of other AI content writers which have become popular over the past year with ChatGPT's release.
Shakespeare AI can generate world-class content in over 100 languages, including French, Spanish, German, and English. The Shakespeare AI team is working on adding more languages soon.
Shakespeare's paid subscriptions let you invite up to 5 members of your team also to enjoy all the features that Shakespeare offers.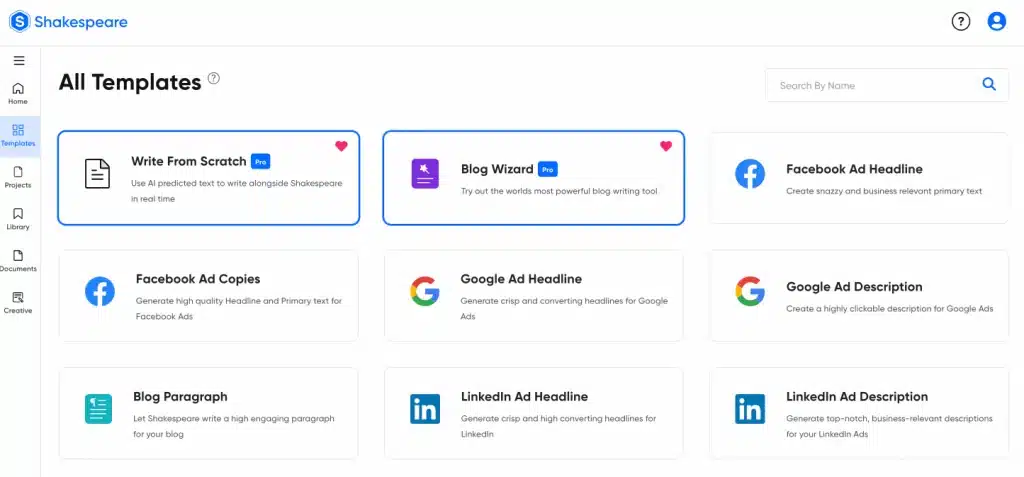 Key Features of Shakespeare AI
Create Custom Ads
Shakespeare AI can create custom ads for your social media marketing campaigns. The ads are naturally awesome, and the tool advertises that users will never know AI writes them.
Shakespeare AI can generate Facebook ads, Instagram ads, Google ads, LinkedIn ads, Twitter ads, and Pinterest ads. The ads are high-converting and will help drive traffic to your business.
Draft the Perfect Emails
Shakespeare AI can draft a perfect email that fits your brand voice without sacrificing style or sounding like a machine. Shakespeare AI can create full email campaigns in minutes so you can concentrate on other vital segments of your business. This tool can write many emails, including nurture sequences, sales and launches, lifecycle sequences, events and webinars, follow-up emails, and outboard emails.
Create Full Blog Posts
If you want to create an entire blog post to target a specific audience, you can leave the heavy lifting to Shakespeare AI. This tool can generate short and long-form content with just a few clicks. The copy generated is plagiarism-free and will fit your brand voice perfectly.
Optimize Content for SEO
The content generated by Shakespeare AI is already optimized for search engines. It puts keywords where they are supposed to be for your content to rank. Shakespeare AI can do SEO optimization for web copy, sales pages, blogs, and product descriptions.
No Experience Needed
You don't have to be a coding guru or a talented copywriter to use Shakespeare AI. All you need is to enter a few words into the right places, and you get professional-sounding content for your business needs.
Interface and Design
Shakespeare AI has a user-friendly interface. There are no complex forms to fill out, and the website is laid out so you can easily navigate from the homepage to the template tab. Shakespeare AI is optimized for mobile devices.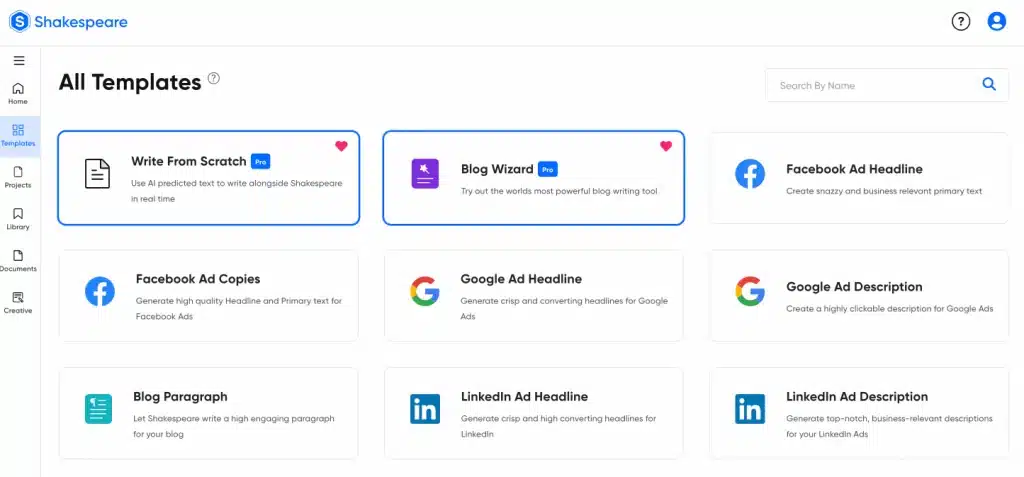 Ease of Use
Shakespeare AI ranks very high in terms of ease of use. Once you launch the tool, even a non-technical person can use the tool intuitively with minimum support. In fact, Shakespeare AI is designed for all ages, and the content generation process is straightforward.
Variety of AI Content
Shakespeare AI supports the generation of a wide range of AI content. It can generate social media content, emails, sales letters, essays, Amazon product descriptions, ad copy, and more. Plus, over 40 copywriting templates suit any content you have in mind.
Shakespeare AI Pricing
Shakespeare AI has three pricing tiers: Free, Standard, and Pro plans.
Free Plan – $0
This is a free trial plan. You don't get to pay anything to test-drive Shakespeare AI.
This Plan comes with 10,000 free words, world-class customer service, a vast template library, and a 5-day free trial.
Standard Plan – $49/month
The Standard Plan has all the features of the free Plan plus 40+ copywriting templates, team functionality, target user personas, writing in 100+ languages, and priority support.
For $49, you get 45,000 words.
Pro Plan – $59/month
The Pro plan has all the features of the Standard Plan plus access to Shakespeare's Blog Wizard, premium technical support, onboarding and training sessions, AI predictive text, and 60,000 words per month. The Pro plan also features expanded content creation tools.
How to Use Shakespeare AI
Here is a step-by-step guide on how to use Shakespeare AI after logging in.
Login to Your Account
The first step is to visit the Shakespeare AI official website – https://shakespeare.ai/ using your preferred browser.
Select Your Template
Once the tool launches, selecting an appropriate template is next. Shakespeare AI has a long list of templates, including blog wizard, write from scratch, Facebook ad headlines, Facebook ad copy, Google ads, and blog paragraphs. Choose a template that matches the copy you have in mind.
Generate Your Document
The next step is to give a name to the untitled document that will come up. Then enter the title and content description/brief of the copy you want Shakespeare AI to generate.
Configure Your Output
Select the output tone from the drop-down. The list contains a friendly tone, happy, sad, excited, witty, relaxed, professional, bold, persuasive, and serious tone.
Then, enter the keyword you have in mind in the space provided for the keyword and select the output length. Shakespeare AI supports up to three output lengths: short, medium, and long.
Generate AI Content
Review from step one to step four to ensure everything is in order, and click on the "Generate" button. Wait for a few seconds for Shakespeare AI to generate the post. If you like what was generated, you can quickly copy and paste it into your CMS or document.
Shakespeare AI Short Output Test
To test the effectiveness of Shakespeare AI, I wanted to see how detailed it could create an article for me and whether or not it could pass an AI originality test. The test would analyze the output and tell me if it thought it was written by human output or artificial intelligence.
I launched Shakespeare, clicked on the template tab, and selected "write from scratch." I named the document and entered the prompt, 'How to Make Chicken Pad Thai, ' in the title field. Pad Thai is a popular Asian food dish, and I wanted to see if Shakespeare could write commentary on the dish, list ingredients, and give accurate instructions on how to make the dish.
I selected "friendly" in the output tone and "short" in the output length and entered "Make Chicken Pad Thai" as the focus keyword. I then clicked on "Generate" to generate the copy.
Here's the copy I got as my output:
This recipe is a must-try if you're in the mood for some Pad Thai. It's simple to make and only takes about 30 minutes. The main ingredients are chicken, rice noodles, and Thai pepper paste.
First, heat some oil in a large skillet over medium heat. Once hot, add the chicken and cook until browned. Then, add the rice noodles and cook until they are soft. Finally, add the Thai pepper paste and cook for another minute. Serve warm, and enjoy!
The short output needed to include more details in the blog post. It got caught in limbo about providing complete instructions or just a summary.
I pasted the output content in this AI content detector, which told me that it thought the output was 5% human-generated and 95% AI generated!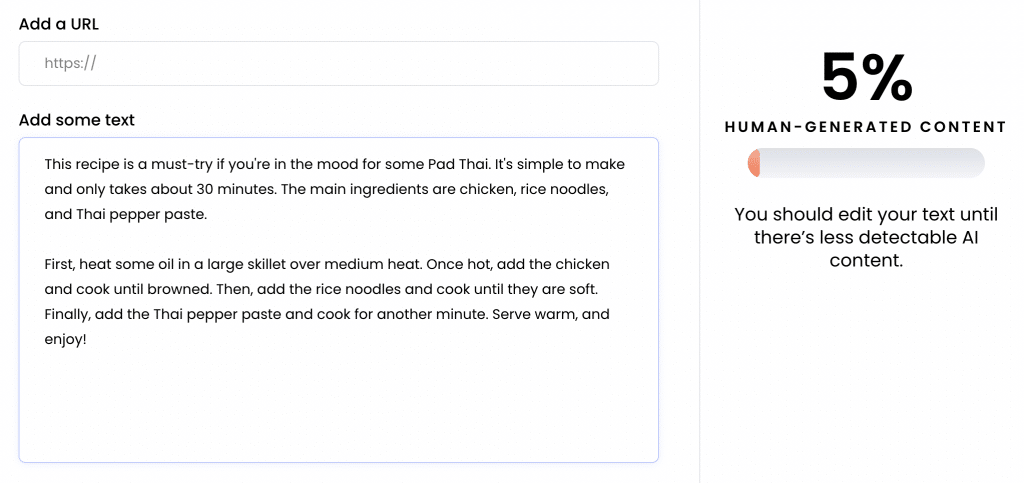 Shakespeare AI Long Output Test
To really put Shakespeare to the test, I reloaded my test by creating an entire blog post in Shakespeare. When you do this process, Shakespeare will generate a list of titles for your article, an outline for you to approve, and then write each section individually.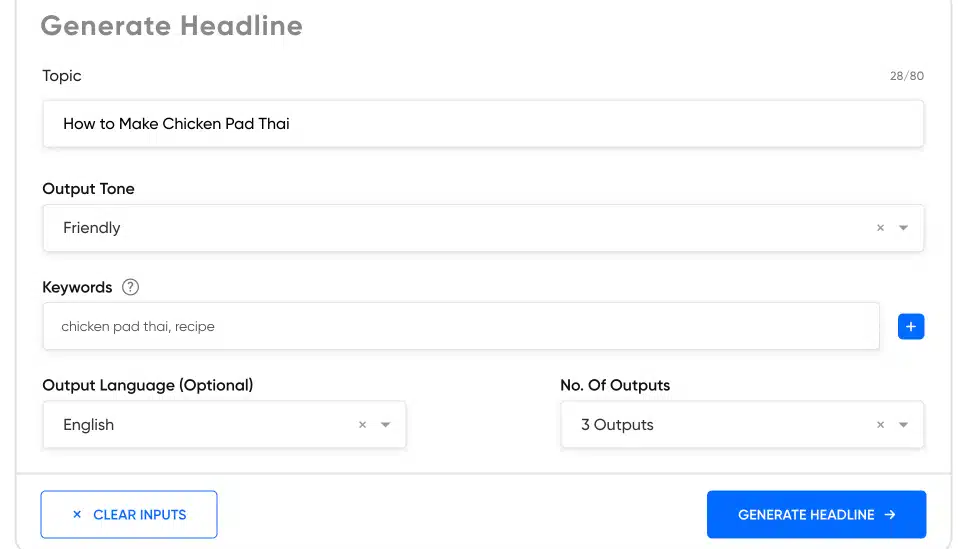 To start, I fed in my focus keyword of "make chicken pad thai" and let Shakespeare give me back some article titles. As you can see below, it didn't do great at generating titles that had correct grammar!
After fixing the title, the tool generated an article outline. It did pretty well here, capturing an outline that was close to what I would come up with on my own.
Here is the final output:
A Step-by-Step Guide to Making Chicken Pad Thai
Looking for a delicious and easy-to-follow chicken pad thai recipe? You've come to the right place! This guide will show you how to make a mouth-watering dish of chicken pad thai in just a few simple steps.
Pad thai is a popular Thai noodle dish that is typically made with rice noodles, meat or seafood, vegetables, and a Tamarind-based sauce. It is a relatively simple dish to make and can be easily customized to your own taste.
This chicken pad thai recipe is a perfect weeknight meal; it is quick and easy to make and can be on the table in under 30 minutes. Plus, it is packed with flavor and can be easily customized to your liking. So what are you waiting for? Let's get cooking!
1. What is pad thai?
Pad Thai is a dish that originates from Thailand and is typically made with rice noodles, chicken, shrimp, and various vegetables. The dish is often served with a lime wedge and peanuts. When made correctly, Pad Thai is a balance of sweet, sour, and salty flavors.
Pad Thai can be made with either dried rice noodles or fresh rice noodles. If using dried noodles, it is important to soak them in hot water for at least 30 minutes before cooking. The noodles should be cooked until they are soft, but still have a bit of bite to them.
When it comes to the protein, chicken is the most popular option for Pad Thai. However, shrimp or tofu are also commonly used. The protein is typically stir-fried with the noodles and vegetables.
The vegetables in Pad Thai can vary, but the most common ones used arebean sprouts, carrots, and onions. Other common vegetables include broccoli, cabbage, and chives.
Pad Thai is typically garnished with chopped peanuts, lime wedges, and cilantro. It can also be served with a side of chili flakes for those who like a little bit of spice in their dish.
2. Classic pad thai ingredients
Chicken pad thai is a Thai stir-fry dish that typically includes rice noodles, chicken, a tamarind-based sauce, fish sauce, garlic, vegetables, and eggs. It is often garnished with peanuts, cilantro, and lime.
3. How to make pad thai
Chicken pad thai is a delicious, easy-to-make dish that is perfect for a quick meal. The key to making a good pad thai is to use fresh ingredients and to cook the noodles just until they are tender. This recipe calls for chicken, but you can also use shrimp, tofu, or even a combination of meats. The vegetables can be changed to whatever you have on hand, but the traditional vegetables used in pad thai are bean sprouts, carrots, and onions.
To make the pad thai sauce, you will need:
1/4 cup tamarind paste
1/4 cup fish sauce
1/4 cup brown sugar
3 tablespoons vegetable oil
1 teaspoon chili flakes
Pad thai noodles
1/2 pound chicken, shrimp, tofu, or a combination
1/2 cup chopped onion
1/2 cup chopped carrot
1/4 cup chopped scallion
1/4 cup chopped cilantro
3 tablespoons vegetable oil
2 tablespoons lime juice
1 tablespoon fish sauce
1/4 cup roasted peanuts
Garnish
Bean sprouts
4. Tips for perfect pad thai
For the perfect chicken pad thai, start with a recipe that includes all of the classic ingredients: rice noodles, chicken, eggs, bean sprouts, cilantro, garlic, lime, fish sauce, and brown sugar. Then, follow these tips:
Soak the rice noodles in hot water for 10 minutes before cooking. This will help them to cook evenly and prevent sticking.
When stir-frying the chicken and noodles, use a high heat to get a good sear on the chicken and to prevent the noodles from sticking together.
Be generous with the fish sauce, lime juice, and brown sugar – these are the key flavors of pad thai.
Don't skimp on the bean sprouts and cilantro – they add essential texture and freshness to the dish.
Serve immediately, while the noodles are still nice and fresh.
Thanks for reading our guide to making chicken pad thai! We hope you found it helpful and enjoy making this delicious dish at home.
AI Content Detector
As you can see, Shakespeare generated 700 words of content that were fairly well-detailed. As a final test, I pasted the output back into my AI content detector:
19% human content detected.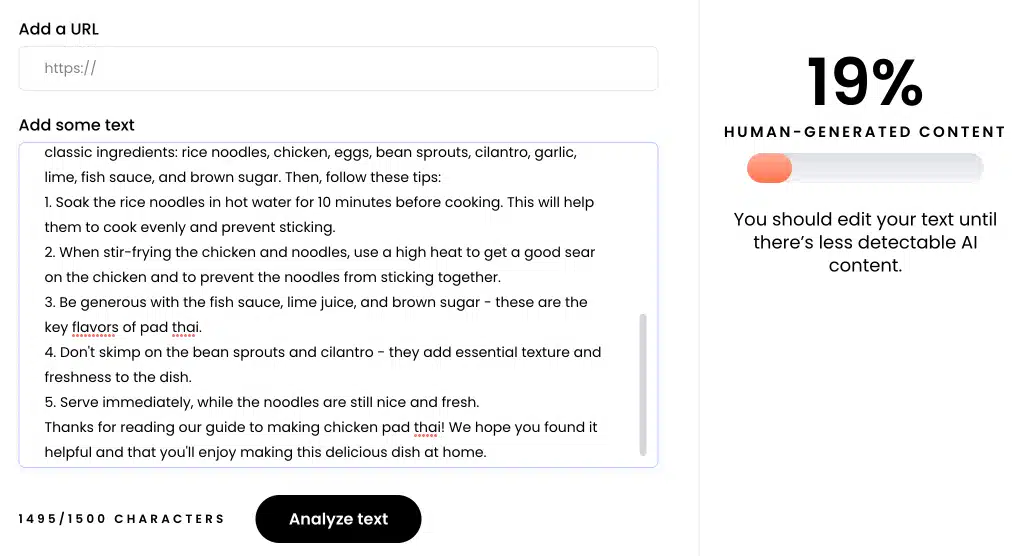 Shakespeare isn't quite at the quality I've found in other tools. It needs more work on its natural language processing and generating content that requires less editing and overhaul before you place it onto the internet.
What I Like About Shakespeare AI
There are a few things I like about Shakespeare AI. First, I like that the tool generates human-like posts in various languages. I see a few uses where you could use the tool to translate content on your behalf.
Secondly, I like the built-in templates within the tool. Shakespeare AI has a template that matches whatever content you have in mind, such as Google or Facebook ads, blog posts, and more. It can be confusing knowing which template you should pick, and also, some templates are very similar to each other, but Shakespeare does a decent job explaining.
I also like that you can use Shakespeare AI to generate short and long-form content. Creating long-form content is straightforward, and the software walks you through each step.
What I Don't Like About Shakespeare AI
Shakespeare needs more polish before it can compete with some of the more popular options on the internet. Some of the titles and outlines it generated for me had glaring grammar errors, which you don't see in other software tools.
As it is, the content generated currently doesn't pass the AI content detector. This means you must heavily edit your document before it is good enough to post on the internet. A lot of the time savings go away if you can't trust the output that an AI content writer makes.
The one other thing I don't like about Shakespeare AI is that it is pricey. To get full blog generation, you have to pay $59 per month for 60,000 words ($0.001 per word). One of its competitors, Writesonic, offers almost 400,000 words for the same price ($0.00016 per word). Shakespeare is the same price as Jasper AI, which offers 50,000 words for $50 ($0.001 per word) and has a more polished interface and integration with Surfer SEO.
Conclusion
Overall, Shakespeare has several nice tools in its portfolio. It can generate writing for short and long-form articles and high-quality ideas for ads and copy. The full blog that it generated for me kept a consistent theme throughout it.
The software needs a little polishing. Some of the outputs have grammar and other errors, which you don't expect to see. The tool does not pass the AI content detector test either, which it needs to do before it can be used reliably instead of actual human writers.
The price is too high compared to other alternatives in this space. I'd like to see where the Shakespeare team goes from here to capture some market share in the highly competitive AI content writing niche.