AI animation software helps you animate cartoons, videos, and presentations faster than ever before. In this guide, we take a look at our favorite tools to use!
Specifically, we'll go over:
What features all great animation software tools have
The best tools for entrepreneurs, marketers, and businesses
How to download and start using each software today
If you use any other AI animation software or have any tips for other users, comment down at the bottom of this guide!
The Best AI Animation Software
In a rush? Here is the top animation software for those looking to save time and create content faster.
Key Features in the Best AI Animation Software
Saves you time and money
The days of spending countless hours in front of your computer trying to create animated videos to promote your products or services is over. The best AI animation software can save you time and money so that you concentrate on things that matter.
Allows you to share animated videos on social media
Unlike other animated video makers, the best AI animation software lets you automatically share and publish your animated videos on social media platforms.
Create stunning animated videos for brands
With a click of a button, the best AI animation software lets you create stunning and eye-popping animated videos in seconds for your brand.
Next, we take a look at our favorite AI animation software in more detail.
Animaker Review
Animaker is AI animation software for beginners, non-designers and professionals who want to create eye-popping animation videos in seconds. This software leverages AI to enable users create live-action and animation videos for every moment of their brands. It also uses AI to resize videos for social media platforms.
Animaker has more than 1,000 templates for you to choose from. Regardless of the occasion, you can use Animaker to create videos in less than 5 minutes.
Nokia, HP, Philips, and Amazon are some top brands using Animaker to create stunning animated videos.
Animaker Features
Cloud-based animation and video maker for GIF, short video, and live video editing
Uses HTML and Adobe Flash
Can directly upload animated videos to platforms like Facebook and YouTube
Videos can also be downloaded as MP4 extension
Offers a Google Chrome extension
Has one of the largest collections of animated characters, properties, icons, charts, and maps
Vyond Review
Vyond is an animated video maker that lets you create eye-popping videos for all industries in job roles like eLearning, training, and marketing. It uses AI to enable businesses create professional animated videos for their social channels and websites.
It comes with a library of templates, props, and sounds to give your animated videos the touch they deserve. Vyond is perfect for achieving higher conversion rates for your sales and marketing team. With Vyond, you can transform generic content into dynamic results in seconds.
Additionally, Vyond is suitable for creating publicity campaigns and cartoons for television. It is also great for marketing initiatives.
Vyond Features
Supported on Mac, Windows, and Linux
Provides two versions with different attributes for a different set of people
Provides vector tweening and thus eliminates the need for manual tweening
Offers over 50 layers and filters to choose from to create artwork and animation
Provides advanced controls to work with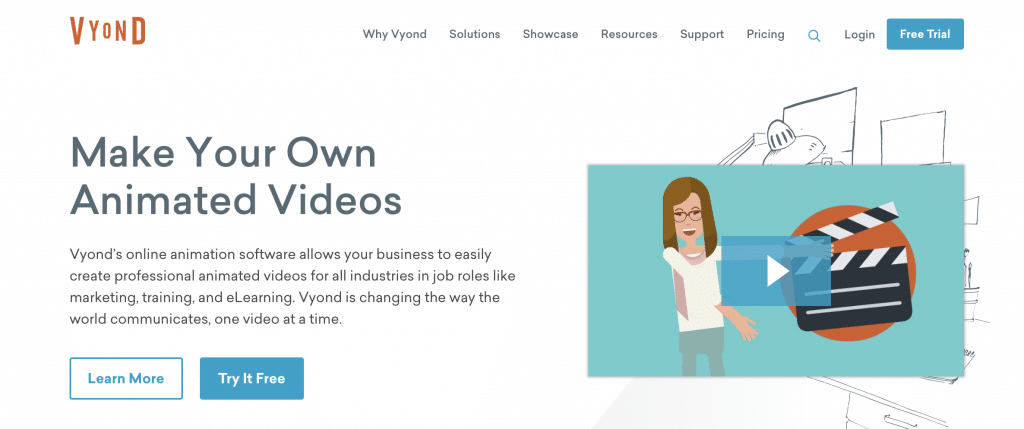 Renderforest Review
Renderforest is a powerful branding platform, animation and logo maker. This software is perfect for web designers and business owners who want to create stunning animated videos for their brands.
Renderforest uses AI to enable you to create graphics, logos, and mockups with minimal time and efforts. This AI animation software also lets you create professional intro and music visualization if you are not a design expert.
BOSE, BBC, Vodafone, and Cambridge University Press are top brands using Renderforest to create eye-popping animation videos for their brands.
Renderforest Features
Machine learning and AI deliver the best logo design options with just a few clicks
Has over 50,000 unique artwork files to choose from
Has 100+ pre-made mobile-friendly website design templates
Hundreds of animated video templates to suit your needs including slideshows, intros, explainer videos, logo reveals, corporate presentations, and animated infographics.
Click here to view Renderforest

Raw Shorts Review
Raw Shorts is an AI text to video maker and video editor. It lets businesses make animations, explainer videos, and promo videos for their social media platforms and websites. Raw Shorts uses AI to create a video draft within seconds. It saves you countless hours you would have spent creating videos for your brand.
Raw Shorts will scan your uploaded video script to determine your storyline. It then finds media assets that match your script and generate voice narration. You can then review the initial draft, make adjustments, and publish the animations.
If you are a developer or animation artist looking for a high level of customizability, then Raw Shorts is perfect for you.
Raw Shorts Features
Offers GTS scanning tool that you can use for sequence scanning
Comes with an impressive variety of animation effects, including changing picture styles, affected incident light, and more
Offers a wide range of keyboard shortcuts so that you don't have to use the mouse all the time
Compatible with four types of scanning (black and white, colored and with or without binarization)
Creates efficient and seamless cutout animation

Autodesk Maya Review
Autodesk Maya is a 3D computer animation and modeling software. It uses artificial intelligence to bring believable characters to life and also shape 3D objects with intuitive modeling tools.
If you are looking to create realistic effects from explosions to cloth simulation, Autodesk Maya has got you covered. This software is best for concept modeling and where 3D is needed.
Users can design toys, jewelry, and automobiles with Autodesk Maya. Many professionals use Maya daily to animate and create effects.
Autodesk Maya Features
Provides a real-time 3D image rendering workflow
Native support for over 30 3D-file formats
Includes more than 750 preset materials to help you differently style your videos
HDRI lighting enables you to adjust and light your scene as per your requirement
Supports real-time ray tracing.
Can provide still image animations, interactive web content, and mobile content
Click here to view Autodesk Maya

Reallusion Review
Reallusion is the world's best 3D motion platform. It is also an AI 3D animation software for independent contractors, freelancers, and businesses. Reallusion uses AI to let you unlock 2D character animation with 3D motion.
This tool is compatible with hand capture and other bodysuits for VR gamers. With Reallusion, facial animation is a breeze. Users can use this animation software to create films, documentaries, and much more.
Reallusion Features
Very flexible and comes with the power of a node-based visualization pipeline
Lets you create multiple combinations of your choice
Can combine flexible plugins to provide you with numerous solutions (robust, object-oriented plugin architecture)
Designed to provide motion-picture quality animation from the ground-up (render engines)
Modification of start of a workflow propagates to the end (intuitive)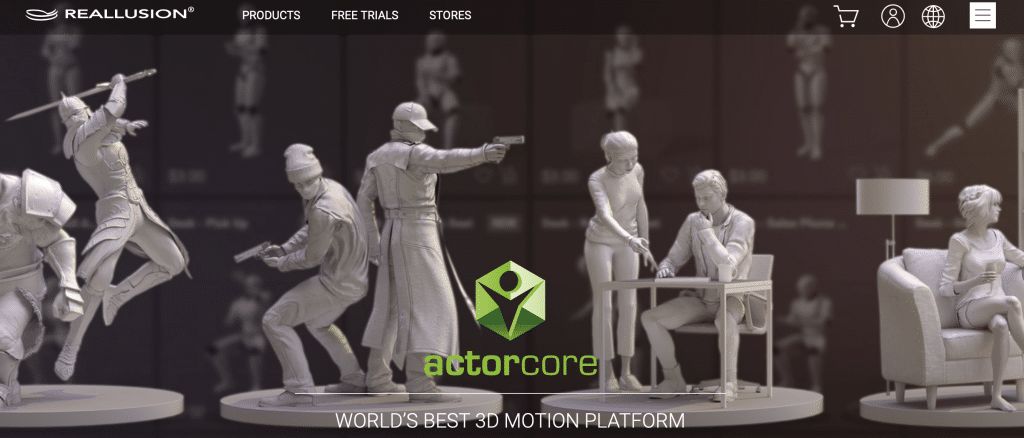 Video Scribe Review
Video Scribe is an AI animated video maker. Individuals and businesses can use this tool to create stunning animated videos for social media networks and for marketing purposes. Video Scribe uses AI to add animated images, music, and text to your videos in real-time.
You can also use Video Scribe to create awesome explainer videos, promo videos, and marketing videos. Video Scribe lets you create whiteboard animations and educational videos. Plus, you have access to editable templates and then choose one for your brand.
UNICEF, NHS, Taylors of Harrogate, and Stanford University choose Video Scribe to create stunning animated videos to market their products and services.
Video Scribe Features
Video Scribe has no watermarks
The animated videos are downloadable as mp4
You have complete control over the privacy of your account
Directly export to various social media sites like YouTube
Detailed videos walkthroughs and tutorials available to help you get started
Click here to view Video Scribe

Adobe Character Animator Review
Adobe Character Animator is one of the best AI animation software on the market. This tool lets you create animated videos using your movement and body gesture. It uses AI to import art from Adobe Illustrator or Photoshop and then convert the art into an animated character.
Adobe Character Animator is easy to use. You can live stream while you work just to wow your audience every step of the way. With your microphone and webcam handy, there is no limit to the number of animated videos you can create.
This tool can sync your lips and track your eyes, just to animate in real-time. It is perfect for web-designers, big studios, and individual animators.
Adobe Character Animator Features
Lets you create animated videos using your expression and movements.
Comes with customizable toolbar
Many alternative ways of flipping, like keys, wheel, return flip, and others
Offers smooth real-time rotation and zooming
Can play video scenes in sequence to check continuity
Click here to view Adobe Character Animator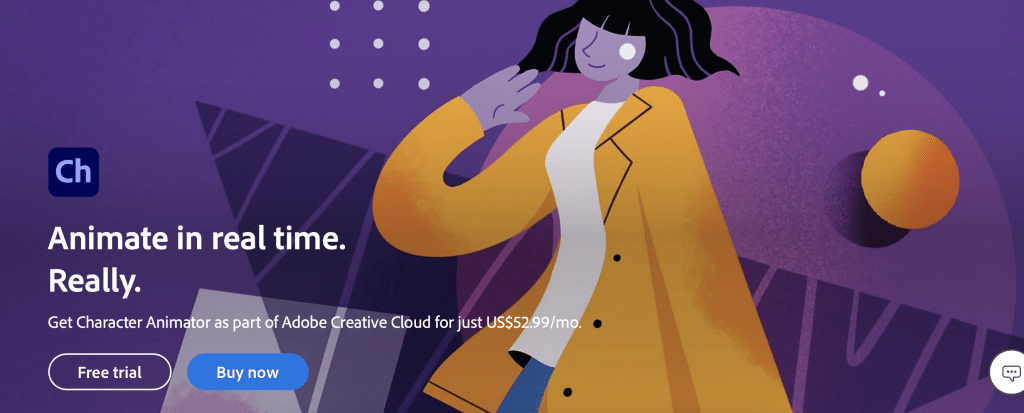 Blender Review
Blender is an AI animation software used by individuals and businesses to create 3D animation. It is suited for 3D printed models, cinematographic visual effects, and motion graphics. Blender supports all 3D activities, including rigging, rendering, and motion tracking. It also supports video editing and 2D animation pipeline.
Blender uses AI to enable you to create and transform your models with ease. While it is most suited in a professional setting, Blender is also useful for educational videos in smart classrooms. Plus, you can create games using Blender's game engine. It is compatible with Apple iPhone and Android devices.
Blender Features
Performs rendering and creates renders using high-end production path tracers
Offers an extensive tool set to perform activities like sculpting, retopology, and modeling
Robust simulation using industry-standard libraries like Bullet and MantaFlow
Offers efficient in-built video editor
Supports a wide range of geometric primitives like metaballs, icospheres, and Bezier curves

What AI animation software have you used in the past for your business? Comment below and let others know what smart tools are on the market!