Creating SMART goals can help you stay on task and accomplish more at work or in your personal life. Smart goal trackers are apps and software that use intelligence to keep you on track.
In this guide, we showcase some of the best smart goal tracker tools to try today. These are tools that:
Help you achieve your life goals.
Assist you in creating your own business
Help get you that raise at work
Keep your team focused on the end game
Which tools is the best for you? Comment down at the bottom of this guide and let us know.
The Best Smart Goal Tracker Tools
What are SMART Goals?
Smart is an acronym you will often see in the business world. It is an acronym to help you in setting goals that are attainable:
Specific
Measurable
Achievable
Realistic
Timely
Creating goals that fit the five words above will set you up for success in completing them.
Artificial Intelligence in Goal Trackers
Goal tracker software can help you stay on track and focused. They use artificial intelligence to simplify the most tedious parts of goal tracking:
Keeping track of deadlines and dates
Measuring your success and failure automatically telling you how to improve next time
Syncing your goals across your different devices
Keeping your team aligned towards the same goal without you having to manually bug them.
If you know of any other AI goal tracker tools, let us know what they are! Below, we break down each of our top tools above into more detail.
Goalscape Review – Best Business Motivation Tool
Goalscape is a business-focused goal tracking app. It uses the power of AI to break down complex challenges into something meaningful. It shows a clear picture of your goals, priorities, and progress in real-time.
Goalscape provides clarity and motivation to achieve your goals on time. It also provides the needed motivational energy to succeed. Goalscape enables users to share goals with ease. If your business has trouble setting goals, then Goalscape is worth looking at.
BMW, Toyota, Storck, and Matthews International use Goalscape to motivate their employees to achieve more.
Goalscape Features
Goalscape enables teams to break down big projects into smaller slices.
Allows team members to share their goals.
Helps businesses to follow-up meetings and other events, saving time and money.
Encourages people to be happy and productive.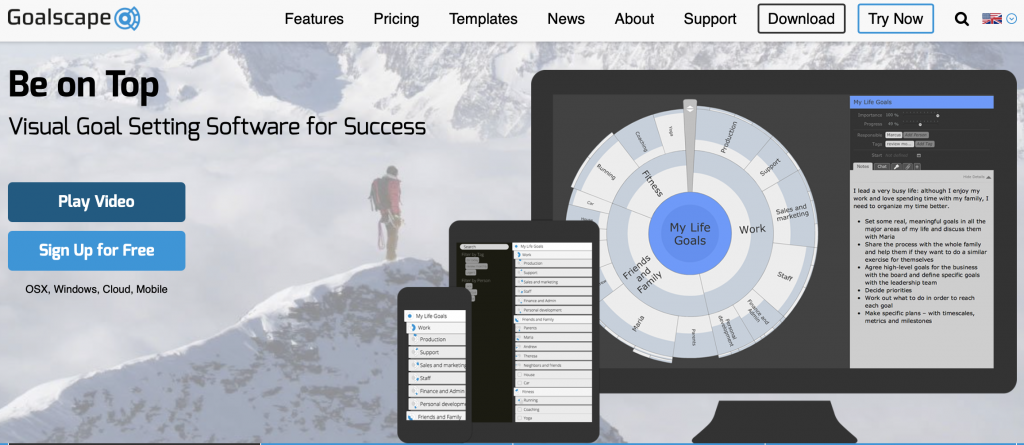 Goals Review – Best Life Goals Tool
Goals is a goal tracker designed to help you achieve your life goals. Goals helps you focus on your goals so that you can achieve maximum results. It has an online community where you can share your progress with your friends or family members.
Goals can help you build, nurture, and maintain good habits while keeping track of your progress. It can also help you plan your week by adding or removing tasks to your to-do list. You will receive regular progress reports via texts and emails to stay focused.
You can share files, schedule task, set reminders, publish articles, and message your team with Goals.
Goals is currently available on iOS and Android devices.
Goals Features
Highly intuitive templates that you can customize to help you reach your goals.
A mobile coach, so that you can keep tabs of your goals on the go.
Goals lets you build and maintain good habits.
Good at breaking down your daily or weekly activities.

DONE Review – Best Habit Tracker Tool
DONE is a great habit tracker for individuals. It lets you track both habits that you plan to quit and those that you want to build. Whether you want to eat less junk foods or you want more vegetables in your foods, DONE can get it done.
This habit tracker comes with a colorful interface that you can use to set and track your daily, weekly, and monthly goals. DONE can also help you track multiple goals in real-time.
As with other goal planning apps, DONE features a wide range of customization options. This lets you customize the tool to suit your individual goals. In fact, the paid version will let you export your habit data to other apps like Dropbox.
DONE Features
Helps you track daily, weekly, monthly, and yearly goals.
Track multiple habits and your progress on each.
Motivate you to quit bad habits or build new ones.
Displays your progress in a smart and interactive interface.

Ally Review – Best Business Goal Tracker
Ally is a business-focused goal setting software that focuses on objectives and key results (OKRs). While many companies struggle to adopt OKRs at different levels, Ally makes it a breeze. Ally comes with an intuitive interface, out of the box OKR templates, and in-app guided walk through. Your business can become instantly better in just 15 minutes.
Ally lets you create organizational alignment with bottom-up and top-down cascading, ensuring every member of the team works together to achieve a common goal. Ally keeps track of OKR performance and improves team communication.
This goal planner software tool integrates with a wide range of tools, including Slack to enable manual progress tracking.
Ally Features
Meets privacy and industry security standards. It also regularly audits third-party affiliations.
You can access Ally anywhere and anytime using your iOS or Android devices
Choose the check-in cadence that is right for your business.
Multiple deployment options.
You can add private OKRs to manage sensitive business objectives.

Monday Review – Best AI Goal Tracker Tool
Monday is a business-focused goal tracking tool that uses artificial intelligence to manage everything in the workplace. With Monday, you can plan and deliver your business' best work within minutes. You can also use Monday to track progress while delivering a job.
Monday integrates with existing tools with a few clicks, including Microsoft Teams, Outlook, Dropbox, and Slack. It also integrates with Zoom, Google Calendar, Google Drive, Excel, Gmail, LinkedIn, OneDrive, and Zapier.
You can set up Monday in minutes with hundreds of customizable templates. More than 100,000 teams and brands use Monday to get work done, including Hulu, BBC Studios, and Universal.
Monday Features
Iintegrates with many tools to make life easy for you.
Helps you track your progress as you serve your clients.
Automate repetitive work tasks to avoid human errors.
The set up process is simple and straightforward.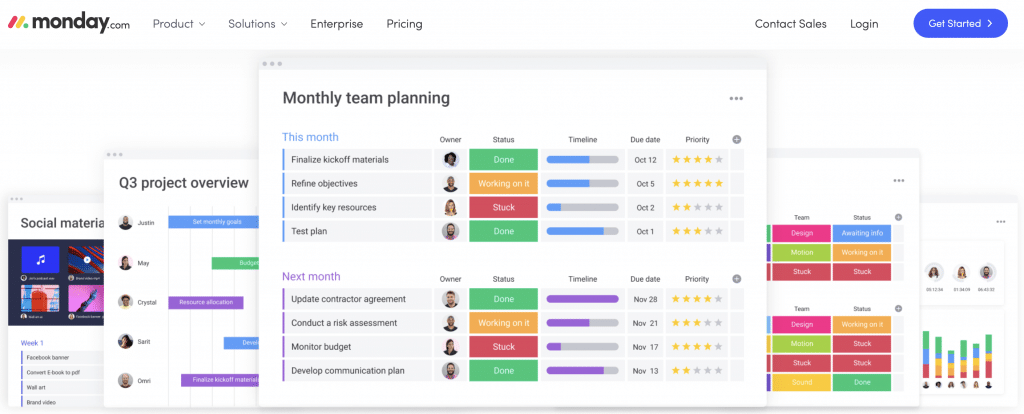 Trello Review – Best Project Management Goals Tool
Trello doubles as a goal tracking and project management tool designed to help both individuals and organizations collaborate better and organize their projects. Trello lets users work with an unlimited number of cards, lists, and boards. The board is where you will locate all the projects you are working on.
Each board is categorized using lists. Then each list includes individual cards where all the details about a project can be found. Quickly view discussions, task checklists, comments, and other metadata fast. Trello has a fast and powerful searching tool that uses AI to find you everything.
Trello is available on mobile devices, including Kindle Fire tablets and smart watches.
Big brands like Adobe, British Red Cross, BurgerFi, and Deutsche Bahn AG use Trello to get work done.
Trello Features
Integrates with an unlimited number of applications.
Businesses or teams can attach files up to 250 MB.
Smart discussion features like comments, emojis, and tagging.
Customize the background to align with your business value.

GoalsOnTrack Review – Best Real Time Goal Tracker
GoalsOnTrack is a smart goal tracker designed to enable high achievers to set, monitor progress, and achieve their goals in real-time. GoalsOnTrack is a tool that can motivate you to achieve success every day.
GoalsOnTrack lets users set smart goals, break down complex goals into sub-goals or milestones, and categorize goals for easy achievement. It supports both individual and business goals.
GoalsOnTrack also tracks habits. It lets you track your habit strength and daily execution with ease. GoalsOnTrack provides nice analytics and progress tracking to help you stay motivated.
GoalsOnTrack Features
Helps users to set smart goals and monitor their progress.
Build action plans that will enable you to achieve your goals.
Lets you build habits and make progress on auto-pilot.
Easily visualize your goals and motivate yourself.
Click here to view GoalsOnTrack.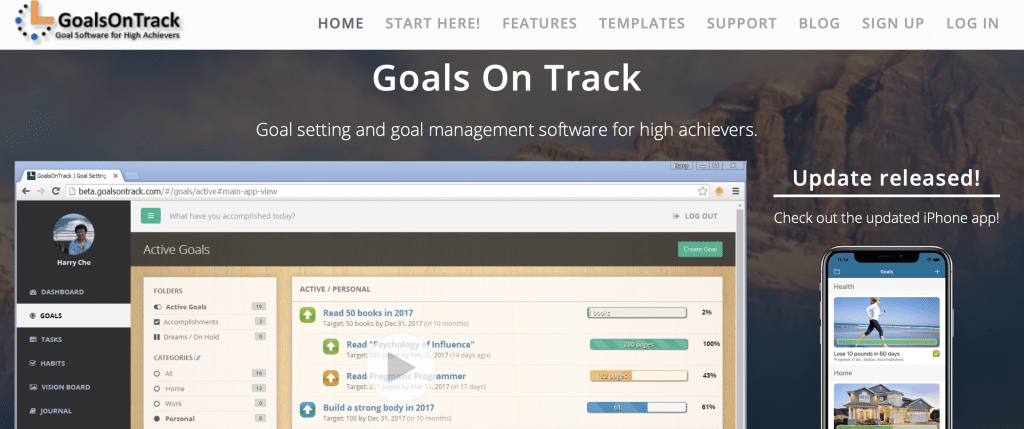 LifeTick Review – Best SMART Goal Tracker
LifeTick is an individual-focused goal setting software designed to help you reach your goals sooner. It has a heavy focus on the concept of SMART goals we outlined above. With its intuitive process, goal setting on Life Tick is a breeze.
The LifeTick goal setting app uses features such as due dates, reminders, journaling, and reporting to guide you towards achieving your goals. Life Tick can also help you keep track of your progress using various charts.
Reports of your progress are available along with your own custom tracker. Plus, LifeTick has extra features to help you build healthy habits.
LifeTick Features
Uses smart AI to keep you on track.
Track different areas of your life that needs improvement.
Build and nurture healthy habits.
See your progress in real-time.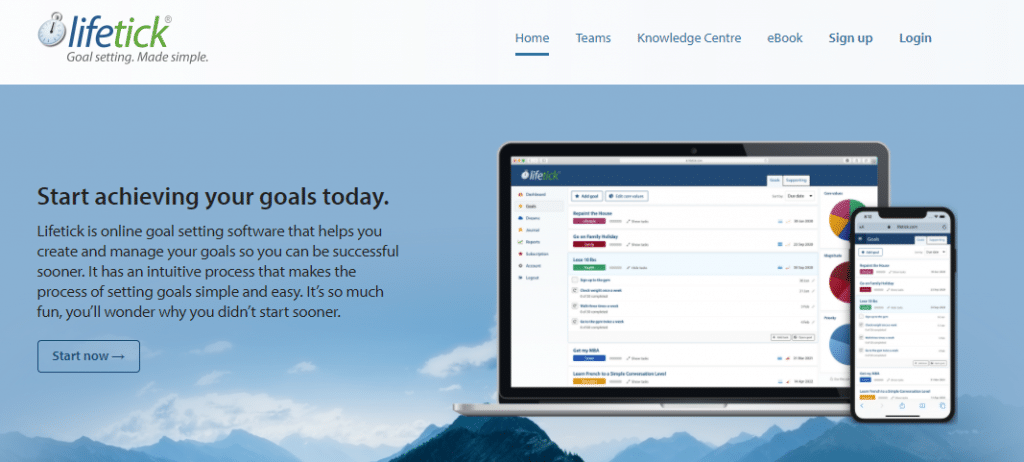 Strides Review – Best Goal Tracker Tool For Challenges
Strides is a goal tracking built to help you track and reach your goals on time. It features a clean and professional interface that's easy to use. The tracking functionality is also very easy to use. Strides takes a competitive approach to goal setting. It really helps motivate you to achieve your goals.
With Strides, you can set up habits, quit old ones, and keep track of your progress. This app can set you up for a challenge, which is useful for habits like flossing. If you want to do 25 push-ups every morning or drink 3 liters of water per day, Strides can help you achieve your goals.
Strides Features
A mobile to-do list to manage your daily or weekly activities on the fly.
Motivate you to quit bad habits or build new ones.
Tracks your progress in real-time.
Encourages users to be happy and productive.

Fabulous Review – Best Self-Care Goal tracker
Fabulous is an AI-enabled goal tracking tool designed to help people build healthy habits. In other words, it is a coach that uses behavioral science to help users develop great habits to live better lives. The focus is on making you happier with yourself.
With Fabulous, you can create daily rituals that move you towards your goals. You can participate in challenges that will motivate you to reach your goals. The challenges will introduce you to other Fabulous users across the world who have the same goal as you. You can compete with other people to discover new experiences.
Fabulous Features
Can help prepare your mindset ahead of the day's tasks.
Helps you believe in your inner strength and keep track of your progress.
Build and nurture healthy habits with artificial intelligence.
Keep track of your goals on a daily, weekly, monthly, or yearly basis.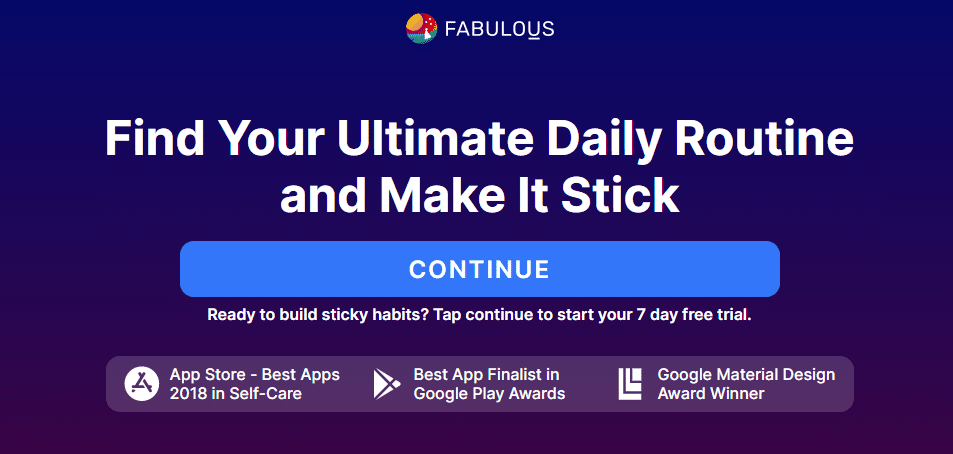 What is your favorite goal tracker tool? Let us know what you've tried so that we can put that into our guide!