Uizard is a brand new rapid prototyping and AI app creator tool. You can use it to make high quality apps and web layouts faster than ever before. We took a good review at the paltform and have a full break down below.
We'll go over the service in detail, including:
Features
Pricing
Artificial and Machine Intelligence Included
and more!
What is Uizard?
Uizard is an AI-powered app creator. You can convert your wireframe sketches and ideas in your head into usable web designs in minutes. It uses artificial intelligence to automatically convert ideas into apps fast.
Uizard has a smart drag and drop interface that allows you to quickly reuse elements so that you are never starting from step one ever again. It can turn non-designers into semi-professionals.
Click here to visit and check out the platform.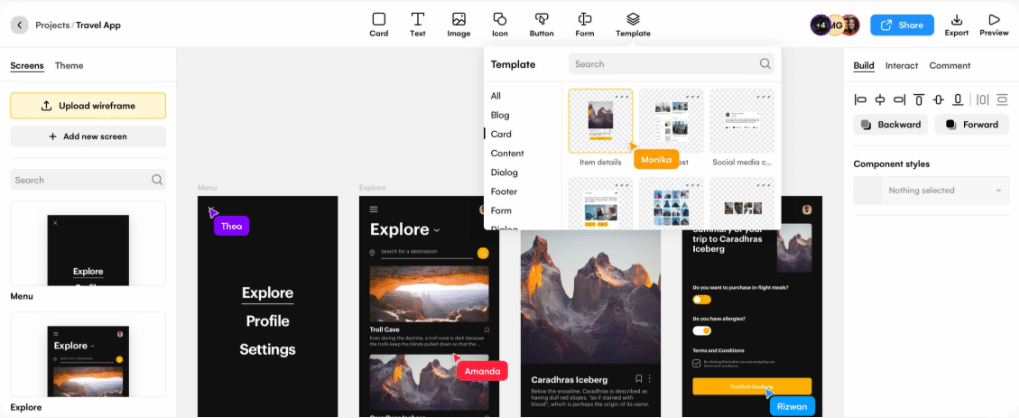 Uizard Features
Uizard comes with a bunch of smart features that allow you to make apps faster than ever before.
Rapid Prototyping
Uizard makes it faster than ever to create professional web app designs. It has a smart drag-and-drop system that you can use to place components and templates quickly on your page. This allows you to save time and implement your ideas fast.
You can create prototypes for mobile apps, web apps, websites, desktop apps, and more.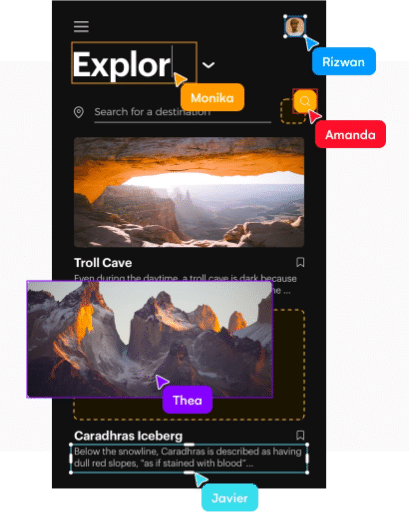 Import Wireframes Easily
Uizard lets you import paper wireframes that you sketched out on a whiteboard, tablet, or paper. The tool transforms your copy into a usable digital screen that is read to edit and customize to your liking.
Uizard uses artificial intelligence to recognize boxes and text in your paper designs. It grabs components from its library to match your sketches and it does this all automatically.
Templates
Uizard contains a large template list of some of the most usable objects in web design today. This allows you to input text, images, and special features easily and to today's standards.
There are pre-made templates included that let you start off with a professional design instantly.
Collaboration
Uizard is all web-based, so you can collaborate with your team in real time. Add comments and place notes for your team to review and look at on the fly.
Being web based also allows the development team to push constant updates to the platform for you to take advantage of.
Automatic Styling
Uizard uses machine intelligence to quickly style your work. You can extra themes and components from other tools like Sketch and Photoshop and quickly build your brand identity.
As well, you can import your favorite inspirations from pictures, screenshots, and URLs and Uizard will create a theme that matches nicely.
As an AI website tool, this is a really cool new tool to try.
Artificial Intelligence in Uizard
Uizard deploys artificial intelligence in a number of different ways on the platform.
The obvious, and coolest use, is the conversion of paper wireframe sketches into usable web designs. Uizard can recognize images and test from your sketches and creates apps that are styled, consistent, and professional.
Another AI feature is the ability to create brand boards from imported content and images. Uizard will create standardized buttons, text, image styles, headings, and colors from whatever you give it. Then when you need to put one of those components in your app, the tool will have them preconfigured and consistent with the rest of your theme.
We love to see intelligence used to make lives easier. Uizard uses smart features to make its product superior to others.
Uizard Price
Uizard has a very competitive pricing scheme. It is FREE for students and hobbyists. The free plan lets two creators have access to create 3 projects and 3 themes for free. There are a few other limitations on the number of components you can use, but the free plan is pretty generous.
The Pro plan is $12 per month and allows:
unlimited creators
Access to all templates
Private projects
There is an Enterprise plan for $39 per month which gives you everything above plus unlimited everything else and a dedicated customer support channel.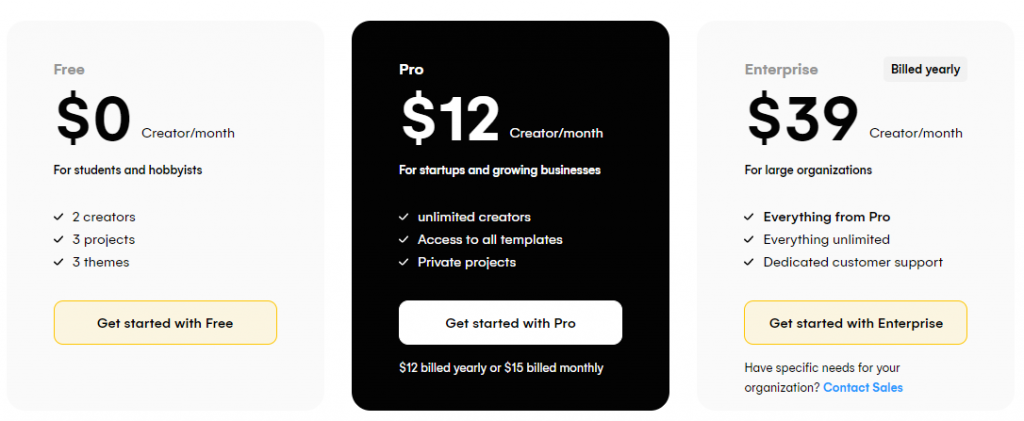 Conclusion
Overall, we were impressed with how accurate Uizard was able to generate an app from a paper wireframe. This will allow casual users to create professional designs faster than before. The artificial intelligence features in this AI app creator are sophisticated and help it stand apart from the competition.
This AI app creator offers a generous free plan and is reasonably priced for serious users.
The interface in the web portal is modern and easy to figure out. The design templates and components are modern and would look great on any website. We are excited to see even more growth to the portal in the future and will be watching closely for new features.
If you need an AI app creator, Uizard is a worthy tool to add to your arsenal.
Click here to visit and check out the tool.
If you have any experience this, comment below and let us know today!