A/B testing software can automatically determine the perfect layout and places for pages, text, images, ads, and other elements. In this guide, we go over our favorite AB testing tools and how they can improve your business.
Specifically, we'll go over:
what is A/B software?
different kinds of reasons for using A/B tools
the best A/B software that uses AI to help you out
If you use a tool that isn't on our list, comment down at the bottom of this guide and let us know!
The Best A/B Testing Software
What is A/B Testing Software?
A/B testing is the process of trying out alternate layouts, text, images, and elements in order to analyze which option does better. "Does better" could mean better interaction, more conversions, or more efficient,
Smart A/B testing software can display alternate solutions automatically and it can also perform all of the analytics as well.
AB software is a type of artificial intelligence software. AI can perform calculations automatically and make recommendations on the fly.
Types of A/B Testing Software
There are a bunch of different areas where your business can use smart A/B testing.
Testing Layouts
Good A/B testing software can help you test out different website layouts. Try out different text and image placements and see what gives you the most conversions and clicks to other pages. AB software can automatically present different layouts to different people on-the-fly and compile the data for you to review.
Ad Placement
Ads are key for generating passive revenue for a website or business. There are some A/B software tools that can test out different sizes and placements of ads. Figure out what generates you the most revenue without harming user page experience.
Optimizing Your Sales Funnel
Sales companies have one main goal: make money by generating sales. Some AB tools can learn each step in your sales process and work on optimizing messaging and presentation for you. You can keep track of which tactics make you the most money and implement permanent adjustments.
SEO
Search engine optimization is the process of catering to and looking more enticing to search engines. A/B SEO software can try out different article titles, descriptions, featured images, and text. Optimize your content and win more visitors to your website by A/B testing.
We have AI A/B testing tools that cover the areas above, plus more. Next, we will go into those tools in more detail.
Ezoic Review – Best A/B Testing to Increase Revenue
Ezoic is an AI A/B testing software for website designs and ad layouts. It uses artificial intelligence to make intelligent decisions on every page and automatically improve UX and revenue. It improves site speed, balances UX, and streamlines growth.
Ezoic let you know how your website visitors behave on different devices and during different times of the day. It also allows publishers to quickly adapt as search engines, advertisers, and visitors change their behavior. Ezoic promises that its artificial intelligence will grow your ad revenue and more than make up the cost of the service.
It works with everybody, from major brands and bloggers to popular independent website owners.
Ezoic Features
Quickly determines the combination of variations that perform the best
Can start and stop campaigns at specific times
Can help you discover how actively involved your audience is with your content
Comes with a convenient image hosting service for easy optimization
ABtesting Review – Best A/B Landing Pages
ABtesting is one of the best AI A/B testing software that helps businesses to boost conversations on their landing page. With ABtesting, it's easier and faster to get the perfect copy, headline, and call to action for your website.
ABtesting uses GPT-3 to offer automated text suggestions for your CTA, copy, and headlines. It also uses AI to help you boost conversion rate and increase revenue. If you're looking to optimize your landing page for lead generation, ABtesting is certainly the best tool for you.
Big brands like Claro, Elpais, Suzuki, and Moviestar use ABtesting to boost conversations on their landing pages.
ABtesting Features
Allows you to determine how variations perform on multiple devices
Split traffic between the control page and different variations
You have full control when deciding when to run tests
Quickly and easily edit the visual aspects of each page and its variations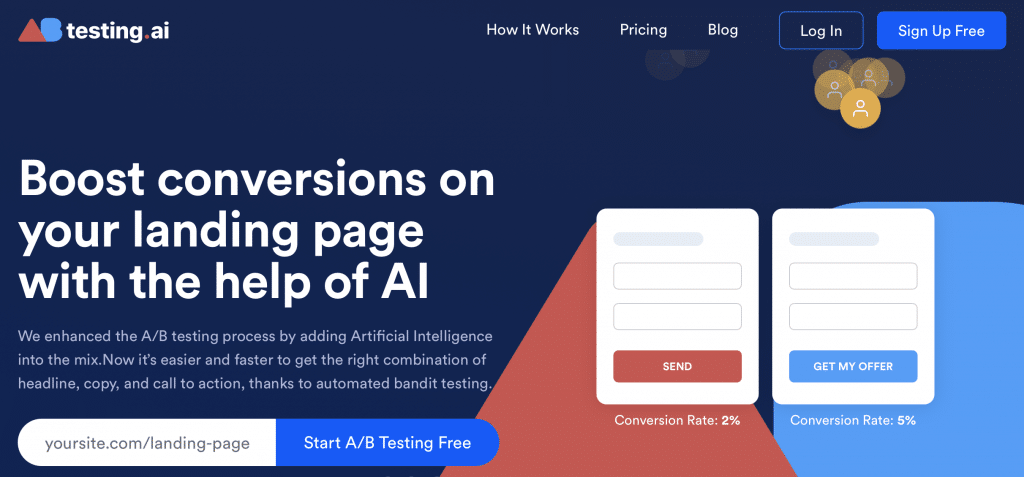 Nelio Testing Review – Best A/B Testing for WordPress
Nelio Testing is a WordPress A/B testing software. This software adds split testing into your WP website to increase the conversion rate of your pages. It then shows which one performs better.
It uses AI to increase conversion in real-time without waiting for your site to be updated with a new layout, design, or content flow. With Nelio Testing, you can split test any of your page elements, including forms, images, and buttons.
Nelio is simple to use. All you need to do is to download and install the plugin. Then create new experiments from any page on your site. Choose which elements should be different between variations. You can experiment with layouts and fonts. Then monitor your visitors' interactions in real-time.
Nelio Testing Features
Helps you find the best performing page from multiple versions
You can perform an experiment to find the best combination by testing multiple elements
Segment the website visitors you send to your experiments
Send 100% of eligible traffic to your winning variation
Click here to view Nelio Testing

VWO Review – Best A/B Testing For Customer-Based Businesses
VWO is an A/B testing software and conversion optimization platform for customer-based businesses. It uses specific goals like clicks and page visits to track qualifying visitors. It also measures the performance of test campaign variations.
VWO uses artificial intelligence to help businesses conduct qualitative and quantitative visitor research. Businesses can also run continuous experiments on their digital products and build an experimentation roadmap. This tool allows businesses to optimize their web experience across mobile, desktop, and other devices.
Big brands like Vodafone, Samsung, Toyota, and eBay use VWO to optimize their website experience for customers.
VWO Features
Offers a simple visual representation of your data to show you how visitors browse through your site
Easily determine which segment a visitor qualifies for so you can run appropriate tests
Data export services allow you to quickly and easily access all your event data
Dynamic traffic allocation helps you achieve statistical significance much faster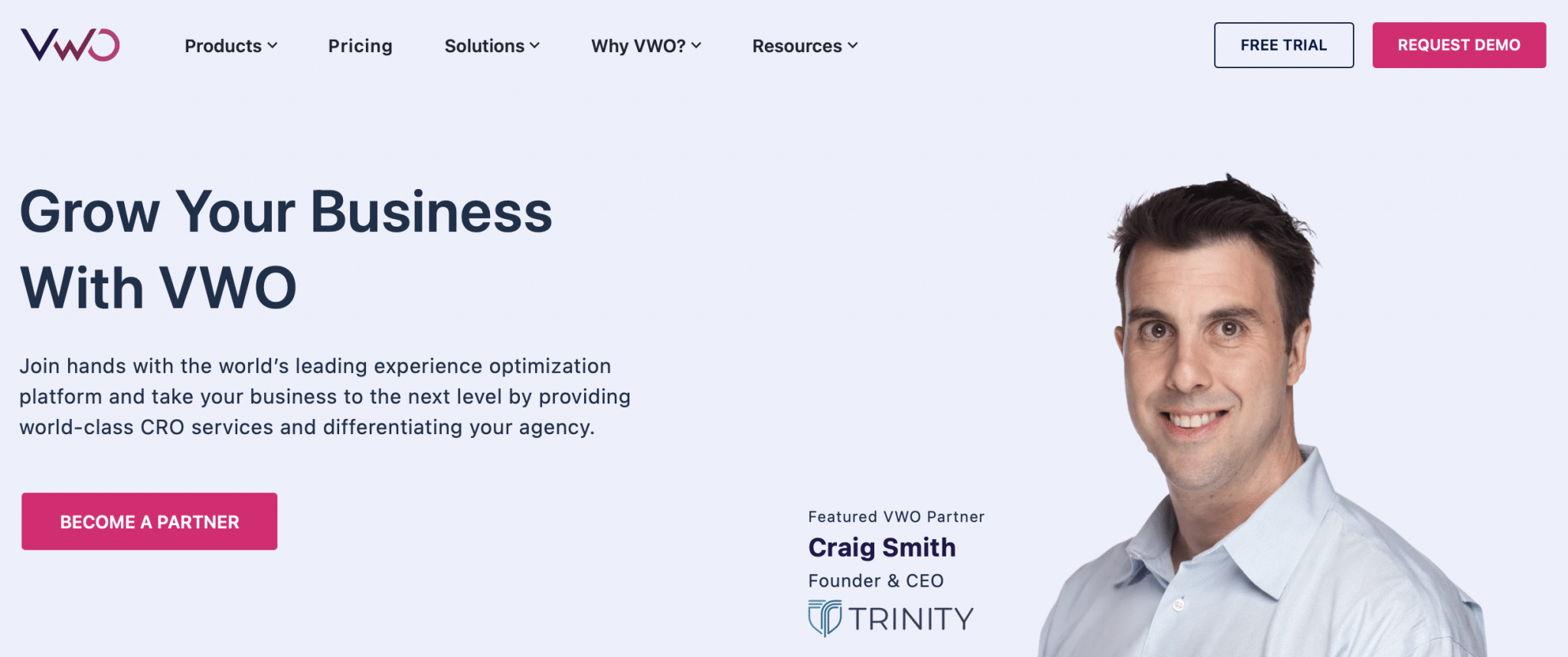 Zoho Pagesense Review – Best A/B Testing With CRM Integration
Zoho Pagesense is a personalization platform that uses AI to measure website metrics and understand visitors' behavior. It can give your visitors a personalized website experience to boost conversations.
Whether you want to understand why customers behave in certain ways or what works on your website, Zoho has got you covered. It comes with the right tools to help you increase conversions and boost revenue.
With Zoho Pagesense, you can add goals and monitor the clicks on your call to action in real-time. You can also build a conversion funnel to determine which pages cause significant dropoff. Pagesense integrates right into the Zoho CRM platform. If you use Zoho or need a CRM, that can be a powerful combination.
Reload Medla, Speero, and Etailabs use Zoho Pagesense to understand their visitors' behavior and also track their website metrics.
Zoho Pagesense Features
Includes landing page testing and website conversion rate optimization
Helps you easily determine which page elements deliver the best results
Cchange various elements on different pages to find the combination with the highest performance
Make different changes on linked pages in order to optimize the entire website or funnel simultaneously
Personalization features that allow you to optimize your visitors' online experiences
Click here to view Zoho Pagesense

Unbounce Review – Best General Website A/B Tool
Unbounce is an all-in-one A/B testing software for landing pages, pop ups, and sticky bars. Unbounce can convert more of your website visitors into leads and customers. Using Unbounce's drag and drop builder, you don't need a developer to create and publish landing pages.
Unbounce uses AI to enable you to get conversion intelligence insights to ensure your campaigns are top-notch everytime. This A/B testing software comes with over 100+ high-converting templates, so you can bring your campaign to live in less time.
Unbounce lets you optimize your pages to perform at their best every time. Plus, you can grow your ROI in real-time.
Unbounce Features
Allows you to determine how variations perform on multiple devices.
Can split traffic between the control page and different variations.
Use Unbounce to find the best combination by testing multiple elements.
Lets you send 100% of eligible traffic to your winning variation.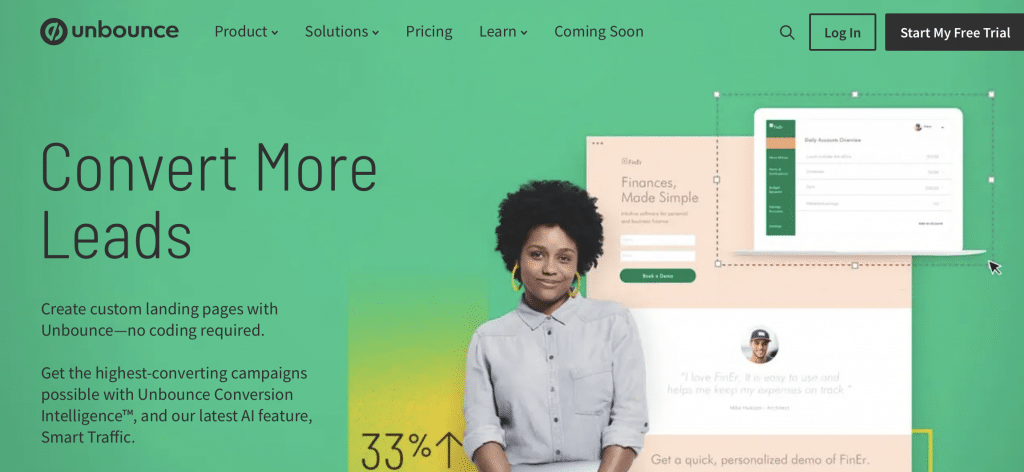 Convertize Review – Best All-in-One A/B Testing
Convertize is an A/B testing software for businesses to test their ideas and see how the market will respond. Convertize uses AI to automate conversions while you focus on other important aspects of your business.
Convertize can manage your traffic and help you maximize conversions. This AI-powered tool can increase engagement with social proof. It uses artificial intelligence to convert your website visitors to paying customers.
Big brand like Exceed, HQZ Consulting, and Show Skill use Convertize to improve sales and grow their revenue base.
Convertize Features
All-in-one conversion optimization tool that lets you do everything in one convenient place
Lets you get your marketing automation running in no time with customizable templates.
Drag and drop interface lets you try out different styles and layouts.
Find out how well your audience is engaging with your business.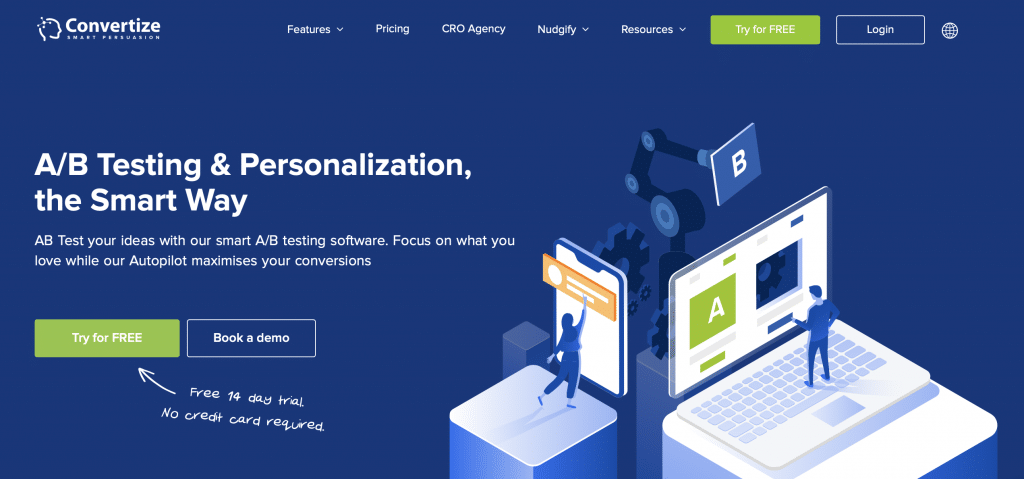 Click Funnels Review – Best A/B Sales Funnel Testing
Click Funnels is an AI A/B testing software that let you quickly create beautiful sales funnels. This tool can also convert your website visitors paying customers without hiring a tech team. Plus, there are hundreds of plug n' play templates at your fingertips.
Click Funnels uses AI to create beautiful pages and walk your website visitors through each step of the sales process. It also uses AI to convert them to paying clients. You can use Click Funnels to increase your revenue per customer. This tool allows you to send highly-targeted messages via email, text, and social media platforms to your customers.
Click Funnels Features
Test multiple variations at one time and compare experiences
Lets you aggregate behavior and manage your customer profiles in one place
Builds segments in real-time using various data sources
Lets you create experiences and messages based on specific behaviors and actions.
Click here to view Click Funnels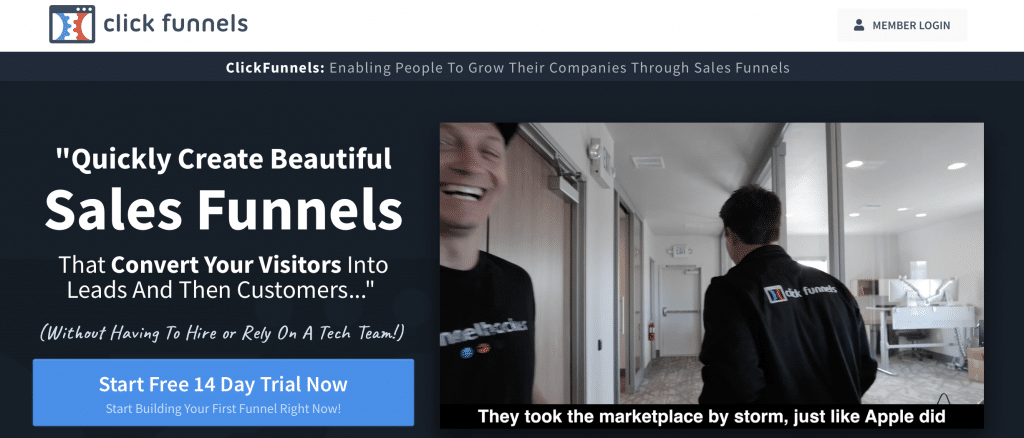 SEO Scout Review – Best SEO A/B Testing
SEO Scout is a powerful A/B testing software that you can use to grow your website's organic SEO traffic and optimize your content. SEO Scout can also help you analyze your results in real-time. It uses AI to analyze your niche's search result pages and also let you compare your content to your competitors.
SEO Scout can let you discover hundreds of your customers questions from Google's People Also Ask and thousands of keywords suggestions. Additionally, it allows you to increase your CTR by testing unique page titles. You can update your content to include modifiers, titles, and headings for gains in search visibility.
SEO Scout Features
Allows you to modify many different page elements at the same time
Comes with heat map that shows you how users are interacting with your website
Supports websites, apps, and content
You can run tests across multiple pages to optimize your funnel
Leadformly Review – Best A/B Form Testing
Leadformly is an AI A/B testing software that lets businesses and independent contractors to capture 3X more leads. It does this by replacing your website's forms with smart lead forms. Once you activate the tool, you will choose a template and build your lead form. Next the smart forms works automatically behind the scenes to capture more leads.
Leadformly is equipped with 58+ templates to increase usability, from sizing fields to asking questions over multiple steps. You can use this tool to customize your website forms so as to match your brand. It works on any CMS, from Magento, Squarespace, and WordPress.
If your current conversion is suffering right when users get to a form, this is the A/B testing tool for you.
Leadformly Features
Split test your LeadForm without any additional tools
Proven to increase conversion rates by up to 200%
Allows you to automatically allocate traffic to your most successful experience.
Helps you optimize for the mobile-first web

What smart A/B testing software have you had success with? Comment down below and let us know what has worked well for you. Hopefully the options in this guide give you a good starting spot.