Travelling and planning out a vacation should be easy! Artificial intelligence lets you get the best deals on flights, hotels, and attractions. in this guide, we go through our favorite AI travel tools to help your plan our your next vacation.
Some of the tools we'll go over:
Help you pack smarter and better than ever before
Let you find the best deals on flights, hotels, and cars
Optimize your travel plans
Watch the market and let you know when something goes on sale
As travel returns back to normal following the COVID-19 pandemic, the tools in this guide will help you travel smarter.
If you have an AI travel tool that uses intelligence to make your life easier, comment down below or get in touch with us and let us know!
The Best AI Travel Hardware and Software
Types of AI Travel Tools
Artificial intelligence can help you travel smarter in a bunch of different ways.
Deals on Flights, Hotels, Cars & Attractions
The travel industry is based on supply and demand. And prices tend to fluctuate depending on what people are after. Instead of watching the market yourself, let artificial intelligence do the work for you.
We have multiple AI travel tools in this guide that travel deals on flights, hotels, cars and attractions and notify you as soon as there is a deal.
Find Unique Places to Visit
Everybody knows the most popular tourist locations – Disney World, New York City, Hawaii. You can save a lot of money and avoid big crowds by travelling to unique places that are underrated for travel.
Below are tools that help you find unique places to visit that will cost you less time and money.
Route Planning Tools
Once you have your vacation booked, how do you know what the optimal set of attractions is and in what order? We have AI travel tools in this guide that will help you plan your route faster and more efficient. Save money by doing things smarter instead of just following the herd of tourists.
Sync up these route planning tools with your smart scheduling tool for maximum innovation.
Next up, we review our top AI travel tools in more detail.
Hopper Review – Best Flight Price Tracker
Hopper is one of the best artificial intelligence travel tools on the market. It lets you book flights, hotels, and cars with confidence. In fact, using Hopper is the easiest way to get the best deals on your travel adventures.
Hopper uses AI to predict future hotel and flight prices with over 90% accuracy. Hopper also notifies you whenever there is a deal that suits your travel budget. If you need more time to plan, Hopper lets you freeze the suggested prices.
If you miss a flight, Hoppers allows you to rebook your flights without extra costs. If you are ready for a travel adventure, Hopper is a perfect travel tool for you.
Hopper Features
Allows users to book flights, hotels, and cars at the best price
Lets you rebook flights without extra costs
Predicts future price changes in real-time

Pana Review – Best Business AI Travel Tool
Pana is the world's leading global solution for guest travel. It is a platform for businesses to automate travel for employees and guests. Pana uses AI to deliver solutions for non-employee travel, guest travel, expense, and reimbursement. This travel tool offers great booking experience for your guests, ensuring a great first impression.
If you are looking for a platform to help you handle flight and hotel payments for guests, Pana has got you covered. Pana can save you the headache of reimbursing meals and other incidents.
Big and small companies like OKTA, Quora, Discovery, and Logitech use Pana to plan their trips.
Pana Features
Lets you book a trip in seconds, including flights, ground transportation, and accommodations
Uses your rates and program so that you can plan your trip around your budget
All travel payments across air, hotel, and ground can be handled on the Pana platform
You can book, edit, and cancel your travel appointments quickly

Routeperfect Review – Best AI Route Planning
Routeperfect is an AI travel planning tool for multiple destinations. Focused mostly on Europe, it helps you plan out your trip and stops along your vacation. It is equipped with popular itineraries to help you get started. Routeperfect has recommendations worth exploring on your way, plus, you can book over 90 hotels per your preferences.
Once you activate the tool, you will choose your travel destinations and dates. Customize your trip to enhance your travel experiences and select hotels and car rentals in your preferred city.
Routeperfect has more than 20,000 pick-up locations with round trip and one-way drop-off. With this AI travel tool, you will enjoy all experiences, including tickets, events, and activities.
SunHotels, ETOA, Expedia, and Priceline.com use Routeperfect to plan their travel itineraries.
Routeperfect Features
Plans out the optimal travel route according to your preferences and interests
Lets you rebook flights without extra costs
Helps you predict future price changes in real-time
Lets you book car rentals and hotels with ease
Click here to view Routeperfect

Instalocate Review – Best AI Flight Tracker
Instalocate is an AI travel assistant that can help you convert flight delays into money. With Instalocate, you will get compensation up to 600 Euro for delayed flights.
Instalocate uses artificial intelligence and machine learning to help you predict flight delays. You can also use this travel tool to track your flights in real-time on Facebook Messenger. This travel assistant also sends you a quick menu to claim compensation or track a future flight.
In fact, it shares the information with your friends and family members that are worried. This keeps them in the loop in case there are changes in your travel plan.
Instalocate provides you with so much information to make your travel hassle-free, including airport directions, flight arrivals and departures, and destinations.
Instalocate Features
Updates you with web check-in and baggage
Updates you with Airport cab bookings
Works with British Airways, Lufthansa, Air India, and Air France
Helps you plan your travel itineraries
Click here to view Instalocate

Jubel Review – Best AI Travel Planning
Jubel is an AI travel software that makes planning and booking a trip very easy. It customizes your travel itinerary to your preferences, style, and budget. Jubel uses AI to match users with perfect destinations by filtering through all possible options. This tool ensures that your chosen accommodations and destinations are best suited for you.
Once you get on the software, you will answer six questions about your travel experience. Jubel will then use your responses to match you with the best trips. You can edit destinations, accommodations, and length of stay.
There are advisors that will handle the booking and also provide you with local recommendations. Top brands like Forbes, The Telegraph, and The Points Guy use this tool to plan their trips.
Jubel Features
Suitable for discerning travelers
You have the opportunity to change your travel plans and make cancellations
Lets you maximize your budget and avoid overspending
Comes with full support and curated local guides

Travelrank Review – Best AI Trip Discovery
Travelrank is a smart trip planner that lets you plan your itineraries. It uses AI to enable you to import your travel history, track your travels, and get matching places. It also let you discover the next exciting places to visit.
This AI software is built for passionate travelers. It matches the world's most popular destinations with your travel history and preferences. It also follows your travel time, style, and budget.
If you are looking to become a digital nomad, Travelrank will help you become familiar with new regions. It will also update you with travel tips for a memorable travel adventure.
Travelrank Features
Lets you do less planning and enjoy more traveling
Use Travelrank to aggregate your travel history in one place
This travel tool can help you discover your next destination
Can also help you track your travel goals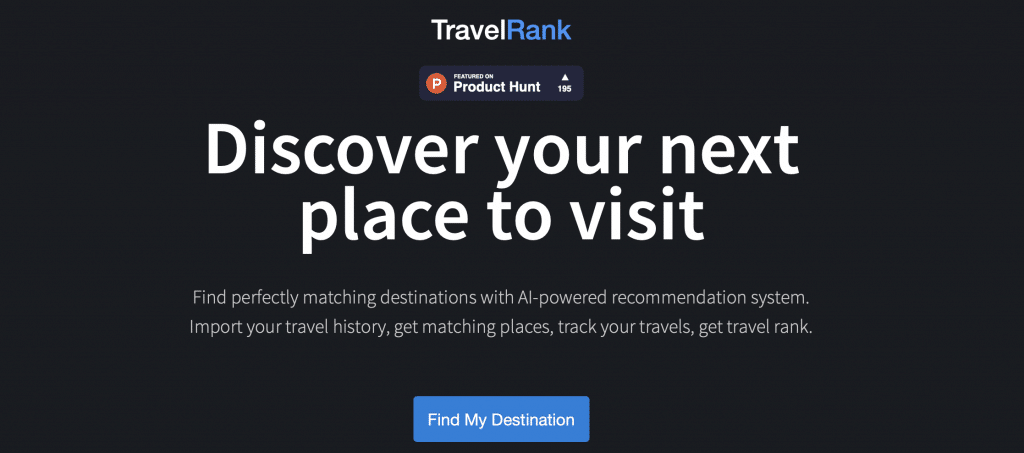 Welcome Review – Best AI Travel Itinery App
Welcome is an AI travel companion that can help you discover unique places and keep track of all your travel itineraries. It uses AI to create personalized and real-time itinerary for your travel pleasure. It also uses AI to automatically import existing lists of tips from websites and emails.
Welcome will constantly update you of your itinerary throughout the day based on traffic, weather, and location. It can also share or ask for travel tips on your networks.
Additionally, Welcome is designed to build your travel profile so that you will be proud of your travel experiences and achievements.
Welcome Features
Can help you discover unique places recommended by friends and experts
Helps you keep track of all the places you want to go
Automatically import existing lists of tips from emails, documents, websites, and more
Shares or asks for travel tips on your networks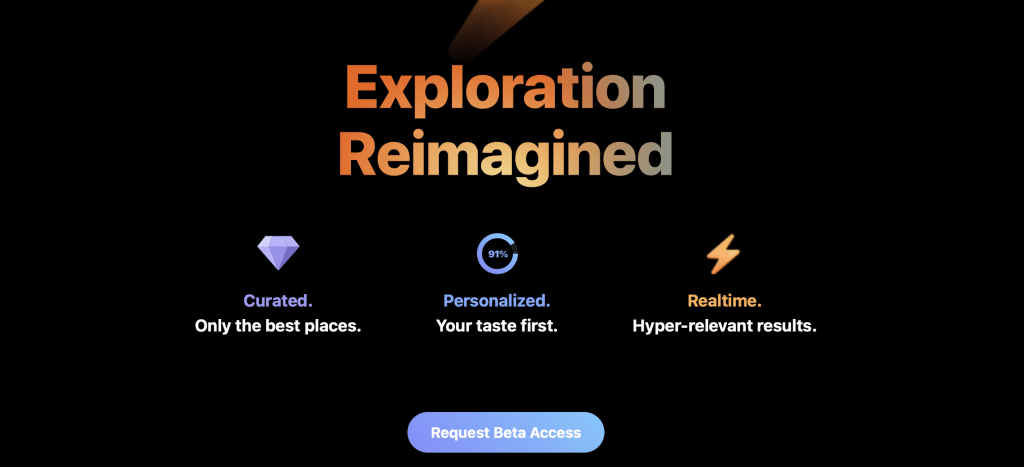 Waylo Review – Best AI Hotel Booking
Waylo is a platform where travelers can easily handle hotel bookings. This tool helps travelers to eliminate hotel price fluctuations and save up to 50% with price prediction AI.
When you visit the Waylo landing page, you will enter your destination in the space provided. This tool uses AI to search over 200,000 hotels in 1000+ cities around the world. It then presents you with exclusive deals with predicted future price drops.
If you are satisfied with the deals, you can then book with confidence and receive confirmation. Waylo partners with Travelport, KAYAK, Trivago, and goSeek to help users book top hotels of their choice anywhere in the world.
Waylo Features
Can help you save up to 50% with price prediction
You will get an automatic refund if the rates drop below what was predicted
24/7 chat and phone support that will take care of all your requests
Waylo monitors savings even after booking

Visits.ai Review – Best AI Travel Booking
Visits.ai is a travel guide and booking platform powered by artificial intelligence. You can plan your next trip and book your next adventure with this travel assistant. Visits.ai makes travel booking easy and enjoyable so that you can focus on your adventures.
This travel assistant uses AI to learn your likes and dislikes to help you plan the next experience you long for. It also recommends the ideal accommodations and activities when you get to your destination.
After booking your trip, Visits.ai will provide you with packing tips, reminders, and travel recommendations. In fact, this tool makes sure you have everything you need for a memorable travel experience.
Visits.ai Features
Visits.ai helps you stop procrastinating your trip planning
Offers suggestions based on your profile and the past experiences of similar travellers
There are no hidden fees using this tool
Introduces you to other travellers and suggests social activities to engage the local culture.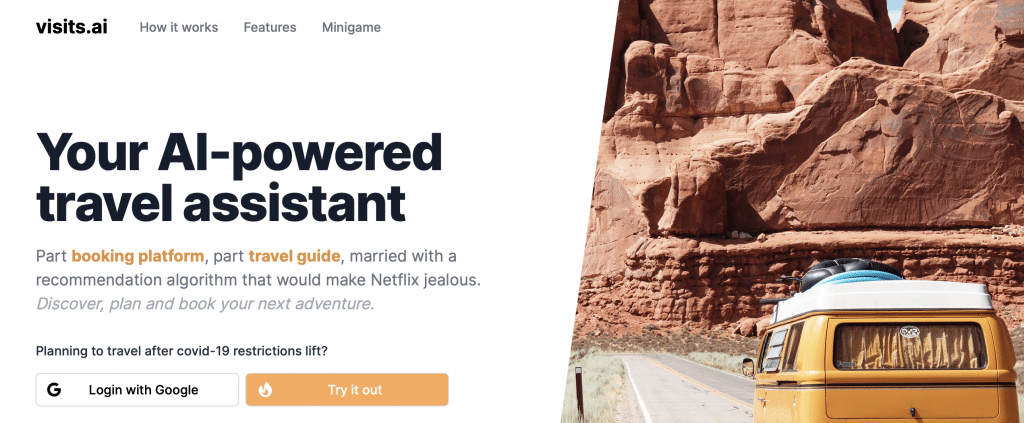 Zenner AI Review – Best Text Message Assistant
Zenner AI is an AI-powered travel assistant that keeps travelers productive and safe in their adventure. It interacts with you via text message back and forth. Zenner boosts travelers' engagement, upgrades their experiences, and creates memorable experiences.
Zenner AI notifies you of everything travel-related, from airport and arrival advice to predicted wait times. This travel assistant can also detect flight delays and cancellations and help you secure a resolution in seconds. It is your complete guide from booking to departuer.
Zenner AI Features
Tracks everything you need to know so you can travel like a pro.
Can help you overcome flight disruptions and reduce wait times.
Helps you with tips and experiences to make your travel experience smooth, healthy and pleasant.
Gives you health and safety updates so you know what to expect at the airport.

Ovis Smart Suitcase Review – Best Smart Suitcase
Ovis Smart Suitcase is the world's leading travel companion. It is a smart suitcase equipped with features that will elevate your travel experiences. It is available in four colors so that you can choose one that suits your travel preferences.
Ovie Smart Suitcase leverages AI to automatically roll on the ground as you walk towards the airport counter for check-in. This frees up your hands for things like coffee, phone, and a briefcase. Plus, it has a charging outlet where you can easily charge your digital devices. The battery can charge two devices at a time.
Ovis contains cameras that can take pictures. It uses AI for object avoidance and navigation beside you.
Additionally, Ovie Smart Suitcase has been approved to be used at the airport across the world. Before you present this suitcase at the airport for screening, ensure you remove the battery to avoid signal interference. Ovis is the perfect smart companion for all of your trips.
Ovie Smart Suitcase Features
Follows you hands-free
Lets you charge your digital devices on the go
Is approved for use at airports
Comes in four smart colors
Click here to view Ovis Smart Suitcase

What smart AI travel software tools do you use to make travelling easier? Comment down below and let us know!