In this guide, we review the top AI analytics software platforms. These tools use artificial intelligence to automatically analyze and make recommendations.
We'll go over:
Key features of analytics software
The best AI analytics tools
How artificial intelligence can help your business become more efficient
If you've used an AI analytics software platform that isn't on this list, comment below and let us know.
The 9 Best AI Analytics Software Platforms
In a rush? Click on any of the links below to head directly to the software page.
If you want to view more details on these AI analytics platforms, we go into more depth below.
Sisense Review
Sisense is a leading cloud analytics platform that infuses intelligence every time. This AI analytics tool lets you take advantage of the power of data to enhance your customer experience and transform your business processes. It also uses artificial intelligence to help business owners to scale their operations.
If you want to go beyond the usual customer dashboards, you can count on Sisense to integrate or infuse intelligence into your products. Sisense can also customize analytic experiences and infuse fully white-labeled concepts into your workflows.
Additionally, this tool can also help you unlock data from the cloud for your team to analyze and gain meaningful insights. It can also automate and accelerate your workflow for improved productivity.
Verizone, Crisis Text Line, Philips Healthcare, and more than 2,000 brands use Sisense to infuse analytics into their workflows and business processes.
Sisense Features
Sisense can transform your business and improve your productivity.
Can empower every member of your team regardless of their skills level or educational qualification.
Infuse analytics into your products for improved customer experiences.

OpenText AI and Analytics Review
OpenText is an AI analytics platform that helps businesses to derive value via data-driven decisions. OpenText offers a wide range of artificial intelligence and analytics tools that businesses can use to overcome data challenges with ease. OpenText focuses on automation, improved decision-making, and business optimization.
OpenText uses AI to improve business processes and also increase operational efficiency. It lets users unlock value within Enterprise Information Management (EIM) to understand their customers, employees, and stakeholders. It also lets users understand invoicing systems, orders, and documents.
OpenText uses open source AI software that specializes in big data analytics to help users reduce costs of disparate tools. If you want to automate repetitive or unnecessary tasks to decrease manual processing, OpenText has got you covered. This gives you valuable time to concentrate on other important aspects of your business.
OpenText AI and Analytics Features
OpenText can improve the accuracy of your text mining model.
Comes with streamline dashboard creation.
Export your data to existing tables in an RDMBS.
Click here to view OpenText AI and Analytics

ThoughtSpot Review
ThoughtSpot is a search and AI analytics platform that helps businesses to generate actionable insights. It allows users to type in their questions into a search bar. ThoughtSpot then used AI to generate instant answers like Bing and Google.
It comes with best-fit visualizations for users to create reports, analyze data, and build dashboards without IT skills. It combines and connects with different cloud data warehouses, including Snowflake and Amazon Redshift. On top of that, it gives users access to granular insights hidden in data.
ThoughtSpot uses natural language processing (NLP) to enable conversational analytics so that you can ask questions and get direct answers in natural language.
ThoughtSpot Features
Easy to use by anybody.
Build customized dashboard and charts in seconds.
Allows users to run dozens of analytics algorithms on data.
Can spot actionable insights that are relevant to your business.
Lets you execute a wide range of queries across multiple sources.
Click here to view ThoughtSpot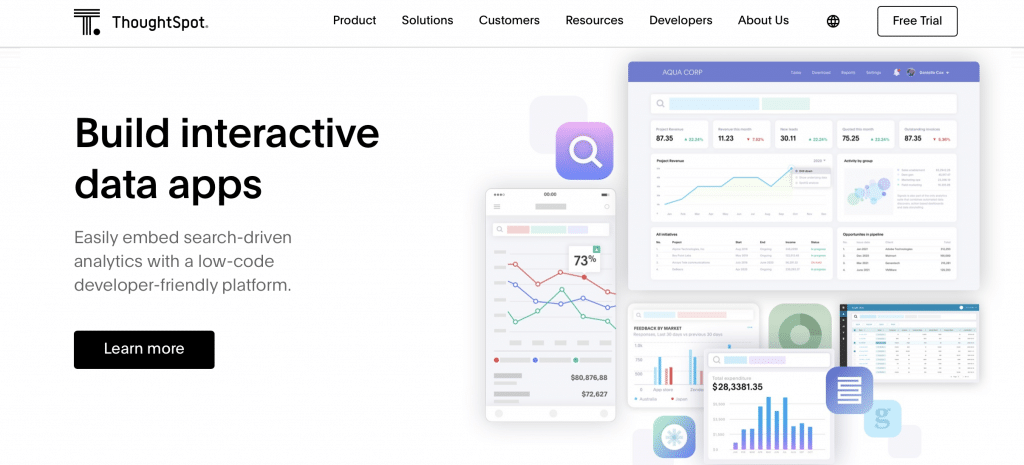 DataRobot Review
DataRobot is an AI machine learning tool that is accessible to tech-savvy professionals and experienced data scientists. It lets users deliver artificial intelligence to their front-line decision makers. With this tool, you can easily deploy and update different remote models. It is equipped with new AI reports so that users can promptly communicate important aspects of their projects to members of their team.
DataRobot has helped businesses to better serve their customers. It has also enabled businesses across the world to become more innovative. Businesses use DataRobot to collaborate with their suppliers and partners to extract valuable insights from data.
Krojer, Humana, Ricoh, and Lenovo use DataRobot to improve their business processes and extract actionable insights from data.
DataRobot Features
Easy to use and enables early data preparation.
Supports ETL and visualization tools.
Lets users easily build and deploy models within an organization.
Uses parallel processing to evaluate multiple models in Python, R, and MLIib.
Paxata Review
Paxata is one of the best AI analytics tools on the market. This tool is the fastest path for businesses to create and analyze big data. Unlike traditional tools that are complex and slow, Paxata offers an information management platform for self-governance and self-service data preparation with speed.
Optimized to compute data preparation tasks, Paxata is built on Apache Spark to deliver data preparation solutions. It uses artificial intelligence to visually explore, transform, and prepare data to extract useful business insights.
Paxata has a unified platform that enables users to identify trends and patterns. The platform also allows the use of automated step recording and versioning to govern your data.
Paxata Features
Enables visual data profiling and transformations.
Lets users share data using a centralized catalog.
Uses a smart algorithm to recommend data prep operations.
Enables data integration, master data creation projects and data quality.

Iseek Review
Iseek is an AI analytics tool that makes content analysis impactful and intuitive. This tool uses AI to create impactful insights so that users can analyze curriculum requirements or safety procedures. Whether you want to analyze published content or any other information, Iseek has got you covered.
Iseek is your tool for data discovery and better decision-making. With this tool, you can orchestrate a system of agents, bots, and advisers. You can also transform data into actionable insights for your team to leverage.
This AI tool can help you enhance content discoverability, so that with a single click you can find what you need. It also uses AI to enable information analysis, so users can make appropriate changes to improve their business productivity and performance.
Iseek Features
Lets you unify data across different sources via machine normalization.
Can help you discover and build connections within your content.
Allows you to link concepts with natural language questions instead of keywords.
Enables users to pinpoint the exact page of any document.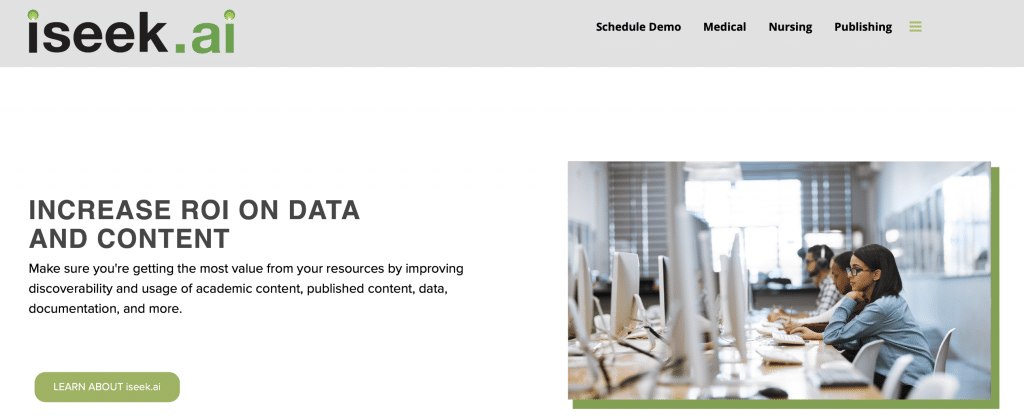 Tellius Review
Tellius is an AI-driven data analytics platform that lets you enjoy a new level of decision-making. It uses AI to enable you to better understand the "why" and "what" from your business data with a single click. If you're looking for a tool that guarantees faster decision intelligence, Tellius has got you covered.
Analytics teams and businesses can use Tellius to quickly understand key drivers and reasons for business behaviors. Tellius uses AI to provide instant answers to all your questions. It is built from the scratch to deliver a top-notch approach to decision intelligence for visualization and ad hoc data exploration.
This tool is trusted by big brands, including Inhabit, Home Point Financial, and Novartis.
Tellius Features
Automates complex data analysis so that users will understand key business drivers.
Lets users identify meaningful segments in data and compare cohorts.
Lets you uncover hidden insights across multiple data silos.
Can extract and analyze billions of data points from different sources within seconds.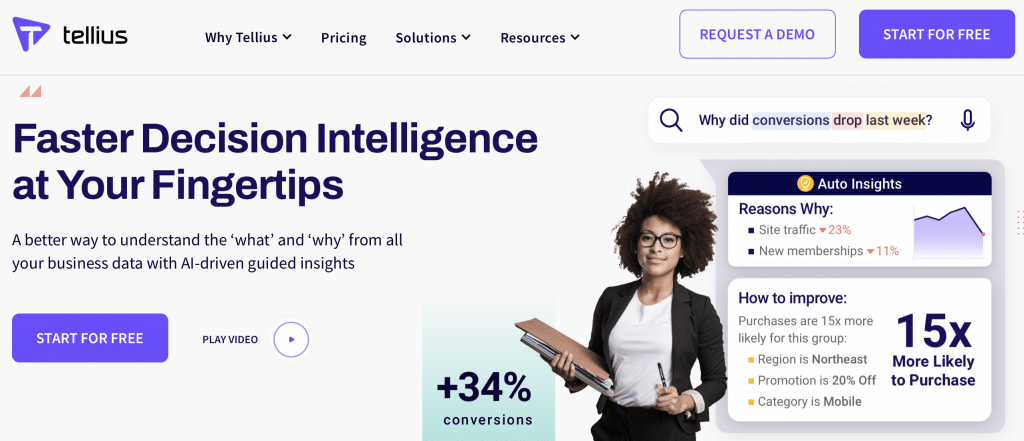 Qlik Sense Review
Qlik Sense is a complete data analytics tool for businesses to transform their processes and decision-making endeavors. The platform uses sophisticated AI to empower every member of your team so that they can make better decisions.
Qlik Sense puts world-class analytics in your hands. Whether you are a decision-maker or an analyst, you need a tool like Qlik Sense to uncover insights you won't find using query-based tools.
Experience unmatched performance with Qlik Sense. This tool can help you scale your business confidently with open APIs, powerful data integration, and flexible governance.
Qlik Sense Features
Allows users to explore and recalculate analytics after each click.
Lets you create smart visualizations, combine and load data to build rich analytics apps.
Enhances human intuition with suggested analyses and insights.
You can use Qlik Sense to automate repetitive tasks in real-time.
RapidMiner Review
RapidMiner is a transparent, AI-powered, end-to-end data science platform. RapidMiner lets you increase sales and drive revenue with a few clicks. Regardless of your market niche, you can use this tool to optimize your decision-making. You can also use this tool to extract meaningful insights from millions of data across multiple sources.
RapidMiner uses artificial intelligence to turn data into actionable insights so that users can achieve unique goals and overcome challenges. RapidMiner understands the challenges in every industry and offers solid solutions that help businesses cut costs and scale their businesses.
RapidMiner Features
Can help your organization cut costs, drive revenue, and avoid costs.
Allows you to integrate and build ML models.
Use this tool to design models using automated modeling.

What AI analytics software tool has your business played around with? Comment down below and let us know.