There are tons of AI features in CRM software tools that help you and your business work smarter. In this guide, we touch on some specific CRM features that use intelligence!
We have features listed from some top CRMs available today:
Not sure what a CRM is and if your business needs one? We'll go there too!
If your businesses uses a CRM and you want to highlight some AI features, comment down at the bottom of this guide.
What is CRM?
Customer Relationship Management (CRM) is a software tool that manages a businesses relationships and interactions with potential and existing customers. It has different components designed to help businesses perform in different ways:
sales
marketing
customer service
content management
operations
email management
More businesses are using CRM software than ever before because it is proven to increase sales and revenue.
How Do CRMs Uses Artificial Intelligence?
With so many features and elements, CRMs use AI to automate and connect different components together.
Email Management
Some CRM tools use AI to automatically manage your emails for you. Intelligence can understand the context of emails based on the sender and body and automatically file them for you. It can also automatically suggest replies and next actions to take.
Haven't followed up with a contact in a while? CRMs use AI to notify you when you should reach out again.
Automated Sales Funnels
CRM software can track leads in your sales funnel and help your salespeople push them through and turn them into customers. It can also analyze your data and make suggestions on why you aren't closing sales. CRMs can make these calculations thousands of times per second, much quicker than a human can.
Automate Repeated Actions
AI has become better and better at completing repeatable actions for you. For example, HubSpot can scan in your business cards and build out a customer entry in your database automatically. This only saves a minute or two, but can be repeated hundreds of times per year with increasing success.
Reporting and Analytics
One of the main reasons businesses use CRM software is to get powerful reports about their business generated. Artificial intelligence can build and run these reports quicker than before. Let your AI perform A/B testing and make recommendations on what is working best.
And that only scratches the surface. Next up, we go into some of our favorite AI features in CRM tools in more detail.
HubSpot Business Insights – AI Business Insights
HubSpot Business Insights is an AI product built in to HubSpot. It allows users to populate their contact records automatically. It so allows users to get powerful insights that their sales and marketing teams will use. HubSpot Business Insights lets business owners to spend less time digging for details about their customers and more time selling their products.
This product uses AI to turn repetitive sales emails into templates. It also uses AI to build a library of documents that users can access via their inbox and share with their teams.
HubSpot Business Insights integrates with Gmail, Outlook, and Gsuite. This integration allows users to access email templates and company information right from their inboxes.
HubSpot Business Insights Features
Lets you automatically add company, contact records, log sales activities, and more
Assign tasks to others and push deals forward
Track the progress of your campaigns in your dashboard
Notifies you the very moment a prospect opens your email
Click here to view HubSpot Business Insights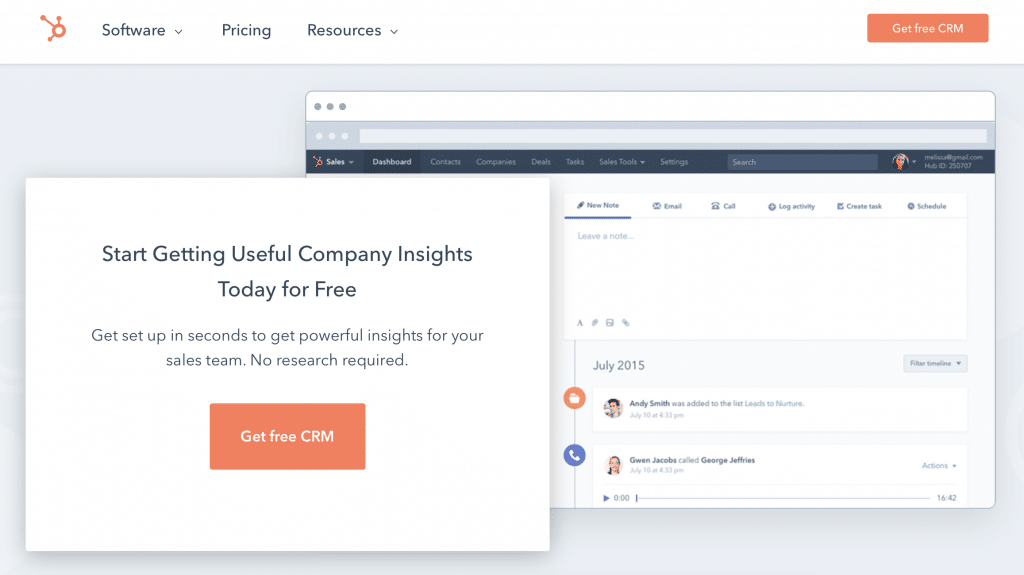 HubSpot Adaptive Testing – CRM A/B Testing
HubSpot Adaptive Testing is a product of HubSpot that uses AI to conduct A/B testing. Unlike traditional A/B testing, Adaptive Testing lets you test new variations of assets and automatically optimizes the variations based on past performance.
Once you launch Adaptive Testing, select a goal and choose up to 5 variations. After sometime, you can analyze your test results tab and see which variation has achieved the best goals. Adaptive Testing provides metric comparisons and automated improvement feedback.
HubSpot Adaptive Testing is better than A/B testing because you don't have to wait to see your variations performances before picking a winner. Plus, manual result checking is also a thing of the past.
Click here to view HubSpot Adaptive Testing

HubSpot Predictive Lead Scoring – AI Analytics
HubSpot Predictive Lead Scoring is another machine learning-powered product from HubSpot. This product allows businesses to prioritize follow-up by scoring their contacts across different data points. It also allows businesses to optimize their outreach using data from buyers' experience. Plus, users are able to collect their customer context in one place to reach the right people at the right time.
If you are not sure which lead is best, you can use Predictive Lead Scoring to parse through several data points. This product uses machine learning to customize your score and give users total control over their scoring criteria.
Predictive Lead Scoring allows you to create over 25 unique scoring sheets to generate the right leads for your business.
HubSpot Predictive Lead Scoring Features
Lets you automate your lead qualification with Predictive scoring
Create multiple score sheets for your scaling business.
Allows users to automatically optimize their outreach.
Click here to view HubSpot Predictive Lead Scoring

HubSpot Business Card Scanner
HubSpot Business Card Scanner is a product of HubSpot, a leading CRM platform. This product uses AI to transform business cards into CRM contacts in seconds. It lets you focus on creating excellent customer experiences and delivering great services.
Here is how it works.
Grab those business cards, open the scanner on your device, and click "create contact." The scanner will parse the data on your card automatically and route it to the right HubSpot properties.
Scanning business cards manually can be a pain in the neck. But with HubSpot Business Card Scanner, you can bring all your business cards into your CRM. You don't need expensive apps, extra employees, or manual entry to achieve this. It also lets you send automatic and follow-up emails from your entries.
HubSpot Business Card Scanner Features
Lets you scan smarter over time with machine learning
Lets you create and enrich contacts and companies instantly.
Completely free to try
Click here to view HubSpot Business Card Scanner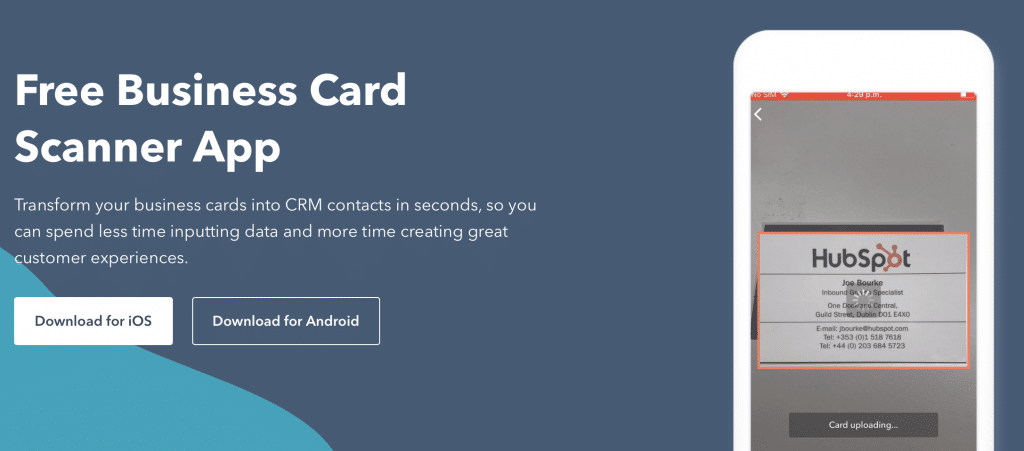 Zoho CRM Automatic Reports
Zoho CRM Automatic Reports is an AI feature from Zoho CRM. It helps businesses generate reports from text. Zoho calls the product "Zia." Zia lets you analyze your data, discover hidden insights, and create stunning data visualization in seconds. Plus, you can transform raw data into actionable reports.
Zia lets users track their business metrics, identify outliers, see longtime trends, and unearth hidden insights. It also blends multiple data so that you can view your business health across departments. Zia uses AI to answer your clients' questions in natural language. You can share and publish reports with your colleagues and set notification alerts when anomalies happen.
IKEA, LaLiga, Johnson Control, PETA use Zia to improve their business processes in real-time.
Click here to view Zoho CRM Automatic Reports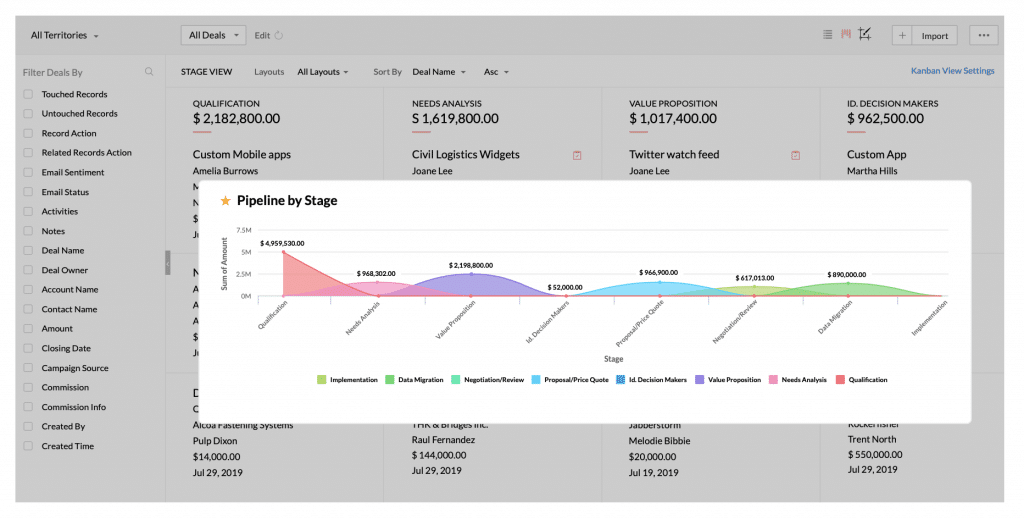 Zoho Customer Experience – AI Customer Suggestions
Zia by Zoho can also use AI to improve customer experiences at key stages of the customer experience. You can easily integrate artificial intelligence into your website chatbot, sales follow up, and customer reporting. Zia also offers suggestions that you can use to improve your customer onboarding processes. With Zia, you will stay on top of your game and offer excellent customer service.
Your clients will communicate with Zia once they land on your website. Zia uses AI to provide answers to their questions. Zia can also assist your clients to place or edit an order in real-time. If Zia cannot handle a question, she immediately transfers the question to the relevant department to avoid loose ends.
Additionally, Zia can process incoming tickets and places appropriate tags on each ticket.
Click here to view Zoho Customer Experience

Zia Prediction Builder – AI Analytics
Zia Prediction Builder is Zoho's prediction toolkit for business owners to build custom predictions in their business. Zia helps businesses to predict the likeliness of sales. It can predict probable outcomes for both custom and standard modules.
The Zia prediction tool can help you predict the likelihood of winning or losing a deal. It automatically tracks your growth by year, salary expenditures, and other revenue and expenses. It can also help you predict the likelihood of prospective buyers buying your products. If you want to estimate the number of your products that you will sell, Zia Prediction Builder will tell you.
Click here to view Zia Prediction Builder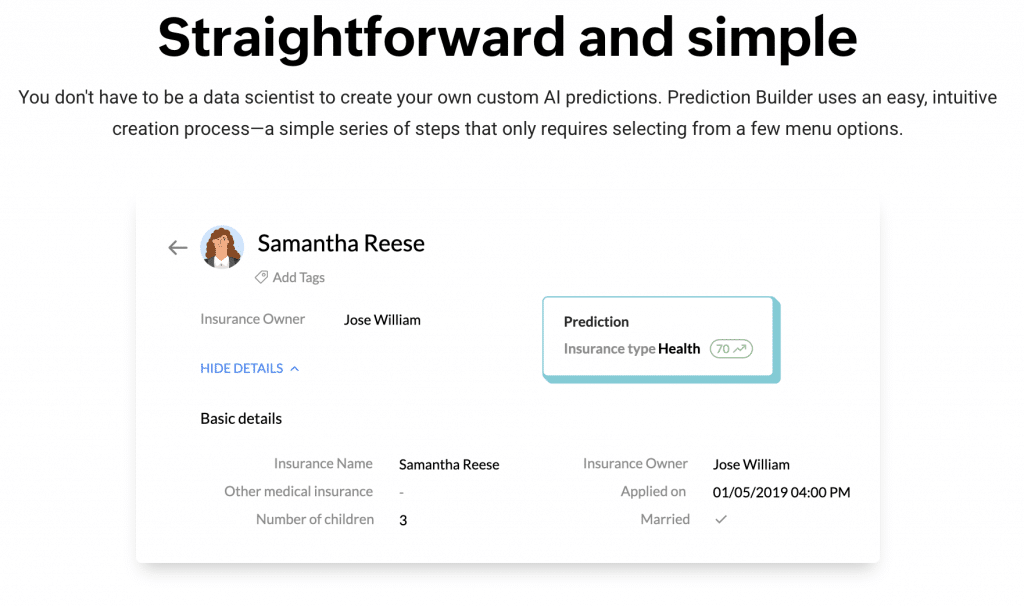 Freddy AI by Freshworks – AI Assistant
Freddy is Freshworks CRM's AI bot. It is integrated into specific spots within the CRM. Freddy helps businesses to get actionable insights across the customer journey. It uses AI to helps businesses to deliver highly personalized engagement with their customers. Freddy can help you automate different tasks like lead qualification, lead generation, and also help you better engage with your prospects.
Additionally, you can use Freddy to distinguish between hot and cold prospects and get visibility whether a deal will close. This AI CRM assistant learns from your CRM data to deliver insights and recommendations based on your business.
Freddy prioritizes contacts based on star ranking and score. It uses historical data to assign scores to contacts.
Click here to view Freddy AI by Freshsales.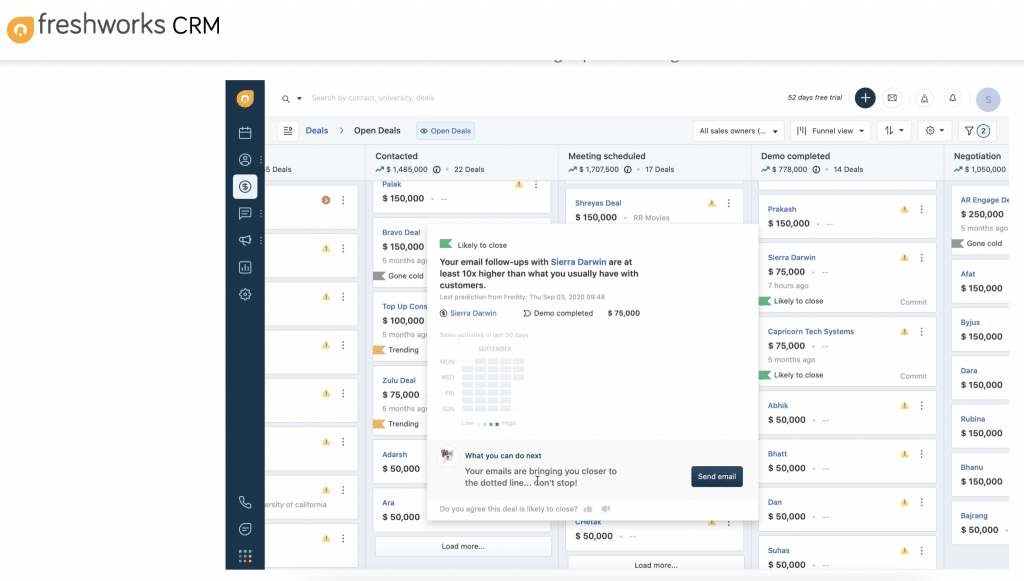 Salesforce Inbox
Salesforce Inbox can transform your sales process directly from your emails. Salesforce is a powerful CRM software that helps businesses generate leads, track sales, improve income. Inbox makes it easy for the sales team to sell their products or services each time they click the send button.
Salesforce Inbox uses the power of artificial intelligence to bring calendar, email, and CRM data together in one place. With this feature, you can use Salesforce to update your CRM with sales data from your email. It also lets you log customer communications automatically. You can add deals and other special details from a few clicks.
Most businesses live out of their inbox. Let Salesforce attach to what you use already and make suggestions on the fly. Salesforce Inbox is smart for any business.
Salesforce Inbox Features
Helps lead generation
Has email plug-ins for Gmail and Outlook
Notifies you whenever important emails land in your inbox
Click here to check out Salesforce Inbox in more detail.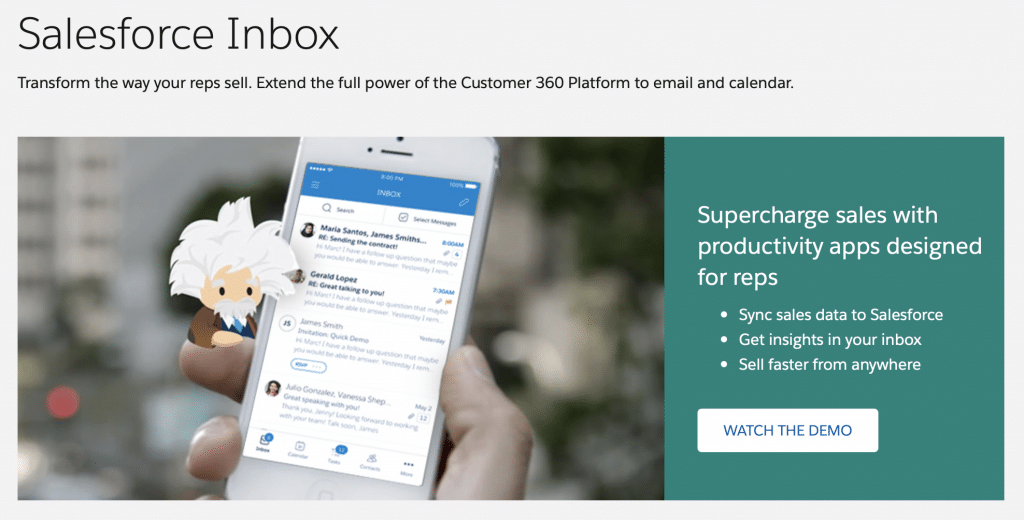 Salesforce Einstein – AI Assistant
Salesforce Einstein is an AI assistant built into Salesforce. Einstein provides a ton of AI features in the Salesforce CRM. Businesses use Salesforce Einstein to become more predictive about their customers. It lets users to better engage with customers with empathy. Salesforce Einstein also increase productivity and scales customer experiences.
Einstein allows Salesforce users to get deep insights from their customers using past interactions. Users can use these insights to prioritize leads, strengthen relationships, and set up campaigns to grow their businesses. Einstein integrates with Inbox (see above) to make predictions about leads.
Einstein can be your smart assistant and also let you do more in less time. It is available through the Sales Cloud, Marketing Cloud, Service Cloud, and Community Cloud hubs.
Einstein Features
Lets you engage your clients with empathy
Helps you deliver personalized customer service
Provides deeper insights from your clients
Click here to view Salesforce Einstein

What AI feature in your CRM do you like using? Comment down below and let us know today,
If your business is looking for a CRM, use the links above to check out the most popular tools for businesses today.