A good link building tool can read the SEO metrics of potential sites, automatically outreach to them, and help build you inbound links quickly and easily. In this guide, I'll go over the best AI link building tools that use artificial intelligence to manage your outreach campaigns, find link building opportunities, improve SEO, and help you build high quality connections to your site.
Each of these auto link building software tools use AI to simplify your life and help you find success online with some key features:
Find you quality guest posting and outreach opportunities
Simplify the entire outreach process with cool features
The ability to look through your competitor backlinks and recommend action items
Unlike other similar lists, we focus on tools that use smart intelligence and AI to help you make decisions!
Good link building software pays for itself over and over again. If you try out any of the tools below, comment at the bottom of let us know what you think.
What are the Best Link Building Tools That Use Artificial Intelligence?
AI Link Building Agencies
Best AI Link Building Tool
LinkHunter is an automated link building tool that you can use to outrank your competitors. You can use this AI tool to build high-quality do-follow backlinks quickly and with lower effort. It features an intuitive and innovative UI that makes launching link building campaigns easy. This tool works by automatically sourcing high-quality websites and sending emails to prospects for relationships. The process is condensed into the following steps:
Step 1: It finds hundreds of relevant websites in seconds, previews sites, and shows the SEO value of each site in real-time.
Step 2: LinkHunter instantly scrapes the websites for emails and helps you send personalized messages with dynamic fields. It includes built-in email templates.
Step 3: The tool then starts outreach for you so that you can find links and grow your rankings. It also keeps all the websites you've contacted in case you need them in the future.
With LinkHunter, you can view each site's most important metrics to enable you to sort out bad prospects from good ones. The tool helps you track all the sites you have contacted so you know the stage you are in and whether or not you've acquired anything from them.
Key Features
Supports a variety of link building strategies
Automatically finds the contact information for site owners
All-in-one platform for finding and winning backlinks
Can help you find guest posts on relevant websites automatically.
What I Like About LinkHunter
I liked that LinkHunter can help you find bloggers and websites to write sponsored posts on automatically. I also like that you can upload your list of links and use advanced search operators to better your chance of outranking your competitors.
Click here to view LinkHunter.
Best for Internal Link Building
Running an internal link building campaign can be overwhelming without the right tool. Link Whisper is the perfect WordPress tool for automatically creating internal connections between your pages. It helps users make easy-to-manage and intelligent suggestions in the link building journey. Link Whisper is a WordPress plugin that uses AI to speed up the internal building process to rank better on search engines.
Once you start writing your articles within the WordPress editor, Link Whisper will suggest relevant internal links to help your post rank high. Depending on your existing content or the number of articles you have on your site, this tool can automatically suggest high-quality internal links from the content you edit.
I use this tool all the time to quickly build relationships between articles and help them rank higher. Link Whisper is perfect for individuals, teams, and agencies.
Internal link building is highly underrated. A lot of successful websites rank high and make a ton of money without doing any external outreach at all. Having a solid internal structure is more important for most websites.
Key Features
24/7 tracking to monitor your links and their performance.
Quick disavow tool for removing spammy links on your website.
You can see a detailed bulk analysis of your link profile.
Automatically suggests internal links as you write.
What I Like About Link Whisper
I like Link Whisper because it can help you track and monitor your backlink profile. I like that the tool suggests internal links live as you edit your content. A lot of blog owners don't appreciate internal building enough.
Click here to view Link Whisper.

Brandcitations
Best Link Building for Businesses
If you run a business or a software-as-a-service, Brandcitations is the link building service that you want to increase your brand's awareness. Unlike the other tools on this list, Brandcitations is mostly hands off. The team deploys smart tools on their end to help you grow your business.
Brandcitations works to create handmade links and brand mentions to your company. They do this through a mix of public mentions and guest posts. The company specifically focuses on:
forum backlinks
social profiles
local directories
One big perk is multilingual link building. Brandcitations will get your traffic from international countries faster than you can on your own. Every account manager assigned to you has multiple years worth of SEO experience.
Key Features
Organizally increase your brand's awareness
High quality and focus for e-commerce, SaaS, real estate, and businesses
various posting lengths
detailed reports each month
Click here to try Brandcitations.

Best SEO Tool with Link Building
CanIRank is a complete suite SEO tool that features good AI link building features. It uses AI to help digital marketers and link builders with building links more efficiently.
CanIRank will point you to websites you should target to earn high-quality backlinks and dofollow links from. CanIRank can also pair you with websites that will give you a boost to rank high on search engines. CanIRank will show you which strategies to deploy to earn high-quality do-follow backlinks and give you steps to follow for each situation.
While other link building tools can generate thousands of prospects, only CanIRank will suggest prospects more likely to give you permanent do-follow backlinks. This will keep you more focused and increase your hit rate.
CanIRank helps you develop a proper link building strategy with a high success rate, including unlinked mentions, competitor links, guest posts, and niche directories.
Key Features
Can I Rank will let you know when links are lost or won.
You can see detailed statistics for any web page.
It has a good link intersect tool to find opportunities from competitors
Click here to read our complete Can I Rank review.
What I Like About Can I Rank
I like Can I Rank because the tool can help you find useful websites that link to your competitors. I also like that it keeps things simple and provides only relevant information. Can I Rank is a full AI tool that covers all aspects of SEO. It might be the all-in-one solution you've been looking for.
Click here to view Can I Rank.
Best Link Monitor
Are you looking for an easy way to rank your website? Monitor Backlinks can do the magic! Monitor Backlinks uses artificial intelligence to automate the entire process, from sourcing for new backlink opportunities, tracking, email outreach automation, and beyond.
This AI tool will automatically notify you when your competitor gets a new backlink. It will also alert you whenever a prospect removes your backlink.
Monitor Backlinks can check for good and bad outreach content to help scale your link building campaign. It provides 24/7 eyes into your profile so that you don't have to. This is a must-have tool for SEOs, online entrepreneurs, and digital marketers.
Key Features
Check broken links for quick-win opportunities.
Quickly get essential insights about your SEO campaigns.
Can check a site's complete backlink profile
Equipped with an intersection feature to compare opportunities from competing sites
Can see the anchor texts used by linking sites
What I Like About Monitor Backlinks
I liked that Monitor Backlinks understands users' backlink profiles and automates the link building process. I also liked that you will receive automatic notifications when your competitors make a move. This let's you stay one step ahead of them in the process.
Click here to view Monitor Backlinks.
Best Outreach Tracking
Buzzstream is an automated link building tool that helps you stay organized with email outreach. The tool is equipped with everything you need to succeed at scale:
building email lists
sending emails
reviewing results
optimizing your email tracking
tracking link building campaigns
Instead of relying on spreadsheets and random Gmail inboxes, BuzzStream can help you track and manage conversions and campaigns across different projects. This automated tool works really nice and is helpful for teams and agencies.
BuzzStream first finds websites using the site's discovery tool. You can also upload a list of websites you want to reach out to. BuzzStream will then help you sort out their contact information. Within BuzzStream, you can reach out to prospects, check your email status, and send follow-up emails. All of this email marketing is done automatically.
Key Features
Help you with broken link building on yours and other sites.
Comes with pre-made templates for outreach.
Uncover brand mentions without links to get links from people already talking about your business
What I Like About Buzzstream
I like BuzzStream because it will save you a lot of time and energy, especially if you do a lot of outreach or work with a team of link builders. If you're business is growing and you are working with a team, all of you can access the tool and work together nicely.
Click here to view Buzzstream.

Best Email Finder
Hunter IO is a tool for finding professional email addresses for link building. It connects with those that matter to your business. Once activated, Hunter IO leverages the power of AI to help you find accurate contact information in seconds and simplify your link building efforts.
This link building tool doesn't just scrape a single website. It pulls data from multiple websites for email outreach.
To use Hunter IO, enter any domain name to launch the search. Hunter IO automates email verification, so you know the inbox is still active before you hit the send button. You can also upload bulk email addresses on Hunter IO for verification.
Hunter IO is the best link building tool to find email addresses for outreach. It's power is in how accurate and well it is at finding valid email address.
Key Features
Send personalized outreach emails in bulk.
Find accurate email addresses for link prospects.
Comes with pre-made templates for email outreach.
What I Like About Hunter IO
Hunter IO is super user-friendly. The UI is intuitive and great. You will get all the relevant information you need to succeed in your link building campaign. It has been around for a while and is well established.
Best Prospecting Tool
Dibz is a go-to tool that cuts drama out of the link building process and allows you to find killer link building opportunities. It sorts and filters quality prospects and cherry-picks prospects that will likely give you high-quality dofollow backlinks.
Dibz uses AI to automate, simplify, and speed up influencer research and the whole process. This tool lets you easily import or export your lists of prospects and get them evaluated within seconds.
To make your campaign efficient, Dibz has some measurable site quality indicators that you can check out. You can leverage the indicators to specify the criteria you want Dibz to rely on when evaluating websites. So, if you are looking for a tool to grow your brand online in many ways, consider subscribing to Dibz.
Key Features
Offers suggestions based on your preferred link building methods.
Comes with outreach management tools for contacting prospects.
One-click verification to ensure any links you've earned are still valid.
What I Like About Dibz
I liked that Dibz gives quality link suggestions for different link building strategies. I also liked that Dibz has over 17 custom spam metrics to help you succeed in your campaign.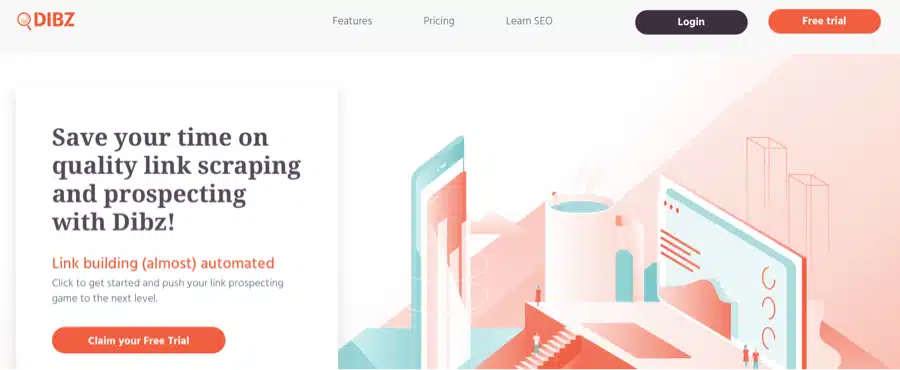 Best for Real Businesses
Choosing the right tools for your link-building campaign is crucial if you need high-quality links to rank on search engines, and that's where Pitchbox comes in. Pitchbox is an all-in-one automated outreach platform designed for efficiency and ease of use. From reporting on outreach to discovering prospects, and everything in between, Pitchbox is the perfect fit. It has lots of data and analytics features to help you outshine other websites.
Here is how Pitchbox works: Once you sign up and log into your dashboard, you will need to create a project to start. After completing a project, you choose the type of campaign you want to run. There are many pre-built campaigns to choose from so that you can automated a lot of your workflow. Then, you create personalized and automated email sequences for your campaign.
Pitchbox shines in the area of outreach emails. You can set up automatic follow-ups to target those who didn't reply to your first email without spending so much time tweaking each one. The tool tracks your success rate and offers suggestions on how to improve.
Though it is strong, Pitchbox is the most expensive tool in this list. It costs $200 or more per month to access the platform.
Key Features
Performs backlink monitoring and tells you when high-quality links are won or lost
Uses AI to find contact information for many sites.
Has an outreach module to send personalized messages to link prospects quickly.
Quickly find tons of link prospects using its keyword research tool and competitor data
What I Like About Pitchbox
I liked that the Pitchbox workflow is built right into the application. The moment you launch a link building campaign, this automated link building tool will walk you through all the steps: high-quality sourcing prospects, sending outreach emails, and grabbing contact information.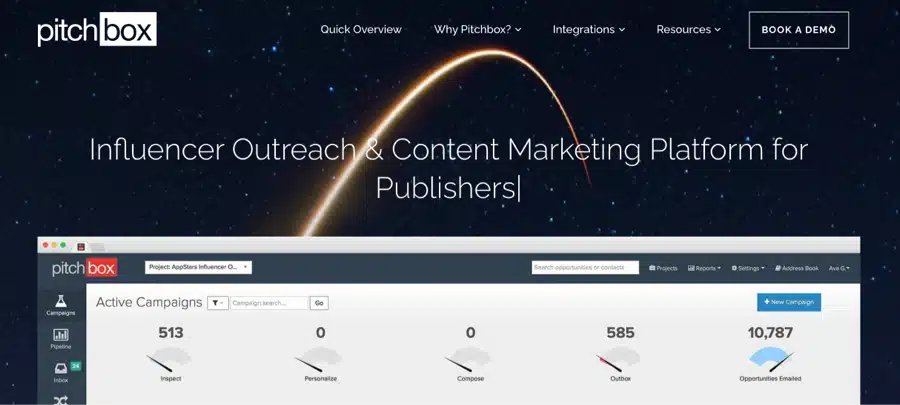 AI Link Building Agencies
If you prefer to be hands-off, there has been a rise in AI link building agencies. These companies provide consulting services where they deploy artificial intelligence to build links for you.
Some examples of the top AI link building agencies are:
These agencies use ChatGPT to create content that is worth using as guest posts. They use AI to personalize email outreach, research keywords, and find relevant sites to build links with.
Give them a try today.
What are Link Building Tools?
Link building tools are software that make it easier for you to outreach to prospective clients and build backlinks to your website or blog post. Before tools, you had to manually google search for similar brands, manually look up an email address, manually draft your email, and build relationships one at a time.
New tools can automatically find companies that are a good fit for you to work with. They can automatically find you an email to contact. And finally, these tools let you contact hundreds of websites at a time, saving you hours and hours of work..
Link building is key to improving your domain authority and a powerful tool will do work automatically for you to build external links to your site.
Artificial Intelligence
AI link building tools use artificial intelligence to further simplify the process for you. AI writing tools can automatically create the draft of your email to send out. They can learn how to handle automatic responses, email follow-ups, and other specific situations.
AI can adjust your responses on the fly, depending on the type of website you are reaching out to and what their response is. Others can learn what is working the best, and further optimize your campaigns.
Key Features to Look for in Link Building Tools
If you want to build more links and improve your SEO outreach, there are a few key features you should look for.
Email Verification
You need to verify that the emails you are sending are actually going to the right people. Otherwise, they might just be bouncing back and you will waste your time. Most tools verify that emails are received and can even track whether they are opened or not.
Outreach Management
This feature allows you to manage all of your contacts from one place. You can see who hasn't responded yet, who has responded already, and which ones have been verified. The dashboard in the tool is important for you to understand building and outreach success.
Custom Metrics
Custom metrics help you measure success. For example, you can set up custom metrics like "How many times did this company respond?" or "Which email style was most effective?". These metrics let you perform trial and error and improve your outreach.
Bulk Contacting
Bulk contacting saves you tons of time by letting you bulk contact multiple sites at once. Even the best outreach campaigns only have a success rate of about 3%. Therefore, being able to contact thousands of sites quickly is key to a good link building campaign.
AI Written Emails
AI link building tools save you time by drafting your messages for you. They use the data of millions of successful emails to draft you messages that will convert well.
If you have any other features that you think are key in AI link building tools, comment down below. These features can be found in most of the tools above and are ones that we look for.
Reasons I Use Link Building Tools
There are so many benefits to using link building tools as part of your SEO processes:
Rank Higher in Google Search – When you build a link from another website with the anchor text being your target keyword, it tells Google that you are related to your search term. Over time, this allows you to rank for your target and other related keywords.
Save Time – With automated tools, you don't have to spend hours searching for potential clients. Instead, you can focus on growing your business.
Improve Your Conversions – When you're able to reach out to thousands of businesses at once, you will get better conversions. This means you'll get more leads and sales.
Get More Links – The more links you have, the higher your search engine rankings in Google and Bing are. Automated tools help you do that without making the entire process manual.
Increase Your ROI – If you're not getting enough traffic to your site, then you won't get as much revenue. But as you have success with link building, your domain authority will increase and you can increase your ROI.
Grow Your Business – By automating your outreach, you can grow your business without having to worry about spending too much time doing things manually.
Premium Link Building Tools vs Link Building Services
If you don't want to put in some link building effort yourself with a tool, the alternative is to hire a good white-hand link building services company. These companies do all of the work so that you don't have to, including:
Email outreach
Negotiation
Guest post writing
Getting you backlinks
Tracking website growth
Good service companies will also help you develop backlink strategies to grow your website too. Services provide a more hands off approach compared to backlinks builder software and tools.
We are currently trialing a few different services and will update this section with our findings soon!
Conclusion
Link building is an essential part of every online marketing strategy. It helps you build trust and authority in your niche. And it gives you the opportunity to gain new customers and generate more revenue.
But there are a lot of people who don't know how to do it right. There are even more people who don't know where to start when they first begin their journey.
That's why we've created this guide. We hope that it will help you find creative AI link building software that suits your needs. These tools help you build backlinks faster than ever before, with smart features to help simplify things. They find relevant blogs and websites for you to contact, automatically