AI Image Tools
The AI software below use intelligence to make photo editing and manipulation faster than ever before. Background eraser tools are common in this area.
Clipping Magic
Clipping magic uses AI and machine learning to remove the background from your images. The more images uploaded, the better the service becomes. It also contains custom features such as a precision tool for fine cuts and hair.
Click here to view Clipping Magic.
BgEraser
BgEraser is a simple image background remover tool that allows you to remove the background quickly and easily. Photos 700 pixels wide or less can have their background removed for free.
Remove.bg
Remove.bg is another background remover service that lets you edit pictures for free. Non-users have their images resized to 512 pixels. Remove.bg contains an API that you can integrate into your website or application.
Vector Magic
Vector Magic is an AI software tool that can take a regular image file and convert it into a PDF/SVG/EPS vector automatically. It is great for logo design, embroidery printing, and graphic designers.
Click here to view Vector Magic.
Let's Enhance
Let's Enhance is an image upscale service that uses artificial intelligence and deep learning. It can automatically increase the quality of your photos by up to 16 times.
Click here to view Let's Enhance.
Icons8 Image Upscaler
Icons8 Image Upscaler is another AI software tool to increase the quality of an image. It predicts a high-resolution image from a given low-resolution image using millions of images so that you can enjoy fast and smooth up-scaling.
Click here to view icon8 Image Upscaler.
Everypixel
Everypixel is a stock photo search tool that searches 50 free and paid stock photo websites. It uses automation to accurately predict which stock photos are the best quality by analyzing details about the photo.
Click here to view Everypixel.
Lensa
Lensa is an AI-powered photo editing app for the iPhone. It lets you adjust the background and touch up your photos fast and easily.
AutoDraw
AutoDraw is an AI software experiment from Google. It lets you draw crude and abstract shapes and recommends finished drawings based on how artificial intelligence interprets your work.
AI Software For Logo Design
The artificial intelligence tools below help you make professional logos for your business faster than ever before.
Designs.ai
The Designs.ai Logomaker lets you create your own unique logo and brand in seconds. In just a few clicks, Logomaker can produce you a logo. You can tinker with the design, font, colors, and logo symbol until you are happy. Design.ai shows you how your logo looks on merchandise and gives you the option to download it in a variety of sizes.
Click here to view Designs.ai Logomaker.
Logoai
Logoai uses artificial intelligence to continuously update its algorithm for creating professional working logos. The service generates you logos in multiple sizes, business cards, social media banners, and other branding pieces automatically.
Looka
Looka uses artificial intelligence to design you a business logo that matches your style, colors, and design ideas. It has been used by over 5 million customers so far. Once you have your logo, Looka has over 500 templates like email signatures, clothing, and business cards that you can place your logo on.
Logomaster.ai
Logomaster.ai has created professional logos for over 3000 customers. When you are done creating your logo with their AI software, you get a professional package. It contains different file sizes and types to use wherever you want.
Click here to view Logomaster.ai
Brandmark
Brandmark uses ai to create you a logo based on your style, color, and design choices (similar to others in this list). Where Brandmark stands apart is that they offer custom revisions done by humans so that you get the design you like.
Logo By Shape Factory
Logo by Shape Factory is a more simple way to create a business logo. The process is simple: enter in your name, choose a font-style you like, attach a logo mark, and purchase your logo. The brains behind the scenes is mostly hidden so that you can just see the final result.
Click here to view Logo by Shape Factory.
Audio AI Software Tools
The tools and services below use artificial intelligence to manipulate and alter audio files like never below.
Krisp AI
Krisp is a live noise cancellation app that can filter out the background noise from any call, live chat, or audio on your computer. It allows you to work from home in peace by ensuring that no background noise makes it into your live call.
Moises AI
Moises allows you to isolate and extra the vocals or any instrument from any audio file. You can create individual stems of each instrument and use them for remixes, music production, or karaoke.
Splitter.ai
Splitter.ai allows you to upload any song and the service will automatically generate you individual stems. Two stem (instrumental and vocals) or five stem (vocals, bass, drum, piano, and other) files can be generated with high accuracy.
Click here to view Splitter.ai.
Noisy.live
Noisy is a Discord music bot that uses AI to generate songs on the fly. You can pick from a collection of 16 genres and Noisy will never play the same song twice. All music is generated live and on-the-fly with AI.
Click here to view Noisy.live.
Resemble AI
Resemble AI lets you create voiced based on just five minutes of source data. Or, you can record and upload yourself and Resemble will build a voice bot that you can control to say anything.
Click here to view Resemble AI.
Lyrebird by Descript
Lyrebird allows you to clone your voice into an editable model using artificial intelligence. You can edit your speeches or recordings on the fly just like you would edit text in a word document. Lyrebird is the only 44.1k broadcast quality speech synthesizer.
Text to Video (and Vice Versa)
The AI software tools below let you convert text to video or video to text on the fly. They can be used to create blog posts or Youtube videos faster than before.
GoTranscript
GoTranscript uses a mix of AI and real-life transcribers to take audio or video and convert it into a text format. There is extra data added to your text file including time stamps, speaker tracking, and more.
Click here to view GoTranscript.
Sonix
Sonix lets you quickly convert audio and video into text on the fly. It also contains a sophisticated translation engine which lets you take your audio and convert it into text in over 30 other languages.
Synthesia
Synthesia is a text-to-video creator. You can input regular text, choose an artificially generated actor or actress, and create a video voice over with live lips. You can also take your text, translate it to over 38 different languages, and create a video in that native language.
AI Tools With Google Sheets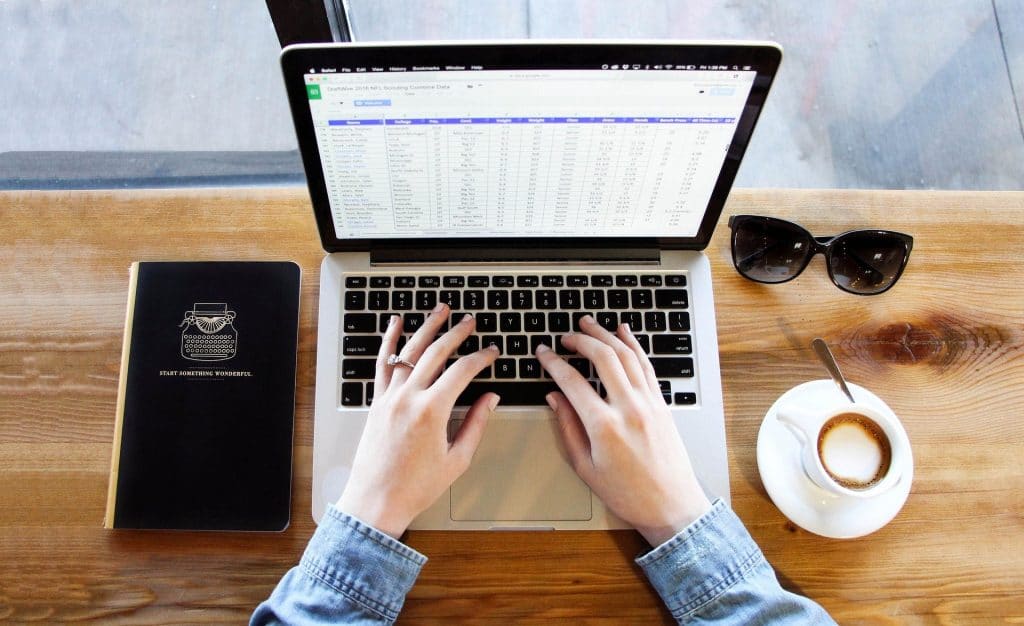 Google Sheets is an online spreadsheet tool that provides collaboration and live updating features. The AI tools below take Google Sheets to the next level by turning your data into more.
Sheety
Sheety allows you to take a Google Sheets page and turn it into a live working API. This API data can be imported into websites, used as a database, and manipulated any way you want it. Use Sheety as your database and update it on the fly whenever you need. Sheety uses artificial intelligence to analyze your Google Sheet and automatically create an API in multiple formats.
Siteoly
Siteoly is a no-code website builder that can create you a beautiful website from just the data in your Google Sheets page. You can also update Google Sheets and see the changes update on your website in real time. You can use Siteoly to create blogs, e-commerce websites, business sites, and more.
Bold
Bold is an AI software tool that turns your Google Sheet and Airtable data into a desktop or mobile app. This Sheet tool converts data into useable workspaces that can be filtered or customized to your team's needs. Bold also uses AI to make sure your software looks beautiful no matter what you need to use it for.
Click here to check out Bold AI.
Castodia
Castodia is a tool that lets you connect Google Sheets to different databases in order to create and run reports and analytics from Sheets. It is a fast way to visualize data out of databases. Castodia uses artificial intelligence to automatically connect to a database quickly and recommend visual reports to run based on historical information and machine learning.
Sheet2Site
Sheet2Site automatically converts Google Sheets data into beautiful templates for your websites. Sheets can be used as a database for restaurant information, products, or company user profiles, and then converted to a website automatically. Sheet2Site also contains a ton of templates to create an entire website with.
Click here to view Sheet2Site.
Glide Apps
Glide Apps is AI software that converts a Google Sheets spreadsheet into a fully-functional app. It promises results in five minutes and has an impressive list of past clients including Costco, Whirlpool, Uber, NASA, and Zoom. Glide includes a drag and drop app builder for you to create the basic design and then has quick Sheets integration for database information.
Click here to view Glide Apps.
Sheetson
Sheetson allows you to instantly create backend APIs from data in Google Sheets. It can be used to automatically power websites, apps, tools, and more. Sheetson can automatically set up your API and give fast access.
AI Software with Augmented Reality
The software below merges artificial intelligence with augmented reality to place and manipulate digital objects in your real-life surroundings.
ClipDrop
ClipDrop is an augmented reality copy and paste app. You can take a picture of anything in your home and automatically paste it in a digital document with the background removed.
Threedy AI
Threedy lets you take a picture of any object and converts it into 3D for augmented reality apps. It is designed for businesses who want to take pictures of their products and turn them into interactive 3D models fast.
Click here to view Threedy AI.
And there you have it! The most comprehensive list of artificial intelligence software tools on the internet. Did we miss any category? Any company? Comment below and let us know!