Artificial intelligence and machine learning have taken over everything in the past few years, and intelligent plugins for WordPress are no different. Below, I'll go over some of my favorite AI WordPress plugins that use real artificial intelligence to help grow your blog, keep it safe, make it faster, and more.
In a rush? Here is the full list of plugins I really like:
What are the Best WordPress Plugins with AI Features?
All of these WordPress plugin have nearperfectratings. And they each use AI in a different way to make running a blog site easy and seamless. Some might say this is a list of thebest AI WordPress plugin!
Let's take a look at each plugin in more detail.
Link Whisper
If you are looking for a faster and easier way to build internal links, Link Whisper has everything you need. Internal linking is a strategy that can help boost your SEO signals and make it easier for the Googlebot to find pages on your website.
Link Whisper is a WordPress plugin to help you plan and insert internal links on your site. It does this by using AI to automatically identify and recommend internal posts to link to from your text. You can automatically approve or deny its suggestions and then the plugin with automatically insert everything for you in one button click!
When you curate new posts, Link Whisper adds a new box and suggests where to add links based on the sentences of the written text. This plugin also lets you create links to posts you have already written.
This plugin best suits bloggers, content creators, and digital marketers who want to rank their posts on Google. Link Whisper also uses AI to detect broken links, allowing you to remove or edit them in real-time.
Internal link building is severely underrated. This plugin automates most of the process for you.
Key Features
Link Whisper lets you add multiple links at once in one button click.
Lets you add internal inbound links to old pages to increase your ranking on Google.
Link Whisper allows you to add, edit, or remove links from the reports page.
Uses AI to suggest the most relevant links for your website.
What I Like
I like that Link Whisper can help you suggest relevant links and where to place your anchor text. You can either accept or reject the link placement suggestions on the fly. This saves you a ton of time verses manually hunting for link placements on your site. I also like that this WordPress plugin can check for broken links and allow you to either delete or edit the links.
Demo Video
Want to see this AI tool in action? Check out this video:
Click here to view Link Whisper.

Tidio
Tidio is an AI-powered chatbot that you can place into your WordPress website to talk to your customers directly. This chat plugin provides relevant answers to customers' queries when you are not available.
Chatbot plugins are really popular for eCommerce stores on the internet. Tidio is nice because it integrates directly into WordPress and looks seamless. Tidio uses AI to identify the most used words in a query and assists your customers in placing orders. Tidio is perfect for eCommerce stores and other businesses that use a WordPress website as their storefront.
This WordPress plugin lets you actively generate more leads and sales and offer world-class customer support. It also provides integration with other chatbot technologies, Facebook Messenger, email, and Instagram.
Key Features
Tidio is 100% mobile-friendly and will work best with your brand.
Notifies you of incoming visitors and automatically engages them.
Live typing preview to stay on top of conversations and prepare your answers.
Supports over 20 other integrations, including Zapier.
What I Like
I like Tidio for several reasons. First, the plugin comes with over a dozen chatbot templates, giving you different options like recovering abandoned shopping carts. Secondly, the plugin lets you collect qualified leads and give returning customers discounts. The chatbot builder tools are sophisticated enough that you can create whatever you need. And the chat window and chat widget are customizable in design.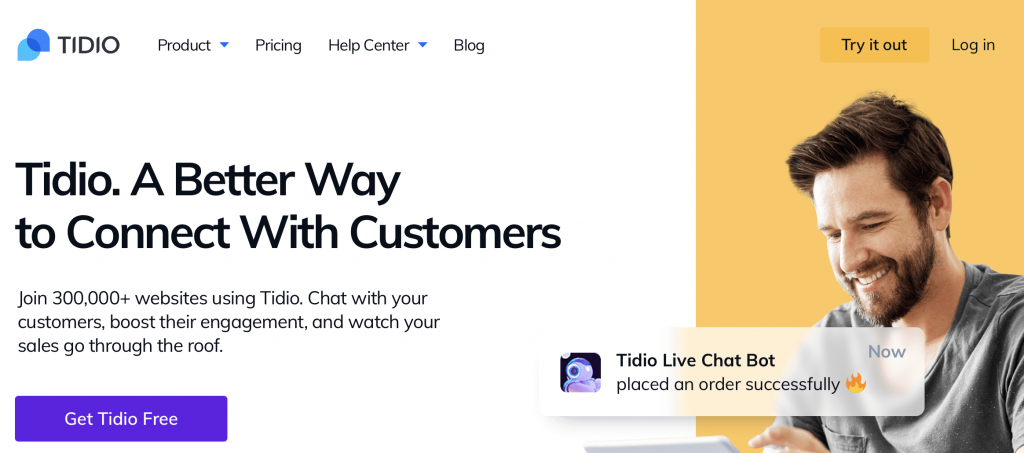 Rank Math SEO
Rank Math SEO is an intelligent WordPress SEO plugin for post optimization and on-page SEO. It uses artificial intelligence to help you write content on WordPress that has a higher chance of ranking on Google and other search engines.
Rank Math SEO takes all the hassles of writing SEO-friendly content out of the way. It integrates with Google Search Console and displays relevant information about your website right inside the WordPress editor. It lets you easily track your keyword rankings on Google.
Rank Math gives you access to a wide range of SEO tools to help improve your SEO and attract more traffic to your website. Some of the things you can do right within the Rank Math plugin are:
On-page SEO auditing
Google Search suggestions
Analytics about your site
Rank Math SEO is suitable for bloggers, vloggers, video creators, niche sites, eCommerce store owners, and content creators. It's packed with premium features to level the SEO playing field in your favor.
Configuring an SEO plugin can be overwhelming, but Rank Math SEO makes the process easy with its default settings. It also gives you clear recommendations for improvement to increase your search rankings.
Key Features
Rank Math SEO has a step-by-step installation guide to assist you in setting up SEO for WordPress.
Lets you optimize your WordPress posts for unlimited focus keywords.
This plugin makes it easy to configure Schema Markup, a.k.a. Rich Snippets.
What I Like
I like that Rank Math SEO is easy to use. All you need to do is to set a few options and leave the plugin to optimize your post for SEO. I've been using Rank Math exclusively for the past few years (previously with Yoast) and it's definitely better. New AI features in the tool give you content recommendations and a more in-depth Google Analytics connection so that it's suggestions are even smarter.
Demo Video
Want to see how Rank Math uses AI in more detail? Check out the video below!
Click here to view Rank Math SEO.

Imagify
Imagify is the best image optimization plugin for WordPress. It automatically compresses and reduces the size of images on your site so that your content takes up less space and is optimized for SEO.
Core Web Vitals are a key ranking metric by Google and the best way to pass this test is with a fast page speed. Use Imagify to reduce the weight of the photos you want to upload to your site without sacrificing quality in just one click.
Imagify can resize images in bulk if you have many photos to optimize. All you need to do is to activate the bulk optimization option, and in just one click, you will reduce the image size and optimize the images for SEO.
Imagify is for bloggers, digital marketers, Vloggers, content writers, and site editors. Like other tools on this list, it is mostly automatic. after it is enabled.
Key Features
Lets you resize and compress images from the most common image formats.
You can optimize and resize multiple images in bulk.
Can automatically convert your images to WebP.
Capable of restoring your images to their original versions.
What I Like
I like that Imagify can convert WebP for superior image compression and optimize images to make your WordPress site faster. I also like that the plugin can help you improve core web vitals. Page size is a big thing to worry about and Imagify automatically makes this process easier for you.
Google Language Translator
International SEO is a growing interest. Why focus your content on just one country, when you can serve personalized pages to every country?
Installing Google Language Translator is the easiest way for yourreaders or audience to easily translate your website content into their preferred languages. This plugin uses a machine learning translation engine and Google's AI that automatically converts posts to other languages.
Within the plugin, you will need to select the languages you want displayed on your site. The toold has a widget that sits in your sidebar or a shortcode. Your visitors can automatically generate translated pages in their native language.
Google Language Translator is best for bloggers, vloggers, video creators, niche sites, and eCommerce store owners. This WordPress plugin supports up to 80 languages, including some unique ones like Afrikaans, Albanian, Amharic, Arabic, Hebrew, Hindi, Hmong, Hungarian, and Icelandic.
Key Features
Google Language Translator supports over 80 languages.
Delivers human-level language translation.
Compatible with WooCommerce and Yoast SEO, and other WordPress plugins.
It also translates URLs.
What I Like
I like that Google Language Translator can automatically translate your website content instead of creating multilingual WordPress sites. All you need to do is to install the plugin and select the language you want to use, and you are good to go. Plus, everyone knows that Google Translate is one of the best AI language translators on the internet, so the quality of the automatic translation is high.
Click here to view Google Language Translator

Akismet
Akismet is a security plugin that comes pre-installed on every WordPress website. Its function is to help protect your website from spam comments. If you have comments activated on your posts, Akismet works automatically to make sure that only real comments pass through the filter.
Akismet uses AI and machine learning to detect spam comments on your site that are sent by bots. Akismet can also learn from its previous mistakes and improve its recognition. Being installed on so many websites allows it to continuously learn on the fly and improve.
Akismet is best suited for bloggers, digital marketers, and business owners using their website as a storefront. It gives you the leverage to review the flagged comment spam on your admin screen.
Plus, you can see the number of approved comments for each user.
Key Features
Has a "discard" feature that outrightly blocks the worst spam comments.
Akismet automatically checks all comments and filters out the ones that look like spam.
You can see which comments were cleared or caught by the plugin.
Akismet shows URLs in the comment body to reveal misleading or hidden links.
What I Like
I like that Akismet can help you check comments and contact form submissions to prevent you from publishing malicious content. I also like that it can detect spam comments submitted by bots. Seeing the number of approved comments is handy because you can quickly see if you have any repeat interaction with your site.

Contextual Related Posts
Contextual Related Posts is a WordPress plugin that uses AI to understand your content and recommend related posts on your website and in your feed. You can display this information on the frontend of your website within a widget, or use it in the backend to implement internal linking suggestions.
The related posts displayed are based on the content of the posts or the title, which makes them relevant to your readers. The plugin lets you display related posts using the shortcode in the sidebar or below the content.
This plugin has a ton of smart features, including:
support for widgets and shortcodes
automatic thumbnail display
custom CSS styles
Support for custom post types within WordPress.
Showing related posts has a number of advantages for user experience and customer engagement. It helps you reduce your website bounce rates, retain visitors, or refresh old entries.
Contextual Related Posts is free to use for up to 500+ pages.
Key Features
Contextual Related Posts lets you add related posts to the widget area of your WordPress theme.
Has a built-in cache that doesn't add any excess load to your server.
Uses AI to understand and recommend related posts to display
What I Like
One thing I like about Contextual Related is that the very moment you activate the plugin, it will automatically start displaying related posts on your site and feed after the content. There is very little you have to configure, other than some custom display styles if you need to.
Click here to view Contextual Related Posts

Uncanny Automator
Uncanny Automator is an AI WordPress plugin that lets you automate your workflow and tie WordPress to other apps without any code. Uncanny Automator acts as a bridge between different apps on your website and WordPress plugins, allowing you to automate tasks without touching a line of code.
If you have ever used tools like IFTTT and Zapier to connect different web apps to automate workflow, you will understand how Uncanny Automator works. This plugin does the same thing but for WordPress websites.
For example, you can setup automated functions that do things like:
Post an update to social media when you publish a new posts.
Update a content calendar Google Sheets when you finish and publish a post.
Send you an email whenever a post receives a comment worth reviewing.
Uncanny Automator is for bloggers, digital marketers, Vloggers, and eCommerce stores. This plugin uses AI for external integrations. You can easily create custom recipes that interact with hundreds of different apps like Google Calendar, ActiveCampaign, Sheets, Facebook, and more.
Key Features
It has an intuitive user interface that is easy to navigate and use.
There is no limit to the number of recipes you can create.
Uncanny Automator comes with an extensive collection of plugin integrations.
Uncanny Automator supports integrations with other external apps.
What I Like
I like that Uncanny Automator lets you streamline your workflows from your dashboard without any coding knowledge. I use Uncanny to connect with email marketing services like HubSpot, and ActiveCampaign and send out emails to my followers quickly.
Click here to view Uncanny Automator.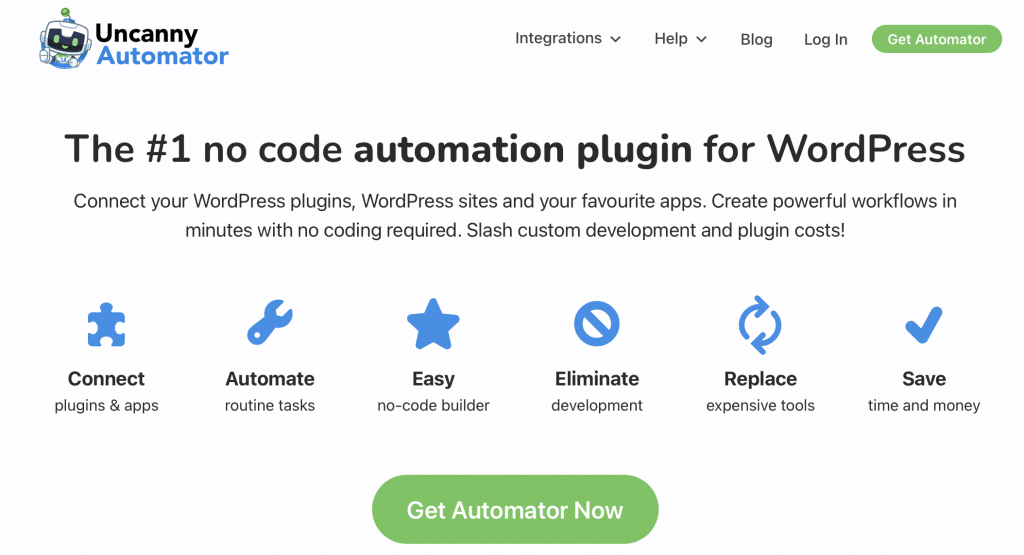 ShopMagic
ShopMagic is an AI WordPress plugin for eCommerce businesses who want to generate more sales in their online stores. ShopMagic can help you grow your business by retaining customers and increasing conversations.
ShopMagic is designed to make eCommerce business easier. Imagine SaaS-based marketing automation software like GetResponse, ActiveCampaign, MailChimp, and HubSpot – that's precisely how ShopMagic works. It uses AI for email marketing and follow-up potential customers for them to take action. It provides automatic email notifications and follow-ups to potential and existing customers.
Being a WooCommerce extension, ShopMagic gives you total control over your customers' data. Besides, ShopMagic lets you replace the WooCommerce email template with your custom HTML emails for admins and customers notification.
Key Features
ShopMagic comes with an automatic product picker listing.
Has a clean and easy-to-use sales dashboard.
Features a drag & drop email builder
Ready-made, responsive email templates are available
What I Like
I like ShopMagic because it makes email marketing and follow-ups much more manageable, simpler, and less prone to errors. ShopMagic is a must-have for anybody considering a WordPress plugin for WooCommerce. It has virtual assistant features for eCommerce stores, which allow you to simplify outreach and customer experience.

What Is Artificial Intelligence?
Artificial Intelligence is the process of using computer algorithms to make decisions automatically. Machine learning is a sub-category of AI, which involves auditing its results in order to improve itself automatically.
As AI has become more popular, it has been used synonymously with automation. AI software tools today allow you to do things in less time and button clicks than before.
How Can AI Improve Your WordPress Website?
Running a WordPress website, keeping track of internal and external SEO, and monitoring traffic growth and conversions is hard! And that's a lot of work for one person to achieve.
AI WordPress plugin makes it easier for one person to run a complete business. The tools I went over above make things a lot easier!
Here are other ways that AI can improve your site:
Enhanced Content
AI can be used to analyze Google Search results and help you craft content that will rank well in search engines. And this means more visitors to your site!
Boosts Your SEO
AI plugins can help your on-page and off-page SEO:
On-page SEOinvolves things like keyword optimization, internal link building, time spent on page, and user engagement.
Off-page SEOare things like link building outreach, content marketing, brand building, and PR.
If you can improve these things with a plugin instead of a bunch of manually, how sweet is that?
Task Automation
AI can completed tasks for you that would otherwise take you a ton of time and manual effort. How many hours would it take you a week to man a manual chatbot on your website? How long does it take to build internal links to one page? ten pages? One hundred pages?
Conclusion
In short, all good entrepreneurs are using AI WordPress plugins and tools to make things simpler on their website. Above, I went over a bunch of the tools I'm using today for:
SEO
Internal link building
Chatbots
Email automation
Content optimization
Image compression
eCommerce
If you have any other AI tools that you think are key, comment down below and let me know what you are using!