Jasper AI and Article Forge are two leaders in the space of creating high-quality content using artificial intelligence. In this Jasper AI vs Article Forge comparison guide, I'll go through each tool in full detail, telling you:
Which tool is a better content generator.
The types of content you can generate with each service
How well each tool does producing long-form articles for blogs and websites
Pricing details for each service's premium plans
Key features that you'll want to check out in each
At the end of this guide, you'll have a whole bunch of detail on the content creation process using each tool.
If you have any more questions, comment down below and let me know!
What is Jasper AI?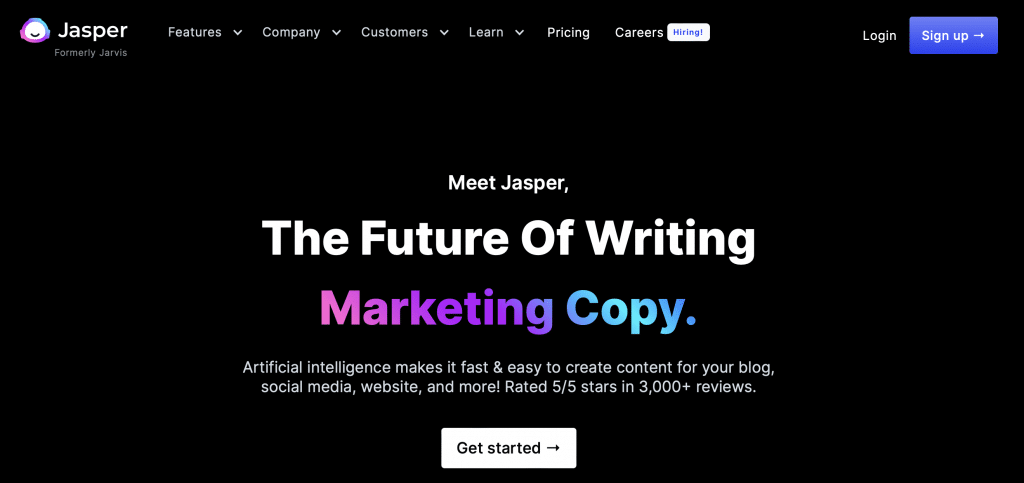 Jasper Al is a writing tool that uses cutting-edge AI technology to curate content five times faster than the average human copywriter. Jasper Al produces 100% original content, and you get pre-written templates on specific categories.
It works by taking your inputs and searching the web to create relevant content for the topic. Jasper has some key integration with some other popular SEO tools, allowing you to create high quality content really fast.
Jasper Al is perfect for content creators, digital marketers, copywriters, and other professionals that need a robot to assist them in content creation.
How to Sign Up for Jasper AI
Click here or use the button below to sign up for Jasper AI today!
Key Features of Jasper AI
Jasper Al comes with some exciting features, including:
Boss Mode
The Boss Mode feature helps you write blog posts, stories, articles, social media posts, and eBooks faster than the average human copywriter. Upgrade to the Boss Mode to enjoy high-quality SEO-optimized content and 100% original content.
You can command Jasper Al to write what you want and watch it happen like magic. If you purchase Boss Mode, the writing assistant comes included with Grammarly for mistake-free writing.
Recipes and Commands
Recipes are another key feature that I like exploring in Jasper. With the Recipes feature, you can automate some key copywriting tasks:
rriting higher quality AI content with custom-tailored recipe tools
generate captivating press releases automatically
learn how to write product reviews and video scripts 10X faster
write the perfect cold email and Facebook ad.
If you want to expand existing blog posts, the community set of recipes can also be of help.
With commands, you can give text commands to Jasper and it will generate you content automatically. For example, you can tell Jasper to generate you some blog post titles. Or, you can tell it to rewrite content for you on the fly. It's a very fluid way to generate unique content with AI.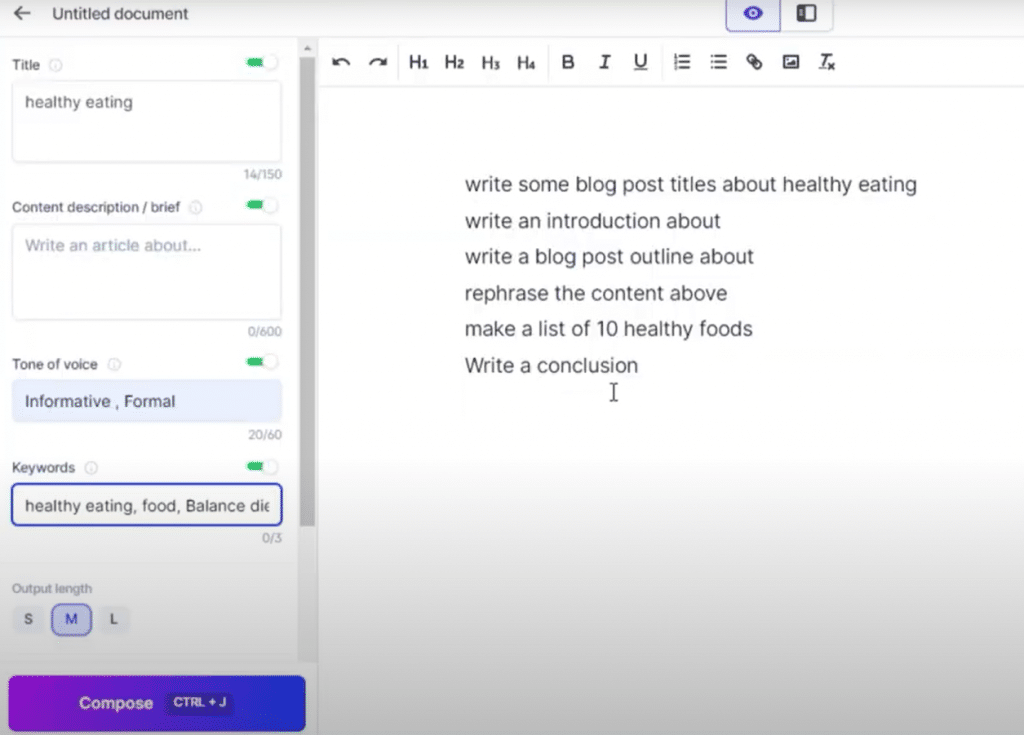 Surfer SEO Integration
Jasper Al is integrated with Surfer SEO, one of the most popular SEO tools on the market. With this integration, you can write content that ranks on page one on search engines.
This feature can also help you find the best keyword opportunities, streamline your content strategy, and create article outlines built for high rankings.
Pros of Jasper
Jasper Al is easy enough for just about anyone to use.
It is pretty inexpensive and great for writing short copy.
It is excellent for manipulating text to fit your requirements.
Jasper Al comes with over 50 pre-written templates on specific categories.
Cons of Jasper
The content can sometimes be rigid, without enough "humanness."
The content may also sound a bit cookie-cutter.
Jasper Al doesn't fact-check the information it gathers from the internet.
It doesn't provide sources like the human copywriter will do. You have to proofread to verify the information.
Jasper Pricing
Jasper Al has three pricing tiers: Starters, Boss Mode, and Custom Package.
Starter
The starter package is suitable for hobbyists that are just getting started. The package starts at $24/mo and comes with:
50+ AI templates
Support for 20+ languages
Up to 5 users
A Google Docs style editor
Boss Mode
The Boss Mode package is for more serious bloggers and content marketers. It costs $82/mo to subscribe to this package. It comes with everything in the Starter package, plus:
Maximum content lookback, which allows Jasper to review your entire article for better context and AI writing
Increased limits on template usage
Priority chat support.
Custom Package
This is exclusively for businesses and teams. You must reach out to the Jasper Al customer support team to arrange a suitable plan for your business.
The custom plan comes with:
Custom words/user packages
Flexible billing options
A dedicated account manager
Onboarding & training sessions
Premium technical support.
What is Article Forge?

Article Forge is an AI-powered content writer that you can explore to help you create high-quality articles in minutes and at a fraction of the cost of hiring a human copywriter. Article Forge is trained on millions of data and it has domain knowledge on virtually every topic.
To use Article Forge, you will have to input keywords, and the tool uses fancy algorithms to produce freshly "baked" content within a few moments. The resultant content usually passes Copyscape and other reputable plagiarism checkers.
Article Forge uses over 8 proprietary AI algorithms to generate its content, making the results very high quality.
How to Sign Up for Article Forge
Click here or use the button below to sign up for Article Forge today!
Key Features of Article Forge
Like Jasper Al, Article Forge has some exciting features. These features include:
Easy Generation
Compared to other tools I've tried, Article Forge gets to the AI writing stage a lot quicker. Most of the generation happens purely based on the keyword you enter in to the tool. Plus, you can customize your article length and automatically add titles and headings into your guide.
The whole process is very seamless.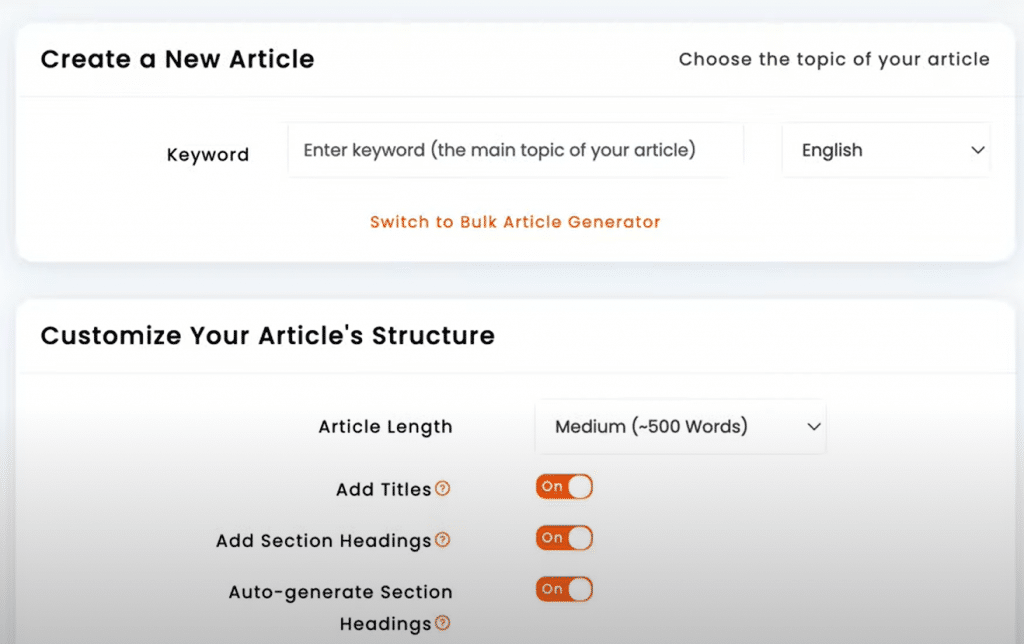 Automatic Media
Article Forge generates automatic media for all your content, making your content readable and SEO-friendly. It also automatically adds visuals to your content where necessary to attract readers' attention.
SEO Friendly Content
Article Forge can write SEO-friendly content for your blogs, websites, and platforms. You can automatically schedule posts to your WordPress websites and set up your SEO campaigns to run on autopilot.
Article Forge can help you curate content that will land on the first page of search engines.
Richer Content
Content writing is not all about written text. To make it to the first page of search engines, your content should be rich with relevant titles, images, links, and videos.
This is the hallmark of Article Forge.
Article Forge uses new LSI keyword innovations so that Google and other search engines will understand that your content is exciting and relevant.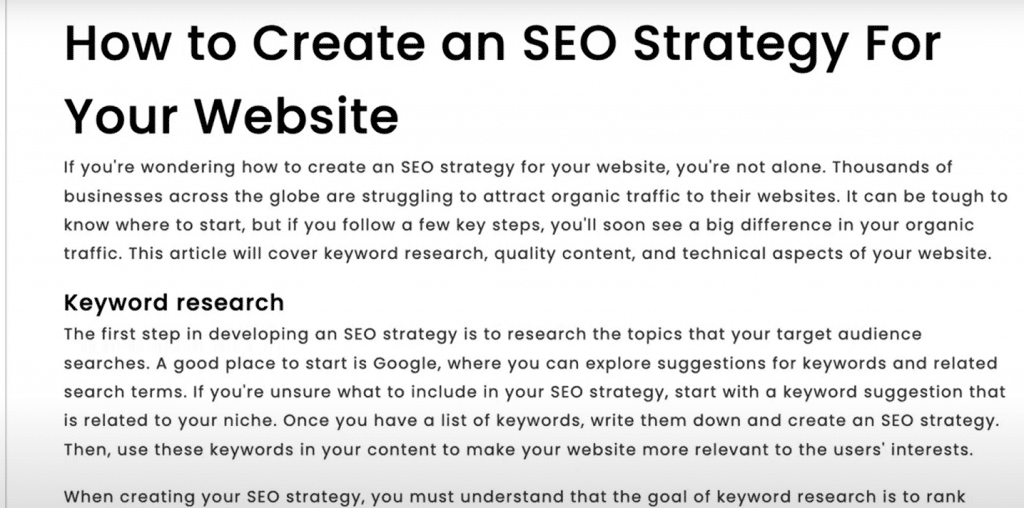 Foreign Languages
Article Forge supports up to 7 different languages. You can rely on Article Forge to dominate completely untapped markets since the competition for international search terms is extremely low.
Pros of Article Forge
Article Forge produces high-quality, naturally readable content and saves time.
All articles and blogs are written entirely from scratch to avoid plagiarism.
External links, images, and videos are added to the articles automatically.
This tool lets you schedule articles or blog posts on WordPress websites.
It is also easy to use.
Cons of Article Forge
Article Forge sometimes generates unrelated content to a topic.
The maximum word count it can write is 750 words at a time.
Article Forge Pricing
Article Forge has three pricing plans: Basic, Standard, and Unlimited.
Basic
The basic plan is designed for starters. It costs $13/mo to subscribe to this package. The plan lets you write up to 25,000 words/mo and comes with automatic upload of articles on blogs, API access, and bulk article generation.
Standard
The standard plan costs $27/mo. The plan lets you write up to 250,000 words per month. You also get all the basic plan features; plus, the content passed Copyscape screening. This feature screens your content to make sure it's not too similar to other content on the internet.
Unlimited
You will enjoy unlimited word count with this package for just $57/mo. The package combines all the features of the Basic and Standard plans.
Jasper AI vs Article Forge: Detailed Comparison
Artificial Intelligence
Both writing tools use artificial intelligence to produce high-quality and SEO-optimized content. You will have to input the keyword you have in mind, and both tools will search the web to create content that's relevant to your keyword.
Artificial intelligence helps these tools to develop natural-sounding content, including press releases, blog posts, and more.
I found that both Jasper AI and Article Forge are better than other AI content writing tools on the internet. They understand SEO formatting better than other tools, which means high quality content is generated.
Number of Languages
Jasper can write intelligent and creative content in over 25 languages, including Bulgarian, Czech, Danish, and German. Overall, Jasper Al can help you break through the language barrier.
On the other hand, Article Forge can only generate content in 7 languages. The supported languages are English, Dutch, French, German, Italian, Portuguese, and Spanish.
Templates
Jasper Al comes with over 50 AI-powered pre-written templates for you to choose from after entering a keyword you want to build content around.
On the other hand, Article Forge is also equipped with dozens of templates for short-form content.
Templates work similarly on both tools. You can create standardized formatting and recipes to help the tools generate content that is more tailored to your need.
With templates, you can generate specific types of content such as just your article introduction. Or, you can generate buzzing social media titles and descriptions.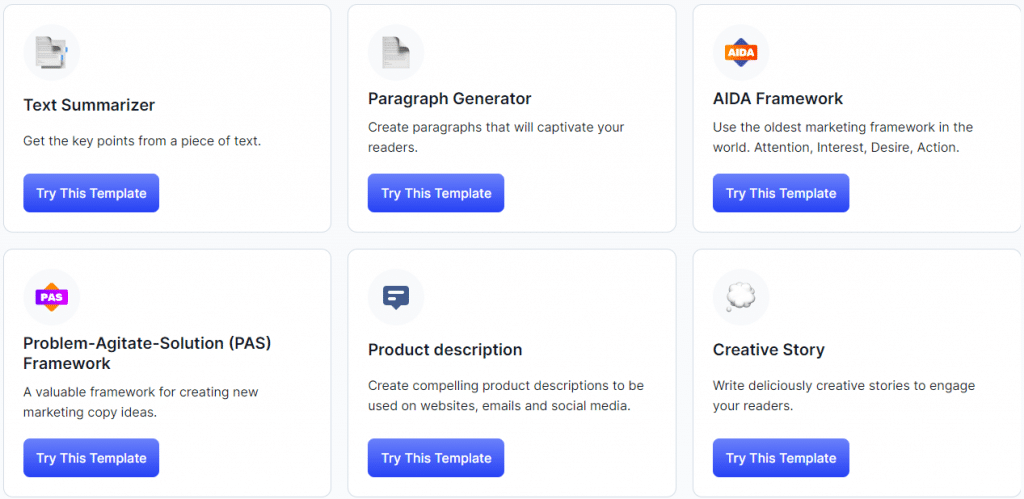 Long-Form Content
Both Article Forge and Jasper Al shine here compared to the competitors.
You can use Jasper Al to curate long-form content 5X faster than the average human copywriter in Boss Mode. One good thing about the Boss Mode is that the long-form content is original and plagiarism-free.
Article Forge uses different machine learning models to create content that is unique and accurate. The only drawback is that you can only write up to 750 words maximum unless you're on the Unlimited plan.
Both tools claim to be compliant with Google's new "Helpful Search" update.
Ease of Use
Both writing tools are easy to use, and they work virtually the same way. You will have to input a keyword around the content you have in mind to create, and they will generate the content within seconds.
The editor on both tools works fine to edit and customize your content. Jasper AI is a little bit better if you also subscribe to Surfer SEO and link up your account. This allows you to track your keyword utilization and optimize your article better for SEO.
User Reviews
Jasper Al's reviews are mostly positive online, except that some users complained about its pricing packages being too expensive compared to its alternatives. Users complained that they must always proofread the generated content to verify information, as the tool doesn't provide sources.
For Article Forge, the reviews are also mostly positive, except for the 750 maximum word limit, which prevents them from writing long-form content to enjoy search engine ranking. Users complained that sometimes Article Forge generates unrelated content to a given keyword.
Conclusion
If you see the need in using an AI article generator tool, both Jasper AI and Article Forge should be at the top of your list to try. I personally use each regularly.
Jasper AI has been covered by a lot of SEO blogs over the past 6 months and it is the most popular content generator on the internet. You'll find hundreds of Youtube videos highlighting its uses.
On the other hand, Article Forge has flown a little bit under the radar. However, it has built its very own propriety AI algorithm which is capable of producing high quality content. It does have a word limit on generated content, but that is removed if you subscribe to the unlimited plan.
By the way, that unlimited plan is much cheaper than Jasper AI's equivalent plan. That might just be enough to sway you into trying Article Forge out.
If you tried out Jasper AI vs Article Forge and have an opinion on which service is better, comment down below and let us know!