I've tried out every single AI art generators and I have the details on all of the best ones below, including ReflectMe, MagicPic, and HeroPack.
Avatars that are generated with artificial intelligence can be used as social media photos, profile pictures, biographies, and other personal branding locations. They are a sub-category of other popular image generators which are popular thanks to GPT-3 and ChatGPT.
What are the Best AI Avatar Art Generators?
Below, I'll go over each of these AI art generator tools for avatars in more detail.
ReflectMe Review – Best Overall
ReflectMe is one of the best AI avatar generators on the market. It transforms images into avatars to suit different use cases.
First, you upload your preferred photos (usually a headshot) and prepare them for AI. ReflectMe will then generate avatars of your uploaded images that align with your preferences. The generated avatars are sent to your email address.
Some of the avatar styles you can generate with ReflectMe include Santa, doctor, graduate, idol, king, and cowboy. You can turn yourself into different characters and themes in a few clicks.
The photos you upload are used to train a temporary AI model. After generating the avatars, the uploaded pictures and the temporary AI model are entirely erased to protect your privacy.
Key Features of ReflectMe
Multiple art styles to choose from.
Has various text prompts to get inspiration.
Various options to adjust image details.
Comes with a user-friendly interface.
What I Like About ReflectMe
I think that ReflectMe generates the best AI avatars on the internet. ReflectMe aggressively verifies all generated avatars to ensure top quality and to improve its service. I like that you can trade the generated avatars as NFT artwork on secondary NFT marketplaces like OpenSea.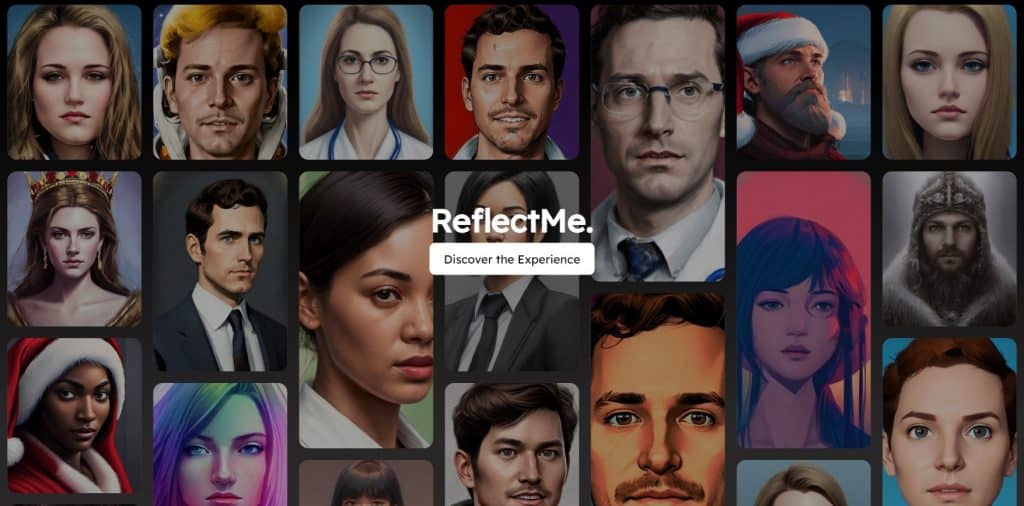 MagicPic – Best Selection
MagicPic lets you create avatars and profile pictures that show you in any style. MagicPic outputs up to 80% of your original pictures, so you get more realistic results that are generated. The AI tools can quickly understand your face and body's characteristics generates avatars that resemble you.
To use MagicPic, you have to upload at least 12 photos of yourself. Then, its AI model will do the rest of the job. It takes up to 3 hours to complete the process. You will receive an email containing a downloadable link to more than 120 avatars.
MagicPic boasts over 100 styles to choose from at $9.99 per run. It is an easy way to create personalized AI avatars and profile pictures that will help you stand out.
Key Features of MagicPic
A very active community with some great examples.
Various AI art styles and over 120 generated avatars.
Your photos are deleted after use.
What I Like About MagicPic
The results generated by MagicPic look and feel realistic. You can upload up to 12 photos at once to get a better output. The generation time is a bit longer than other tools in this list, but I think you'll have a high success rate.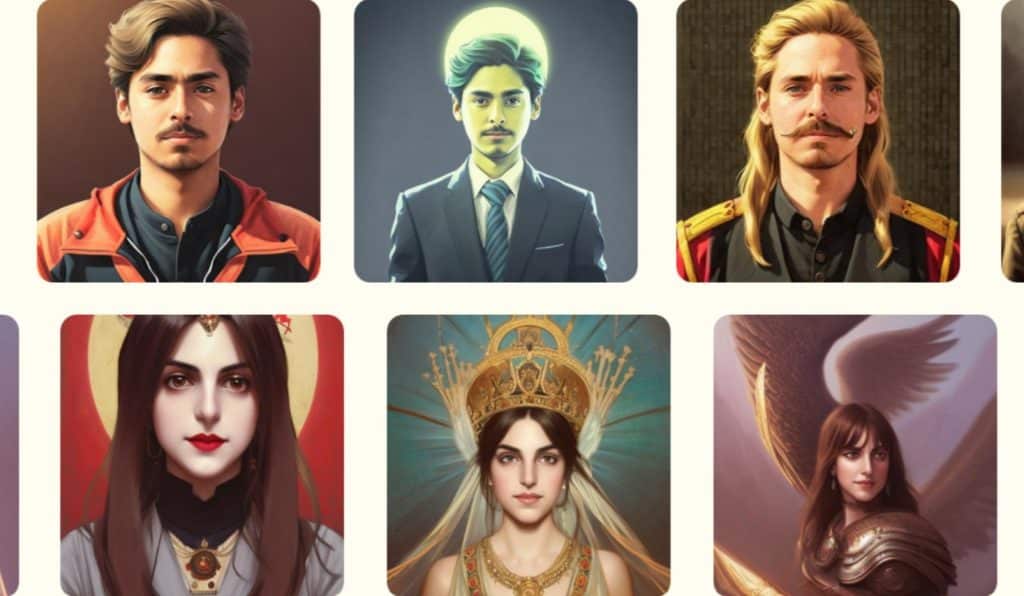 HeroPack Review – Best For Fantasy
HeroPack is an intuitive tool for generating profile pictures for video games. It is also perfect for generating profile pictures for Discord, Twitter, and Twitch.
HeroPack works by using your uploaded images to generate your preferred avatars. You can choose from various avatar styles, depending on the game theme you are looking for:
Pixel Soldier
Arcade Fighter
MMO
Tactical
90s Cover
Comic Shooter
To use HeroPack, you first have to launch the app and upload your photos. You can upload up to 20 pictures at once, which increases the ability of the AI model to create your avatars. Choose your preferred styles from the list on the app and then click on the generate button. You will receive your HeroPack with different avatars included.
Key Features of HeroPack
Supports photos with different expressions, lighting, poses, and locations.
Has a wide range of art styles to choose from.
Catered towards video game and social media.
What I Like About HeroPack
I like HeroPack because you can upload multiple reference images. This allows the generated results to look more accurate. These avatars aren't as realistic, but they work good for generating computer characters.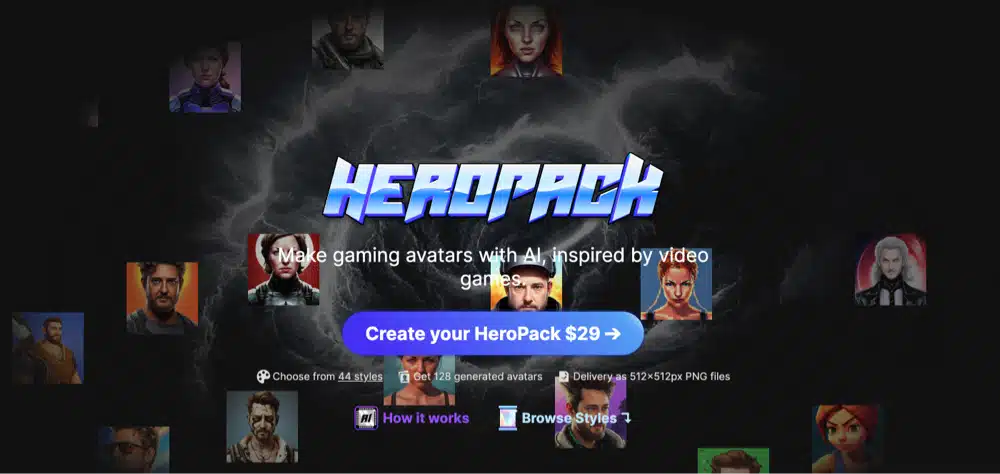 Pixificial Review – Best For Lookalikes
Pixificial is a professional AI avatar generator tool. You can generate different AI styles simply by uploading your photos. Pixificial focuses on the styles of other existing real-life characters such as Elon Musk, Clint Eastwood, or Michael Jackson. Once you select your inspiration, Pixificial can generate you avatars in seconds.
When you launch the tool, you have to name the avatar you are going to generate. Then, you choose the person to model against and set image dimensions. After that, upload your image with your face showing and choose a suitable guidance scale. Finally, click on "generate."
Pixificial avatars are great for your YouTube channel or other social media platforms.
Key Features of Pixificial
Has endless AI effects and filters.
Can generate avatars of celebrities and movie stars.
What I Like About Pixificial
I like that with Pixificial you can become any celebrity or star using artificial intelligence. The results try to be more realistic that other options in this list. I also like that Pixificial comes with over 150 avatar styles.
Clicxk here to view Pixificial.

DrawAnyone Review – Best For Unique Ideas
DrawAnyone is an AI-powered avatar generator that can transform any uploaded image into the portrait of any celebrity.
First, you must upload between 5 to 10 images of anyone. Then, you have to wait for up to an hour for AI to process the uploaded images. Finally, write a prompt of the portrait you wish to generate.
For example, you can write something like "portrait of a man with colorful hair and black background," and you will see DrawAnyone create magic. Or, you can really get creative. One of the example photos on the website used the prompt, "photo of young athletic God Hermes, fantasy character portrait, greek mythology, highly detailed."
Key Features of DrawAnyone
Turn your photos into realistic AI avatars in any style.
Very detailed results
A variety of AI art styles
What I Like About DrawAnyone
Unlike other AI avatar generators on the market, DrawAnyone uses your uploaded to create the model for its avatars. You can provide very descriptive instructions and the tool will create you detailed drawings. I also like DrawAnyone because it comes with various avatar styles for you to choose from.
Click here to view DrawAnyone.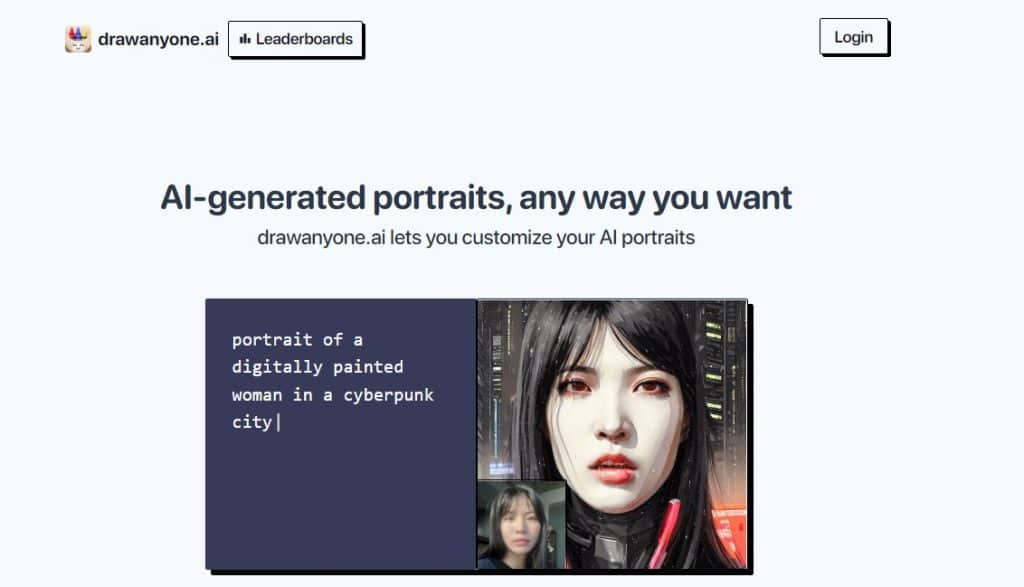 DreamPic Review – Best Animated Avatars
DreamPic is an AI avatar generator that lets you generate personalized avatars and profile pictures in various styles. DreamPic enables you to create stunning images of yourself for social media, website graphics, or anywhere you want to build your personal brand story.
To use DreamPic, you have to upload up to 10 photos of yourself and choose your preferred style. The more images of yourself that you upload, the better results you will get. DreamPic will then generate unique avatars of your photos.
DreamPic supports up to 100 pictures at once in 10 styles. It costs $15 to upload and there are no subscriptions or recurring fees.
Key Features of DreamPic
You can download or reuse the trained AI model to generate more avatars in different styles.
There are a large number of static and dynamic AI art effects to choose from.
No coding or programming knowledge is required.
What I Like About DreamPic
DreamPic does a good job generating AI art for social media and branding. Some of the avatars look a bit cartoony, but there are realistic options as well. Some of the styles I liked were the Game of Thrones, flower goddess, and realistic portrait options.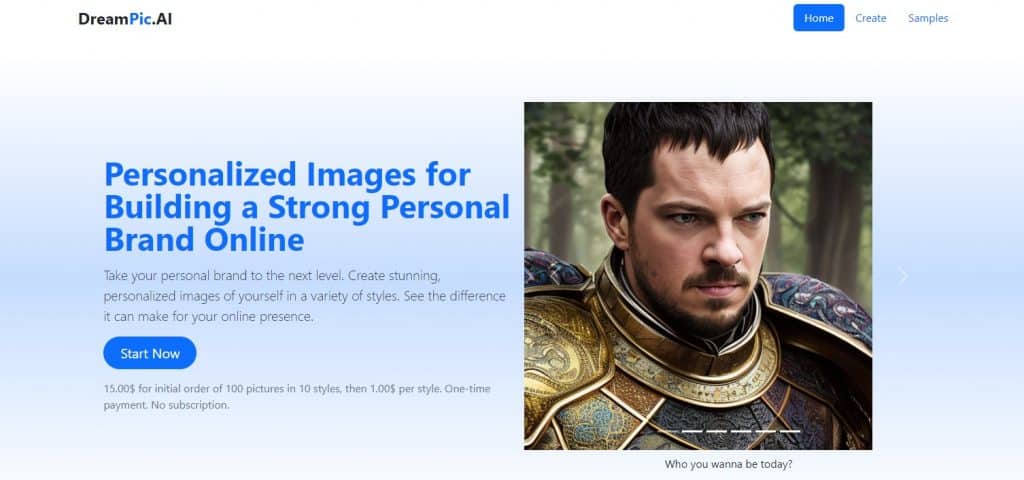 Beb.ai Review – Best Marketing
Beb.ai is a powerful AI avatar generator that lets you generate endless profile pictures and avatars for your brand.
To use Beb, you first have to upload at least 20 photos of yourself with different emotions, facial expressions, and locations. After uploading your images, Beb.ai will learn them and generate personalized avatars that you can use as profile pictures and on social media platforms.
It can take up to 24 hours for the process to complete. You will receive an email containing 72 avatars in different backgrounds and nine different themes.
Beb.ai can generate human avatars, animals, and funny memes in just two steps.
Key Features of Beb.ai
Multiple art styles for AI-generated images.
Batch art generation with multiple inspirations and options.
User-friendly on mobile.
Zero design skills needed
What I Like About Beb.ai
I like Beb.ai because it has a user-friendly interface on smartphones to enable you to generate avatars on the go. It also supports a wide range of avatars across different styles. The process takes a while, but the quality speaks for itself.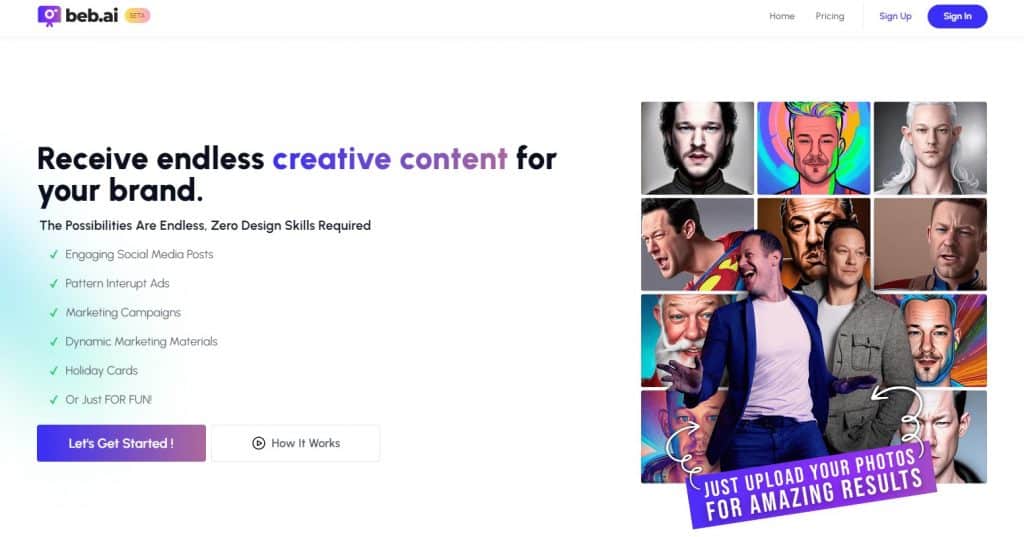 SnapshotAI Review – Best Image Quality
Want to take your marketing campaigns or social networking to the next level? Then SnapshotAI has got you covered. SnapshotAI is an AI tool that you can use to generate avatars to wow your social media audience and improve your marketing campaigns.
It works with all photos, including pets, people, clothing, or cars.
To use SnapshotAI, upload at least eight photos of yourself, a cloth, painting, product, or pet. Then, allow the AI model to generate avatars of the uploaded images. It supports up to 200 photos at 4k resolution and 56+ different styles.
Key Features of SnapshotAI
Generates over 200 AI images in over 56 different styles.
The tool can generate great avatars for social media.
Creates avatars in standard (512*512px) resolution.
What I Like About SnapshotAI
I like SnapshotAI because you can quickly turn existing images into unique AI avatars and profile pictures. You don't have to use headshots and photos of yourself. SnapshotAI does a better job than other tools on this list at rendering pets and objects.
Click here to view SnapshotAI.
Avatar AI – Best Photorealistic
Avatar AI lets you generate personalized avatars to suit different use cases. For each style that you choose, Avatar AI will generate up to 120 avatars for you that you can browse through and download.
Some of the different supported styles include:
cyberpunk
video games
superhero
professional headshot
anime
Instagram model
To get started, launch the tool and upload images of yourself and wait for the tool to work. Unlike other AI avatar generators, Avatar AI offers the highest quality AI avatars possible for profile pictures, social media posts, and printing on paper.
This AI avatar generator supports different photo formats, including JPG, PNG, WebP, HEIC, JFIF, TIFF, and RAW. You will receive your avatars within 24 minutes of uploading the images.
Key Features
Your uploads are deleted in 24 hours.
The tool supports up to 112 different styles.
It renders well on mobile phones.
What I Like About Avatar AI
I like that Avatar AI supports photorealistic 4K renders. Being able to download everything in different file formats is another nice perk. The outputted results look great for social media posts and profile pictures.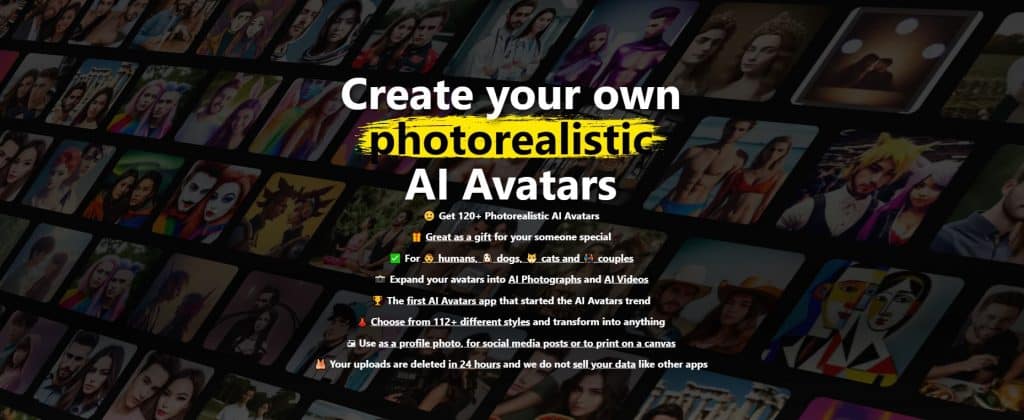 What are AI Avatars?
Before I show you the tools I tried out, you should know what AI generated avatars are. These tools create art out of your own photos, mostly headshots. The result is that you can turn yourself into real life or fantasy characters that are useful in a variety of situations.
Use Cases
There are many reasons you might need an avatar:
Video games
Biographies
Website features
Social media
These sites create an AI generated image out of your uploaded picture in high quality.
Frequently Asked Questions (FAQs)
What is the best AI image generator?
The best general AI image generator is the Jarvis AI image generator, which is included with its full AI content creation tool. For just avatars, ReflectMe generates high quality avatars.
What automatic avatar app is everyone using?
How realistic are AI avatars?
Avatars generated with artificial intelligence have greatly increased in quality thanks to OpenAI's work called GPT, which is the most realistic intelligence model ever created for general use.