Optimized and well-designed landing pages will keep visitors on your website longer and convert your traffic into sales. In this guide, I'll show you the best AI landing page optimization tools that use artificial intelligence to help you retain traffic for longer.
If you are in a rush, Unbounce is the best AI landing page tool. It is a design tool that lets you create landing pages that convert well. It is packed with features for a reasonable price and has convenient features you need like advertisement widgets, call-to-action buttons, and exit intent popups.
If you want to see other AI landing page optimization tools, keep scrolling. Not all of our tools are landing page builders!
What are the Best AI Landing Page Optimization Tools?
Next, I'll go through each of these tools in more detail.
Unbounce
Unbounce is a popular AI landing page optimization builder. With a user-friendly drag-and-drop interface, you can use this tool to create over 100 landing pages from start to finish in minutes.
Unbounce uses AI insights to help you optimize any landing page for better conversion. Like most AI optimization tools, Unbounce lets you run comprehensive A/B testing and adds exit-intent popups to convert hesitant prospects.
Unbounce is also equipped with intelligent features like automatic conversion mapping. It seamlessly integrates with analytics tools like UserTesting, Hotjar, and Google Analytics so that you can make sure your site is optimized. You don't need to be a tech guru to use this on-page AI optimization tool.
Key Features
Unbounce lets you build landing pages faster than traditional builders.
You can run comprehensive A/B testing.
This tool uses AI insights to determine what buyers want.
aHs pre-designed templates and a user-friendly drag-and-drop editor.
What I Like About Unbounce
I like Unbounce over other AI landing page optimization tools because it has many templates for different industries. Plus, you don't need any design experience to get started. You can carry out A/B testing to know which design works best.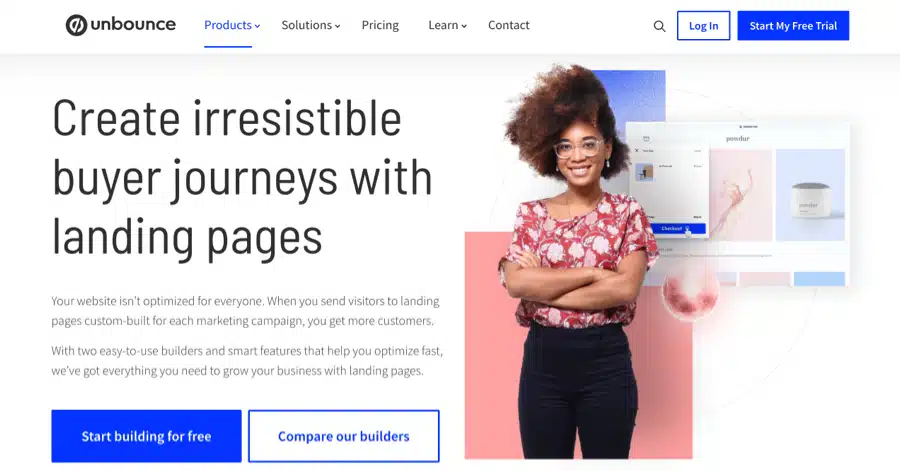 Hotjar
Optimizing landing pages to convert website visitors to buyers starts by understanding how users navigate the pages. Hotjar uses AI to show you where your website visitors spend most of their time, how long they scroll, and where they click.
Hotjar also records their visit and gives you feedback on what's going on with your landing page. When you log into the tool, Hotjar shows you a heat map of all visitors who come to your site. You can see where they are scrolling and clicking before they leave your site.
Hotjar is ideal if you want to know the friction points in your users' buying journey. Hotjar is best for e-commerce websites, software developers, advertising agencies, and blogs. The tool is highly intuitive, affordable for any business, and fast to spin up.
Key Features
Hotjar lets you find out the latest trends in your target marketplaces.
You can bring customers into the discussion
Spot problems with your customer experience
Collect live feedback and see what your visitors are viewing.
What I Like About Hotjar
I like Hotjar because of its intelligent features and inherent ability to boost SEO rankings. I also like Hotjar because it gives access to feedback, so you know your current performance and how your audience is feeling. Additionally, the data are insightful and very easy to understand.

Instapage
Instapage is both an AI landing page optimizer and builder. It offers intuitive landing page optimization and building experience with no coding required.
Instapage packs customizable templates that are pre-optimized for conversion. Creating a mobile-responsive landing page is easy with this tool, which is optimized for mobile browsing. This tool supports demographic analytics and target keyword tracking. It has some of the best A/B testing features out of all AI landing page optimization tools.
Instapage's heatmaps will clearly show you where your visitors spend most of their time and what they do on your website. You can integrate it with over 100 software and project management tools. You can also share data about your gathered contacts to Mailerlite, GetResponse, and other email tools.
Key Features
Instapage lets you create mobile-responsive landing pages without a developer.
Increase conversions and user engagement for every target audience.
Has comprehensive heat maps to optimize post-click landing pages.
Lets you visualize your ad campaigns from start to finish.
What I Like About Instapage
I like Instapage because it gives users the ability to tailor their landing page layout in such a way as to tell a unique story for each geographical target. I also like the tool because it's great for PPC page testing and provides excellent customer support. Plus, you don't need to be a tech-savvy person to optimize your landing page.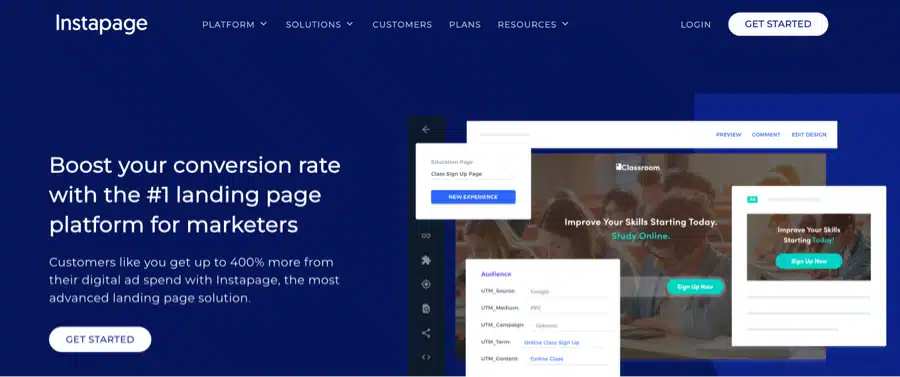 LeadPages
LeadPages lets you convert visitors and clicks into customers more efficiently. This AI landing page optimization tool will help you connect with your audience, close sales, and even collect quality leads in minutes. It leverages the power of artificial intelligence to help you create alert Bars, checkout forms, popups, A/B testing, and beyond.
With LeadPages, you start out with a mobile-responsive, conversion-optimized template. Customize your landing page to suit your target marketplace using the drag-and-drop builder, and then launch a landing page designed to convert even the most hesitant visitor.
When you are looking to post or publish content, you can optimize your content with LeadPages. LeadPages also offers conversion tips you won't get anywhere else.
Key Features
LeadPages creates landing pages engineered to push your visitors to take action.
Comes built-in with secure online payments powered by Stripe.
Use LeadPages to collect quality leads.
Track your page's performance in real time.
What I Like About LeadPages
I like LeadPages because it gives the insights you need to grow your business and guess less. You can use LeadPages to optimize your landing page and marketing efforts comfortably. I also like that LeadPages has an easy-to-read analytics dashboard to view your performance and know where to improve in real time.

CrazyEgg
CrazyEgg is a powerful landing page optimization tool. You can use this tool to create captivating landing pages for real-time conversion.
CrazyEgg uses AI to understand your visitors' feelings and what they want to see on your landing page. It's equipped with heatmaps to help you get insights into your website users' behavior. CrazyEgg also supports A/b testing, so you know which landing page design will bring in the most customers for your business.
CrazyEgg is excellent for beginners with no coding or design experience. Once you install and launch the software, you can run a quick audit of your website to get feedback on what you should do to improve conversion. For instance, the audit report will show you which messages, words, or content convert customers. You will also get content coloring tips that influence users to stay longer or buy from you.
Key Features
CrazyEgg lets you see where visitors click and where they don't.
Shows you exactly where to put your call to action button.
Learn what works and what doesn't with A/B Testing.
Analyze website traffic based on where your visitors come from.
What I Like About CrazyEgg
I like that CrazyEgg lets you visualize clicks and show you what prospective buyers expect to see on your site. I also like that this tool can point you to areas where customers are most frustrated.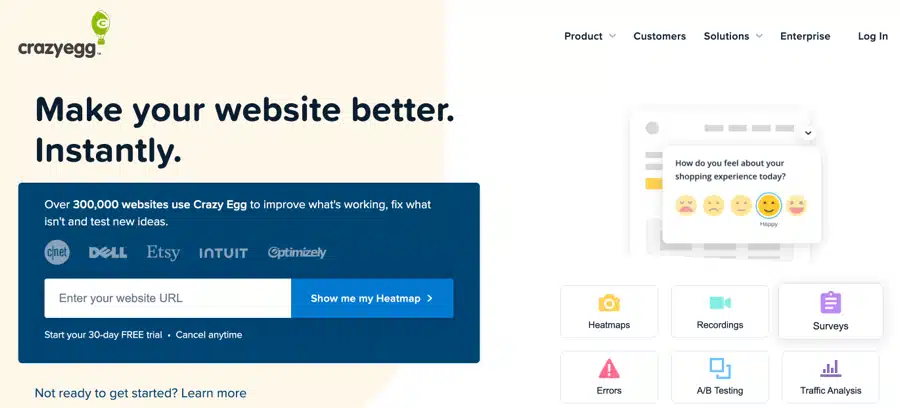 Five Second Test
In today's ever-changing marketplace, visitors are becoming too impatient when searching for a product or service that eases their pain points. Casual web visitors will leave your site within 5 seconds if they don't see what they want.
Five Second Test creates captivating landing pages designed to keep visitors on your site for longer. This tool gives viewers an impression of your website after viewing your page within the first 5 seconds. You can use Five Second Test to see how your visitors engage with your website.
This AI landing page optimization tool lets you collect feedback from random users and understand what you need to do to convert visitors to buyers. If you're looking for a way to improve your web design to bring in quality leads, look no further than Five Second Test.
Key Features
This tool can help you optimize the clarity of your designs for conversion.
Gives your customers an impression of your site within 5 seconds.
Provides instant feedback on what prospects think about your website.
What I Like About Five Second Test
I like the Five Second Test because it uses AI to collect real-time feedback from your website visitors in a matter of 5 seconds. The feedback from users can then help you to create a landing page that will push them to take action.
Click here to view Five Second Test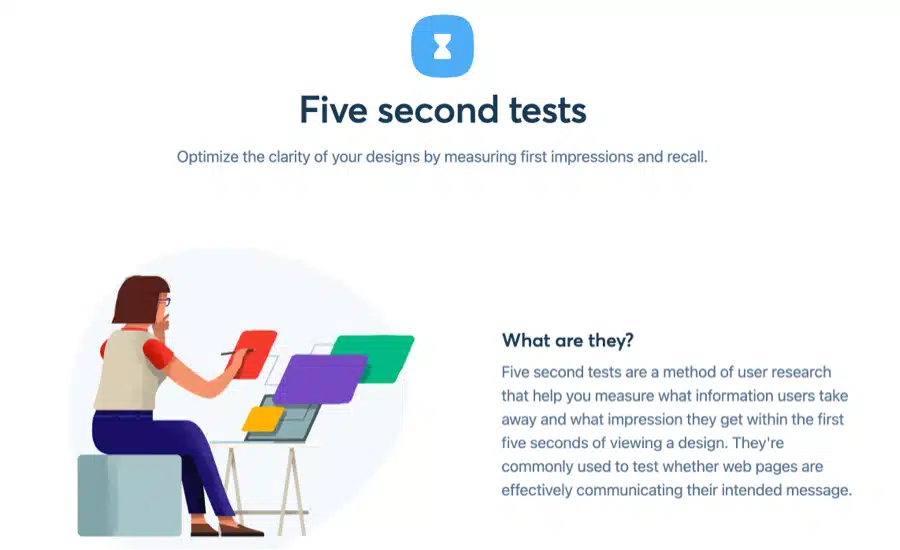 Olark
Olark is a smart chatbot that is optimized for landing pages. It works with other landing page optimization tools to collect customer feedback and improve conversion rates. Olark goes beyond the regular drag-and-drop builder to discover deep insights into what your customers truly want.
Olark comes with a highly intuitive live chat that you can leverage to better understand your customers' pain points. With Olark, your customers don't have to sit on the fence again – you can get a direct response from them on how they want to be served.
The live chat widget is located at the bottom of the landing page. It expands once you click the widget. Visitors can use the live chat widget to express their feelings about your site, product, or services. If you are offline and not free to chat, customers can leave a message for possible follow-up.
Key Features
Olark can help you engage your customers and gather feedback.
Uses artificial intelligence to optimize your website and gather insights.
Can help lower call volumes and increase conversion rates.
Can help you organize customer data.
What I Like About Olark
I like Olark because it can help you capture and share chat transcripts in real time, creating a tight loop between your marketing, support, and sales teams. I also like that you can use this tool to create automated messages.

Landingi
Landingi is a leading landing page optimization tool that uses artificial intelligence to help you design lead magnets, popup forms, checkout forms, and landing pages. It comes with several optimization options built into the platform. You can quickly access funnel guidance to track user intentions and improve conversions and sales.
Landing has a unique drag-and-drop editor that lets you put all the components needed to create a captivating landing page in seconds. With hundreds of pre-optimized templates, getting started with
Landingi is a breeze. You can integrate the tool with Google Analytics or Heap Analytics to analyze your website's performance in-depth.
Key Features
Landingi boasts over 300 templates to start your landing page design.
Makes creating and optimizing landing pages faster than you ever thought.
Customer support is highly responsive.
This tool makes changing images, colors, fonts, and more easy to match what your customers want.
What I Like About Landingi
I like that Landingi is a convenient landing page optimization tool to use. You can easily integrate it with project management tools to scale your marketing campaigns or create high-converting landing pages in minutes.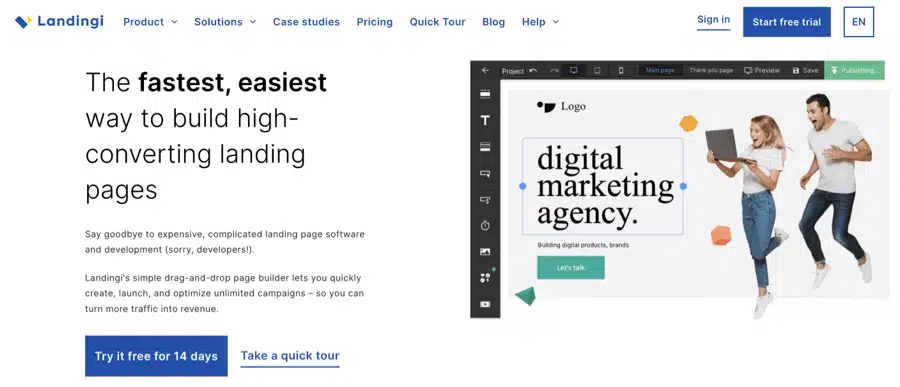 Popupsmart
Popupsmart is another AI landing page optimization tool you should give serious consideration to. Popupsmart stands out on the market, as you don't need any coding or design knowledge to get started.
Popupsmart uses AI to create content and captivating landing pages from customized templates. If you struggle with boosting your conversion rate, you can use Popupsmart's A/B tests to see what you are doing wrong and areas that urgently need improvement.
Popupsmart lets you collect quality leads, engage with opt-in forms, increase sales, and engage with sticky bars and popups. It also gives real-time feedback on what visitors expect to see on your website.
Connect Popupsmart to email marketing tools like MailChimp, ActiveCampaign, and others automatically. This will help you retain visitors and send them discounts, offers, and other emails.
Key Features
Autoresponder email to subscribers
Ready-made and customizable popup templates
Flawless integration opportunities with Zapier, MailChimp, and Mailerlite.
Gives actionable insights into how your visitors feel about your website.
What I Like About Popupsmart
I like that Popupsmart is easy to set up without prior coding knowledge. I also like that Popupsmart comes with GDPR-ready popup templates, fully responsive popup designs, and browser-compliant popups. All these features put together will give your buyers a smooth buying journey.
Click here to view Popupsmart.

Frequently Asked Questions
How do you optimize landing pages?
You can optimize landing pages the best by using intelligence AI software that gives you practical recommendations to your page. AI landing page optimization tools recommend where to place call-to-action buttons, how to style your pages, and how to improve your design to get more visitors and customers to your website.
What is meant by landing page optimization?
Landing page optimization is the work that you do on your website to retain visitors for longer and convert more customers. It includes the optimization of colors, styles, buttons, text, and placement of everything.
Do you need SEO for landing pages?
Yes, you need proper SEO on your landing pages so that Google and other search engines understand what your page is about and what its focus is. SEO on your landing pages will allow you to rank higher in google and get more traffic.
How can AI improve your landing pages?
Artificial intelligence can improve your landing pages by running calculations, a/b testing, and analytics much faster than you can perform manually. AI tools will make recommendations on how to improve your page to get more customers and subscribers.