Sending emails to retain or find new customers is key to any business. The best AI email assistants below use extra intelligence to optimize, automate, and improve your email experience.
Below, we showcase tools that:
Help your design professional and eye-catching emails
Market your email better than you can
Increase your SEO and link building response rates
Keep your inbox organized and in order
If you think we missed a cool AI email software tool, comment down at the bottom of this guide and let us know today!
What are the Best AI Email Assistants?
Here are our picks for top email software tools that use artificial intelligence to make your life easier.
Ellie
Smartwriter
Mailshake
The Different Types of AI Email Tools
Email assistant tools can cover and simplify different areas of your business. There are a few different areas we focus on in the tools below.
Email Design Tools
AI email design tools help you create emails that convert better and get more responses. These tools optimize your subject line and design content that looks nice and has more convincing text.
Email Marketing Tools
Marketing tools help you send emails to the right people in an efficient way. These email tools can help you with relationship building. Businesses and entrepreneurs need email marketing tools to accomplish more things in their business in less time.
Link Building Tools
Link building is synonymous with good email tactics since it's the preferred communication method for building links. We showcase AI email tools below that help you with link outreach and email optimization.
Email Organization Tools
Email organization tools help keep your inbox in order with automatic email routing. They can recognize the purpose of emails by reading the body and reply automatically as needed.
if you need more inspiration on what you need an email tool for, check out our specific reviews below.
GetResponse Review – Best Email Marketing Software
GetResponse is an artificial intelligence-enabled email marketing software that lets users create a mailing list and capture data onto it. It also lets users send emails to their subscribers. This tool uses the power of AI to automate emails sent to your subscribers, plus view and analyze statistics related to your campaigns.
GetResponse is perfect for content creators, marketing managers, online marketers, entrepreneurs, and large companies. Aside from email marketing, GetResponse also provides landing pages, sales funnels, e-commerce, and webinars all under one roof.
IKEA, Zendesk, and Stripe are among the big brands using GetResponse to automate their email newsletters.
GetResponse Features
Lets you find new customers by building an email list of potential customers.
You can automatically stay in touch with your customers.
Build a following and constantly engage them with your content.
Allows users to resend campaigns to non-email openers.
What I Like About GetResponse
I like how much GetResponse has helped me improve my cold outreach game. My reply rate is much higher than using manual emails.
I also like that GetResponse keeps records of open rates, click through, and forwards. I can further update my outreach efforts and improve reply rates with this information.
Click here to view GetResponse.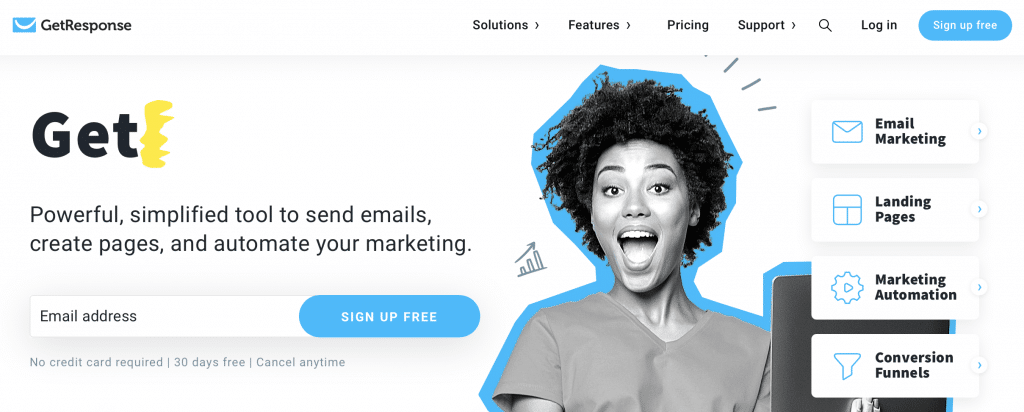 Sender Review – Best Email Newsletter Tool
Sender is a powerful AI email software that lets users create and send beautiful and branded email newsletters. You can build your unique designs or choose from the available templates with no coding required.
It is also the perfect AI email assistant for e-commerce. It uses the power of artificial intelligence to drive sales to your storefront. It also let you grow your audience with beautiful forms and pop-ups.
Sender integrates with a wide range of content management systems and e-commerce platforms, including Magento, WooCommerce, PrestaShop, WordPress, and more.
Some big brands using Sender to design branded email newsletters are Disney, Honeywell, and Quicken Loans.
Sender Features
Comes with a drag-and-drop builder feature.
You can customize your own unique email templates or use the available ones.
Don't worry about your emails not being readable on different browsers, devices, or email clients.
Integrates with lots of CMS and e-commerce platforms
What I Like About Sender
The point-and-click editing, formatting, and ease of use are really outstanding. The beautiful forms and popups have helped me simplify email marketing faster than I thought.
I also like that Sender provides up to 15,000 emails per month for beginners with the option to upgrade later. This is more than enough for most people to get unlimited use.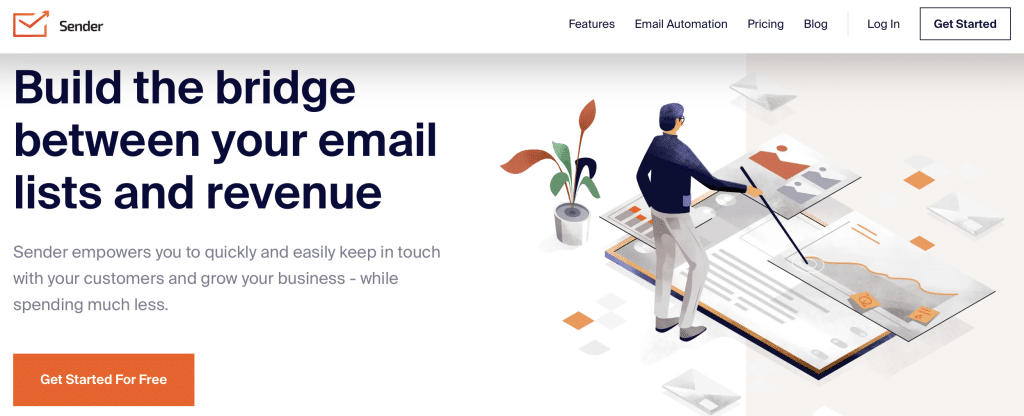 Lemlist Review – Best Email Outreach Platform
Lemlist is an AI email outreach platform that lets you automatically send cold emails and track replies. It is a tool that allows sales teams, marketing managers, content creators, and B2B businesses to create and automate personalized cold emails.
Lemlist uses AI to connect your email account in seconds, regardless of your email provider. It syncs smoothly with your email account. It uses AI to streamline and automate your follow-ups so you don't miss a thing.
Lemlist is a great link building email assistant. If you want to create unique and personalized cold emails to your targeted clients, Lemlist is the email marketing solution for you.
Zendesk, Uber, and Sumo use Lemlist to get more replies from potential clients.
Lemlist Features
Integrates with various tools, including Google Drive, Slack, Salesforce, and HubSpot.
Lets you send personalized cold emails in seconds.
Automates your follow-ups and other repetitive tasks.
Automatically connects to your email account for seamless integration.
Built well for SEO and link building purposes.
What I Like About Lemlist
Lemlist is the most highly specialized email marketing tool I have ever worked with. I like that it increases my open and response rates. The user interface is also very effective. You can save time if you have any repetitive tasks.
Updating and managing my outreach campaigns was also super easy. Also, when I had to contact their customer support to get up and running, they were quick to help me out.

Automizy Review – Best AI Email Subject Line Tool
Automizy is an AI email marketing software designed and developed for brands to increase their open and reply rates. With its drag-and-drop email editor, this tool uses artificial intelligence to create effective and high-performing emails. Automizy doesn't require any programming skills.
Automizy also uses AI to test different email subject lines before hitting the send button. The AI helps the tool correctly predict each subject line's performance with scores based on data from over 1 million campaigns. With this tool, you can write emails with up to 4 different subject lines. Automizy lets brands increase their open rates.
This email marketing software integrates with Zapier, Native Integrations, and other Public APIs. Some big brands using this AI email marketing software include UNICEF, L'Oreal, and Volvo.
Automizy Features
Lets you send emails based on website behavior.
Send emails to targeted and personalized emails.
Use Automizy to build automation, manage your contacts, and create forms.
Allows users to resend campaigns to nonemail openers.
What I Like About Automizy
I use Automizy daily for some projects, and the automation is perfect. I like connecting multiple landing pages with forms from my website, and they automatically integrate into Automizy.
My drip campaign confirms subscriptions and send content to prospects automatically.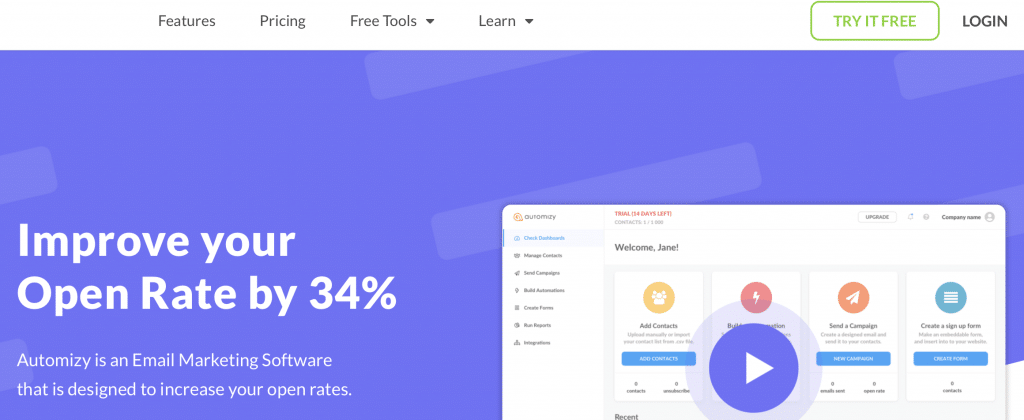 Hypertype Review
Hypertype is an AI email writer and search engine that lets you quickly find the most relevant information from documents and emails. It is suitable for those needing more time to manually search their emails for information.
Hypertype works by integrating with your Gmail account using a Chrome extension. After that, the real magic happens.
When responding to emails, you can use Hypertype to generate fast email responses. It uses ChatGPT 4 to craft email responses, using your ewmail history to create and match your email writing style.
Hypertype uses artificial intelligence to extract any information you are searching for within your email and automatically fetches the best replies for your queries.
After subscribing to Hypertype, you no longer need to answer emails all day and will cut down on your writing time. Instead, you will channel your energy to handle more complex issues. This tool has smart AI technology, which takes advantage of ChatGPT.
Key Features
Hypertype delivers replies 10x faster than other AI email assistants
It can search through messy email interactions.
Mobile optimized and user-friendly.
What I Like About Hypertype
I like that Hypertype can sieve through thousands of email interactions and documents to fetch whatever information you seek within seconds. It is a really smart way to use ChatGPT to power your inbox. There are similar email response tools, but none of them can match your personal style and Hypertype.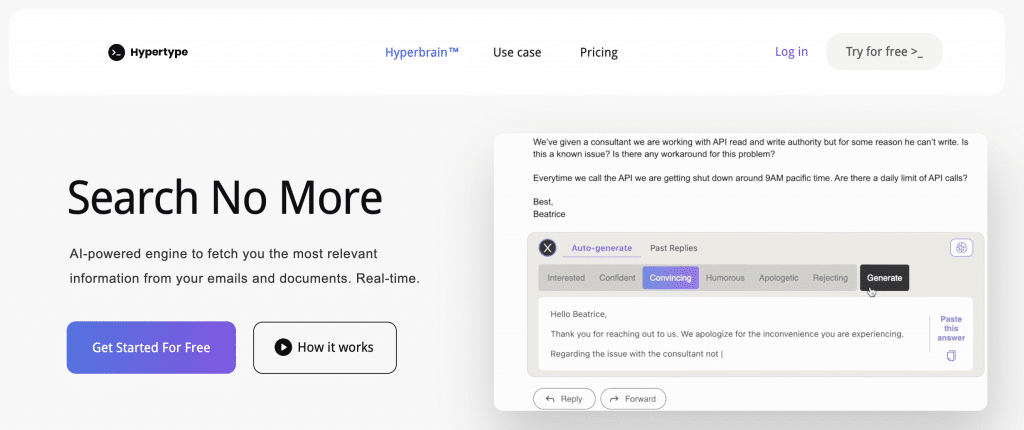 Ellie (Best for Email Replies)
Ellie is an AI email assistant that you can use to boost your email marketing campaigns. Ellie is powered by OpenAI (same as ChatGPT and GPT-4) and trained to learn your writing style and reply to emails as if you wrote them.
The AI takes context from your previous writing style and replies to your emails in any language. You provide it with example data to learn your writing style and craft personalized and intelligent replies to your emails.
I am particularly impressed that I can revise the replies 5 times before sending them out. This lets you personalize the message and make it perfect.
For now, Ellie only fully supports Gmail. But you can generate an answer to emails using the toolbar popup. Ellie is currently available as a Firefox or Chrome extension.
Key Features
Ellie replies intelligently to emails within seconds.
Multilingual to match the email being replied to.
Available as a Chrome or Firefox Extension.
It has an easy-to-navigate interface.
What I Like About Ellie
Ellie's responses to my emails blew me away. The responses were as if I personally wrote them to the senders. I struggled to translate formal emails in Spanish and German, but now Ellie replies to these emails and saves me so much time. I also like that this extension can churn through email responses.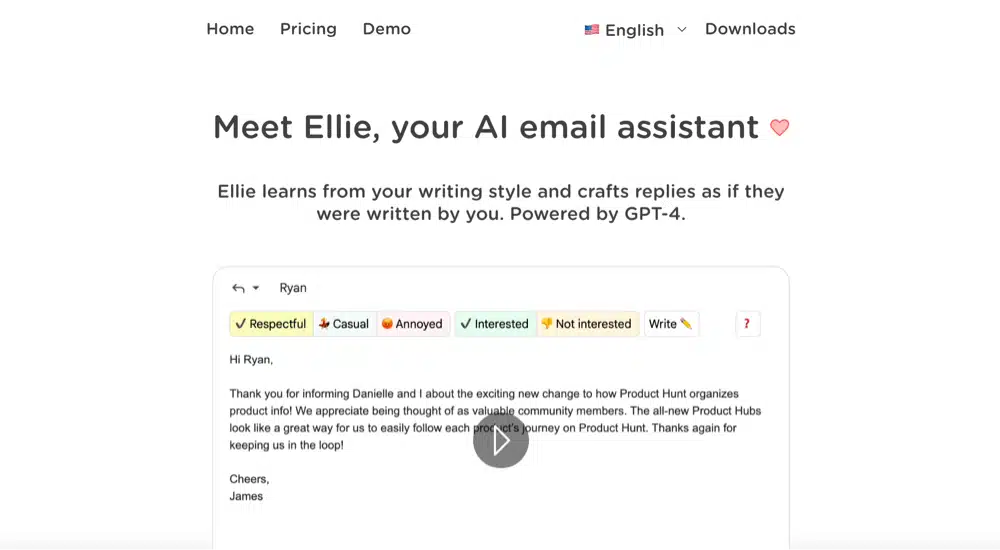 Smartwriter (Best for Personalized Emails)
Every day I get promotional emails about the latest VR games, game-changing online courses, epic blog posts, or must-have marketing tools. To be honest, it's tiring.
When my colleague introduced SmartWriter to me, I was naturally skeptical. However, it is a real nice surprise for those who want to automatically create your email replied.
SmartWriter helped me create entire emails – over 1000 personalized emails in fact, that got 8x more responses. Plus, everything it generated was within minutes and using AI.
SmartWriter can automate your email outreach process 6x cheaper and 40x faster than humans. This email outreach tool best suits B2B sales, LinkedIn personalization, and deep research cold emails.
What strikes me the most about SmartWriter is that the personalized messages are created with proven conversion systems that push prospects to take action.
Key Features
SmartWriter creates emails that get replies at scale.
Personalize your entire email outreach campaigns.
Book meetings with decision-makers using emotion-conversion copy.
Floor your CRM with leads and communicate with prospects on a personal level.
Generate eye-grabbing copy for your blog
What I Like About Smartwriter
I am pleased with the results I got with Smartwriter after test-running the AI tool for a month. Smartwriter got me 3-4 net leads daily by sending cold emails that get responses. I like the ease of use.
I also like that it creates deeply personalized messages like I know the prospects. Not only that, the customer service is very responsive. They are quick to come to my aid if I have any doubts.
Click here to view Smartwriter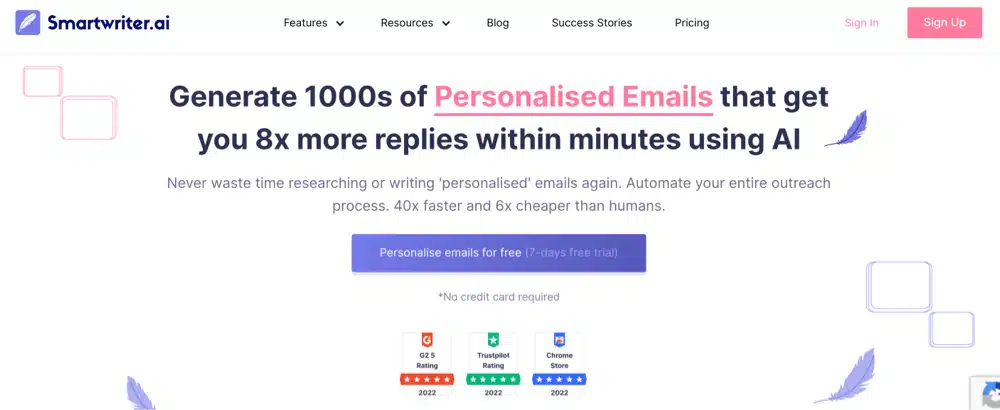 MailShake (Best for Meetings)
If you have ever done cold outreach, you will understand how difficult it is to be seen by prospects. To connect with more prospects, generate more sales, scheduling meetings, and even automate your cold outreach, you need a reliable email outreach tool like MailShake.
MailShake offers all the features you need to scale link building and attract high-paying leads. Unlike other email outreach tools, MailShake enhances the user experience and pushes prospects to click the buy button without sounding too salesy.
This AI email assistant tool ensures your emails land in the inbox and not spam and will increase your reply rate. MailShake comes with custom-made templates to add to your campaigns. See which email campaign is the most effective and your team's analytics at a glance.
No technical skills are needed!
Key Features
Gain visibility into all lead activity
Easily track lead status
MailShake simplifies outreach workflow.
Connect quickly to your CRM and email provider.
MailShake can scale your reply rate 2x.
What I Like About MailShake
I have always found email outreach stressful until I stumbled on MailShake. I could spend hours editing and perfecting my messages, but since I started using MailShake I now spend less time.
I love MailShake's simplicity and how it allows me to create personalized/individual/custom intros for my cold email outreach. Additionally, their support team is very knowledgeable and spectacular. They are also open to assisting you every step of the way.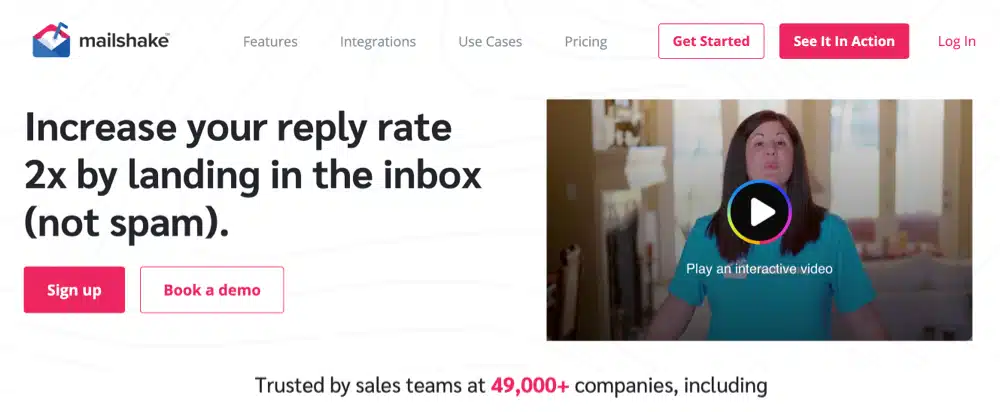 Howler AI (AI Press Outreach)
Howler AI is an impressive AI press outreach tool transforming how companies and businesses interact with the media. With its advanced artificial intelligence capabilities, Howler AI streamlines the press outreach process by automating key tasks, analyzing data, and optimizing outreach strategies. The tool will empower you to manage your media relations effectively, improving your chances of securing press coverage and gaining valuable exposure.
One of the standout features of Howler AI is its AI-powered media database. The tool harnesses machine learning algorithms to collect and analyze vast amounts of data from various sources, including journalists' articles, social media profiles, and published works.
This comprehensive database provides valuable insights into journalists' preferences, areas of expertise, and writing styles. You can use this information to craft personalized and compelling pitches that resonate with the targeted media contacts.
Another notable feature of Howler AI is its automated follow-up system. The tool can track the progress of press outreach campaigns and send automated follow-up emails to journalists, ensuring timely and persistent communication.
The AI algorithms analyze the engagement and response patterns, optimizing the timing and content of follow-ups to increase the chances of securing media coverage.
Key Features
Simple journalist outreach without spamming them.
Offers comprehensive insights into journalists' preferences and areas of expertise, enabling you to personalize your pitches effectively.
Quick, automated, no-strings-attached campaign sprints.
Provides in-depth analytics and performance metrics, allowing you to track the success of your press outreach campaigns and make data-driven decisions.
What I Like About Howler AI
As someone who has utilized Howler AI for press outreach, I am impressed by the tool's AI-driven capabilities. The AI-powered media database is a game-changer, providing comprehensive and up-to-date information about journalists. This allows me to tailor my pitches to align with their preferences and interests, increasing the likelihood of capturing their attention and securing media coverage.
The automated follow-up system is another aspect of Howler AI that I find invaluable. It takes the burden off manually tracking communication and sending follow-up emails, ensuring journalists receive timely reminders and updates. This automation saves me time and effort while maintaining a professional and persistent approach to media relations.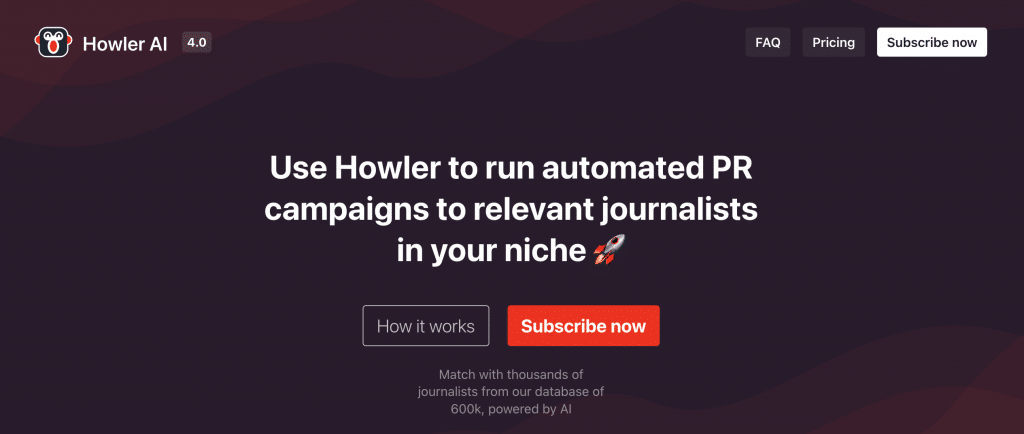 Luna (Sales & Email)
Luna is a powerful tool that combines sales and email functionalities, making it an excellent choice for businesses looking to streamline their sales processes. Luna leverages artificial intelligence to automate tasks such as lead generation, lead nurturing, and email follow-ups. This automation saves time and enables sales teams to focus on high-value activities.
The AI functionality of Luna is particularly impressive when it comes to lead generation. The tool uses machine learning algorithms to analyze customer data, identify patterns, and generate targeted leads. This automated lead-generation process helps sales teams find potential customers more efficiently, ultimately increasing their chances of closing deals.
Additionally, Luna's AI-powered email automation allows you to create personalized email campaigns at scale, automatically optimizing the timing, content, and delivery of emails based on recipient behavior.
Key Features
Luna uses advanced algorithms to identify and generate targeted leads, saving time and improving conversion rates.
Seamlessly integrates with the tools you love
Luna gets smarter with every interaction
Generate the perfect email with zero typing required
Access 250+ million up-to-date contacts
What I Like About Luna
I like that Luna significantly reduces manual effort by automating lead generation and email campaigns, allowing me to focus on building relationships with potential customers. The accuracy of Luna's lead generation capabilities is impressive, as it consistently provides high-quality leads that align with my target audience.
Automated email campaigns are also a game-changer, as the AI algorithms optimize the timing and content of the emails, resulting in improved response rates.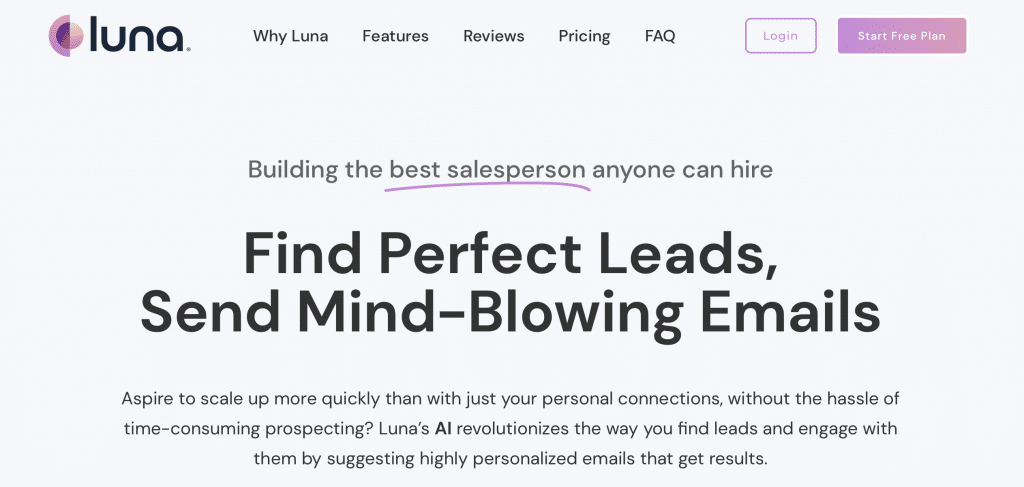 Jason AI Review
Jason is an interesting AI email assistant from Reply.io. Like other similar options, it can automatically generate email responses with AI so that you don't have to do much thinking. However, its real power is in the multi-email sequences you can create.
You can create outreach sequences with your initial email and follow-ups and use that to automatically contact other companies. Or, you can set auto-response guidelines for emails that hit your inbox.
Jason has really nice email integration and can book emails in your calendar based on email responses it processes with other people or companies. This AI email tool handles everything from providing counter-offers and "not interested" responses.
Key Features
Allows you to define your customer so that it can customize its responses
Jason AI automates meeting booking
Automatically follows up with prospective customers
Simplifies email responses
What I Like About Jason AI
I like that Jason AI can automatically inquire about the appropriate contact if you contact the wrong person. I also like that Jason AI can explain the benefits of your products or services to your prospects whenever they ask how you are different from your competitors. The sequencing is smart and is flexible enough to work for a lot of different company types.
BEE Review – Best Email Editor
BEE, or Best Email Editor, is an AI email editor designed to create mobile responsive emails. This tool uses AI to enable users to design beautiful and responsive emails quickly and easily. With BEE, you can create thousands of emails every month.
BEE is perfect for freelancers, digital agencies, sales, and marketing teams. Developers and product managers can embed BEE into their SaaS applications for more flexibility.
BEE integrates with a wide range of email marketing platforms, including MailChimp, Gmail, SendinBlue, HubSpot, and more.
Bosch, Netflix, and Career Builder use BEE to design beautiful emails and applications.
BEE Features
A user-friendly interface for completing work faster.
drag and drop functionality makes email designing super easy.
Lets you create responsive emails in seconds.
You can export your emails anywhere.
What I Like About BEE
As an entrepreneur, what matters most to me is efficiency. I ensure any email outreach tool I use is efficient and seamlessly integrates with my workflow, and BEE does precisely this. I also like that BEE organizes and keeps my email designs in separate projects.

Smart Assist Review – Best AI Email Assistant
Smart Assist is an AI personal email assistant that helps businesses take email productivity to new levels. This software uses machine learning and AI to review your emails and route the emails to their proper destination. Smart Assist can start and manage email marketing campaigns or help you route existing emails.
Smart Assist is perfect for content creators, teams, workgroups, and individual freelancers who handle large emails. This tool can automatically help you process any action once you specific the actions. Smart Assist helps users to take control of their inbox.
Security Mutual Life, National Gypsum, and Hyundai use this personal email assistant to automatically move emails to collaboration systems like Sharepoint and Box.
Smart Assist Features
Can help you automate repetitive stuff like moving and saving emails in folders.
Lets you create and send branded emails to potential clients as an AI email assistant.
Has a built-in dictionary that checks for grammar and spelling errors or omissions.
Easily collaborate seamlessly with your team.
What I Like About Smart Assist
I like that Smart Assist has a light CRM with exciting features. While running my email outreach campaign, Smart Assist helped me automate repetitive stuff like saving and moving emails in folders.
I also like how I created and sent branded emails to my prospects with increased open and response rates. What also grabbed my attention is that Smart Assist has a dictionary that checks for omissions and spelling errors.
Click here to view Smart Assist.

Email Tree Review – Best Customer Service Email Assistant
Email Tree is an AI email marketing software that reinvents customer experience with end-to-end automation. Email Tree uses artificial intelligence to help users reply to emails in seconds and automate repetitive tasks. It also uses AI to help businesses increase productivity and customer satisfaction.
Email Tree comes with drag, drop, and send features. Simply drag and drop blocks of text and send your emails in seconds. You can create your own email templates or choose from the available ones.
Email Tree supports multiple languages, including French, German, Italian, and more. Orange, BMW, Microsoft, and Nvidia use Email Tree to get more out of their email marketing.
Email Tree Features
Integrates with various email management platforms and software, including Gmail and Outlook.
Also integrates with CRMs to help users classify emails, schedule tasks, manage alerts and actions.
Uses the Tesla car dashboard to reply emails in seconds while stuck in traffic.
Lets you create and send branded email newsletters to your customers easier than other tools can.
What I Like About Email Tree
Overall, my email response time has dramatically increased using Email Tree. I like that Email Tree integrates with many email management platforms and CRMs to help classify emails, manage alerts, and schedule tasks.
Click here to view Email Tree.

Phrasee Review – Best AI Email Creation Tool
Phrasee is an AI marketing copy tool. Thus tool uses deep learning algorithms and natural language generation system to automatically create brand-compliant copy for emails, Instagram, Facebook, and push notifications.
Phrasee is used in various industries, including travel and leisure, retail, e-commerce and finance. Brands within these industries use Phrasee to generate email subject lines and marketing copy for their social media platforms. Phrasee produces marketing copy to enhance performance with increased clicks, opens, and conversions.
This AI email marketing solution allows users to work in multiple languages. Big brands like Virgin Atlantic, Groupon, and River Island use Phrasee to give their marketing teams a relief.
Phrasee Features
Uses AI to create compelling marketing content for emails and social media platforms.
Supports up to 20 languages.
Automatically checks your marketing copy for spelling errors.
Supports email copy management.
What I Like About Phrasee
I like how easy it was to use Phrasee to generate intelligent marketing copy for my brand. The major high point of Phrasee is the backlink personalization outreach.
At one point, I had issues automating the email outreach process, and the support team came to my rescue. I also like that Phrasee has a robust training program that newbies can follow to learn how the tool works.

Email On Acid Review – Best Email Optimization Platform
Email On Acid is an AI email QA platform that allows users to streamline the email testing processes. This tool uses AI to allow email marketers, content creators, and developers to optimize their emails before sending them. Companies use Email on Acid to send branded emails that increase their email marketing ROI.
If you are into email A/B testing, Email on Acid is a perfect tool to include in your toolkit. It caters to both B2B and B2C businesses.
Verizon, Coca-Cola, and IBM are some big brands using this AI email marketing software to send targeted emails to potential clients.
Email On Acid Features
Lets you preview emails on 90+ email clients.
Allows users to carry out spam testing.
Comes with a user-friendly email editor.
Automatically refines and optimizes your emails before you hit the send button.
What I Like About Email On Acid
One of the things I love most about Email On Acid is the ease of building custom emails very quickly. I also like running unlimited tests across mobile, desktop, and tablet-size devices.
Email on Acid also provides all the data I need to test and improve my email campaigns. Plus, the cost of the tool is reasonable.
Click here to view Email On Acid.

What AI email assistants and tools have you used for your company? The ones above are only some great innovations available to try.