Sending emails to retain or find new customers is key to any business. The AI email tools below use extra intelligence to optimize, automate, and improve your email experience.
Below, we showcase tools that:
Help your design professional and eye-catching emails
Market your email better than you can
Increase your SEO and link building response rates
Keep your inbox organized and in order
If you think we missed a cool AI email tool, comment down at the bottom of this guide and let us know today!
The Best AI Email Tools
Here are our picks for top email software tools that use artificial intelligence to make your life easier.
The Different Types of AI Email Tools
Email tools can cover and simplify different areas of your business. There are a few different areas we focus on in the tools below.
Email Design Tools
AI email design tools help you create emails that convert better and get more responses. These tools optimize your subject line and design content that looks nice and has more convincing text.
Email Marketing Tools
Marketing tools help you send emails to the right people in an efficient way. These email tools can help you with relationship building. Businesses and entrepreneurs need email marketing tools to accomplish more things in their business in less time.
Link Building Tools
Link building is synonomous with good email tactics, since it's the preferred communication method for building links. We showcase AI email tools below that help you with link outreach and email optimization.
Email Organization Tools
Email organization tools help keep your inbox in order with automatic email routing. They can recognize the purpose of emails by reading the body and reply automatically as needed.
if you need more inspiration on what you need an email tool for, check out our specific reviews below.
GetResponse Review – Best Email Marketing Software
GetResponse is an artificial intelligence-enabled email marketing software that lets users create a mailing list and capture data onto it. It also lets users send emails to their subscribers. This tool uses the power of AI to automate emails sent to your subscribers, plus view and analyze statistics related to your campaigns.
GetResponse is perfect for content creators, marketing managers, online marketers, entrepreneurs, and large companies. Aside from email marketing, GetResponse also provides landing pages, sales funnels, e-commerce, and webinars all under one roof.
IKEA, Zendesk, and Stripe are among the big brands using GetResponse to automate their email newsletters.
GetResponse Features
Lets you find new customers by building an email list of potential customers.
You can automatically stay in touch with your customers.
Build a following and constantly engage them with your content.
Allows users to resend campaigns to non email openers.
Click here to view GetResponse.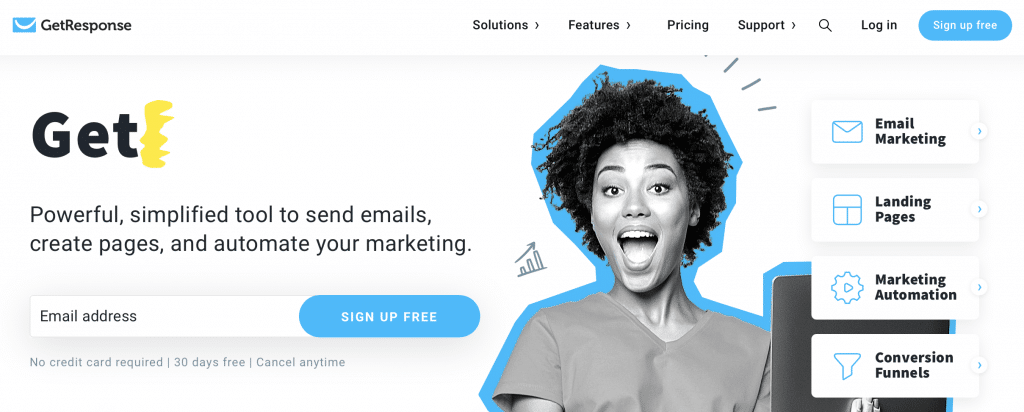 Sender Review – Best Email Newsletter Tool
Sender is a powerful AI email software that lets users create and send beautiful and branded email newsletters. You can build your unique designs or choose from the available templates with no coding required.
It is also the perfect AI email tool for e-commerce. It uses the power of artificial intelligence to drive sales to your storefront. It also let you grow your audience with beautiful forms and pop-ups.
Sender integrates with a wide range of content management systems and e-commerce platforms, including Magento, WooCommerce, PrestaShop, WordPress, and more.
Some big brands using Sender to design branded email newsletters are Disney, Honeywell, and Quicken Loans.
Sender Features
Comes with a drag and drop builder feature.
You can customize your own unique email templates or use the available ones.
Don't worry about your emails not readable on different browsers, devices, or email clients.
Integrates with lots of CMS and e-commerce platforms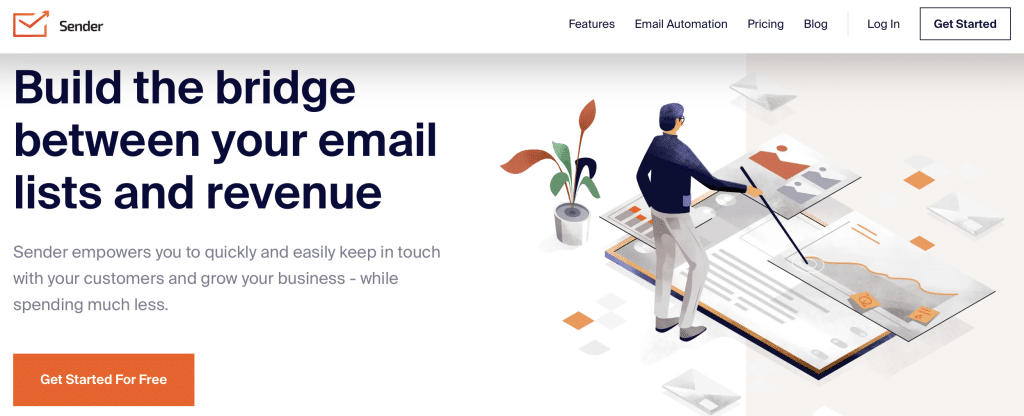 Lemlist Review – Best Email Outreach Platform
Lemlist is an AI email outreach platform that lets you send cold emails and track replies automatically. It is a tool that allows sales teams, marketing managers, content creators, and B2B businesses create and automate personalized cold emails.
Lemlist uses AI to connect your email account in seconds regardless of your email provider. It syncs smoothly with your email account. It uses AI to streamline and automate your follow-ups so that you don't miss a thing.
Lemlist is a great link building email tool. If you want to create unique and personalized cold emails to your targeted clients, Lemlist is the email marketing solution for you.
Zendesk, Uber, and Sumo use Lemlist to get more replies from potential clients.
Lemlist Features
Integrates with a wide range of tools including Google Drive, Slack, Salesforce, and HubSpot.
Lets you send personalized cold emails in seconds.
Automates your follow-ups and other repetitive tasks.
Automatically connects to your email account for seamless integration.
Built well for SEO and link building purposes.

Automizy Review – Best AI Email Subject Line Tool
Automizy is an AI email marketing software designed and developed for brands to increase their open and reply rates. This tool uses artificial intelligence to create effective and high-performing emails with its drag and drop email editor. Automizy doesn't require any programming skills.
Automizy also uses AI to test different subject lines in emails before hitting the send button. The AI helps the tool to correctly predict the performance of each subject line with scores based on data from over 1 million campaigns. With this tool, you can write up to 4 different subject lines for your automated emails. Automizy lets brands increase their open rates.
This email marketing software integrates with Zapier, Native Integrations, and other Public APIs. Some big brands using this AI email marketing software include UNICEF, L'Oreal, and Volvo.
Automizy Features
Lets you send emails based on website behavior.
Send emails to targeted and personalized emails.
Use Automizy to build automations, manage your contacts, and create forms.
Allows users to resend campaigns to non email openers.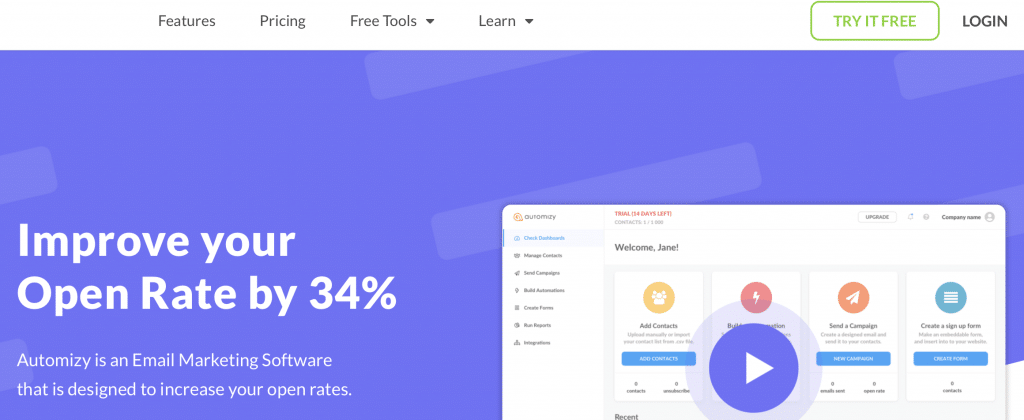 BEE Review – Best Email Editor
BEE, or Best Email Editor, is an AI email editor designed to create mobile responsive emails. This tool uses AI to enable users to design beautiful and responsive emails quickly and easily. With BEE, you can create thousands of emails every month.
BEE is perfect for freelancers, digital agencies, and marketing teams. Developers and product managers can embed BEE into their SaaS application for more flexibility.
BEE integrates with a wide range of email marketing platforms, including MailChimp, Gmail, SendinBlue, HubSpot, and more.
Bosch, Netflix, and Career Builder use BEE to design beautiful emails and applications.
BEE Features
A user-friendly interface for completing work faster.
drag and drop functionality makes email designing super easy.
Lets you create responsive emails in seconds.
You can export your emails anywhere.

Smart Assist Review – Best AI Email Assistant
Smart Assist is an AI personal email assistant that helps businesses take email productivity to new levels. This software uses machine learning and AI to review your emails and route the emails to their proper destination. Smart Assist can start and manage email campaigns or help you route existing emails.
Smart Assist is perfect for content creators, teams, workgroups, and individual freelancers who handle large emails. This tool can automatically help you process any action once you specific the actions. Smart Assist helps users to take control of their inbox.
Security Mutual Life, National Gypsum, and Hyundai use this personal email assistant to automatically move emails to collaboration systems like Sharepoint and Box.
Smart Assist Features
Can help you automate repetitive stuff like moving and saving emails in folders.
Lets you create and send branded emails to potential clients as an AI email assistant.
Has a built-in dictionary that checks for spelling errors or omissions.
Easily collaborate seamlessly with your team.
Click here to view Smart Assist.

Email Tree Review – Best Customer Service Email Tool
Email Tree is an AI email marketing software that reinvents customer experience with end-to-end automation. Email Tree uses artificial intelligence to help users reply emails in seconds and automate repetitive tasks. It also uses AI to help businesses increase productivity and customer satisfaction.
Email Tree comes with the drag, drop, and send features. Simply drag and drop blocks of text and send your emails in seconds. You can create your own email templates or choose from the available ones.
Email Tree supports multiple languages, including French, German, Italian and more. Orange, BMW, Microsoft, and Nvidia use Email Tree to get more out of their email marketing.
Email Tree Features
Integrates with a wide range of email management platforms and software, including Gmail and Outlook.
Also integrates with CRMs to help users classify emails, schedule tasks, manage alerts and actions.
Uses the Tesla car dashboard to reply emails in seconds while stuck in traffic.
Lets you create and send branded email newsletters to your customers easier than other tools can.
Click here to view Email Tree.

Phrasee Review – Best AI Email Creation Tool
Phrasee is an AI marketing copy tool. Thus tool uses deep learning algorithms and natural language generation system to automatically create brand-compliant copy for emails, Instagram, Facebook, and push notifications.
Phrasee is used in a variety of industries, including travel and leisure, retail, e-commerce and finance. Brands within these industries use Phrasee to generate email subject lines and marketing copy for their social media platforms. Phrasee produces marketing copy to enhance performance with increased clicks, opens, and conversions.
This AI email marketing solution allows users to work in multiple languages. Big brands like Virgin Atlantic, Groupon, and River Island use Phrasee to give their marketing teams a relief.
Phrasee Features
Uses AI to create compelling marketing content for emails and social media platforms.
Supports up to 20 languages.
Automatically checks your marketing copy for spelling errors.
Supports email copy management.

Email On Acid Review – Best Email Optimization Platform
Email On Acid is an AI powered email QA platform that allows users to streamline the email testing processes. This tool uses AI to allow email marketers, content creators, and developers to optimize their emails before sending. Companies use Email on Acid to send branded emails that increase their email marketing ROI.
If you are into email A/B testing, Email on Acid is a perfect tool that you should include in your toolkit. It caters to both B2B and B2C businesses.
Verizon, Coca-Cola, and IBM are some big brands using this AI email marketing software to send targeted emails to potential clients.
Email On Acid Features
Lets you preview emails on 90+ email clients.
Allows users to carry out spam testing.
Comes with a user-friendly email editor.
Automatically refines and optimizes your emails before you hit the send button.
Click here to view Email On Acid.

What AI email tools have you used for your company? The ones above are only some great innovations available to try.