In this guide, I'll show you exactly how to turn an image into video animation with AI. To complete this step-by-step tutorial, I will be using the LeiaPix application.
LeiaPix is great because it is high-quality, easy to use, and gets the job done.
If you have any other questions on how to turn an image into a video or how to use LeiaPix, comment below.
What is LeiaPix?
LeiaPix is a free image processing tool that transforms 2D images into captivating 3D Lightfield images. The tool provides various export options, including Leia Image Format, Side-By-Side 3D, Depth Maps, and Lightfield Animations.
LeiaPix benefits bloggers, small business owners, YouTubers, social media managers, SEOs, affiliate marketers, and anyone who wants to create video animation using pictures.
LeiaPix is part of a rush of images to video applications that have hit the internet lately. However, I like how easy it is to create video content.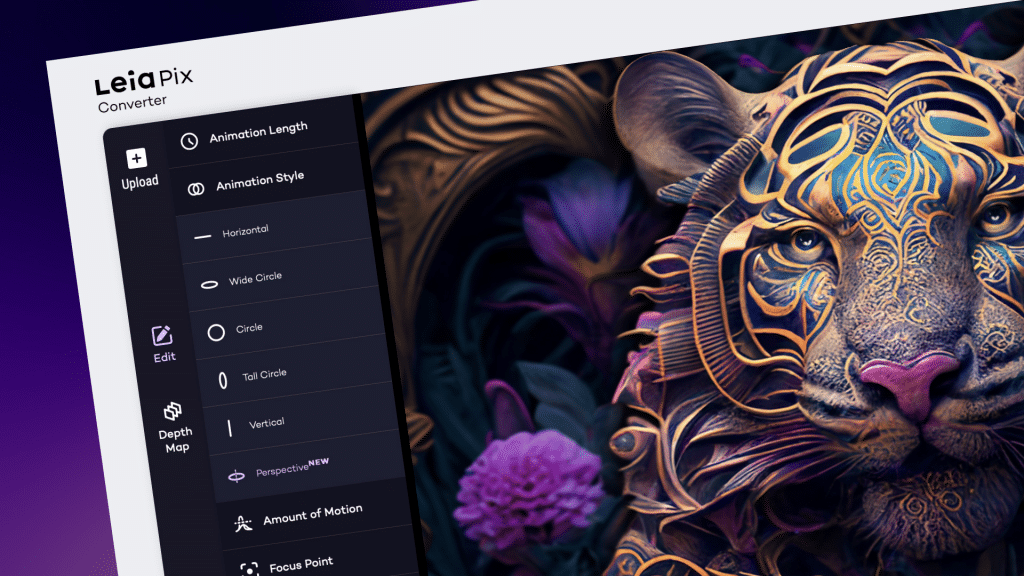 Key Features of LeiaPix
2D to 3D Conversion
With LeiaPix, you can effortlessly transform your 2D photographs into stunning 3D Lightfield images. Experience a new depth and immersion as ordinary static photos come to life, and you turn images into interactive elements.
Convert Images to Any Format
Convert your image files to LeiaPix format seamlessly with LeiaPix Converter, supporting many formats, including JPEG, PNG, BMP, GIF, and more.
Flexible Export Options
You will enjoy a variety of export options to cater to your specific needs. Choose from Leia Image Format, Side-By-Side 3D, Depth Maps, and Lightfield Animations as output formats, allowing you to showcase your work across different platforms and channels.
Depth Maps
During the conversion process, the Converter generates detailed depth maps that capture the spatial depth of objects in the image. These maps contribute to the creation of realistic and visually captivating 3D content.
Lightfield Animations
Besides static photographs, the Converter empowers you to create animated Lightfield animations. This feature adds a sense of motion and engagement, elevating the visual impact of your transformed photos.
User-friendly Interface
The interface of the LeiaPix Converter is highly intuitive and user-friendly, requiring no specialized skills to navigate and operate.
Pricing
LeiaPix is a free tool.
How does LeiaPix work?
Here's how the tool works:
Image Upload: You begin by uploading a 2D image into the LeiaPix Converter. This image serves as the basis for the conversion process.
Analysis: The program utilizes sophisticated algorithms and computational approaches to analyze the uploaded image. It carefully examines the image's various elements, textures, and structures.
Depth Map Generation: LeiaPix Converter generates a depth map based on the analysis. A depth map is a grayscale representation of the image that quantifies the separation or distance between objects in the scene. It provides depth information that is crucial for creating the illusion of three-dimensionality.
3D Lightfield Image Creation: LeiaPix Converter constructs a 3D Lightfield image using the depth map. The Lightfield image simulates the appearance of depth and three-dimensionality, allowing viewers to perceive the scene as if they were looking at it from different angles.
Export Options: Once the conversion process to turn an image into video is complete, you can choose from various export options. You can select the format that best suits your needs, such as Leia Image Format, Side-By-Side 3D, Depth Maps, and Lightfield Animations.
Factors You Can Adjust in LeiaPix
LeiaPix offers several customizable factors to enhance and personalize the animation output. Let's explore each factor and its available options:
Animation Length
Animation Length refers to the duration of the generated video animation. It determines how long the animation will play, indicating the length of time the picture will be brought to life through motion. You can choose the desired duration for your animation, offering different options to suit your preferences or requirements:
Animation Style
Animation Style determines the overall look and feel of the animation, influencing the art style and techniques used to bring the picture to life. LeiaPix AI offers different Animation Style options, allowing you to choose the style that best suits your creative vision or desired outcome:
Amount of Motion
The Amount of Motion refers to the level or intensity of motion applied to the picture during the animation process. It determines how much movement and animation effects are incorporated into the final output. This option provides different choices to control the degree of motion in the animated video.
Focus Point
Adjusting the Focus Point setting lets you determine which part of the image will be the center of attention during the animated video. This can direct the viewer's gaze and highlight specific elements within the picture for a more engaging and dynamic animation experience.
Edge Dilation
The Edge Dilation option allows you to customize the appearance of the image's edges during the animation process, enabling you to achieve different visual effects and enhance the overall aesthetics of your animated video.
Advanced Editor
Advanced Editor empowers you to customize your animated videos according to your creative vision, ensuring that the final output aligns precisely with your preferences and requirements.
How to Turn an Image into Video Animation
Here's a step-by-step guide on how to turn a picture into video animation using LeiaPix:
Step 1: Access The LeiaPix Website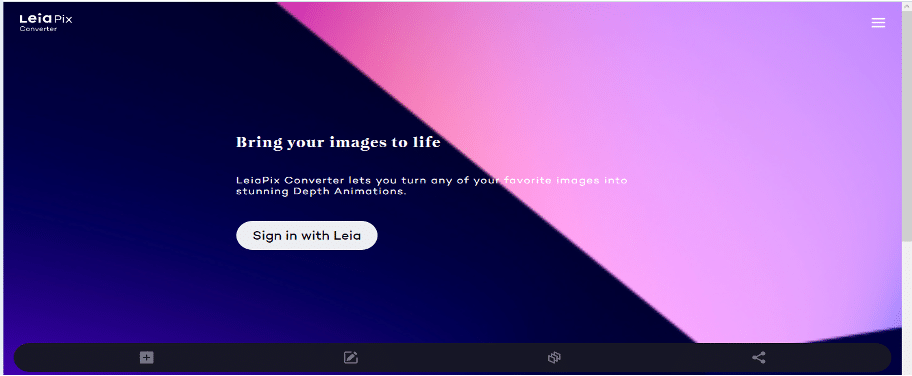 1. Go to the official website of LeiaPix Converter and select "Continue with Leia Login."
2. Provide your email address and password, and click "Sign in" to log into your account.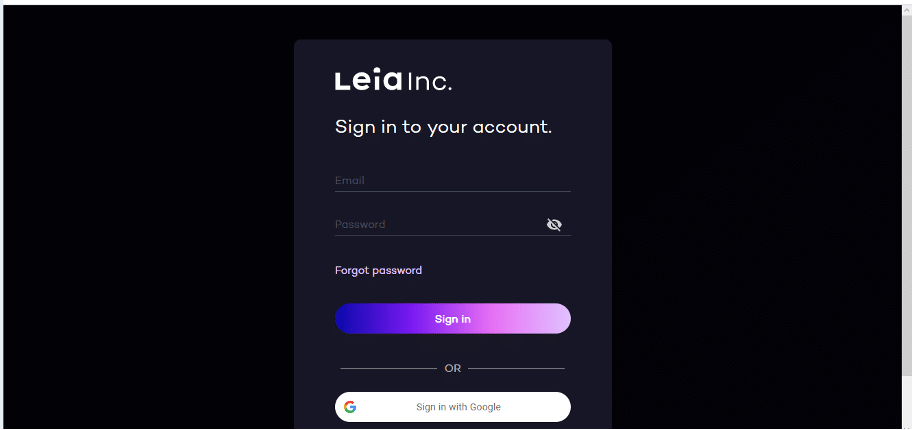 3. If you forget your password, click "Forgot password" to recover it.
4. If you haven't registered yet, click on "Create account."
5. Enter your name, email address, and birth date, then click "Next."
6. Choose your account password and click "Next" to finish the registration process.
7. You can also access the LeiaPix website with your Google account.
Step 2: Upload a 2D Image
Click on the "Upload" button at the top left to upload a 2D image file you want to convert, and select the image from your computer. Once you have selected it, click on the "Open" button.
Step 3: Adjust Image Parameters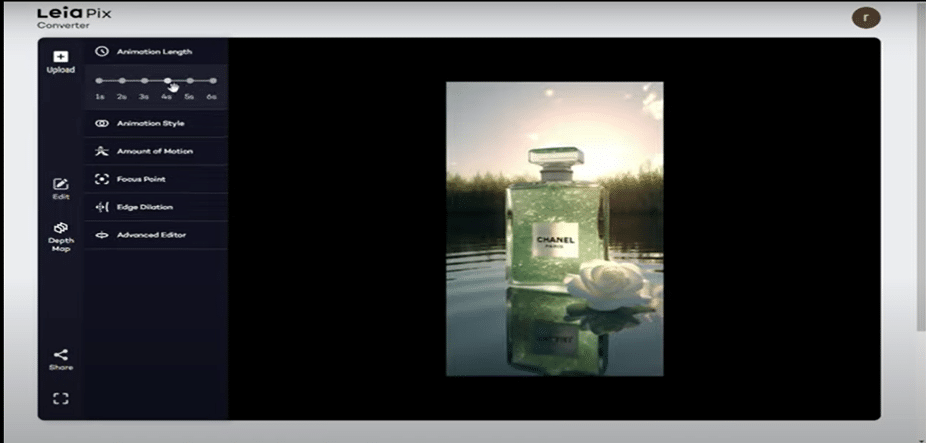 To adjust the image parameters, navigate to the left side of your screen and click on the "Edit" button. You will see several options to get the effect you want, including "Duration," "Amount of Motion," "Animation Style," and "Focus Point." Select any of the options and click "Edit." This will enable you to adjust that option.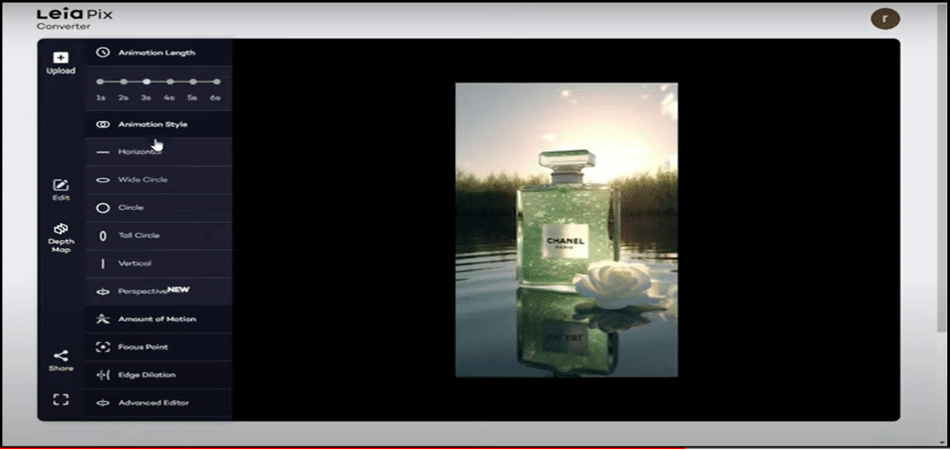 For example, you can adjust the length between one and six seconds. You can adjust the animation style (horizontal, wide circle, vertical, and perspective). Other adjustments you can effect include the amount of motion, focus point, edge dilation, and advanced editor.
Step 4: Adjust Image Depth and Stereoscopic effect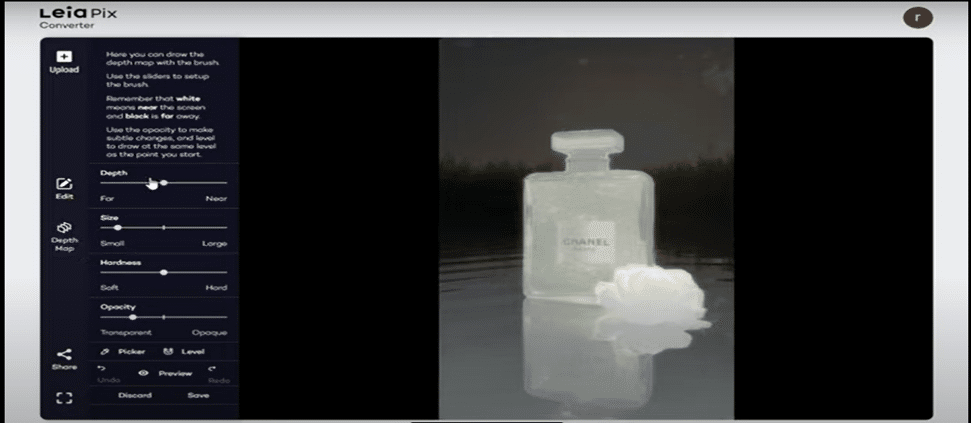 Click on the "Depth Map" button at the bottom of the tool to adjust the Depth Map. Adjusting the Depth Map (depth, size, hardness, opacity) will increase/decrease the distance of each pixel point from the camera. The lower the pixel value, the closer the image is to an observer.
Step 5: Save The Image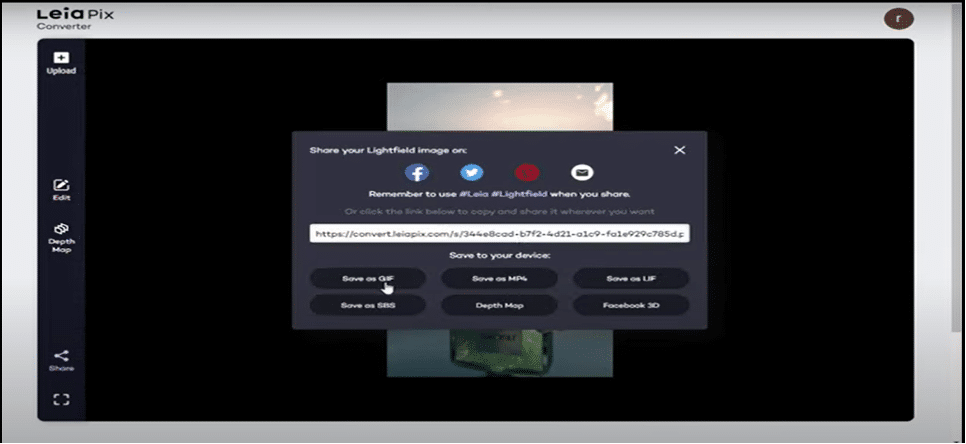 After setting the parameters, you can click the "Share" button on the left side of your screen to view the converted 3D image.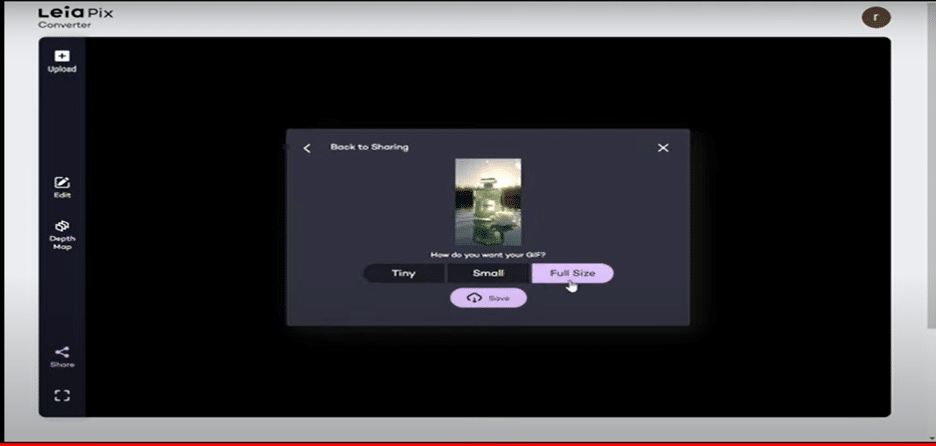 If you are satisfied with the result, you can hit the "Save" button to download the video animation in your preferred format.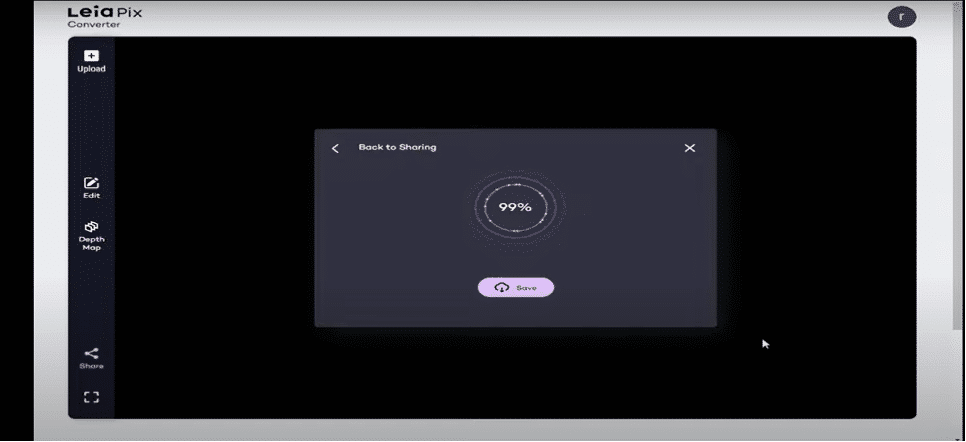 Conclusion
In conclusion, LeiaPix is an efficient image to video converter tool to transform static images into dynamic video animations. Its user-friendly interface, flexible export options, and advanced image analysis capabilities make it an invaluable tool for bloggers, small business owners, social media managers, SEOs, and more.
Users can create personalized animations to meet their specific needs with the added capability to adjust the animation length, style, motion amount, focus point, and edge dilation. It simplifies the process into an easy five-step method
Given its features and ease of operation, LeiaPix is poised to revolutionize image-to-video animation, offering an intuitive, cost-effective solution.