CanIRank is smart SEO software that uses artificial intelligence to simplify keyword research, link building, and other SEO functions. In this CanIRank review, we go over this SEO service in full detail, including:
How can this tool save you time verses AHREFs or SEMRush?
Nice features you need to check out.
Pricing
and other details!
If you have another AI SEO tool that you like better, comment down at the bottom of this CanIRank review and let us know.
How to Sign Up For CanIRank?
Want to sign up for the service and then follow this guide while you are in the tool? Use the link below to sign up for and check it out today.
Click here to sign up for CanIRank.
What is CanIRank?
CanIRank is an AI SEO software tool that gives you specific actions on what to do to rank your websites on major search engines. For every recommendation that you get using this tool, you will have in-depth instructions on how to rank your website by yourself. Regardless of your niche, CanIRank will serve your SEO needs in real-time.
This SEO tool offers you real-time suggestions in a number of categories:
Keyword research
Article improvements
Link building
Internal SEO improvements
CanIRank is designed to place you ahead of your competitors. It lets you know what your competitors are doing to rank and also reveals what it takes to beat them. This software can also notify you of new content ideas, link opportunities, and ranking changes in one place.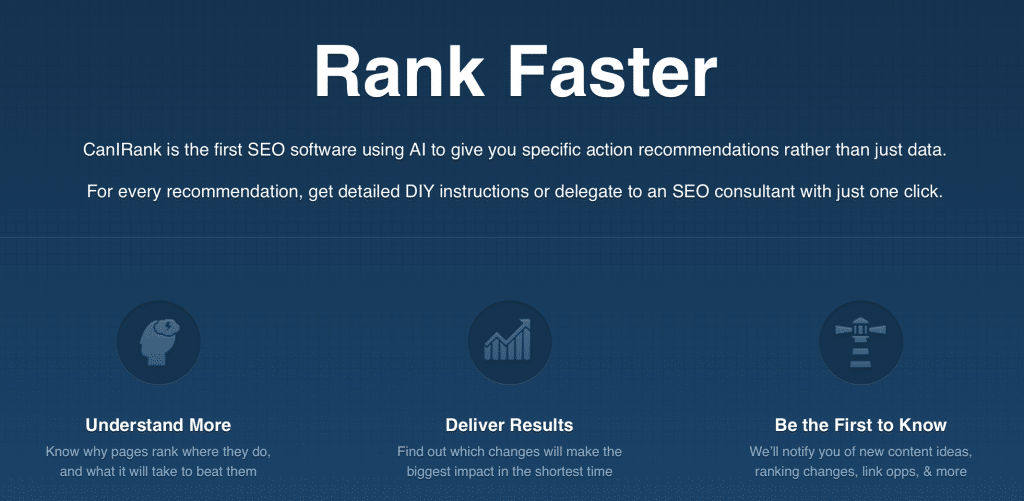 Who is CanIRank for?
CanIRank is best suited for startups and small businesses looking to quickly rank their website on the front pages of search engines. If you own a website or manage the ranking of one, take a look at all the time you can save. It can be an alternative or a supplement to other tools such as AHREFs or SEMRush.
Agencies, marketers, and freelancers can use CanIRank to offer SEO services to customers, including:
gaining more backlinks
higher ranking for specific keywords
white hat SEO
CanIRank is filled with so many great features for internal and external SEO. Below, we take a look at a bunch of these features.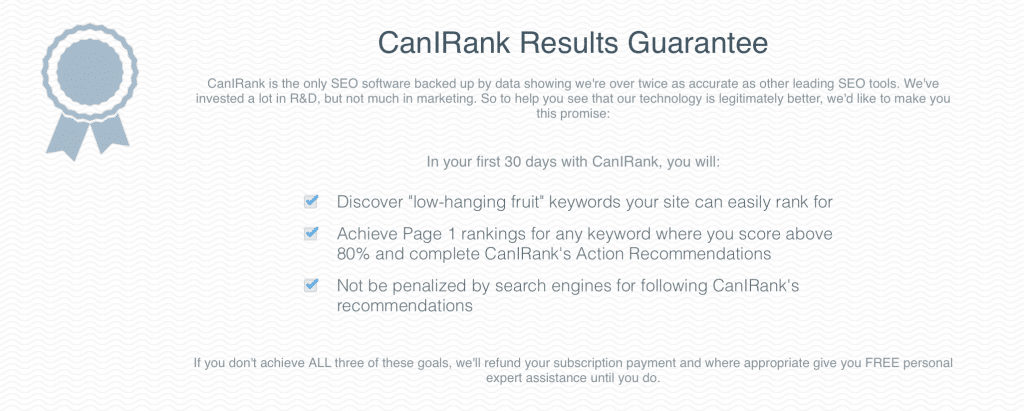 CanIRank Competitor Analysis Features
Shows You How To Beat Your Competitors
This SEO competitive analysis tool uses the power of artificial intelligence to study what established businesses are doing to rank their websites. It then reveals their "secrets" to you so that you can beat them to stay on top.
Saves Time
Instead of spending all day figuring out how to outrank your competitors, you can use the competitive analysis tool to achieve that. Compared to manual SEO analysis, this tool will help you achieve this process on auto-pilot.
Analyzes Different Ranking Factors
CanIRank uses AI to analyze over 200 factors that drive SEO. It also fetches you the information you need to stay on top of your game. Its performance matches SEO tools like Arefa, SEMRush, and Moz. However, it gives you actionable suggestions so that you don't have to guess.
Reports Are Easy To Understand
The reports presented by this software are quite easy to understand. If you are new to SEO, it will help you identify your website's strength and weakness.
Guaranteed results
The results of using this SEO competitive analysis tool are quite impressive. Still struggling to rank your website? This software will assign you a consultant that will help you rank your website.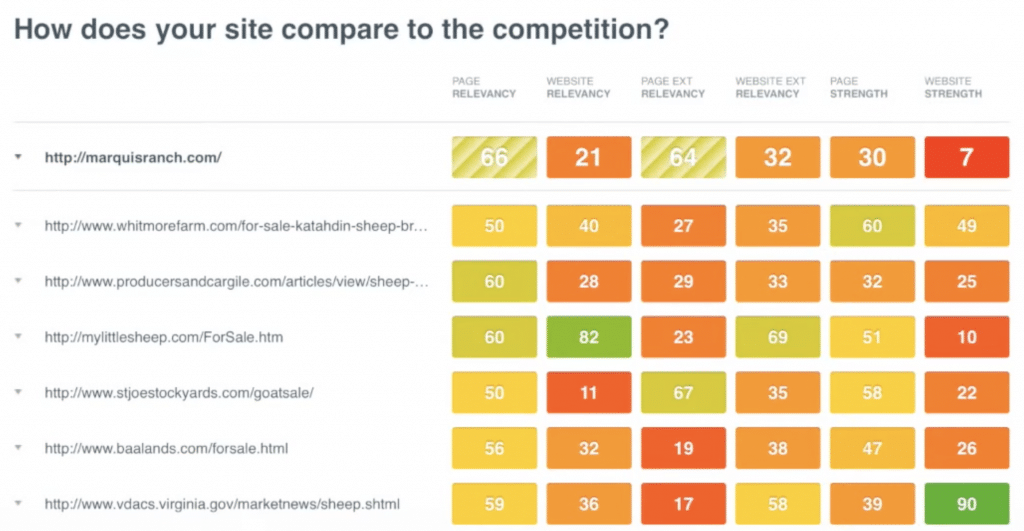 CanIRank Link Building Features
Several Link Building Strategies At Once
CanIRank uses a number of link building strategies with high success rates to help users earn backlinks. The strategies include unlinked mentions, competitor links, and niche directories.
The tool provides you with suggestions on websites you can target and companies you can outreach to.
Builds Solid Relationships
CanIRank can connect you with different bloggers and journalists that you can add to your team for effective link building. Whether you are connected to an influencer or not, you can build and nurture healthy relationships with PR people much easier.
DIY Instructions For Link Building
Every link build strategy adopted by CanIRank comes with do-it-yourself instructions for users to build the website links themselves. The link building strategies also come with tips from expert link building consultants.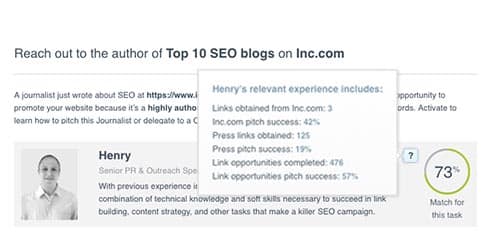 CanIRank Keyword Difficulty Features
Suggests Relevant Keywords
Are you tired of writing great content only for it to rank low on Google? The CanIRank software will suggest valuable keywords for you to create content around with and provide SEO tactics for you to rank.
Great Accuracy
Can I Rank uses the power of machine learning and AI to analyze your website. Then, it gives you a keyword difficulty score for you to work on so that you can improve your SEO ranking.
Incorporates Thematic Relevance
While there are other SEO tools on the market, CanIRank is the only SEO tool that incorporates thematic relevancy. When your pages tie together with specific and similar keywords, you establish a theme throughout your website. This makes your entire site appear more relevant to those search terms and can really increase your ranking for multiple pages.
CanIRank also incorporates other powerful signals into its keyword difficulty calculations.
Keyword Variations
There are times your website needs keyword variations to rank on major search engines. With the "Get Suggestions" button, the tool will help you find less competitive keywords to target and use.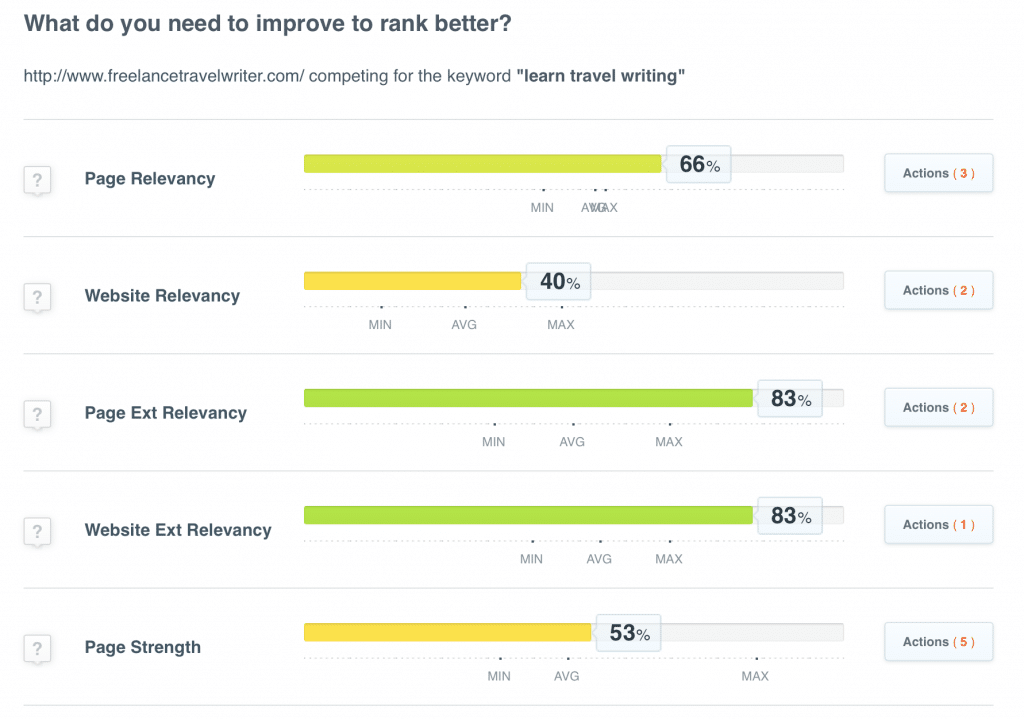 CanIRank Keyword Research Features
Unique Keywords Ideas
CanIRank works like a keyword generator. Unlike other SEO tools that use Google Keyword Planner to suggest keywords, it goes the extra mile by adding several unique sources.
CanIRank suggests keywords that are not targeted by your competitors and also semantically related phrases.
Scores The Relevance Of Your Keywords
CanIRank assigns scores to the relevance of your keywords so that you can focus on keywords that matter to paying customers.
Uses Machine Learning to Recommend Keywords
This is one of the only SEO tools that uses machine learning algorithms to suggest keywords to users. This means the tool can study your niche market and then suggest keywords that will drive the most traffic.
Find Better Keywords In Less Time
CanIRank uses the power of AI to enable both startups and small businesses to quickly find better keywords in less time. So, instead of doing manual keyword research, you can count on this SEO software to achieve results more in less time.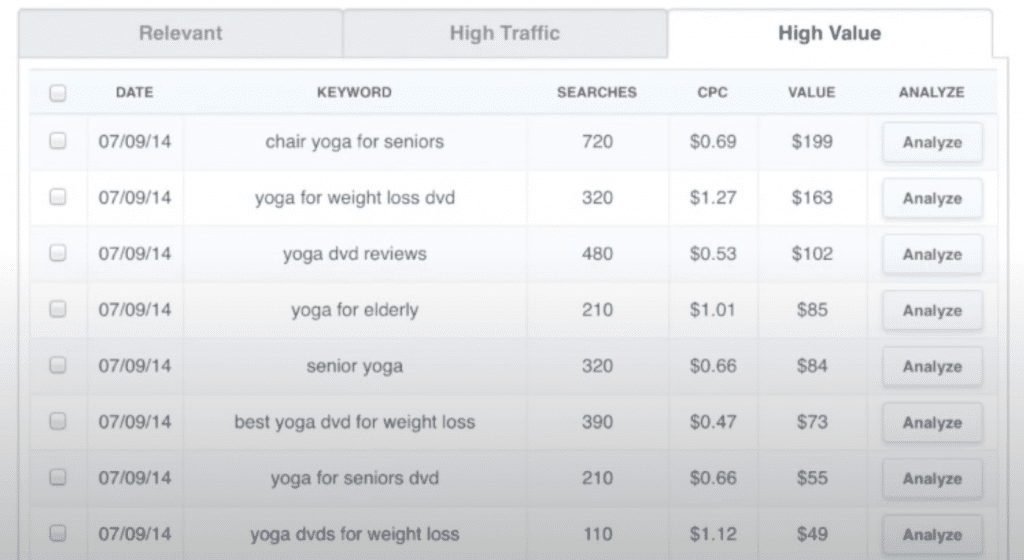 CanIRank Pricing
CanIRank offers three pricing tiers, plus a free package to preview the service.
Free
With the free package, you get to add 1 website, 5 keywords, and generate 5 SEO reports. You also get limited content ideas, limited rank tracking, and 20 link opportunities.
The idea of the free package is to give you an idea on how the service works. It is a good preview of how you get actionable suggestions for your website.
If you are serious about search engine optimization, you are going to want to pay for the service and really reap the rewards.
DIY Individual
The DIY Individual is designed for beginners and individual users. It comes at a cost of $49 per month. At this price, you get:
1 website for ranking
5 keyword reports per day
3 SEO reports per day
25 content ideas per report
25+ keywords per website rank tracking
50 link opportunities per month
SEO progress reports
Competitor analysis
The DIY Individual plan comes with 7-day free trial and expert assistance to help you get started.
DIY Pro
The DIY Pro package comes at a cost of $79. If you opt for this package, you will get:
7 websites
20 keyword reports per day
10 SEO reports per day.
40 content ideas per report
100+ keywords rank tracking per site
250 link opportunities per month
SEO progress reports
Competitor analysis
You also get the 7-day free trial and expert assistant here too.
DIY Agency
The DIY Agency package comes at a premium of $299 per month. This package is meant for businesses. Any business that opt for this package will get:
25 ranking websites
80 keyword reports per day
40 SEO reports per day.
100 content ideas per report
200+ keywords rank tracking per site
1,000 link opportunities per month
SEO progress reports
Competitor analysis
Additionally, businesses also get exclusive white label reports and access to priority consulting features.
Overall, CanIRank is an awesome tool that uses artificial intelligence to simplify SEO. The extra use of machine learning should allow the tool to stay ahead of the competition by adding more personalized features in the future.
Click here to give this AI SEO tool a try!
If you've tried it out and have some thought, comment down below and let us know!
Sign up for our email list to receive information on cool new products using artificial intelligence to make your life or business easier!