If you work at a company who holds a lot of meetings, then you need to use artificial intelligence to make them more productive. In this guide, I'll show you the best AI meeting assistants available today to help you:
Perform real-time transcription of the meeting
Create and send action items to attendees
Note key items
Perform smart meeting scheduling for upcoming meetings
AI-based meeting assistants can make you more productive without you having to do anything.
If you use any of the tools in the list below or recommend any other AI meeting assistants, comment down at the bottom of this guide!
What are the Best AI Meeting Assistants?
Below, I'll go in more detail about the wide range of meetings tools listed above.
Sembly AI
Sembly is an awesome AI meeting assistant that you can leverage to transform meetings and online discussions into searchable text in real-time. It works by recording conversations, transcribing the conversations, and generating intelligent minutes.
Sembly highlights essential details in a meeting, including problems discussed and steps to resolve any issues. It captures this information in a note you can easily access in the app. You can search for the note, edit it, or share it with your team or colleagues.
This AI virtual assistant is knowledgeable. It uses artificial intelligence to identify your voice and the command that you issue and then create an action item to complete.
You don't need to download the app to use it. You can connect by sharing the meeting link with your team members or colleagues. It has a lot of free features for basic teams and meetings. If you like how Sembly works, you can subscribe to a premium plan for even more features.
Key Features
Sembly generates smart meeting summaries and minutes.
Integrates with tools and apps like gMeet, Zoom, WebEx, and MS Teams.
Provides automated minutes that you can share with your colleague.
This AI meeting assistant recognizes your voice and reacts to your command.
What I Like About Sembly
I like Sembly because it will save you tons of time, highlights key discussion moments, and turns meetings into searchable text. The voice recognition in Sembly is better than the other solutions I've tried. And I like that it separates the conversation out by person, which makes it easier to search through later.
I also like that the app lets you upload a pre-recorded audio file for dissemination to your colleagues.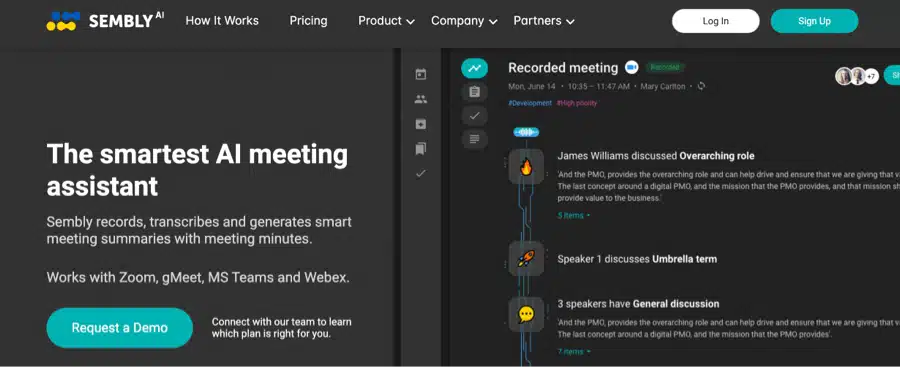 Fireflies AI
Fireflies uses AI to record and transcribe all the discussions on collaboration tools like Zoom, Slack, HubSpot, and Salesforce. It stores the transcriptions so that you can review them later.
Fireflies lets you highlight essential discussion areas with your team members or colleagues. It also enables you to edit the conversation as you deem fit. You can review meeting action items by searching for them like you were on Google search. The recorded conversation you search for will pop up for your review.
Fireflies lets you upload meeting audio files and then transcribes it for you. It processes calls and audio through integration with team collaboration tools. Ultimately, if you are a busy executive, Fireflies will save you valuable time.
Key Features
Fireflies lets you easily record minutes across different web conferencing platforms.
The recorded conversations are sharable with those not present in the meeting.
Can transcribe audio files or live meetings.
Fireflies can review an hour-long meeting within 5 minutes, highlighting key areas of discussion and steps taken.
What I Like About Fireflies AI
I like that Fireflies can record discussions, log meeting notes intelligently. The search function mostly works for what you need it to do. Fireflies big advantage is that it integrates with other popular apps. You can store data into your CRM and other collaboration software Slack, HubSpot, and Salesforce.
Click here to view Fireflies AI
Motion Meeting Assistant
Motion Meeting Assistant is an online meeting assistant for booking meetings and indicating your availability. It's like your personal assistant, helping you with laborious scheduling and communication.
With Motion Meeting Assistant set in motion, all you need to do is show up for the meeting while the app handles everything else.
Unlike other meeting assistants, Motion Meeting Assistant will display your preferred meeting times for your team members or colleagues to see. This app also helps you limit your meetings.
Once you have exhausted the limit for the day, others won't be able to access your calendar to schedule a meeting.
Key Features
Motion Meeting Assistant lets you create a custom meeting booking page showing your availability.
You can display your preferred meeting times.
The app can eliminate repetitive scheduling of common meetings.
Lets you add survey questions to your meeting templates.
What I Like About Motion Meeting Assistant
I like that Motion Meeting Assistant has a drag-and-drop built-in function. You can drag and drop to create one-off booking pages and select your availability for a meeting. I also like that you can customize your meeting templates by naming your meeting and adding the location details. This meeting assistant is a smart scheduling tool that helps you be more productive.
Click here to view Motion Meeting Assistant.

Laxis
Laxis is an intelligent meeting voice assistant that you can use to capture conversations during meetings with your team members or clients. Laxis will make your meetings enjoyable and more productive, embedded with an intelligent note-taking mechanism.
Laxis uses AI to record and transcribe discussions and help you extract insights and important quotes from meetings or different interviews. It can capture each meeting participant's comments and highlight actionable items for possible follow-ups.
Laxis can also send the meeting outcome to each attendee while highlighting areas where attendees need to take action. This AI meeting assistant also has personalized templates and lets you concentrate in a meeting better.
Key Features
Laxis lets you analyze minutes faster with intelligent note-taking.
Can compare notes across interviews.
Can record client concerns with intelligently transcribed notes
Use Laxis to create shareable notes and files from calls and discussions.
What I Like About Laxis
I like that Laxis is built especially for HR teams. You can use this AI meeting assistant to capture your clients' cases, escalate issues to top management, and review discussions from calls and meetings with companies you cover. It sits in the background and listens as your meeting unfolds. When you are done, it has a bunch of analysis built in.
Avoma
Avoma is designed to make your meetings more actionable. It comes with exciting features that work best during and after a meeting.
Avoma works by capturing conversations and producing AI notes for both video and audio meetings. This lets you concentrate on conversations. Avoma archives meeting minutes into a searchable knowledge base for an organization to leverage and take advantage of.
Avoma lets you take notes and edit them as you deem fit. It generates shareable notes that you reference alongside your team members or colleagues. One cool feature is that Avoma recognizes words and phrases that are discussed most often during a meeting. You can analyze this data to make sure your focus is in sync with the business.
Avoma integrates with various team collaboration tools, including Google Meet, Zoom, UberConference, BlueJeans, and Microsoft Teams.
Key Features
Avoma organizes all your meetings and engagements in one place.
Helps you collaborate on note-taking with your team members or colleagues for better alignment.
Generates transcripts and AI notes, so you focus on conversations.
Integrates with your favorite team collaboration tools.
What I Like About Avoma
I like Avoma because it lets you use proven agenda templates instead of always copying and pasting agendas whenever you have a scheduled meeting. I also like that it is equipped with a collaborative note editor to enable you to take brief notes during meetings in real time.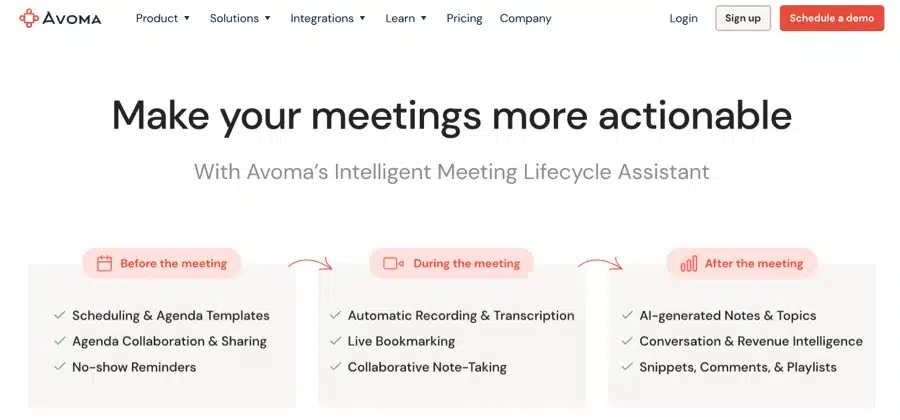 Bluecap
Bluecap is a powerful AI meeting assistant. It uses artificial intelligence to generate meeting key takeaways, automates note-taking in meetings, and gives insight into attendees' emotions. It removes the distraction people usually encounter using tools like Google Meet, Zoom, or Microsoft Teams, by providing insights and detailed notes.
Bluecap is easy to use. You can sync it to your calendar and use it as a scheduling management assistant. It also have a full dashboard that you can use to drive actions out of.
This AI digital assistant for meetings will help you take care of all the problematic aspects of having fruitful and more engaging meetings. It records everything that transpires in a meeting and provides you with a full transcript for review.
Bluecap is highly private and secure, giving you the leverage to choose who sees your meeting data.
Key Features
Bluecap captures every word with transcription and recordings.
Summarizes meetings just like a human assistant would do.
Records crucial issues and decisions taken during meetings.
Can generate follow-up emails after a meeting.
What I Like About Bluecap
I like that Bluecap understands a user's voice and command and summarizes every meeting, highlighting key areas discussed in a meeting. I also like that it generates shareable notes that you can share with your team members or colleagues for review.

Clearword
Clearword is a comprehensive meeting platform you can leverage to automate your meeting notes and share actionable items with your team members or colleagues in real time. Clearword uses AI to capture meeting minutes, transcriptions and meeting summaries.
The app complements how you meet and makes your meetings more engaging. It integrates with tools like Google Meet and Zoom to enable you to discuss with your team members or colleagues and less multitasking.
At the end of every meeting, your automated notes will be stored in a searchable library for your review, or you can edit the conversations as you deem fit. Clearword is that meeting assistant that allows you to automate follow-ups and let meeting attendees book their preferred meeting time.
Key Features
Transcribe your meetings into searchable text for everyone on your team to review.
Search recorded meetings with actionable items.
Host and record your meetings in real time.
Collaborate with a shareable and searchable meeting library
What I Like About Clearword
I like that Clearword has a meeting scheduler that you can use to eliminate the hassles of sending back-and-forth emails for follow-ups. Embed your Clearword link on your website or share it across your social media handles for guests to book a time that works best for them.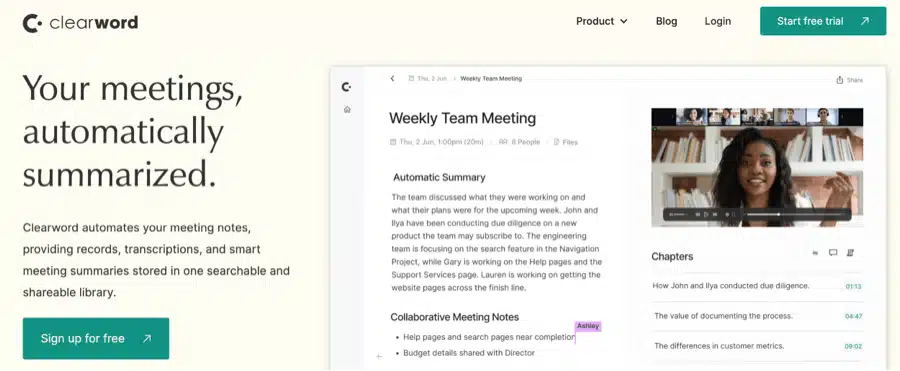 Fathom
Fathom is an AI meeting assistant app made for remote teams or organizations. It works by recording every virtual meeting and transcribing the conversations into searchable texts. At the end of a meeting, attendees can access the transcribed text for review or possible editing. Businesses who do a lot of online meetings can integrate Fathom into their online processes.
Fathom is outstanding because it uses AI to highlight important meeting segments. You can then share the highlights with your team members or colleagues for comments.
Fathom integrates with popular team collaboration tools like Zoom, HubSpot, Salesforce, and Slack.
Key Features
Has a note-taking functionality, meaning you don't need to type notes during Zoom calls.
Lets you search the recorded transcripts across different web conferencing platforms.
You can preview your team recordings and get insights from your top performers.
After meetings, it automatically sends highlights to Slack in real time.
What I Like About Fathom
I like that Fathom automatically produces and syncs meeting minutes and notes to all the relevant sections in your CRM. I also like that it can highlight key areas of discussion during meetings and send follow-up emails to each attendee.

Otter AI Review
Otter AI is a software tool that lets businesses and individuals generate rich notes for interviews, meetings, and lectures. With Otter AI, you can instantly transcribe audio and find what you need the most. This software allows you to skim through a long recording.
With Otter AI, you can keep every member of your team on the same page with live notes. Otter AI's speaker ID feature lets you know who said what per time. Plus, you can create secure groups and edit shared notes with your teams. You can train Otter to recognize voices so that you can collaborate smarter.
Dropbox, IBM, and Tulane University are a few brands that use Otter AI to generate shareable smart notes for their team.
Otter AI Features
Can automatically generate shareable notes that sync text, audio, and images.
Lets you record conversations on your phone or web browser.
Lets you share or export voice notes to inform your team members.
Create groups using Otter AI to invite collaborators and keep organized.

Frequently Asked Questions (FAQs)
Can AI accurately transcribe meeting conversations?
Yes, artificial intelligence can understand and transcribe your meeting conversations. Modern software can also detect who is talking and split up your transcription by speaker, for even more organization.
What is the best AI meeting software?
After testing out and trying over a dozen options, my recommendation is Sembly AI. In addition to transcribing your meetings, it can make intelligent recommendations, summarize action items, and more. Plus, it works with all of your existing meeting tools.
Are AI meeting tools popular?
Automated meeting tools are one of the fastest growing software platforms of the year. Most businesses are overrun with too many meetings. Any tool that can save you a few minutes of time can save a company thousands of dollars per year.
Conclusion
As you can see above, there are a ton of AI meeting assistant software packages that can simplify how you have meetings. Some of the most common features are:
Text transcription
Automatic action item identification
Voice recognition
Meeting scheduling and planning
Task organization and meeting flow optimization
If you try out any of these AI meeting tools or know of any others worth looking at, comment down below and let me know!