Do you have a video file that you would like to upscale and increase the quality on? In this guide, I'll show you how to enhance videos with artificial intelligence (AI) and increase the output quality!
AI has come a lot of way in the last few years. GPT-3 and other advancements have led to the creation of several article generators, image generators, and design tools that use AI. Video editing is another area of growth.
If you have a low quality video that you want to improve, follow the steps below.
Let's get started!
What is Video Enhancement Software?

Video enhancement software is any software, app, or program capable of modifying, editing, and manipulating a video to get a better version. Video Enhancement software is known for one thing: to enhance or upscale the quality of a video and add natural details.
How can this software add quality to a video that doesn't have any?
Artificial intelligence!
By analyzing the video frame-by-frame, it can blend together pixels and smartly increase the quality of different elements. And by understanding objects (like a building or a tree), it can use AI models to increase the quality of your video using these models.
One of the most popular video enhancement softwares of all time, and the one I personally recommend to you, is Video Enhance AI by Topaz Labs.
What is Video Enhance AI?
Video Enhance AI is a software developed by Topaz Labs to help video editors and content creators easily upscale low-quality videos using AI technology. Video Enhance AI can upgrade the quality of a video and its resolution up to 8K.
Topaz Lab Video Enhance AI uses artificial intelligence to repair every video aspect, including sharpening the blurred video areas and reducing video flickering.
It features a combination of quality and ease of use. The layout is simple enough for those not tech savvy to understand easily. The app automates most of the process, so there are not many requirements from your end.
Topaz Lab Video Enhance AI is available for a one-time payment price of $199.99. After you buy it, you can upscale all the videos you want to forever.
Below, I'll show you how to increase the quality of your videos just like the picture below.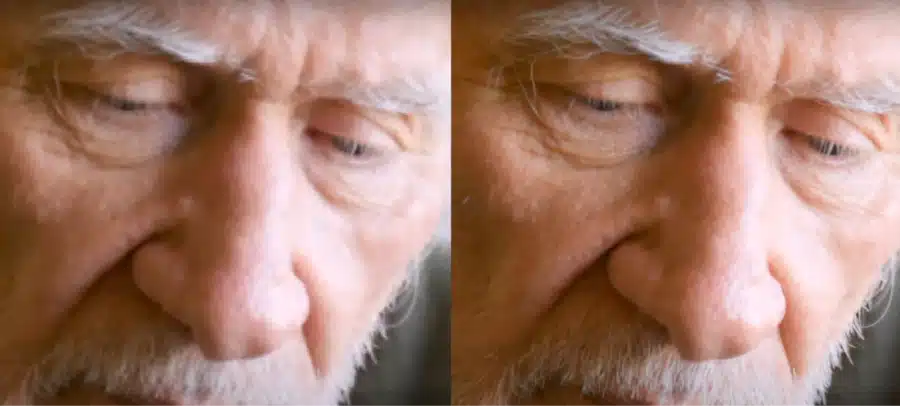 How to Enhance Your Videos with Video Enhance AI
Here's a step-by-step guide on how to enhance a video with Video Enhance AI:
First, download and launch the Video Enhance AI on your device.
Import the video you want to enhance or upscale using the drag and drop method. You can also add a video for enhancement by clicking on the center of the screen.
Select an AI processing model and choose your desired output resolution. You can play around with these AI models in order to find an output that works best for you.
Choose your output video size from the Preset area. This is the resolution that your video will become after it is done rendering.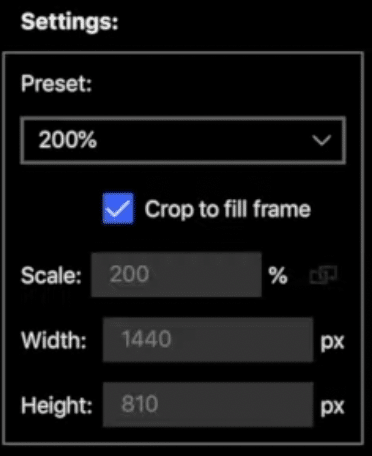 Choose your output format.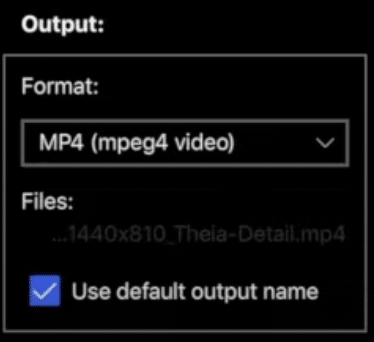 Click the "Start Processing" button.
Wait for a few minutes for the upscaled video.
How to Enhance Videos in Bulk
Topaz Lab Video Enhance AI supports bulk video enhancement, and here's how to go about it:
Like before, import or add all the videos you wish to upscale to the video list.
Set format, sizing, and AI processing model for each video.
Name your output videos in the dialogue box and click "Save" to proceed. You can also choose the location to save the output video.
Preview your output video by dragging the slider to your desired position.
At this point, you can trim the output video to make it precise or short. You can do this by dragging the slider and selecting the video's timestamp.
Click on the "Start Processing" button to process the videos. It will take a few minutes for the process to complete.
You will get upscaled videos once the process completes.
The above guide applies when you want to use different settings to upscale each video in your list.
Do you want to use the same setting for every video? In this case, you will have to first upload a video, make the necessary changes, and save the settings as default. After saving the settings, proceed to add other videos and click "Start Processing" to enhance videos in bulk.
Key Features of Video Enhance AI
Do you want to do more with the software other than the step by step above? Here are some other cool features you need to check out if you want to enhance videos with AI.
Upscaling Video
Topaz Lab Video Enhance AI is a video upscaler. It can upscale your videos from low resolution or frame rate to higher ones with a few clicks. This software can also convert HD to 8K and add natural video details.
Removing Noise
You can use Topaz Lab Video Enhance AI to remove the background noise if you have old low-res videos with background noise. This software also lets you minimize flickering and reduce temporal artifacts.
Restoration of Old Videos
Topaz Lab Video Enhance AI lets you naturally restore old videos and realistic details. The process is largely automated. You don't need to add visual artifacts.
Increased Frame Rates
Increasing a video's frame rate leads to more high-quality videos. The existing ways to do this will make your video look jittery and unnatural and sometimes produce a moving background. Topaz Lab Video Enhance AI uses machine learning to determine the best frame rates for your videos, giving you better results.
Smooth Slow Motion Effects
Compared to traditional time interpolation, the software is capable of creating smooth slow motion effects. This AI video enhancement software can generate new frames without motion artifacts or stuttering. This can add some important video stabilization to your file
Batch Converting
Topaz Lab Video Enhance AI supports batch upscaling. Just add multiple videos to the software. You can set format, sizing, and AI models for each uploaded video. You can even use the same setting to process the entire upscaling.
Video Enhance AI Software Tricks
Explore Different AI Models
Exploring different AI models lets you determine which model best suits your video resolution. Topaz Lab Video Enhance AI has up to 6 AI models, which can be found under "Processing." Choose any of the AI models and preview its effect on the output of your file.
The preview button is located in the upper-right-hand corner of the screen.
Change Your Output Resolution
High resolution videos have clearer and crisper images. With Topaz Lab Video Enhance AI, you can easily change the output resolution to improve video quality. After uploading videos to the software, select your desired output resolution from the in-app standards.
You will find the output resolution under "Settings"
Change Your Output Format
Like the trick I explained above, you can also change your video output format. There are four in-app video output formats to choose from. To do this, navigate the "Output" menu and select your desired output.
Set Your Favorite Settings as Default
If you have a setting that you often use, you can make it your default setting instead of getting to select it whenever you launch the app to upscale a video. To do this, click the processing menu at the top of the app and click on "settings as default," and press "OK." From then onward, your favorite settings will default whenever you relaunch the app.
Video Review of Video Enhance AI
Want to see the software in action more? Check out this awesome video:
What I Like About the Video Enhance AI Software
If you want to know how to enhance video with AI, then you need to know about Video Enhance AI. It makes the entire process really easy to follow. It have multiple upscaling tools to help take your videos to the next level.
Video Enhance AI can detect your original quality of video and use that information to make your upscaling look natural and complete. The whole process is largely automated and the end result is the best I've seen it.
Plus, Topaz Labs is a legitimate AI image editing company. They have a full suite of other products worth exploring and trying out. Each product gets regular updates with new features or AI models that work better than before.
Try it out for yourself and see what you like!
What I Don't Like
Video Enhance AI is relatively expensive for just a one-time use. $200 to upscale one video might be a lot, depending on how, important the video is for you. However, that one-time cost gets you access to the program forever. This makes it better than Adobe and other software companies who have gone the SaaS route.
Depending on what computer you have, the enhancement process can take time. However, the software is scanning your video clip and improving it frame by frame. It's easy to see why this can take time to get a good quality output.
If you want to trial the software, it does come with a free trial. However, all of your videos will have a watermark on them that cannot be removed.
Conclusion
Follow the steps above if you want to know how to enhance video with AI using the Video Enhance software by Topaz Labs. In just a few short steps, the software will:
analyze the quality of your low-resolution videos
identify places to increase the quality of your video footage using AI
completes a frame-by-frame edit of your video to upscale videos that you have
Click here to try Video Enhance AI.
If you know of another video enhancer that works great and you want me to add step-by-step instructions above, comment down below and let me know.