If you are looking for the best SEO Content Optimization Tool, then choose between two of the best options available today: Frase vs Surfer SEO. In this guide we will be going over:
A summary of Frase and Surfer SEO
The best features between Frase vs Surfer SEO
Keyword research and content optimization options available in each
Frase and Surfer SEO priing
If you have used either Frase or Surfer SEO, comment down below and let us know which content optimization tool you would recommend.
How to Try Frase vs Surfer SEO
Each of these programs can be purchased directly through the official website. Use the links below to get started:
Before we break down Frase vs Surfer SEO in more detail, let's look at an overview of each.
Frase AI helps you optimize all of your content and blog posts. It minimizes the time to research and write high quality content on your website. With Frase AI, writing high-converting, SEO-optimized articles is as easy as a click of a button.
Frase includes a dashboard that will automatically identify and categorize your best content opportunities from your Google Search Console data, which will help provide insight on what you should work on next.
Frase improves SEO and drives conversion by using AI to answer your visitors' questions. Frase's quickly evolving set of AI-powered tools help you easily identify the questions your target audience is asking online. It then quickly create optimize content capable of answering those questions.
Key Features
Curate well-researched content briefs in minutes instead of hours
Click "Write for Me" in the text editor and generate quality, high-converting content instantly
Frase lets you compare your content with your top search competitors
Includes a dashboard that will unveil new content opportunities and prevent existing articles from slipping in ranking

Surfer SEO is a content optimization platform that will help you create excellent contact that ranks on the first page of Google. Surfer SEO works in all languages and will help you generate a perfect content strategy to ensure your articles are high ranking.
Surfer SEO is a leading SEO tool that writers and digital marketers can use to optimize and improve their content strategies. Surfer SEO uses artificial intelligence to enable users to
build quality backlinks
increase traffic to their site
scale business outreach.
Plus, this tool lets you write data-driven content that will make it to the front page of search engines. You can import your article into Surfer SEO and it will give you specific recommendations on what to improve to rank more. This includes alternative keywords to target and missed content opportunities.
Surfer SEO provides insights on the right keywords, word count, and article structure so that you can increase your chances for high rankings. It is the number one internal SEO tool for optimizing your website and making sure it is high quality.
Key Features
Helps you prepare a plan optimized to your domain, niche and audience
Build an article outline in minutes which you can tailor to match your desired tone and voice
Get guidelines based on top-performing pages
Content suggestions that will boost your rankings
Learn how to get on the first page of Google using Surfer SEO's fast and easy audit tool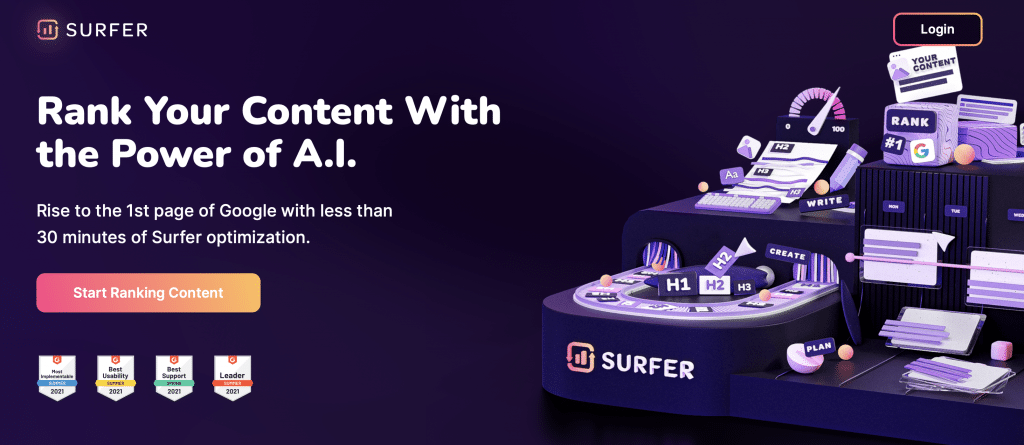 Frase vs Surfer SEO Pricing
In this section, we compare the pricing tiers and features between Frase vs Surfer SEO.
Frase Pricing
Frase offers 3 different subscription tiers. Included in every plan is the:
Content Editor
Custom Templates
Outline Builder
Automated Content Briefs
Google Search analytics
Frase also offers an SEO Add-on for $35/month which gives unlimited access to the Frase AI Writer and other premium features.
Basic – $44.99/month ($39.99/month if paid annually)
For individuals getting started with SEO and content optimization
1 user seat included
30 documents credits
Unlimited document sharing
Team – $114.99/month ($99.99/month if paid annually)
For SEO of Content teams that need more advanced functionality
3 user sears included
Unlimited Document Credits
Unlimited Document Sharing
Google Docs integration
Enterprise – Contact Frase for pricing as they are custom plans for any size
For enterprise in-house and agency SEO teams growing at scale
Unlimited User Seats, Document Credits and Document Sharing
Google Docs integration
API Access and Custom Onboarding
Surfer SEO Pricing
Surfer SEO offers 3 subscription tiers. All plans include the:
Content Planner
SERP Analyzer
Basic – $59/month ($49/month if paid annually)
10 Content Editors/month
20 Audits/month
Free NLP for 1st month
Pro – $119/month ($99/month if paid annually)
30 Content Editors/month
60 Audits/month
Unlimited NLP
Invite 3 team members
Business – $239/month ($199/month if paid annually)
70 Content Editors/month
140 Audits/month
Unlimited NLP
Invite 10 team members
White Labeling and API Access
Frase vs Surfer SEO: Detailed Comparison
Content Planning
Planning content briefs in Frase is quite easy. By entering your target keyword in the outline builder section, you can see all of the People Also Ask results and Related Questions (which is all pulled from Google) for the common questions associated with your search term.
If you have the extra SEO Add On ($35/month) you would also get to see monthly search volumes here as well as select keyword modifiers to focus your results based on user intent.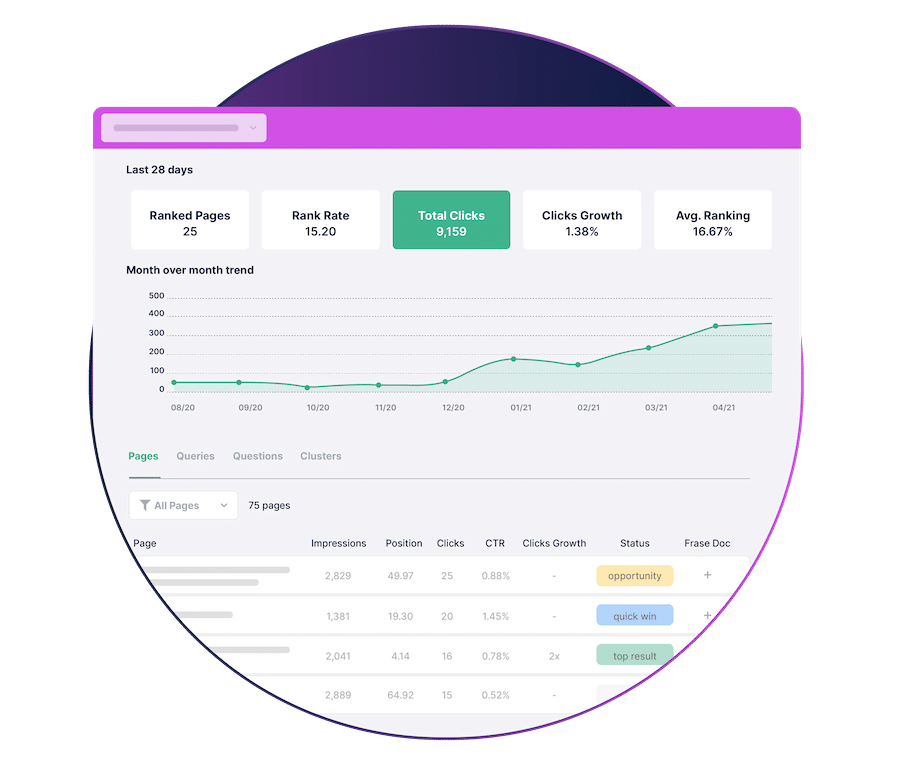 Surfer SEO's Content Planner will generate the whole content strategy with dozens of relevant topics and keywords in a matter of minutes. You type in a keyword and it will provide dozens of ideas based on that specific keyword. It will also then group relevant keywords by topic.
The Content Planner is perfectly organized, and will provide many different keyword opportunities at once. It will also group the keywords by search volume and help you dominate your niche.
Creating Content Outlines
Creating content outlines in Frase is easy:
First, you start a new document
Enter your target search query (up to 3)
Select your search type
Click on Create Document
You can remove irrelevant sources and add extra sources if needed. You can also save templates to use for later articles to save even more time.
Frase also lets you use the Automatic Content Brief for an AI-Generated Content Brief. Type in a few lines regarding your keyword and background context and click "Write for Me" and Frase AI will generate a content brief for you to use.
With Surfer SEO's Content Outline Builder 2.0, it will help you speed up writing with AI. You type in your keyword and Surfer AI will generate titles, headings and sub-headings all based on unique content throughout the web. Easily paste this into your brief and save a lot of time.
Surfer SEO also lets you save any article into AI Templates to easily input and use for future briefs.
Frase vs Surfer SEO, both options do an excellent job at creating content outlines that you can use to give you a kickstart in writing your article.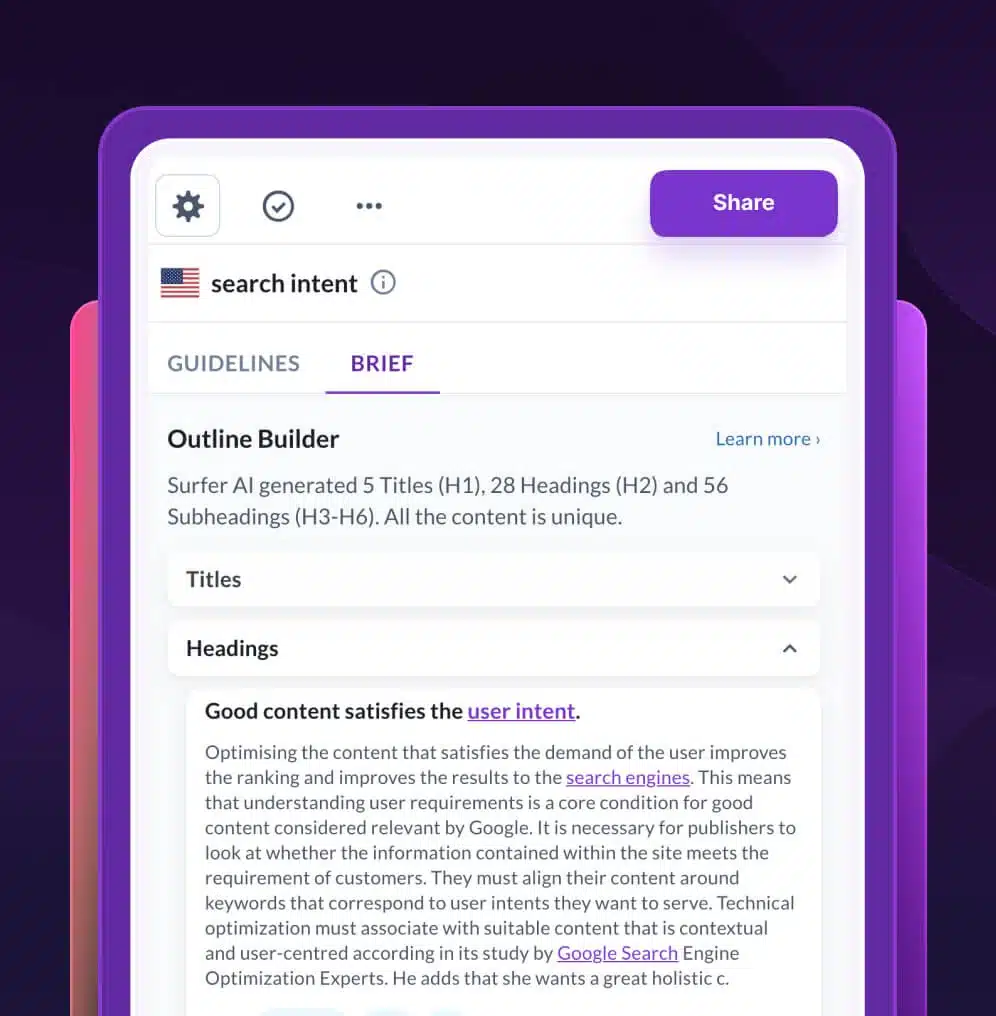 Content Editor and Recommendations
With Frase, the Content Editor is very easy to use. Write your content based on your keywords, and Frase uses its NLP (National Language Processing) and AI content optimization to score your content. It will show you key terms your content is missing as well as check the frequency of the keyword for under or overuse.
If you have existing content on your website, you can use the Import Content to Optimize feature by pasting the URL of your article into Frase and it will give recommendations on what to improve.
A specific feature for Frase's Content Editor is the Topic Heatmap, which gives a visualization of how your article compares to your competitor's articles.
In the Surfer SEO Content Editor, you type your content in the left side and on the right side is where it will score your Content out of 100 as well of offer recommendations on different titles, headings, sub-headings and more. Surfer's SEO text editor uses AI tech to check the prominence of each word on your competitor's pages.
Surfer's content editor shows you are ready to publish when you hit your max Content score and all keyword phrases have turned green. You can also plug Surfer's SEO Content Editor into WordPress and Google Docs to get real-time feedback on your existing optimization level by installing the Chrome extension.
Once you've optimized your content, build some internal links using the Surfer SEO Audit tool and it will give recommendations on all of your existing articles to ensure you are hitting every keyword phrase and ensuring all of the traffic online.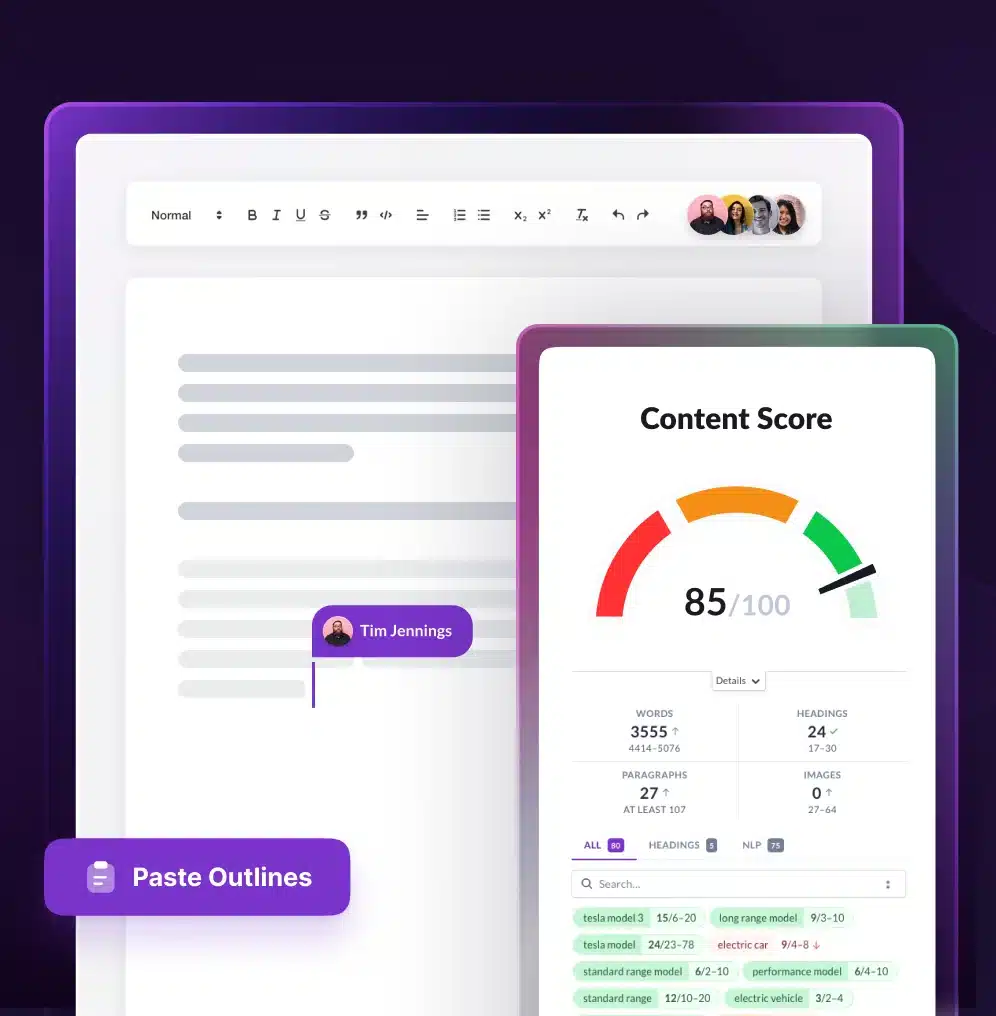 Writing Full Articles
One bonus that Surfer SEO offers is full integration with Conversion AI's Jarvis tool.
Conversion AI is a powerful tool that uses artificial intelligence (nicknamed Jarvis) to generate content. It write high-quality copy that is designed to convert more sales for your business and attract more readers. Conversion is extremely easy to use. You simply choose the skill you want to write, input your data, and allow Jarvis to work.
Conversion can save your hours by writing clever, original content that is relevant to your business. It has over 10,000 customers and thousands of good reviews to back things up as one of the top article generator tools.
So if you want to write full articles, then Frase vs Surfer SEO has a clear winner for you.
Click here to read out full Conversion AI review.

Which Is Better: Frase vs Surfer SEO?
Frase vs Surfer SEO, both of these are great content optimization tools and its worth trying both.
Frase is better for:
Connecting to your website for personalized recommendations about what to write
Visualizing your article verses your competitors in a heatmap
Surfer SEO is better for:
Writing advanced article outlines based on artificial intelligence
Providing real-time feedback on your article as you write it
Both software are constantly providing updates to improve their services.
If you've tried both services in the past or currently, we'd like to hear which one you prefer between Frase vs Surfer SEO.
Other AI SEO Tools to Check Out
Here are some other AI SEO Tools to check out:
Do you have any other questions about Frase vs Surfer SEO? Which AI SEO Tool did you end up trying?
Comment down below and let us know!