AI smart robots for your home can teach you, watch over you, and perform tricks. In this guide, we go over the top robots available to buy today.
Specifically, we'll go over:
Key features in smart robots today
Details about the top products on the market
How to buy each smart robot
These robots are popular smart gifts this Christmas season.
If you have a smart robot that isn't on our list, comment down at the bottom of this guide and let us know how it works for you. If its worthy, we'll add it to this list.
Related to these smart robots, check out the top smart appliances and top smart scales for your home.
What are Smart Robots?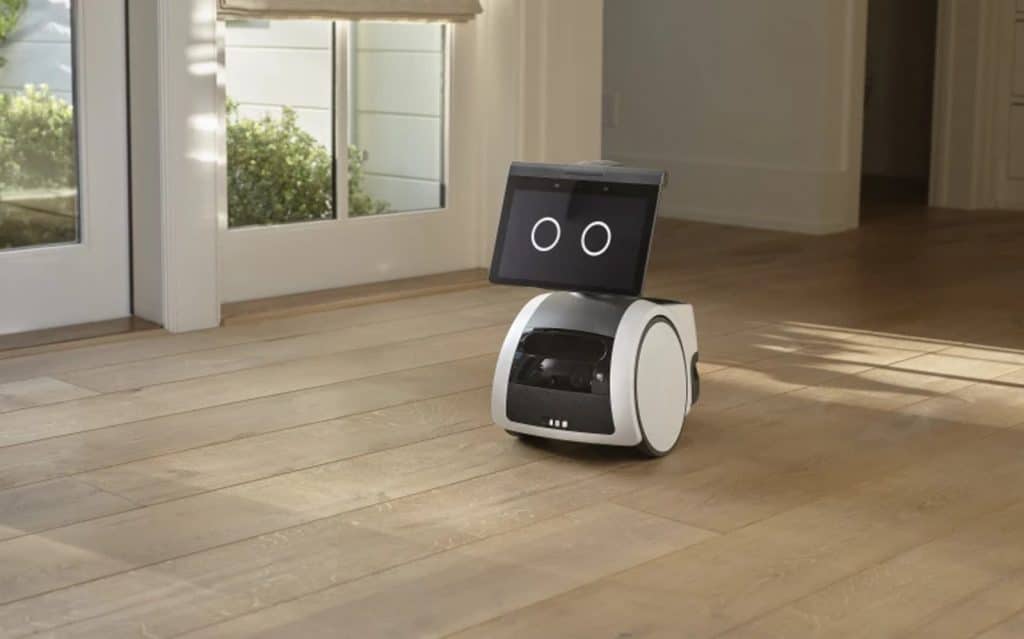 Not just a novelty product anymore, smart robots use artificial intelligence to be helpful and practical. Some of the most common features found in AI robots today are:
Cameras and microphones to watch over you and your home
Connectivity to the network so that it can provide you with information fast
STEM features to teach you and your kids
Movement capability to follow you around like a real assistant
Some of the robots in this list are tailored towards kids and others are fun for the whole family. A lot of them have games and tricks to show off for you. These smart robots are perfect for a Chrismas or birthday gift or just to treat yourself.
Before we go into detail about our top picks, check out a summary list of our favorite AI smart robots below.
The Best AI Smart Robots Available Today
Don't have time to read through our full guide? Check out the top smart robots available today by clicking on the links below.
Next, we go into more detail about our favorite smart robots.
The Ruko Smart Robot is a wonderful companion for your kids. It is a programmable robot with voice and app control. It is made with sanitary materials and will not pose any danger to your kids.
The Ruko Smart Robot can sing and tell interesting stories to your loved ones once you connect your smartphone with it via Bluetooth. You can easily steer the robot to your desired direction by tilting your phone. Plus, it serves as a Bluetooth speaker to play your chosen songs to your kids.
The Ruko Smart Robot has LED emoji displaying different human-like emotions, including sadness, happiness, and disappointment. Ruko can also imitate your kids when they press the recording button.
When your kids touch the robot's head, it immediately responds by saying funny things in a cute voice. It is a perfect Christmas or birthday gift.
Ruko Smart Robot Features
Ruko Smart Robot acts as a Bluetooth speaker for you to play stories and songs.
Kids can interact with the robot via voice commands.
It has 4 intelligent controls for all ages.
This robot simulates human performance and promotes interaction with kids well.
Sale
Ruko 1088 Smart Robots for Kids, Large Programmable Interactive RC Robot with Voice Control, APP Control, Present for 4 5 6 7 8 9 Years Old Kids Boys and Girls
【BRILLIANT GIFT IDEA FOR KIDS】It's a big surprise to kids as the robot is up to 15.8 inches height. With a variety of pioneering ways to play, it can build kids' imagination and creativity. Kids will love this gift!
【STEM ENLIGHTENMENT ROBOT】It comes with 10 emojis, 9 flexible joints, and 10 music, providing kids with creative programming with 200 movements. It's a fun enlightenment tool for kids, which can exercise kids' logical thinking, creativity, and brain coordination ability by participating in rhythmic activities.
【DIVERSE FUNCTIONS】Gymnastics/story/dance/music/recording, the Ruko robot injects more potential into childhoods, cultivating children's artistic perception ability from an early age. It's not just the most entertaining robot, but also your friend.
【RECHARGEABLE BATTERY】The Ruko robot is rechargeable, takes 150 minutes to be fully charged, and can work for 100 minutes, the red light is charged, and it goes out when fully charged. There is also a low-power reminder to charge and prevent kids from being addicted to playing.
【KID-FRIENDLY】Made of environmentally and skin-friendly ABS material, durable and smooth edge without burrs to protect skin in contact with kids, and has FCC and CPC certificates, kids can play without any worries.
The Vector Robot by Anki is one of the best smart robots for homes. It is equipped with technology including artificial intelligence that makes it attentive and curious. Vector Robot reacts to sound, touch, and sight. It is always excited to see you return back from home.
Vector uses a custom text-to-speech voice to answer any question you may ask it. You can even pet Vector Robot to relax.
Vector is always eager to help you. It can time your dinner, remind you of an appointment, and take photos of you. It self-charges, avoids edges, as well as navigates around objects.
The Vector Robot is cloud connected via Wi-F. Because of this, it is always updating and learning new skills to make life better and easier for you.
You can take Vector along during shopping. It will help you add items to your shopping cart, and control smart home devices like thermostats, speakers, and lights.
Vector Robot by Anki Features
Vector Robot uses an HD camera to see the world.
This robot can remember faces and identify people.
It can connect to the internet to answer questions.
Vector has 4 powerful microphone arrays for directional hearing.
Sale
Vector Robot by Anki, A Home Robot Who Hangs Out & Helps Out For facial recognition, With Amazon Alexa Built-In For 5-99 Years
Robot Companion - Powered by AI and advanced robotics, he's alive with personality and engaged by sight, sound and touch.
Voice Recognition - Vector is voice-activated and will answer questions, take photos for you, time dinner, show you the weather, and more. He even comes with Alexa built-in!
Smart & Getting Smarter - Vector is an updating platform, cloud connected via WiFi so he's always learning and updating with new skills and features.
Increased Battery Life - A new battery will provide as much as 30% more runtime. (Vector's batteries can also be accessed / replaced more easily via the newly redesigned battery compartment.)
Higher Camera Resolution - Vector's new 5MP camera will enhance his facial recognition; improving his ability to recognize pets and even know when you are smiling.
The Amazon Astro is a powerful smart robot for home monitoring. It can keep your home closer when you are far away. When you are away, use Astro Smart Robot to check in on specific rooms, see a live view of your home, and even get activity alerts.
This smart robot can follow you around the house and play your favorite songs, shows, or podcasts. It can also locate the exact spot where you are to deliver calls or messages.
You can clearly define out-of-bound zones to let the robot know the areas not allowed to go. This robot easily moves around objects and also keeps a safe distance from stairs, pets, and people.
The most interesting thing about Astro Smart Robot is that it will go to the charger recharge whenever the battery is going down. Astro can also sound a siren if it observes something suspicious around your house when you are not around.
Amazon Astro Smart Robot Features
Astro is built with multiple layers of privacy controls.
You can turn off motion, mics, and camera with a single press of a button.
Astro can find you to deliver calls or messages.
It can set a timer or remind you of an appointment.
Introducing Amazon Astro, Household robot for home monitoring, with Alexa, Includes 30-day trial of Ring Protect Pro
Keep home closer - Meet Astro, the household robot for home monitoring, with Alexa.
Introducing Intelligent Motion - Amazon Astro uses advanced navigation technology to find its way around your home and go where you need it. When you're not using Astro, it will hang out close by at the ready.
Stay connected from anywhere - Remotely send Astro to check on specific rooms, people, or things. Plus, get alerts if Astro detects an unrecognized person or certain sounds when you're away.
Ring Protect Pro subscription - Activate your 30-day trial of Ring Protect Pro subscription and have Astro proactively patrol, investigate activity, save videos in Ring's cloud storage for up to 180 days, and more
Alexa Together subscription - Remotely care for aging loved ones, giving you peace of mind while helping them live independently. Set up reminders, manage shopping lists, receive activity alerts, and more.
The Novie Smart Robot is an interactive robot for smart people. It learns cool tricks and follows the owner's voice commands. It can perform up to 75 different actions and learn 12 tricks, including Fartnado, Berzerk, and Spinout. It can also make over 70 sounds, has 3 motor speeds, can follow up to 14 different hand gestures, and over 60 animations.
Novie can follow your hand gestures. Move your hands in front of it and see how it will respond. As soon as you master each hand gesture command, you will become a bot-master around the house.
Novie can dance to keep your and your kids entertained. It has 3 training modes – beginner, intermediate, and advanced mode. Novie blinks its eyes green once it masters a trick.
The Novie Smart Robot has LED eyes that change color depending on its mode. Upon opening the package, you will be greeted with one Novie Robot Toy, one instruction manual, and one quick start guide.
Novie Smart Robot Features
This smart robot uses handing tracking technology so that you can control it with specific hand gestures.
With adequate training, Novie can perform 12 tricks including Fartnado, Berzerk, and Spinout.
Requires 4 AG13 batteries to operate optimally.
Can also perform more than 75 actions.
Novie, Interactive Smart Robot with Over 75 Actions and Learns 12 Tricks (Blue), for Kids Aged 4 and Up
Hand Gesture Control: Get Hands-On Interaction With Novie! Using Hand-Tracking Technology, You Can Control Novie With Specific Hand Gestures. Wave Your Hand Left Or Right, Up And Down, Toward Him, And Around Him To See How This Quirky Toy Robot Reacts
Teach Him Tricks: Train Novie To Perform 12 Awesome Tricks Like Spinout, Wheelie, Berzerk, Fartnado, And More! His Pitch Goes Up As He Learns, And You'Ll Know He'S Mastered A Trick When He Makes His Happy Sound
The More You Train Him, The More He Does: Novie Is Ready To Follow Your Commands And Learn Cool Tricks! With 3 Different Training Modes, Teach Novie Beginner, Intermediate, And Advanced Tricks – He'Ll Get Better With Practice Until He Learns Each Trick
Interactive Robot For Kids: Novie Makes A Great Kids Electronic Toy Or Holiday Gift For Kids Aged 4 And Up. Requires 4 Ag13 Batteries (Included). Bring Home The Perfect Little Pal, Novie
Scout AI is a smart app-controlled RC car that can keep your kids engaged and entertained. It comes with two rechargeable batteries and a 720p HD camera. You can use this robot to teach your kids the perfect way to program a self-driving car.
The AI component of this robot enables it to easily detect your location, follow you around the house, and play with your kids.
Scout Ai can also serve as a battle robot to keep your and your kids entertained. Play in two groups, with each group aiming at the other. It uses AI to identify opponents and count the points. Being a self-driving car, Scout Ai can detect traffic signs and drive faster or slowly with different speed limits.
The maximum drive speed is up to 10Km/h. Kids can learn about the concepts of programming, robotics, and artificial intelligence using the AI coding interface.
The price tag for this smart RC car is $99.99, making it a reasonable price for gifts.
Scout Ai Features
It comes with adjustable HD cameras.
You can challenge your friends or family members to a battle with the robot.
It has a highly intuitive coding interface.
Scout AI can follow your kids around the house keeping them entertained.
Scout AI - Smart Coding Robot - Fun and Educational Programming STEM Toy - Self-Driving AI Technology with Object Detection - Multiplayer Battle Robot - RC Car with Camera and Two Batteries
Smart RC Car With Camera - This App-controlled RC Car with 720p HD camera and two rechargeable batteries can be smart and autonomous. The AI mobile app is installed on your phone and will be updated regularly with new features.
Coding Robot - The AI coding interface enables kids to learn about concepts of artificial intelligence, robotics, and programming. Scout AI is a great educational robot and a STEM toy that not only teaches kids how to program a robot, but also how artificial intelligence works.
Battle Robot - Players divide in two teams and everyone drives around their robot and aims at opponents. The AI technology enables the robot to detect where the opponent is, and counts the points.
Self-Driving Technology - You can have the cheapest self-driving car ever in your home. It can detect small traffic signs and drive accordingly. It comes with pre-programmed self-driving coding examples but you can also program new behaviors such as driving slower or faster when seeing different speed limit signs.
Follow Mode - The AI technology enables the robot to see people and pets, follow them around and play with them. You can attach a pet toy to the robot to have it autonomously play with pets and keep them active.
MiBro is an interactive and AI robot for smart homes. You can communicate with your friends or family members through this robot. The robot is totally under your control.
It has a RAD remote that you can use to drive the robot up to come and speak to them from a distance. You can change the robot's voice at will, as it comes with a voice changer function. The voice changing functionality supports a robot voice, a human voice, and Helium voice. You can use the MiBro's Helium voice to tell funny jokes to make your family laugh.
MiBro Interactive Robot is loaded with silly sound effects to scare, prank, or make your friends laugh as if they are listening to a comedian. MiBro can be your undercover spy agent; you can spy on your siblings' conversations by quietly driving the robot into their rooms.
MiBro's microphone picks up sounds nearby and transmits the sounds through its RAD remote. This smart robot is reasonably priced and a lot of fun.
MiBRO Interactive Robot Features
MiBro can be your secret agent to spy on your friends and family.
Can help you listen to secrets from another room through its Really RAD Remote.
Has really RAD accessories and sound effects that you can trick, prank and surprise your friends with.
Can bring you refreshments or hold your phone
Really RAD Robots MiBRO - Interactive Remote Control Robot with Accessories, 50+ Functions & Sounds - Your Personal Prank Bot | Plays, Talks, and Pranks
Here at Really RAD Robots, we build REALLY RAD ROBOTS….like MiBro, your robot partner in fun! Team up together for some awesome antics and sneaky adventures!
Be the Bot with MiBro and talk through him, using the Really RAD Remote! Have fun and tell jokes, give commands or talk to your friends from around the corner!
MiBro is your secret agent buddy and can help you spy on your friends and family! Be sneaky and send MiBro in - he'll help you listen to secrets from another room through his Really RAD Remote.
MiBro is a prize pranker! Trick, prank and surprise your friends with MiBro's really RAD accessories and sound effects! He's fully loaded with over 50 functions and sound effects!
MiBro makes the perfect personal assistant. Use MiBro's tray to bring you refreshments or hold your phone! Or team up with MiBro and use his tray as a goal to test your ball skills. Hear the crowd cheer when he kicks the winning goal!
The Wonder Workshop Cue is an interactive learning robot that inspires creative problem solving. It is built and designed to teach multifunctional codes at any experience level. It engages users with text-based communication. This smart robot can help you take coding to the next level, with something for beginners and professional coders.
Cue supports more than 30,000 unique text responses and is equipped with over 40 challenges. It has an app that is compatible with Android, iOS, Chromebooks, Kindle, and Windows 10 operating systems.
Wonder Workshop Cue is built on Microsoft's MakeCode platform. It gives kids the chance to explore multiple programming languages and the opportunity to choose among four personalities.
Activate the robot's Emotive AI to surprise friends, navigate tight corners, and displays its magical moves
Wonder Workshop Cue Features
It has 2 wheels with encoders for easy movements.
The robot engages kids to learn how to code using text-based JavaScript.
It can tell jokes, chat with you about books, and has more than 170,000 vocabularies.
It guarantees 30+ hours of play in a single charge.
Wonder Workshop Cue Quartz– Coding Robot for Kids 10+ – Voice Activated – Navigates Objects – 4 Free Programming STEM Apps – Advance Learn to Code, White (QU01)
Unlike any other robot: Cue is an engagingly sophisticated learning robot that will inspire hours of creative problem solving. With something for beginning and advanced coders alike, Cue can grow with the user and take coding to the next level.
Three ways to learn coding: Cue robot engages kids as they build coding proficiency by transitioning from Block-Based coding to text-based JavaScript. We've also included Wonder, a state machine-based language designed specifically for our Robots.
Interactive AI: with four unique personality avatars that you can try, Cue is a comedian trapped inside a robot's body. Cue can chat with you about books or tell you jokes and has a vocabulary of over 170, 000 words and 30, 000 text responses.
30+ hours of play in a single charge: Cue uses a rechargeable ION battery for endless STEM learning. You can Group strings of instructions together, as Cue has microphones and more. Cue comes with 40 challenges to keep kids engaged for hours on end.
Real-time Bluetooth: active communication is one of cue's main Features and is ready to give you simple tasks and helping you get started right out of the box. The Bluetooth commands work with iOS, Android, chrome books, windows 10, and Kindle Fire.
Aibo is an AI robotic puppy. It is a perfect companion for most homes. Aibo can recognize your face and voice after a long time of usage. It can also recognize and get familiar with your family members.
It listens to commands and demonstrates a wide range of tricks to keep your family bonded. When you pet this pup, it feels the interaction and will be happy. You can feed it with virtual food and watch it relax in extreme happiness.
With Aibo's lovable behavior, lifelike expressions, and a dynamic array of movements, this smart pup brings delight to every household. Aibo loves being with people, wants to explore its environment, and understands the world. It can also be a little mischievous from time to time.
Though pricey, you will enjoy every bit of this AI smart pup.
Aibo Features
This AI pup understands its name and responds to you when called.
Listens to commands and will demonstrate a variety of tricks.
Loves toys, especially pink ones.
Will return to the charging station by itself if tired.
The smart robot market continues to expand into new areas. Not just a novelty gift anymore, these toys can teach you, bring you items, and make your life easier.
What smart robot do you have in your home? Do you have any other questions you'd like us to answer?
Comment down below and we will get back to you with an answer!